Cabane à Sucre Au Pied De Cochon REVIEWED.
Everything happened so fast, but in slow motion, does that make sense? I felt like we were bombarded with a sensory overload, but then the after image slowly faded into a lingering haze. I didn't know what exactly happened, but I knew it was good, like getting slipped the tongue for the first time – you're taken off guard, a little bit nervous, you're surprised about the taste and texture, your pants get tight… and you like it.
My family and some friends and I were fortunate enough to spend our Easter Sunday at the Cabane a Sucre Au Pied de Cochon, celebrating the resurrection of Christ by eating some of the Easter bunny's tasty friends (we're not religious). It goes without saying that this place has a cult like following and is in the clear lead at taking the notion of sugar shaking into a whole new different spectrum – be it fine dining, or farmer chic, Martin Picard and his crew are mixing things up.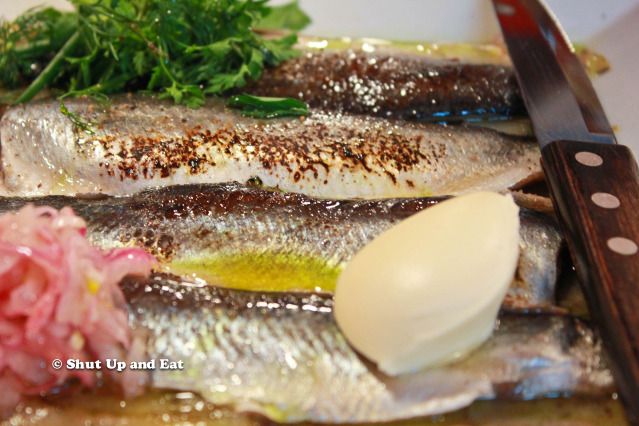 As part of the three dish "appetizer" we started off with the pickled herring on a bed of thinly sliced potatoes, sided with pickled shallots and crème fraîche. The fish was tepid and was slowly warmed by the potatoes; it was tender and tasted just enough like fish to let you know what you were eating, but it was also sweet due to being doused by Au Pied de Cochon's own harvested maple syrup. Each bite was was rich and bright from the tartness of the pickled onions and the creaminess of the crème fraîche. I never thought the words "fish" and "breakfast" would ever be synonymous with each other – Like "Justin Beiber" and "artist of the year" (I know right? WTF), but they are, and I'm a fan… of the FISH I MEAN! Shut up.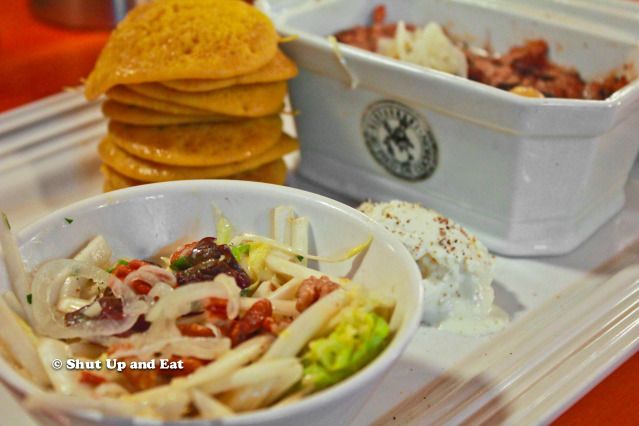 Next appetizer was a trio of duck fat blinis, endive salad and Terrine of sweetbreads, calf tongue, foie gras, black pudding and straight up awesomeness.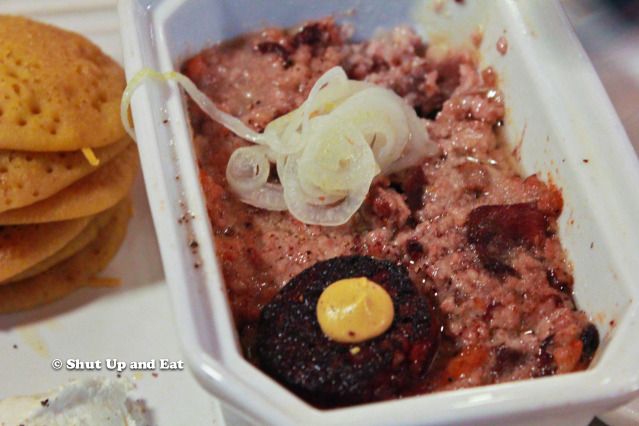 Terrine of sweetbreads, foie gras, black pudding, and all that good stuff. Being served warm, the terrine loosened up and its juiciness was very evident while still holding together when scooped out on to your plate. I considered this the Au Pied de Cochon and Martin Picard's an ode to cretons. A rough shake by your shoulders and wake up call to what they're doing, interpreting and reinventing classical cabane à sucre fare, blood sausage with dijon was never on the red and white checkered table cloths from the sugar shacks of my childhood.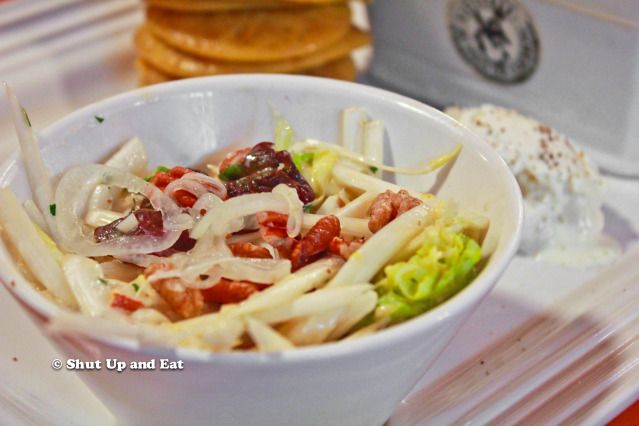 Chilled sliced endive salad, topped with pickled shallots, walnuts sitting on bib lettuce and drizzled with a simple vinaigrette. I had a bite and it was refreshing, and cut through the fatty film left in your mouth from the terrine. To be honest, I wasn't there for anything dainty and delicate, foo foo and chi chi, I wanted meat and lots of it. But little did I know, any type of vegetable served in this meal are vegetables you should eat; with the sheer quantity of food that can be weighed metrically, your digestive system will thank you for the encouragement.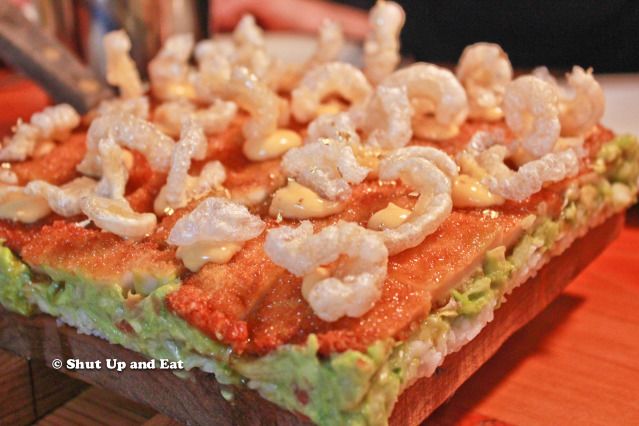 The last of the appetizer service was the fried sturgeon cake, with guacamole on sushi rice. This backward hako like sushi presentation was topped with oreille de crises held in place by a creamy dollop of a creamy homemade seasoned maple syrup soy sauce. Each bite is straight up reminiscent of sushi, with the very familiar seasoned sushi rice, but once the other flavours kick in, then it's the wrongest sushi you've ever eaten… wrongest in all the right ways. The sturgeon doesn't lend itself in any way to this dish in flavour, but the loaded crisp and crunch it had was a great contrast to the muted textures of guacamole and steamed rice.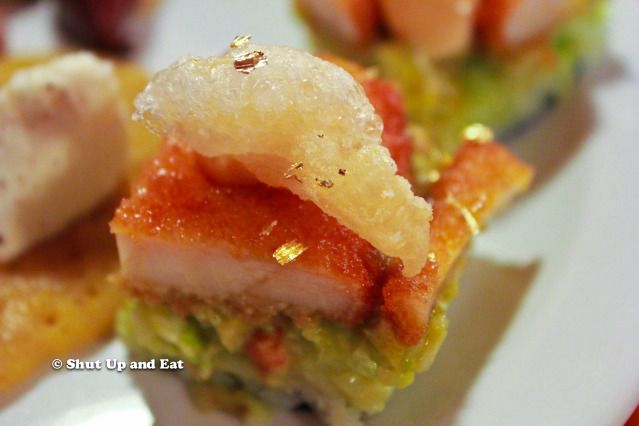 Oh yeah, did I happen to mention that this dish was topped with flecks of gold foil? Being edible, the gold foil is purely for show… and probably Chef Picard's attempt to gift everyone with the most expensive poop they'll ever take – that's obviously unless you periodically eat diamonds. It took every ounce of maturity in me to resist the temptation to keep saying "I like Gooooooold" a la Goldmember from Austin Powers every time someone asked me to pass it down.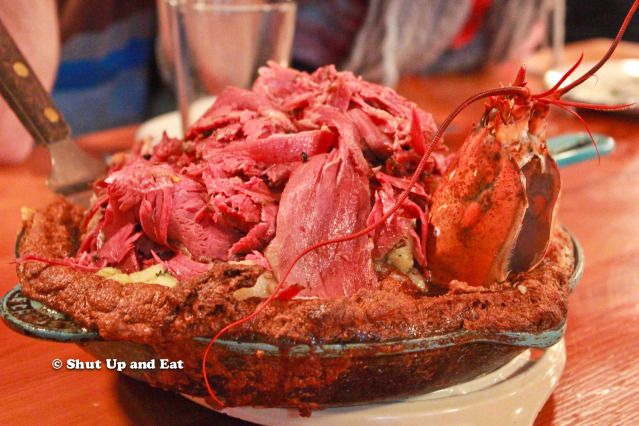 Our first main and first swing in attempt to send everyone into a food-knockout was the smoked meat and lobster soufflé. Thick and fluffy, the eggs cradled big chunks of sweet lobster and was draped with slices upon slices of smoked meat – paralleling portions piled atop slices of rye in any Montreal deli… times ten. We got a particularly lean cut and the brisket was a touch dry, but no worries. Topped with the head of the lobster, noble and proud, propped up like a morbid trophy of what was – a delicious trophy it is.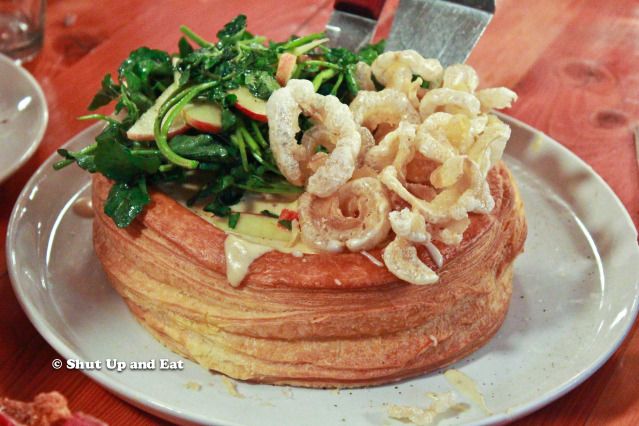 We were then presented with this dish – first thing I saw was green, so I was all, "that's cool, something a bit lighter". That was until our Adidas jacket wearing waitress explained that it was a foie gras vol-au-vent, with a bechamel sauce and cheese from Victor et Berthold, topped with oreille de crises with an apple and watercress salad; notice how what I saw and welcomed first was the last thing she spoke. Generous in portion and size, the lobes of foie gras sat in a bath of sinfully melted pungent cheese and roux stewing in a pastry tub of your own remorse. Peppery notes of the messy watercress cut through the richness of the dish and the sweetness and crisp of the apples added both texture and flavour.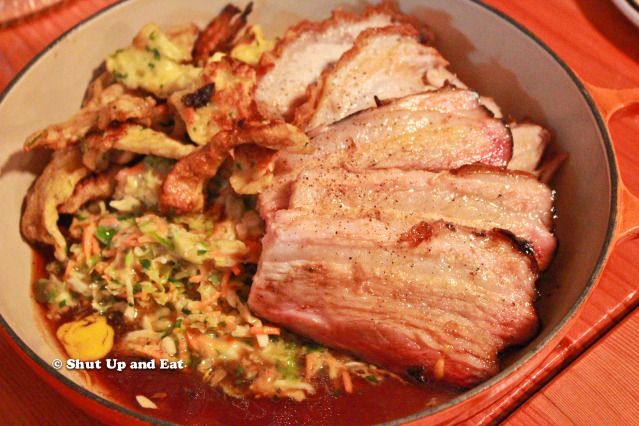 Normally anyone would think that the services would have stopped by now after having everyone's blood sugar and cholesterol counts shot through the roof, but no. It was also at this point where my family started to get worried that maybe we accidentally ordered the industrial sized meal. Barbecue pork belly and rump of suckling milk-fed piglet from the Gaspor farms served on cabbage and potatoes with spaetzle. I hate to use this word but the pork really was succulent; fatty and tender, each bite of pork were combinations of jabs in hooks going in for the knockout punch. The homemade pasta was nice as was the pseudo slaw, they highlighted the sweetness of the pork and really accentuated the crispiness of the skin.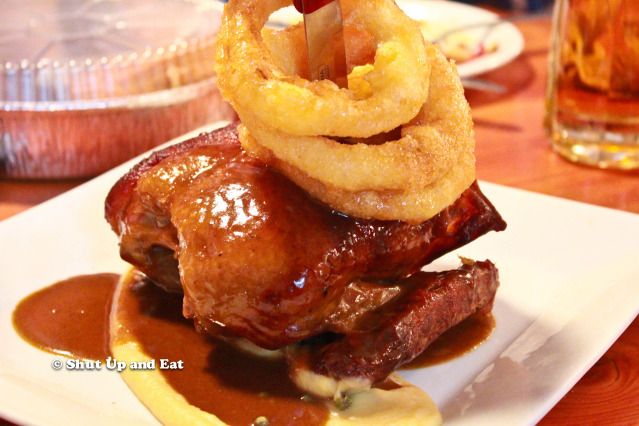 At this point, as much as I was enjoying my experience at the Cabane à sucre Au Pied do Cochon, I started to take it as a challenge from Chef Martin picard, as on this Easter Sunday, our wills were to be tested as well as our belts. Maple and soy roasted duck, pepper sauce on parsnip puree and duck fat fried onion rings was the source of what were either gasps or groans from our table – as troopers we were digging in regardless. The smokiness of the duck meat came through each bite accompanied by the calorie-free duck skin that shattered in your mouth.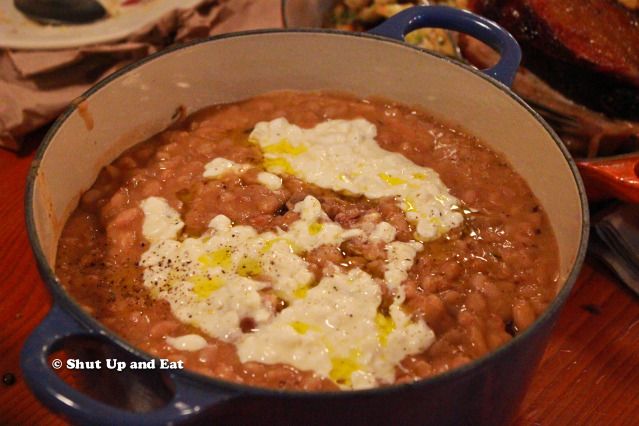 This last course was an homage to a dish synonymous with all cabane à sucres and traditional ways to clear a room and get people to scoot over on a sofa, beans. Putting a spin on the classic fèves au lard in a way only Martin Picard and Au Pied de Cochon can, this last dish was beans with confit duck leg, topped with cottage cheese. Contrary to the use of pork in this dish, it was only fitting that rendered duck fat was the weapon of choice and of course maple syrup. With no emotional or sentimental attachment to beans, our table of coureurs des bois killed that pot like white and blue ran through our veins.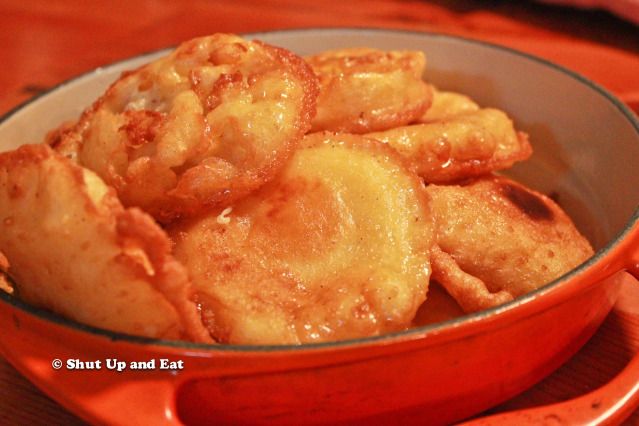 The first of the dessert service was pancakes fried in duck fat. Pillowy mounds of fried guilt and cholesterol, these things were able to evoke those repressed feelings hidden away deep down inside of you, from places you never want to visit again. As I picked up the pancake off my plate, held it in cupped hands and rubbed it around my face, I became that kid that got picked last for dodgeball in third grade gym class. Table top maple syrup laden pancake, my table mate clutched her pancake in a white-knuckled death-grip and she lay in a fetal position on the ground singing Annie's "Tomorrow".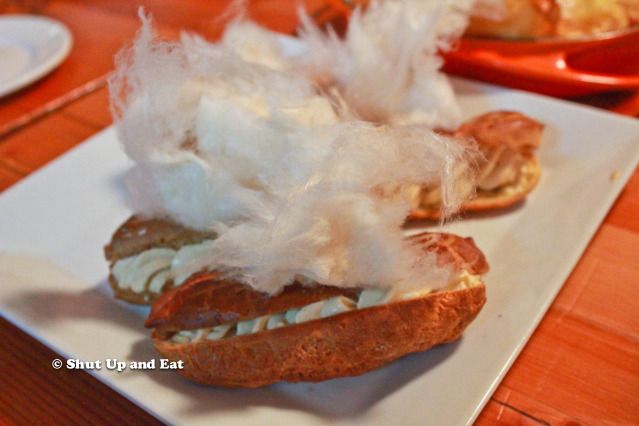 Crunchy puff pastry filled with maple cream, topped with maple cotton candy. My four year old nephew ate an entire eclair, then proceeded to lick the plate. His report was upon further investigation, the plate itself was not made of and did not taste like maple, he then proceeded to push our car home after running laps around the farm and power-lifting the lobster tank.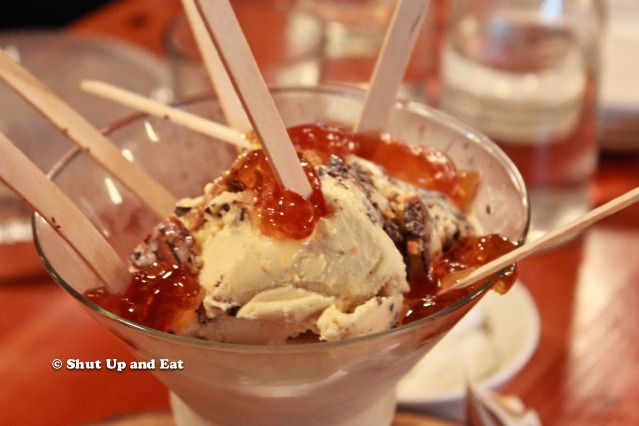 Homemade maple skor blizzard topped with maple taffy and broken spirits of defeated sugar shack guests. Au Pied de Cochon's play on the classic maple taffy served on snow – it takes an evil mind to say, "why would I serve taffy on snow, when the snow doesn't taste like maple and chocolate?" Some say evil, I say genius… Genius with a fat kid trapped inside.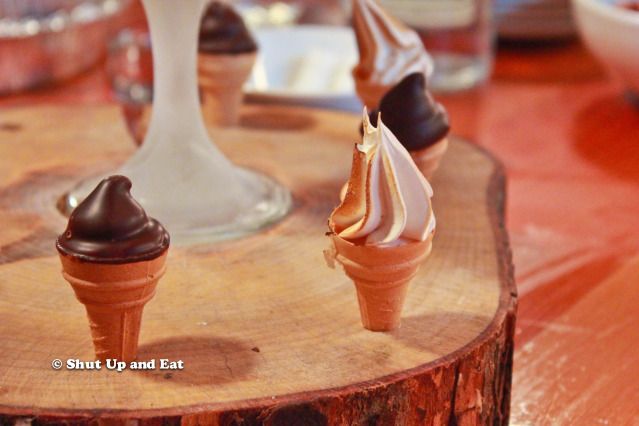 The oversized martini glass of ice-cream was buttressed by scorched mini maple cones. We also had maple sticky buns that managed to evade the lens of my camera. It was fluffy, dense and covered with a maple glaze peppered with a maple crumble. All sweet and everything you think it is, the desserts reflected the overall sentiment of the meal – over the top and obviously vegan.
The cabane à sucre Au Pied de Cochon isn't your ordinary folksy sugar shack, and it's evident in the food you're served. The sheer excess and farmer chic lavishness of the meal is representative of a skewed version of Quebec's tradition of the cabane a sucre from Au Pied de Cochon. The menu here is a shallow glimpse into the mind of Martin Picard's perverse fetish for all things pork and duck fat. It goes without saying that this isn't something you're going to eat often and hopefully so. Going comatose for two hours after getting home and forgetting my leftovers in the car (YES! they let you take your leftovers home), left me in a maple and porky lust fog well into the evening before contemplating whether or not I should I eat dinner. I'm advocating everyone to get with the game to be timely in trying to get seats. Their reservation process is practically a lottery, so make sure you send your emails (they only take reservations by email) when they announce that they are accepting emails.
Cabane à sucre Au Pied de Cochon
11382 Rang De La Fresniere
Mirabel, QC J7N2S4
(450) 258-1732
$57 for adults
$20 for children under 12
Don't make the 45 min drive without reservations – you won't be seated without one
http://cabaneasucreaupieddecochon.com/