When was the last time you stood in the middle of your kitchen in your underwear scrambling to find a recipe or meal ideas for a dinner party you forgot about? When you talked so much smack about your cooking skills and culinary proficiency that you stipulated to your dinner guests to not wear socks because you guarantee that they will be blown off? That time when you hyped up your kitchen game so high that you promised not only an awesome meal but the ingredients to be socially responsible and for dessert, something gluten-free? If I had a nickel for every time I've found myself in this situation… I'd probably still have a nickel. Well if I find myself in that situation again, I have the perfect solution…
Voted one of
the top 50 best restaurants
by Diner's Club International – the crazy popular Restaurant Park (
review
,
Shut Up and Eat dinner event review
) is one of the city's most sought after dinner reservations that feature an exquisite omakase menu – a multi-course, chef's dinner that changes from day to day. If owning and operating a fine dining restaurant that sees over 100 covers on any busy night, Montreal's own Antonio Park ventures into the fine foods retail world.

Located right next door to the restaurant Park, Marché Park Market sees a select roster of specialty Japanese and Korean items such as organic teas and condiments, but also feature local brands and products which also includes their own packaged ready to heat and serve dishes. Their specialty dish is a braised short rib that is vacuumed sealed and fully cooked. A simple boil for several minutes in the packaging will leave your dinner guests none the wiser to the secret behind your pre made dinner dish.

Why, what is this Mr. Park? Could this be? Your culinary mojo? The gastronomic libido? The life force? The essence? The right stuff.? What the French call a certain… "Je ne sais quoi"? Your kimchi bottled for sale?! I bought a jar of Marché Park's own kimchi. A fermented and pickled napa cabbage goodness; sour and delicious.

Marché Park is also a take out and lunch counter, serving light meals and sandwiches that are all organic and seasonal.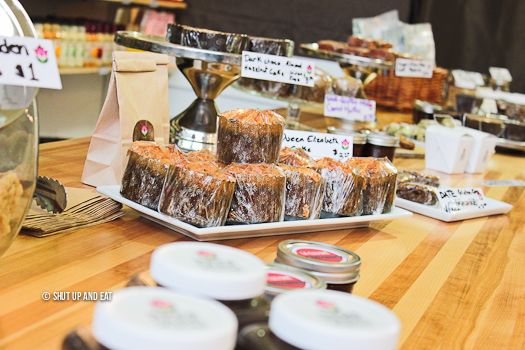 Along with prepared meal items, Park Market also features homemade baked goods. Not only are the cakes, muffins and confectionaries made fresh daily, but a large part of their bakery items are gluten-free.

With a fairly modest running stock of products, I was told that expansion and a more extensive list of specialty products will fill the shelves and fridges via private suppliers; such as, line-caught seasonal sustainable fish from around the world, shishito peppers, fresh wasabi and Montreal's first appearance of 100% certified AAA Japanese wagyu beef… and if "AAA" doesn't tickle your fancy, Chef Park has "AAAAA" wagyu beef on deck – yes, that's *5* A's.
Products here obviously subscribe to the "Westmount tax" – where some items can be found cheaper elsewhere – that's if you're willing to travel. But for convenience and accessibility of certain products including the addition of specialty items not found anywhere else in Montreal by private importation, a negligible price difference is worth the quality in product while supporting a socially and environmentally conscious cause.
Marché Park Market
380 Victoria Ave
(438) 383-7534
Facebook