*This post may contain spelling mistakes or grammatical eorros.*
You know that saying, "Too much of a good thing is bad for you"? Well, who ever invented that phrase is obviously and idiot… a bitter idiot how never had the opportunity to surround themselves with awesome people, food, video games, flowers, hot chicks, strippers, midgets and balloons. When going to a restaurant and the menu looks tantalizing, more often than not I'm tempted to order one of everything. But unfortunately, maybe this idiotic idiom rings true; too much food will be definitely not good… for the wallet, waistline and gout diagnosis. I was invited to the media tasting for the new spot in the Old Port Racine where they set out to publicly defy this adage.
Racines is the new addition to the very strong roster of restaurants of the MTL Cuisine restaurant group, the culinary purveyors behind Bar & Boeuf, Les 400 coups, Helena, and Venti. Racines takes over the former Louig's pizza joint that sat on the corner of McGill and St. Maurice – even though the lengthy diner like space is preserved, the talk and subsequent social media updates regarding their timely construction has yield a polished and casual atmosphere that includes modern lighting fixtures and handsome parquet floors. Executive Chef Simon Mathys – former chef of Bar & Boeuf has put his culinary ethos into the seasonally inspired menu encompassing techniques and culinary skill exemplifying his
racines
that saw him refining his craft and philosophy by way of Quebec and Michelin starred restaurant in France, La Ferme de l'Hospital.

We started with an amuse-gueule of oyster with buttermilk and pickled onions. A great way to start any meal, probably because I have a completely separate stomach for oysters and could have pounded down a couple of dozen of these. Sour is not a taste you want to associate with seafood of any kind, but it was nice against the tartness of the onions and saltiness of the oyster.
Racines' dishes are explained to be served as appetizer sized portions to let diners order a bunch of plates to mix and match a meal. For once, a place that serves small plates for one as opposed to the phenomenon that so many places have adopted recently – "small plates for sharing" – who wants to share a small plate anyways…?! Big plates for sharing makes more sense no? We devised a three course meal of two plates which I split with my date.

This, the shave raw foie gras with meringue. This dish intrigued me as I didn't know what to expect when I read meringue next to foie gras on the menu – were they going to do a little dance as they served it to me? Surely you can't serve a sweet accompaniment with liver, but they did. The shattered sweetened egg whites complimented the liver and fresh cracked pepper in a way I've never had or even thought of foie gras being prepared before.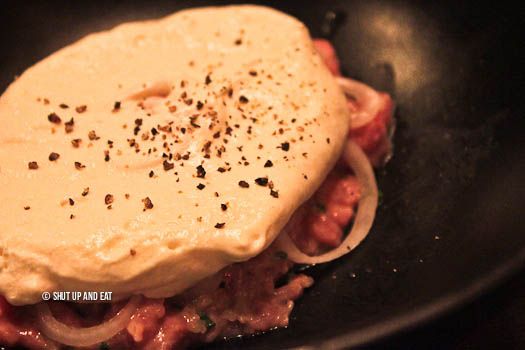 We also had the veal tartar which was served with a mustard cream. It was the first time for me to ever have veal tartar – first impression: surprising. Surprised I haven't had it before, surprised how pleasant it was. The flavour of the meat was delicate and heightened by notes of citrus and sharp creamy hits of the mustard cream.

We then had the octopus, which was served with pickled celery and sliced radish with a squid ink and sour cream. The octopus was succulently tender but was a bit muted in flavour, but was brought out when mixed with the ink sauce. The balance of the deep briny flavour of the ink and sour cream coats your mouth and is pierced by the tartness of the pickles.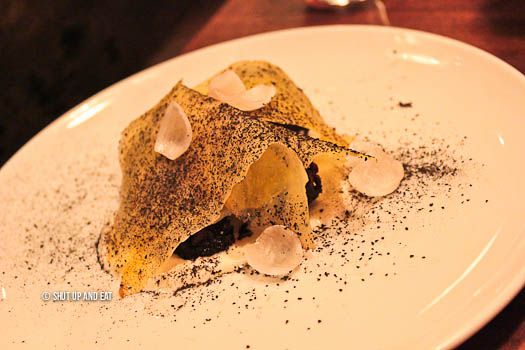 To finish off our second course was the blood pudding with sliced turnip and marinaded onions. Four generous slices of homemade blood sausage sat on citrus cream with large shavings of turnip tented above the dish. The sausage was robust and earthy which drew out the sweetness from the turnip – which was somewhat muddled in flavour on its own.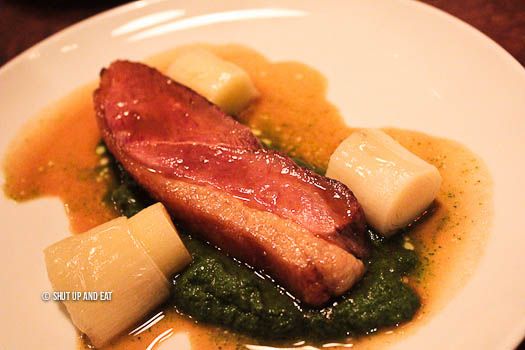 As our main dishes, we ordered the duck which was served over puréed kale with both smoked and pickled leaks. The duck was unctuous and supple and served rare. The leaks were a nice accent to the very savoury dish adding those deep fragrant notes typical of leaks. I'm not a big fan of kale; why? Because people keep trying to trick me into thinking they're the new potato chips, to that I say, GTFO. But chef Mathys' puree was nice; a bit sweet a bit bitter and went well with the dish.

The roasted Gaspor piglet served au jus with oats and swiss chard. The pork was juicy and fork tender without falling apart. Oats with the pork is cleaver and isn't something I've seen done before. The dressing of pork jus is something that should generally be bottled and served on top of anything and everything, I mean if they're going to serve it top of cereal and have it taste amazing, I don't see what else it wouldn't taste good on. "Crazy talk", you say? "That'd be like serving a meringue with foie gras… wait a minute…"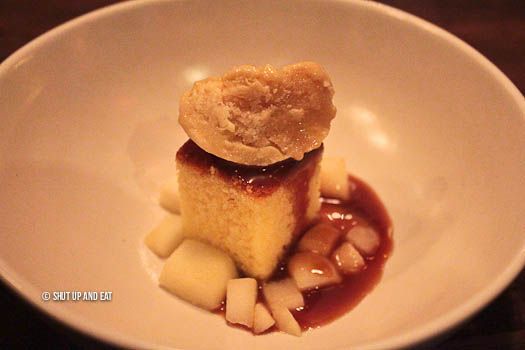 For dessert my date was stuffed so I took one for the team and ordered the apple dessert. A vanilla cake topped with bread ice cream with a caramel sauce and sous-vied apples. No tricks or gimmicks here, straight forward and tasty. The only thing that I would have preferred was more cake. I love cake. If I could, I probably would have ordered three of these.
Although it's only been open roughly a couple of weeks, I would say that most of the kinks have been worked out service and kitchen wise. The few things that I think can be improved on isn't something Racines doesn't already know about, and by the time this is published has probably been rectified tenfold above and beyond. If the management and execution of MTL Cuisine's other amazingly successful establishments are any indication of what is in store for Racines, it's safe to say that their roots are being planted firm for many more years (and restaurants!) to come.
Racines
444 McGill
514-544-0444
http://www.racines.ca