I've been told I'm an open book; I hide nothing from anyone and will not shy away from anything. That being said, yesterday I was caught singing to my jam on the radio while stuck in traffic. When I say caught "singing", I really mean rocking out and full on playing the air-piano on the dash while bellowing the shit out of Vanessa Carlton's "A thousand miles". There aren't many things I get embarrassed about, but why am I telling you this? The fact that I entertained the girl in the Fiat next to me during my pop ballad cover, if I don't regret getting caught, then I'm not ashamed to tell you about the burger that's stuffed with mac and cheese that I smashed against my face.
I hit up Jo Blo, this burger and steak spot on the main drag of Verdun. With funky dish names on the menu to match the decor and concept of the place, I'll be honest with you, it was a bit laborious to read past the listed names such as "LE "MONICA LA MITRAILLE" or "LA "JUDY GARLAND" (which mean nothing in food terms) to read each description of the item in order to figure out what a "LE "HULA HOOP" really is. This could be common sense talking, or the fact that I become a gigantic bitch when I'm hungry and I hate everyone and everything around me until I'm fed.

My girl ordered the "Le Sloppy JoBlo" – which luckily for us, the name of which did not need much decoding – was what I thought until we were presented with a lasagna… just kidding. Jo Blo's version of a sloppy joe saw their secret recipe of stewed ground beef, onions, garlic, carrots, celery and spices in between a toasted bun, sided with mayo and perfectly crispy shoestring fries. The filling was generous and robust that bordered on being sweet in flavour and the meat was distinguishable and was not your run of the will ground beef. Solid pieces of beef as well as pork found their way into this burger.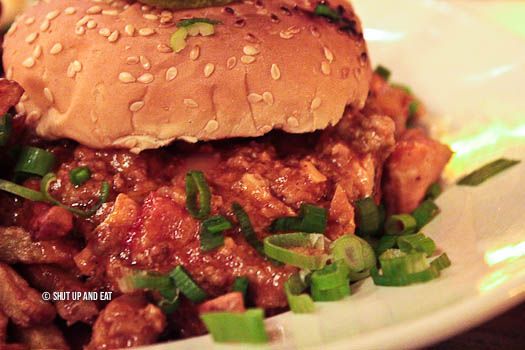 We were faced with a dilemma; how the hell do you eat this thing? Like watching the uninitiated eating sushi, dipping the fish side down, muddling wasabi in their soy sauce, using their fingers, recounting the numerous viral youtube videos that mock how people eat sushi by demonstrating the "proper" way of handling nigiri to ultimately piling on the pickled ginger on top of a slice of yellow fin hamachi and eating it in two bites, the delicious awkwardness was awesome. For the record, we ate the overflow before picking it up and then eating it with a fork off our laps.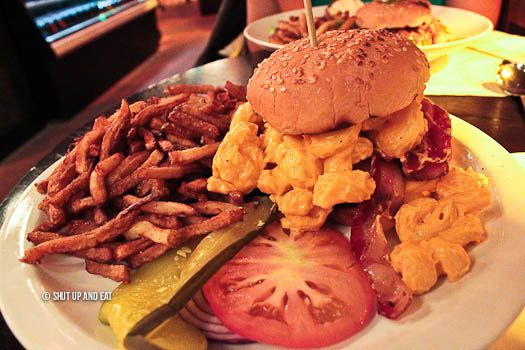 I had the "LE GROS PORC" if the name wasn't evident enough already, it was actually a Cobb salad that's served in an edible tortilla taco bowl with a side of sweet potato fries… Not really, but you wouldn't be able to tell by the name. It's was a pork burger topped with bacon and some of the best mac and cheese I've had in a while. Like the sloppy joe conundrum, I probably stared at it a bit longer than I should have trying to figure out how I was going to eat it.

It was a pork burger patty, which I thought would be dry but I was wrong. The meat was still juicy and with the inclusion of the bacon, each bit was smokey and delicious.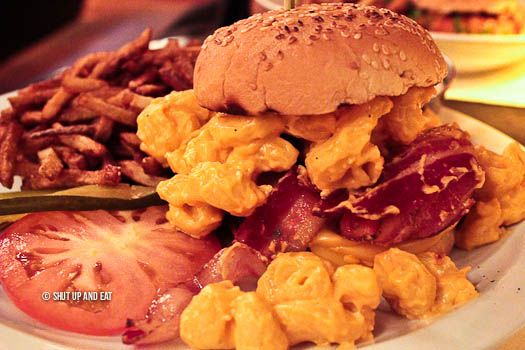 Why the mac and cheese was IN the actual burger… who knows, some questions are better left unanswered. I'm not a fine connoisseur or mac and cheese, but I can say it in itself was probably one of the better ones I've had in a very long time. It was creamy and cheesy that left each piece of cavatappi smothered in sauce. I'm not going to try and dissect the recipe or what kinds of cheese were used, but there was enough to scare the lactose intolerance out of me.
The idea of mac and cheese being IN the burger itself is novel and fun, practical no, but would I have it any differently? No. I ended up shoving the entire thing in my mouth to see what it was like to eat it in one go. The mac and cheese was a totally different dynamic of having that familiar cheese taste in a burger. I ended up scooping most of it out and eating it separately. The main strip of Verdun seems to be heating up in the past few years and I wouldn't be surprised if a few more solid joints for grub pop up in the next little while.
JoBlo
3807 Wellington
(514) 508-9178


http://www.joblorestaurantsteakhouse.com