I think it's a funny phenomenon when the weather gets hot and gross, the kinds of food people gravitate to. "It's 40 degrees with ass-crack drenching humidity, hey, I've got an idea, lets go stand next to the barbecue and cook stuff with fire, there are a few glands left on my leg that still haven't activated yet with this heat!" Then there are the light eaters who believe that having a salad is reasonable because lettuce, tomatoes and cucumbers are cold, so it would only make sense to cool down by proxy and eat cold things. I subscribe to the former ideology, it's fucking hot, so let's grill stuff up and eat fried things.
There's one type of cuisine that is practically tailor made for people like me; Peruvian (no, I'm not peruvian, I mean the cuisine). There are a few go-to spots I like to hit up for my Peruvian fixes, ceviche, jalea, anticuchos, Inca Cola… Recently when talking to my Peruvian insider, she asked me if I've ever been to the restaurant of Villa Wellington's son that's located literally across the street. I never have until now.
We went for dinner at Augusto Al Gusto on Wellington in Verdun. The spot specializes in Peruvian food, but their menu sees a few Mexican dishes thrown in there for good measure for those who are unaccustomed to latin food and need to ease their way in with fajitas and enchiladas.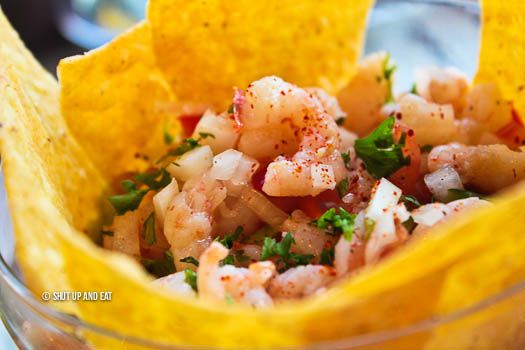 We started with the ceviche – a large margarita glass filled with a generous portion of tiny shrimp marinated in lemon and lime, onion and cilantro, sitting atop a chunky guacamole lined with their homemade tortilla chips. Normally I (had this not been the appetizer) I probably would have bitched about how tiny the shrimps were, but in this context it made sense. Each chip was able to hold a substantial amount of ceviche with each dip, that satisfied each mouthful with at least three to four shrimps. The guac was creamy and eased the acidity of the citrus.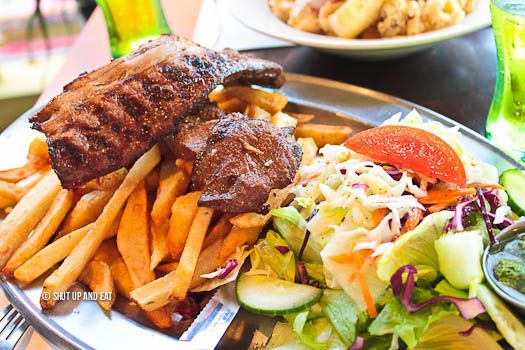 We ordered the "assiette de grillade" – the mixed grill plate which saw a large slab of bone-in short rib, a pork sausage, and a skewer of anticucho, sided with fresh hand cut fries, side of salad and chimichurri for dipping. I don't know if I've said it before, but probably have, I love short ribs; in my opinion, by far the most flavourful cut of beef. This thick slab was nice and pink in the centre – I was asked for the doneness and I requested medium-rare.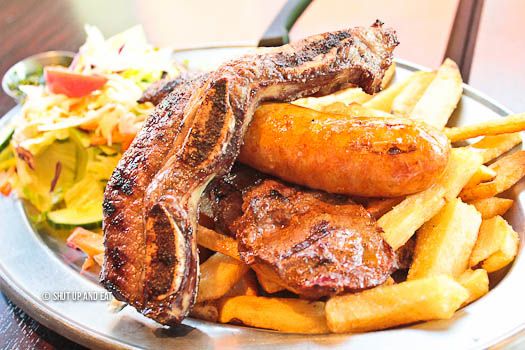 The anticucho (beef heart) was tender and smokey; kissed by the grill, the seasoning of pepper and cumin was fragrant and aromatic. The sausage was a sausage, nothing you haven't had a million times before (wait, you've eating sausage a million times before?!). But the standout was the anticucho. The typical irony taste of organ meat wasn't present, so it was quite obvious that the time was put in to prepare this properly. It was extremely tender and chances are you probably wouldn't be able to tell it apart from a skewered seasoned tenderloin if you weren't told.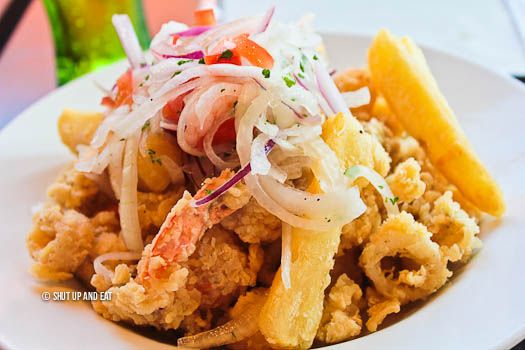 We also split an order of the jalea. For those who don't speak spanish, "jalea" roughly translates to "Awesome fried seafood orgy of sexy times".

A mound of fried squid, shrimp, fish, served with fried yucca fries and topped with salsa criolla (a salad of pickled onions, tomatoes and chili). The batter was light and airy but plentiful around each nugget of seafood. Dipped in a little aji verde, the spicy sauce cuts through the batter while lending a creamy texture to each bite. The yucca fries are a nice accompaniment, far more dense than potatoes, it offered a nice change to the heap of fries from the previous dish.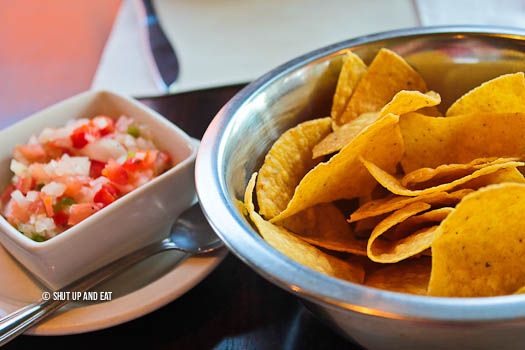 Agusto al Gusto is own and operated by the son of the owner of Villa Wellington – another Peruvian restaurant not even a block away. With a modest terrasse and outdoor seating and solid menu, Augusto al Gusto stands on its own and proves that Villa Wellington's shadow does not cast that far. A more casual dining experience and family feeling, this spot serves up classic grilled specialties and Peruvian favourites.
Agusto Al Gusto
4578 Rue Wellington
(514) 769-5885