Recently I've been going to restaurants around the city that have literally stood the test of time; spots that have been around for more than 25 years. I was trying to figure out why and how these places have been able to simmer for so long; was it the food, the people, the service, the location; all contributing factors are taken into account when a restaurant has been in the game for so long. When you think "Old School", what immediately pops into your head? A streaking Will Ferrel? That embarrassing tapedeck your mom still uses? I recently hit up this tiny little local joint in Rosemont that's so old school that it would make your Ace of Bass cd cringe.
I went to Pizza Villa, this little Italian restaurant on Papineau. Quaint and charming, the spot looks like it hasn't changed in the past 30 years. The bar looks the one your uncle has in his basement, with a tinted mirror backing and miscellaneous bottles of spirits that may or may not be vintage, with a shingled awning made to look like you're eating out in the garden at your granparents'.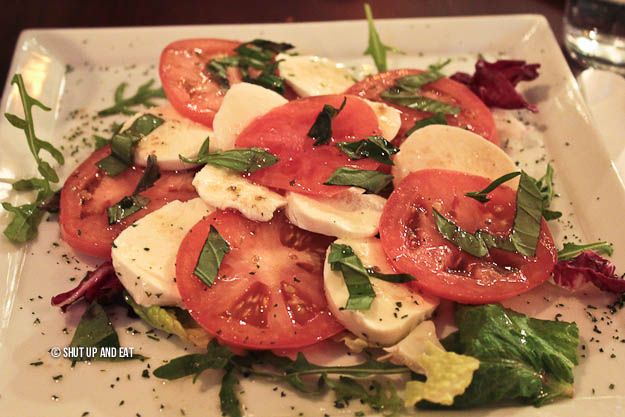 We started with the caprese salad. Generous interweaving slices of ripe tomatoes, and boccaccini cheese topped with fresh basil and drizzled with olive oil. When you have a little bit of each component in each bite, there's a harmony that's created between the creaminess of the cheese, sweetness of tomatoes and fragrance of basil.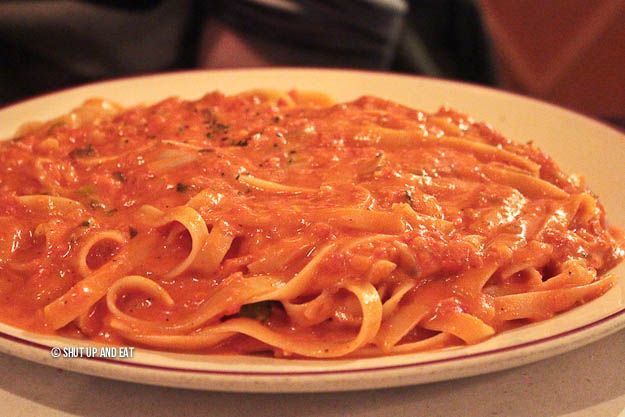 Linguine with pomodoro sauce. Al dente pasta finished off in a tomato and white wine sauce rich in butter. If you're homesick, heart broken, this is the kind of pasta dish that will stick to your ribs then put you in a choke hold and make sure you fall asleep on the car ride home.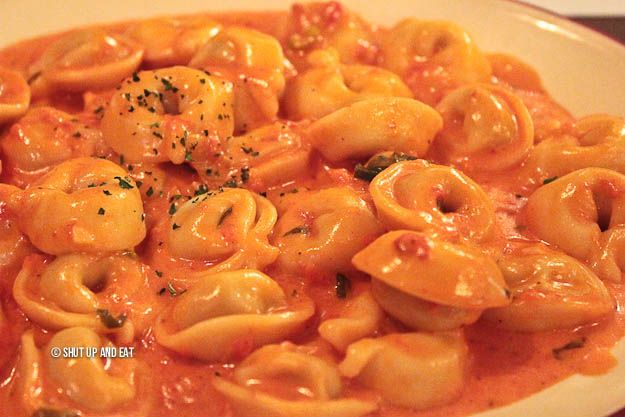 Tortellini a la Gigi – cheese tortellini bathed in a tomato and cream sauce, mixed with butter shallots and parmesan. Like the Linguine, this tortellini – all kinds of pasta for that matter – has always been a comfort food to me. The richness of the cream sauce with the slight bite from the onions is traditional and what you expect to taste, and it's exactly what you get.

We also ordered the Pizza Al Fresco – homemade marinara, slices of boccaccini cheese topped with basil and a drizzle of olive oil. Stop, I know what you're thinking; this thing is just the caprese salad disguised as a pizza. I also know what the second thing you're thinking is; "Man, for someone who's lactose intolerant, you're really playing with fire with this meal." Sometimes, it's all that's needed on a pizza, a great crust that's both chewy in texture on the inside with a great crunch on the outside, and plain fresh ingredients.

On the other end of the pizza spectrum is all-dressed pizza, but not just an ordinary all-dressed, but the Pizza Villa special which is a all-dressed with bacon and green olives. Anywhere that serves pizza is going to have their very own house special – which would be a this. There were no bells or whistles, the pizza was exactly everything you could want it to be; the cheese was chewy and the bacon crispy.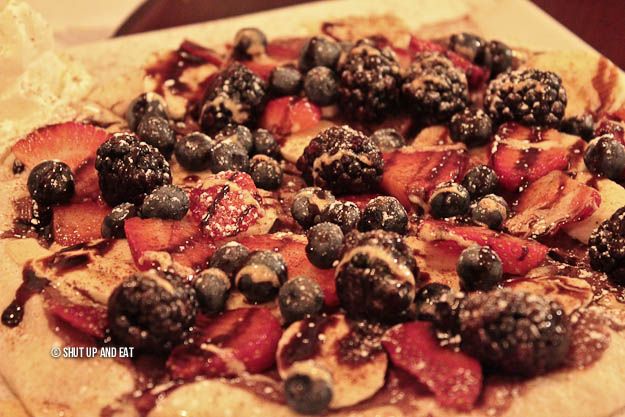 We ordered the Nutella pizza for dessert. Let's focus here for a second; they take the same dough used for the regular pizza and cook it a bit under, it's then slathered with Nutella topped with fresh berries and drizzled with chocolate and caramel sauce then dusted with confectioner's sugar sided with whipped cream. The undercooked dough was airy and lighter – almost like really fresh naan. The berries were berries and the tart tickles were quelled by the decadent hazelnut spread.
I walked in the place and I shit you not, O Sole Mio was playing on the stereo and there was a muted flatscreen showing the latest Euro-league football. By no means is Pizza Villa reinventing the Italian wheel nor offering delights that rub epicurean boners that pontificate the transcendence of Italian cuisine flavour dynamics; this place makes pasta, pizza and awesome homemade Italian dishes your grandmother would eat. The food here isn't mind blasting or anything, but the food they put out is exactly what you want it to be, simple, honest and delicious – like pythagorean theorem of the Italian culinary world – it only makes sense when equation is done properly because there's no other way of doing it; Pizza Villa is doing it and doing it and doing it well.
Pizza Villa
6672 Ave Papineau
(514) 721-4711
Website