This week's review, I wanted to do it old school, and by old school I mean, the kind of school your parents went to… WAY old school, dinosaur school. As restaurants come and go in this city, the ones that stick around for the long run are far and few between. There are certain things that stand the test of time, example; that second AA battery in the pack of two when you only need one, Legos, salt shakers in a Chinese restaurant and René Angélil's creamy caramel tan.
There are few restaurants in the city that have reached the prestigious benchmark of 50 years in operation. I hit up this spot that's been in this inconspicuous strip-mall in Montreal-west on the corner of Cote St.Luc road and Westminster – The Famous Delly Boys; a west-end staple going on almost 50 years strong serving local residents deli staples from classic triple-decker sandwiches to brisket and tongue sandwiches.

Our lunch specials included the daily soup; which was a thick tomato based vegetable soup with random noodles and pasta thrown in for good measure. It was soup; it was hot and served with a side of saltines… Oy, whaddaya gonna do?

Our meals also came with a salad. The soup and salad is obviously filler for the justification of a "lunch special". Soup and salad, nothing to get a boner over.

We also ordered a chopped liver and onions to start. Topped with fried onions, the chopped liver was fluffy and oniony. Seasoned with salt and black pepper, the scoop was deep in flavour but not the least bit irony typical of liver… The "irony" is not calling something that taste like iron, "ironic".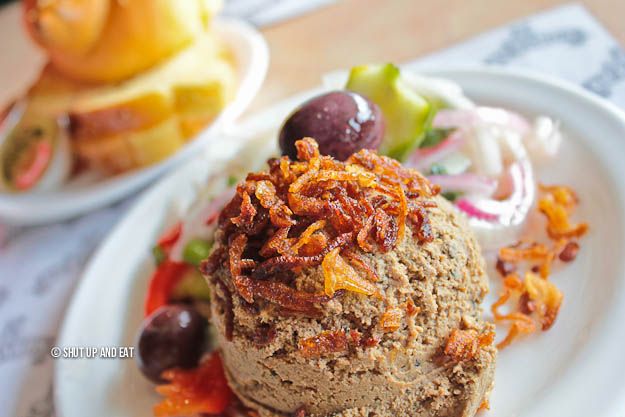 The order of chopped liver was served with a side of pickled onions, cucumbers, and peppers and a couple or rolls and slices of challah bread. This preparation of chopped liver isn't one I can outright swoon over – an emotional attachment on my part to this dish might not be as apparent as let's say, someone who's Jewish or even Eastern-European. However, in general, liver is found in many aspects of Asian cuisine and the flavours are something I can identify with. As with most memory-triggering dishes, the taste of liver sends me back to days when my grandmother would boil chicken livers in sweetened soy sauce and feed it to me over steamed jasmine rice.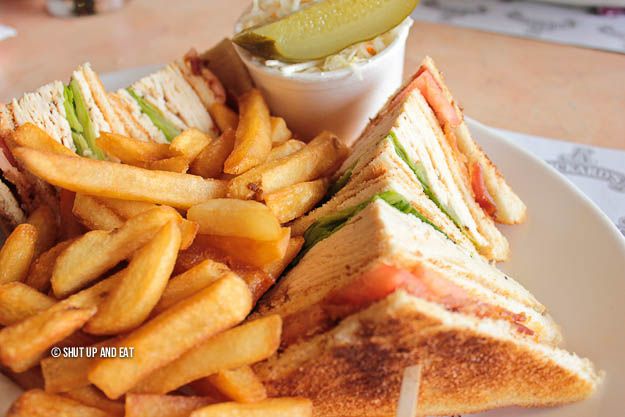 I ordered the club sandwich – naturally. A triple decker sangwich of grilled chicken breast, bacon, lettuce, tomato on white bread, served with a side of golden fries, coleslaw and a wedge of sour pickle.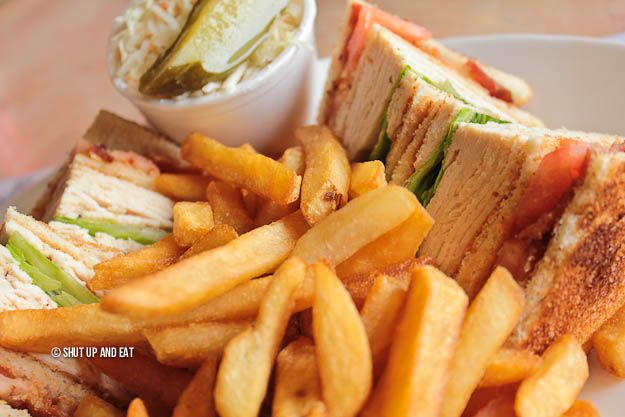 Simple, honest and comforting. I'm not going to gush about a club sandwich, but when was the last time you had a club sandwich and it didn't make you feel all warm inside. NEVER. A club sandwich is like a hug from your chubby aunt… the big 'ol fat lady with and ear shattering cackle with a little residual tobacco wheeze minus the sloppy kisses… represented with mayo always served on the side. As much as you try to fight the slobbery smooches, you'll give in and like the sandwich, be slathered from side to side in fatty kisses.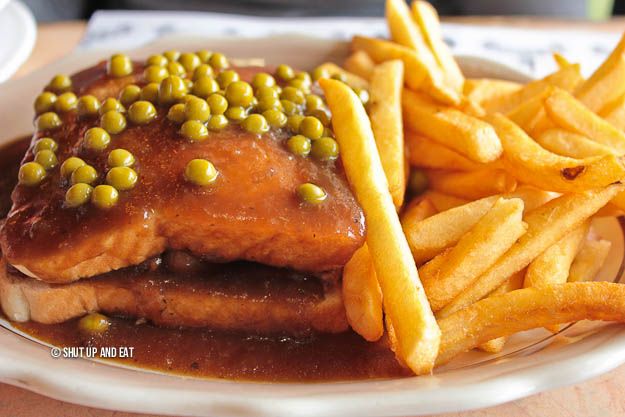 My lunch date had the hot roast beef sandwich; served with fries and topped with peas. The meat was tender and juicy but not overly fatty; and in general, a pretty tasty sandwich. Now I don't know if you noticed, but both sandwiches were served on white bread. And that's the way it really should be. None of that hippie whole-wheat shit that tastes like sandpaper. WHITE-PROCESSED-BLEACHY-GOODNESS – classics shouldn't be messed with.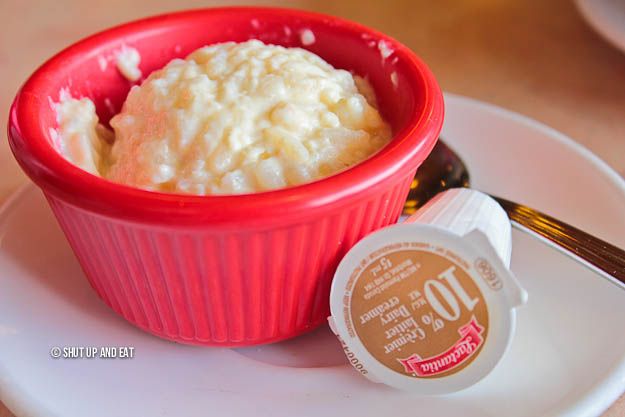 Awesome thermal plastic ramekin reminiscent of any geriatric ward with rice pudding for dessert.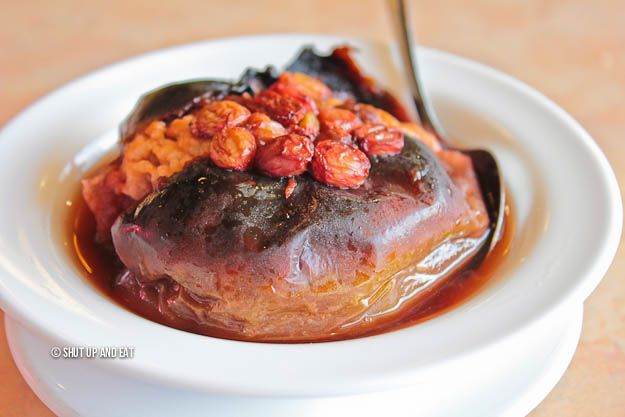 Baked apple was also a choice for the lunch special dessert. Baked with a touch of brown sugar, and raisins, the apple was tart which was nice with the caramel sauce that was just sweet enough.
In no way was this meal at Delly Boys groundbreaking or monumental. I wasn't around 50 years ago when the place opened, but I can almost guarantee you that the menu probably hasn't changed munch. Granted, less deli-like items have been added to the menu through the years I can assume – pizza, pastas, and six different kinds of poutine. Delly boys isn't trying to be something it's not, because it isn't anything other than a deli – one that's been around for nearly 50 years – they're serving what people want, and the people want what they serve.
Famous Delly Boys
5509 Westminster
(514) 484-8555
Website