By now you know what ramen is; a dish of glorious hand-pulled japanese wheat noodles served in a fragrant soy or miso based broth with braised pork. Many Asian cultures have their own variations of noodles soup – but you didn't need me to tell you that as I'm sure you've all received that letter from the Bureau of the Obvious and Common Sense. I hit up with Korean place in downtown that's doing their own thing; bringing the never seen before Korean ramen experience to Montreal.
I hit up Montreal's first ramyeon spot, Ganadara (they spell it using AlTeRnAtInG caps, but I refuse to, as I just realized I am neither back in the 90s nor am I a teenage Korean girl.) The menu is on the wall, but the server handed us cute, laminated photo album cheat-sheet of the menu.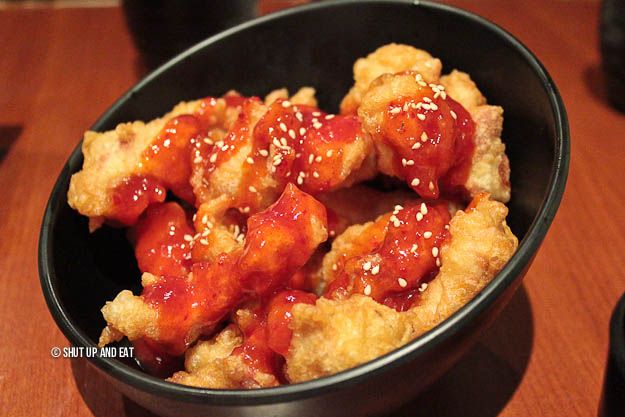 We started with the Tongdak or the "Dak Balls" – a bit off putting as I actually know someone named Dak. Battered and fried chicken dressed in a sweet and spicy Korean chili sauce. The chicken was moist and tender and the batter crispy – everything you really want in anything that's coated then given a hot oil bath. Think General Tao, but envision him with backup dancers and doing the Gangnam Style.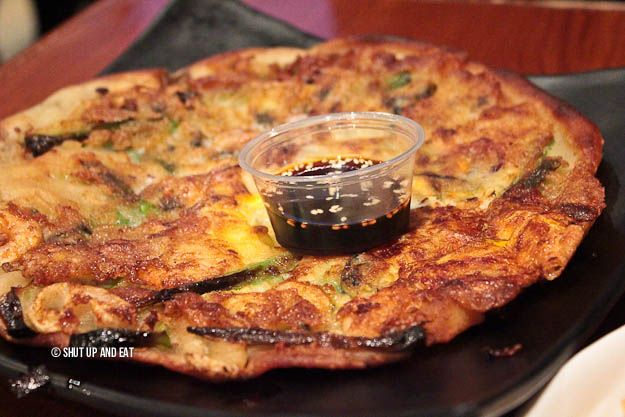 We also split an order of the Seafood Pajeon; a pancake made of scallion, eggs, shrimp and octopus. Not the best I've had, the prevalence of egg threw me off as the ones I'm used to, the eggs are limited to the batter, rather being fried/sunny side up right in the middle of the pajeon.

My buddy ordered the beef bulgogi ramyeon. A sauté of sweet marinated sliced beef in garlic, sugar and sesame topped this bowl of ramyeon. The soup had a bit of the sauté pan liquid and added a slight smokiness to the vegetable based soup.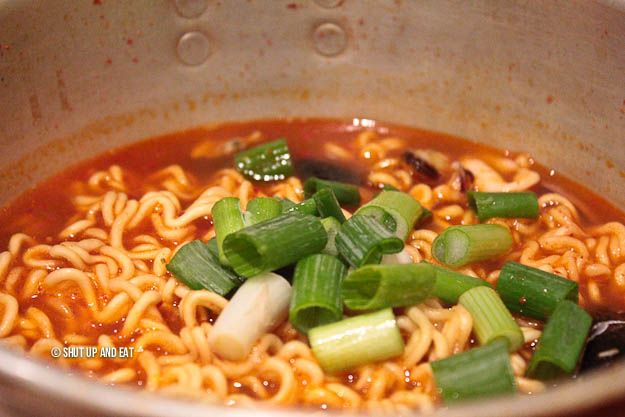 My other friend had the seafood ramyeon; which consisted of mussels, baby clams, shrimp and octopus. It was served in a a classic spicy broth; kind of like those Shin Ramyun joints you pick up at the Korean grocery store, but not as spicy.

This is where the shit got serious. You see those two orange squares on top of my soup? I'll give you one guess what they are. You damn right it is. My bowl of "Cheese ramyeon" was topped with the finest processed slices of Kraft singles. I was neither high nor drunk when I ordered this but it intrigued me enough that I needed to try it. Served in the same spicy broth, the noodles were dressed with chopped scallions as well as a poached egg. This kind of cheese doesn't melt into a rubbery mess that we all love to eat; when when these things melt, they MELT. Rendering down to a orange puddle mixed with the runny egg yolk, the soup was magical. Like the first time I kissed a girl, as I ladled the soup into my mouth, my tongue didn't know what to do with itself as it sensed the strange new sensation, and quivered with anticipation. The soup was thick enough (with the melted cheese and egg) that it clung onto the noodles and I lifted the chopstickful to my mouth, but was still soupy enough to drink on its own.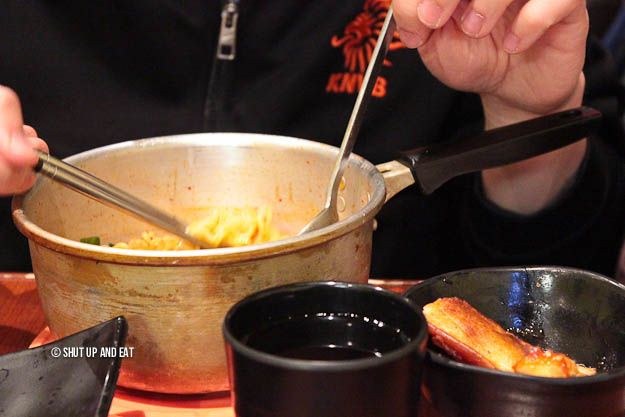 The quirk about Ganadara is that they single serving noodles come served in the single serving pot that it was cooked in. Part college throwback or part efficiency, I know what you're thinking, how the hell can a restaurant get away with serving instant ramen, and if that's a viable business model, why the hell didn't I think of that myself. Ganadara served packaged instant ramen, souped up like Civics. In Korea, (I am hesitant to use the word "ramen-house") but spots to cop a bowl a ramyeon are treated more as almost cafés here. A culture in itself, these types of places are by the younger Korean crowd, made for the younger Korean crowd – small informal spots that look like a teenage girl's bedroom covered in sticky-notes, cute visuals and more often than not, blaring the most recent of K-pop boy bands… whoa whoa whoa… not that I know what the bedroom of a teenage girl looks like.