If you know me, then you'll I'm as Hipster as they come; you can often find me foraging for wild berries and bitters on the north-side of Mount Royal, wheeling up next to the bike bath on my fixie because I'm THAT ironic. But if you really know me well enough, you'd know I'm fluent in sarcasm and the only way my fatass would make it up the mountain is in a motorized vehicle that burns premium grade petrol in a combustion engine. Being how I'm probably the LAST person you'd see at a "hipster" bar, I made a conscious effort to go to Maïs; not for their dranks, but for the weird looks I'd get and the food.
I went to Maïs during the day for their lunch special; a choice of three different tacos, or a trio of each. The place is more bar than restaurant, so the ordering system is a bit awkward; you have to order and pay at the bar. I'm not sure if this is how it works when the place is busier at night, but I can only assume a giant clusterfuck around the already limited bar space. Our waitress told us that the tacos change on a weekly basis and was quite helpful when it came to explaining what it was we were ordering.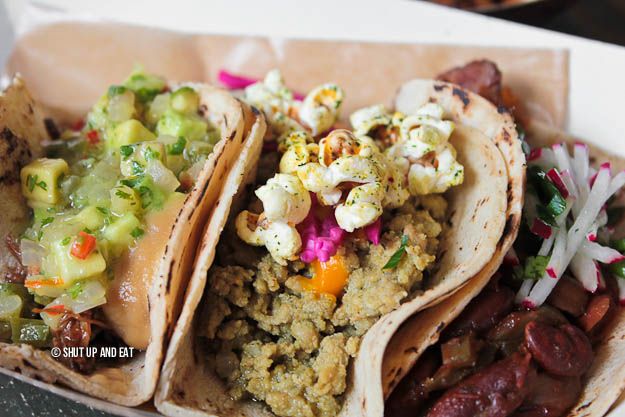 I ordered one of each. On the left, the ancho beef taco, served with an avocado salsa. The bright citrus of the dressing elevated the deep richness and murky chili used to marinate the beef; hits of fragrant cilantro also helped.

Second was the Mexican chorizo taco topped with a pumpkin puree and herb dusted popcorn. The sausage itself was very flavourful, garlicky and spicy, there was a hint of cilantro, and sweetness in the meat. I didn't mean to make that last sentence rhyme, sometimes it just happens, it's not a crime. The popcorn was a nice touch to add some texture as was the purple cabbage – to break up the monotony of the feeling of paste on your palate.
On the right – the lonely vegetarian option; a bean stew; toothsome red kidney frijoles cooked down with a mix carrots, onions and celery. Rich, earthy overtones to this taco, a blend of chili, cumin and other spices. Garnished with some sliced radishes, it made for a nice contrast of flavours, adding a peppery bite to each mouthful.

Each lunch special came with a dessert, and this day was an orange chocolate fudge brownie. I HATE.ORANGE.CHOCOLATE.ANYTHING.INFINITY. Luckily, my girl loves it and she was more than happy to have the rest of it. I had a bite, it was chocolatey and decadent… BUT ORANGEY. I HATE ORANGE FLAVOURED CHOCOLATE.

Like I said earlier, Maïs seems to be more of a watering hole than… an eating pit? More bar than restaurant… but hesitant to call it a "resto-bar" due to the lack of lottery machines and not being located in St. Leonard. Seeing as I don't drink, the versatility of their bar menu isn't applicable to me. This spot has some tasty tacos, and that's it. I mean, if you're out looking for a spot to drink and grub on decent tacos, Maïs deserves a second thought. Prepared a la Mexico, the recipes and taco options are pretty representative of what you'd get some dank Mexican taqueria (minus the double corn tortilla 🙁 )… just a lot cleaner and not as rough around the edges.
Maïs
(514) 507-7740
5439 Blvd St-Laurent
Facebook
CASH ONLY – ATM in the back