Eggspecation has been around for the last 20 years and is a place that I remember fondly from my youth. For as long as I can remember, Eggspectation had been synonymous with early Sunday morning lineups for that thing people call "brunch". I was recently invited and was given the opportunity to check out Eggspectation's new menu – I was told that 45 new dishes have been added to the menu and 23 existing dishes have been considerably modified – in an attempt to not only differentiate itself from the breakfast, brunch, and lunch restaurant category (with different options form the norm), but to also venture further into the day and establish itself equally as a restaurant serving lunch, lupper and supper.
A couple of friends and I hit up the Eggspectation at Rockland Shopping Centre.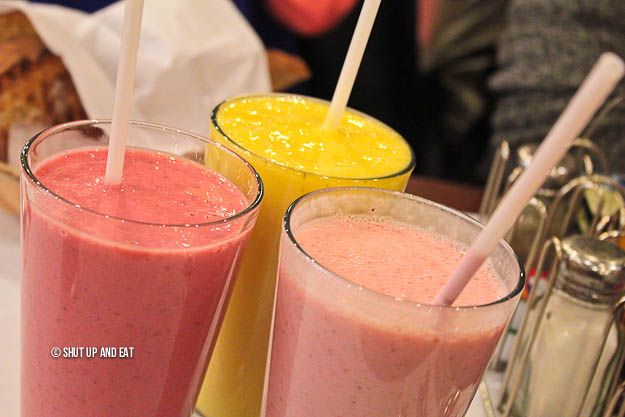 We ordered a few smoothies to start. "Tropical Teaser" – A mango, banana and pineapple blend with fresh orange juice; Perfectly Pink – raspberry, strawberry and Greek yogurt, blended with cranberry juice and Orange Juice and sweetened with honey; and Go Bananas – banana, strawberry and Greek yogurt and sweetened with honey. I'm not a big smoothie drinker; a smoothiee, but I did manage to taste them. Granted, you can see them blend the drinks to order at the bar using fresh fruit… They're smoothies. They're blended fruit in a glass. Yes, the addition of natural sweetener like honey is commendable, but for me, drinking a glass of gloop will just take up space that's explicitly reserved for pancakes. But if you're into smoothies, they've got you covered.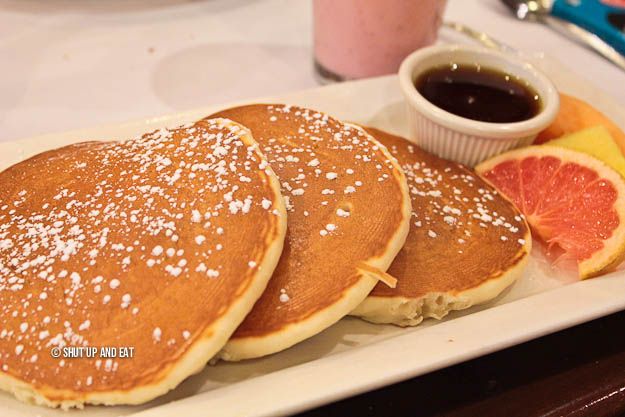 My girl had the order of buttermilk pancakes; what a sight, pillowy and soft, sweet and delicious… oh, the pancakes were alright too. 🙂 They were light and fluffy and there was no 'crust' on the pancakes, which left each luscious gluten disk a literal syrup sponge. I love pancakes, and honestly, the only way to really fuck up pancakes is to make them crêpes; everyone knows, crêpes are pancakes' wimpy little redheaded brother that are just lesser pancakes.

My friend had the High Rise Pancakes plate. Pancakes stacked three-high, sandwiching a layer of breakfast sausage and a layer of bacon and dusted with potatoes, served with real maple syrup.

My other friend had the "Southwest sunrise omelette" – A three-egg omelette filled with cheddar, Swiss and Gruyère cheeses, sautéed peppers, then topped with avocado, salsa and sour cream and served with a side of Lyonnaise-style potatoes. The omelette was nice and cheesy, and the Mexican flag of accoutrements on top lent some familiarity to each bite as to what we associate with "southwest" flavours.

I had the lobster omelette featuring a quarter-pound of gently sautéed Nova Scotia lobster, provolone cheese, green onions, topped with our famous hollandaise sauce
and broiled to finish. Judging this book by its cover, when placed in front of me, I gave it the 'ol stink-eye for I thought I was being duped by the claim of a full quarter-pound of lobster.
I crossed my arms and gave my plate Sheldon look of exhaustion and ever so slight amusement.

Until I cracked the sucker opened and lobster came tumbling out like Monica Geller's junk closet. The hollandaise sauce gave the omelette a definite richness that complimented the lobster, whose brininess brought out and was cut by the lemon in the sauce.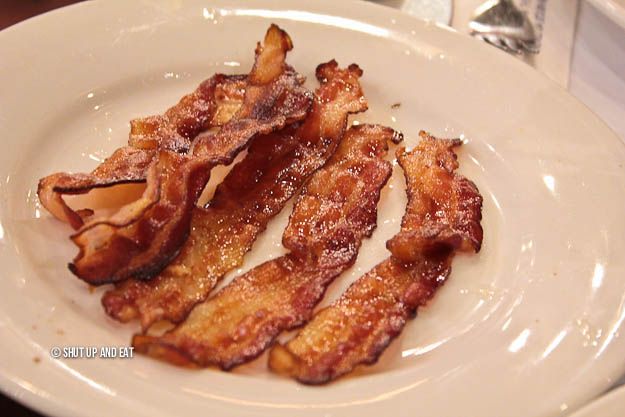 Yes, a side of bacon. Our dishes except the one actually SERVED with bacon and sausage, wasn't accompanied with traditional breakfast accoutrements. This was the only disappointment… the choice was not offered with our dishes, the bacon they did served were thin-ass bitch strips of bacon. Maybe my fondness for bacon has me biased in believing that bacon should be served thick, but at least not tracing-paper thin. But that's perfectly fine, maybe some people prefer smaller portions of bacon as to not overshadow their dish and not have bacon as the focal point of their meal… I call these people VEGANS.

The key to any restaurant's success is consistency; constantly putting out tasty food and friendly service is a simple formula, and it's a formula that the Eggspectaion family has been using for the past 20 years. Their all-day menu seems legit, but none of us was brave enough to steer away from what we know they are known for. They're not making cutting meals or claim to be at the forefront of culinary innovation; to me, they serve breakfast; solid, reliable, breakfast… they always have, and hopefully always will.
Eggspectation
Various locations
http://www.eggspectation.com