Last month I had the distinct pleasure to interview Chef Natalia Machado for Montreal en Lumiere that was featuring and showcasing her restaurant L'Atelier d'Argentine, about living in Montreal and putting her on the spot of picking the superior bagel; Montreal vs New York. Her spot is a straight up Argentinean style asado, heavy on the beef and easy on the vegetables. Listen, I'll be the first to admit that I'm a carnivore, in fact, I prefer that the tasty animals that make up the majority of my diet have names before being fed to me. Knowing that L'Atelier d'Argentine is a meat-centric joint, it didn't make sense to not hit it up with furious anger like a fat kid kills cake… or in this case, a fat kid killing steak.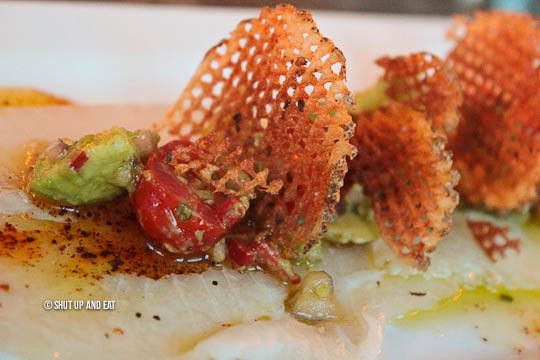 We started with the Crudo de Corvina – thinly sliced corvina dressed with olive oil, lime, a dusting of smoked paprika, cherry tomatoes and an avocado salad garnished with homemade waffle fries. Waffle fries are so underrated, especially when they're shaved so thin – waffle crisps – added nice texture to each buttery bite. The inherent natural sweetness of the fish stood out and was complimented by the sharp acidity of the lime. The delicate fish managed to tame and was not overpowered by the overt crackling of the chips – like a lady does over her manly brute in bed. Layered in flavour, the dish reveals itself once you succumb to its hypnotic coy gaze inviting you to touch every inch of it over your lips – this dish was foreplay.

The quartet of empanadas were up next. Beef, spring onion, smoked paprika, and fontina cheese and caramelized onion. These appetizers were no more than two bites each, and that's all we needed or wanted because had I been given the chance, I would have made a meal of 20 of these – these fried dumplings are addictive.

Sweet yellow corn with smoked ham, and bacon with provolone cheese – served on top of a grated tomato sauce, I think any culture can identify with fried dumplings with some variation of filling. Each folded differently reflected the individual characteristic each bundle of goodness encapsulated – with a great crust, the pastry dough had a nice chew to each bite.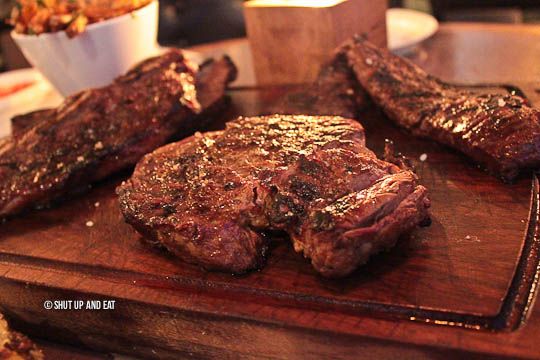 We were treated to a butcher block sampler of Chef Machado's recommendations. As it arrived, my knees gave way and I started sweating in places I didn't even knew I had glands. Watching two servers clear the way and gingerly place this monstrosity on the table was like the awkward fumbling in the dark as you get naked with your partner; the temptation that laid before us was beckoning for me, and I knew the only way to rid temptation is to surrender to it. Faced with 14oz grilled short rib, 14oz ribeye and 14oz skirt steak, I sat and envisioned the grand crescendo of how this will play out; but instead of chitchat and afterglow, I was thinking about the shame my girl would have to sit through as she witnessed me do things to my steak even zoo animals have the decency of going to the back of their cage to do.

I'll go on record of saying it; this might possibly be the best steak I've had in Montreal: The ribeye, perched noble and proud was the focal point of the butcher block. Grilled with only sea salt, we were explained that pepper would overpower the subtle intricacies of the cut of meat. Ridiculously tender, we were able to cut through the steak like a screaming hot knife through butter. The skirt steak – a classic gaucho cut of beef – was grilled with salt and pepper then finished with coarse salt. Mixed with its own juices, the salt created a briny sheen to the steak which made it glisten and begged to be devoured. Again, tender and full-bodied, the meat was what I imagined making out with my highschool crush would be like…. messy… messy and delicious.

It's obvious and goes without saying that the meat was expertly prepared to a perfect medium-rare. The short-ribs that were treated with salt, pepper and the slightest dusting of smoked paprika was robust. Grilled and exposed to the high heat, the bone that was left on was able to impart a far much deeper and richer flavour in the meat.

Traditionally the Argentine way of eating steaks is with chimichurri and criolla sauce. The chimichurri, a sauce of parsley, onion, garlic, oregano, vinegar and oil, completely opened my eyes and has taken sole responsibility in changing the way I will forever eat steak. The criolla sauce; a mix of tomato, red bell pepper, onion, wine vinegar and oil was equally as acidic and sharp as the chimichurri that cut through the lusciousness of the asado and heightened the mix of contrasting flavours to the next elevated level.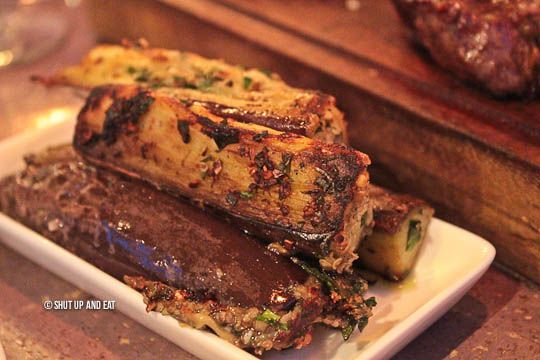 The meats were served with a side of fries and oven roasted eggplants in herbed oil. It was tasty, but more of a distraction… kind of like forgetting to turn your phone to silent when in the middle of… Y'know what I'm sayin'.

We ended the meal with Atelier d'Argentine's awesome flan; vanilla egg custard, with coconut milk and caramel. Rich and decadent, this dessert jiggled the way I did when I tried to loosen my belt. The perfect way to end this lustful meal like the proverbial cigarette after the fact.

There is something to be said about having your product stand for itself. I knew that Atelier d'Argentine did not age their beef; it's butchered daily and the beef is served as fresh as can be. Yes, aging beef will intensity the boviney flavour, however, when you already start with a great product, serving it with a pinch of salt and pepper is the ultimate testament to the quality of what you're serving and putting your name and reputation on. When you chose to eat a steak, you want to taste the steak, if I wanted to eat a mouthful of rimmer, I'd order a Bloody Mary.
L'atelier d'Argentine
(514) 287-3362
355 Rue Marguerite D'Youville
http://www.atelierargentine.com