When I was doing the rounds for Poutine Week, I had to opportunity to try some of Montreal's most creative spin on our favourite dish, the poutine. Some were totally out of control-over the top where you'd be forced to reschedule your next doctor's appointment in shame and then there were some that bordered on sexual arousal, and this brings me to the review for this week. One of the poutines that stood out the most was the one from this tiny spot on Bernard in the Mile-end. If you've been a Montrealer long enough, you'll know that if there's one thing that the Mile-end is known for, it's the Greek food. Well, no, not really. In the midst of synagogues, fixed-gear bikes, corduroy pants and typewriters sits this Mediterranean hot spot – Namos.
This family run business recently found itself going through a phase of rejuvenation; from straight up rustic Greek restaurant to a chic Mediterranean inspired mezze restaurant. If there's one thing I do and do well is eat… but the one thing I don't do well is share; with a tapas style menu of small dishes to be split amongst a few people, I hit up Namos last week with a couple of hungry friends who were brave enough to sit with me at a table with knives.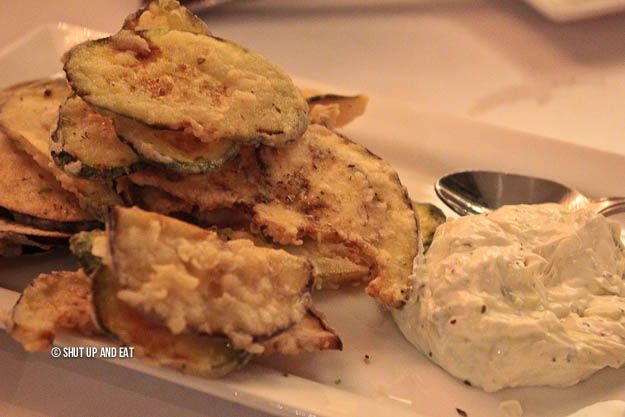 The menu at Namos touches on every category of food – from veggies and cheese to meats and seafood. I love chips; you can make chips out of pieces of flip-flops and I'll still eat the crap out of them. Fortunately this evening the chips were made of impossibly thin slices of eggplant and zucchini. We started with zucchini and eggplant chips served with homemade tzatiki. I'm a huge tzatiki fan, and the version at Namos is light and has a great tang to it like any proper greek yogurt would have that helped cut through the batter on the vegetables – which stayed crisp and crunchy right until the last slice was eaten off the plate.

We also ordered the tradition Greek salad of tomatoes, cucumbers, onions, olives, topped with feta, mint and dressed in a raspberry vinaigrette. You might think that a salad is a salad, but this is the ultimate showcase for the kind of produce a restaurant carries and has readily available to serve to their guests. The cucumbers snapped at every bite, the tomatoes were firm and the sweetness of the dressing was cut by the sharpness of the feta.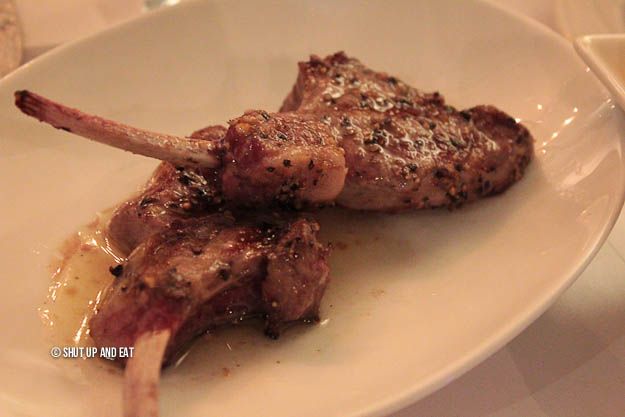 My buddy and I ordered a lamb chop each. I know what you're thinking; "one, lonely lamb chop a piece?!… you bitch". Having many Greek friends I know that besides having last names that only other Greeks can pronounce, they cook up a mean lamb chop. One chop a piece only because we knew we'd probably blow through two racks each if we had the chance. The Frenched chops were tender and cooked perfectly to a medium-rare with nothing more than simple salt and fresh cracked pepper – another testament to the freshness of Namos' ingredients.

Saganaki – the performance portion of our evening – Doused with Ouzo, the kefalotiri (sheep's milk cheese) is pan-fried then flambéed table-side. Creamy with a hint of anise, a classic Greek dish whose salty bite encourages the appetite.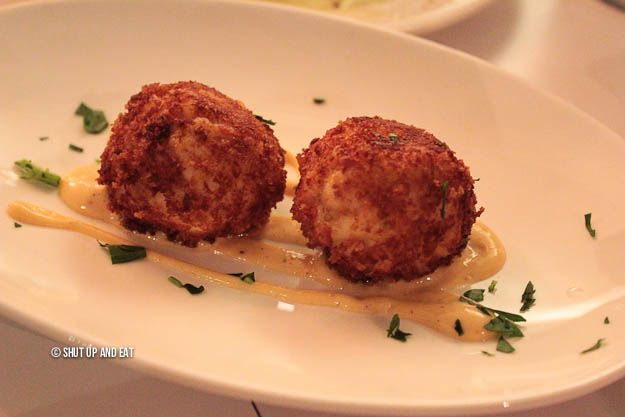 Next up was our round of seafood courses: the crab cakes. More balls than cake, each nugget was delicate and was packed with crab. The classic crispy exterior was a great contrast to the luscious crustacean that was served with a spicy mayo sauce.

What's a trip to a Greek restaurant without ordering the fried calamari, it would be like going to a Chinese joint and not ordering general tao… right? 😉 This dish was solid. There's only one way to mess this dish up, and that's not what we have here; the squid was tender and wasn't fried to the point of becoming rubber bands.

We also ordered the grilled version of the calamari. Dressed with garlic, lemon, and dill, like the preceding, the squid was awesome. Prepared completely different (obviously), the smokey aroma was a nice tinge of flavour that complimented the brininess of the squid. Again, tender and plentiful.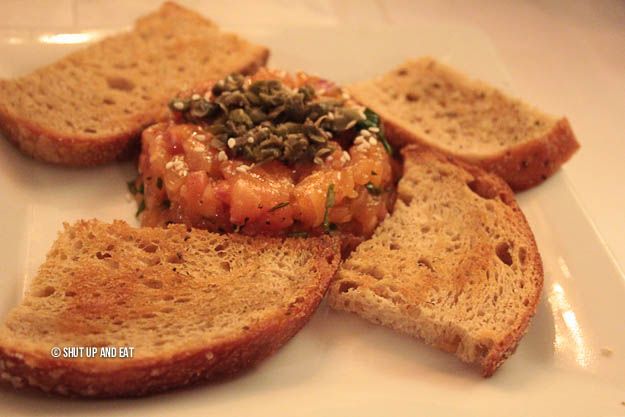 We split an order of the salmon tartar – which in simplest of terms… was salmon tartar. The fish was nicely chilled and topped with chopped up briny capers, a bit uneventful, but it was pleasant.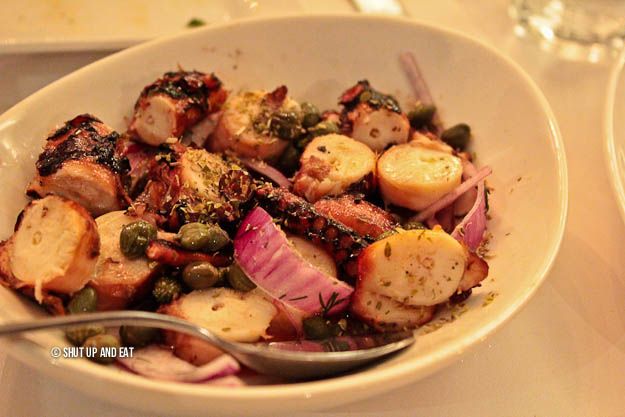 Ok, let's get focused for a second. The grilled octopus. Think of all the swear words you know, including all the manky ones you've learned in other languages… this is exactly what was going through my head when I ate this. I'm a big fan of grilled octopus so I'm quite discriminating when it comes to eating it. Served with red onions, capers, drizzled with olive oil and peppered with oregano, this dish was so far off the fucking scale delicious, I was ready to punch fellow diners at other tables in the neck and rip the flat screen off the wall. Tender and supple, the octopus was swimming in sex.

Homemade loukoumades – honey balls (subsequently my middle name) light and airy dumplings glazed with honey drizzled with Nutella and served with ice cream. Delicious and a great way to end your meal, the ONLY problem with this was that it was served in an odd number and we were four people. So you can understand when it got a bit physical and we were reduced to laser cutting precision when it came to cutting the last one in four equal sections.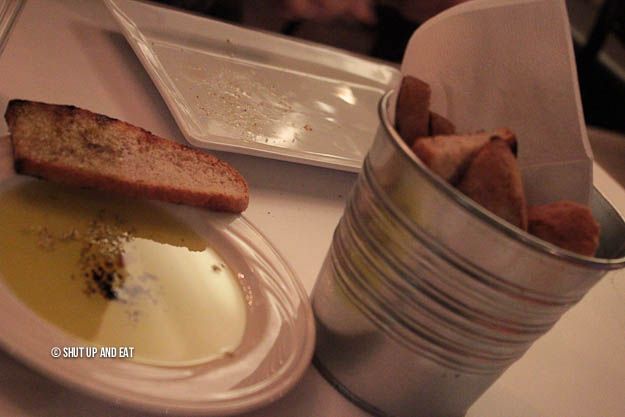 Namos is definitely a great discovery in the mile-end and a much needed breath of fresh air to this lower side of Bernard. With a concise menu, Namos puts their signature touch of bringing mediterranean inspired dishes and Greek classics to Montreal. With a deft touch of whether it's simplifying a dish or standing behind fresh products to be confident enough to let them stand on their own; you can tell from the first bite that there is a nod, a sort of recognition to tradition in both preparation and tastes and flavours – updated and fresh.
Namos
228 Rue Bernard Ouest
(514) 490-4222
http://namosrestaurant.com