There are a few things that Montreal's take seriously and are passionate about; how much the Toronto Maple Leafs suck, how much Toronto sucks, pot-holes, poutine and smoked meat. When you ask any local about their view on smoked meat, alliances are fierce and lines are drawn thick enough that could tear families apart. There are many big name players in the Montreal smoked meat game that have made garnished international recognition, however, there are some that have gone unnoticed and live less of a lavish lifestyle instead of riding on the back of a world-famous pop-diva and her hyper-tanned-blading-pony-tail father, I mean husband.
A while back my dad talked me into hitting up this smoked meat spot out in the west island. As much as I like to bust Westislander's balls, I can empathize with them when it comes to going to lengths to get good food and making the trek "downtown" to grub some legit smoked meat. Researching the menu, I read about the history of the joint; original owner prides himself on copping the original recipe from Schwartz's themselves… this I had to see.

Being dragged all the way out west for supposed "smoked meat", I did what any other Montrealer who's brisket coalition was set in stone would do; I ordered the club sandwich. A classic deli style club sandwich with turkey loaf, Abie's smoked meat, lettuce, tomato and mayo. It was everything you wanted it to be… a club sandwich. Missing the bacon, this "club sandwich" seems more like the probationary sandwich before being initiated to a real club sandwich. Served with a side of tangy coleslaw, dill pickle and a mess of fries, this dish is not fussy or complicated; simple as that.

I think the inclusion of smoked meat into anything is a testament to how much we Montrealer's admire our beloved smoked meat. I dare you to take a look at any menu across the city. If there is a restaurant "special", more chances than none, the piece de resistance that makes it special is the inclusion of smoked meat. Do it, do it now; go to the stack of takeout menus on top of your fridge and fish out the first pizza menu… I rest my case. The smoked meat in the sandwich is always a nice touch, but there's nothing that can replace the staple of bacon in a club.
Here's what my all time favourite stand-up has to say about the club sandwich: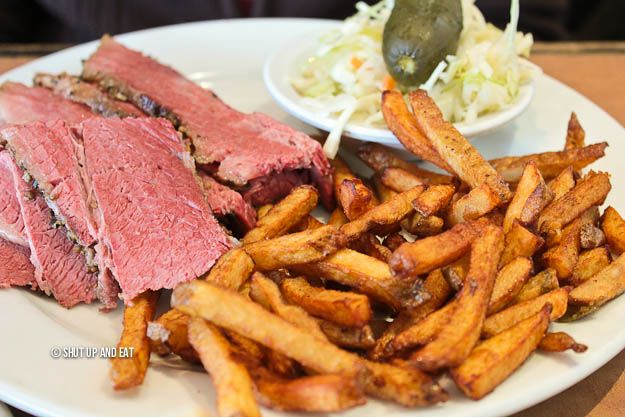 My dad however, ordered the smoked meat platter – Sliced Smoked Meat (ordered medium), served with a FULL LOAF of rye, fries, cole slaw and a dill pickle.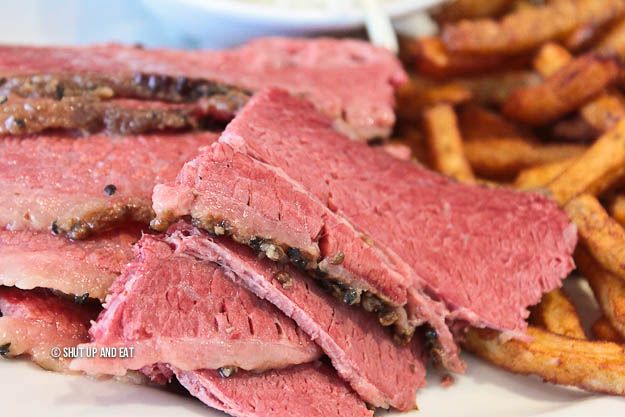 Off the bat, the meat was fatty and unctuous – fatty in the good way. In a glistening sheen, the meat was stacked thick. The flavour was robust; the subdued peppercorns in the dry rub complimented the classic overtly beefy flavour of the brisket. What stood out almost immediately as I bit into it was the overall texture; there was bite and did not fall apart like a lot of others I've had. Having smoked meat not disintegrate and feed the front of your shirt with globs of mustard as you bite into the sandwich is so underrated.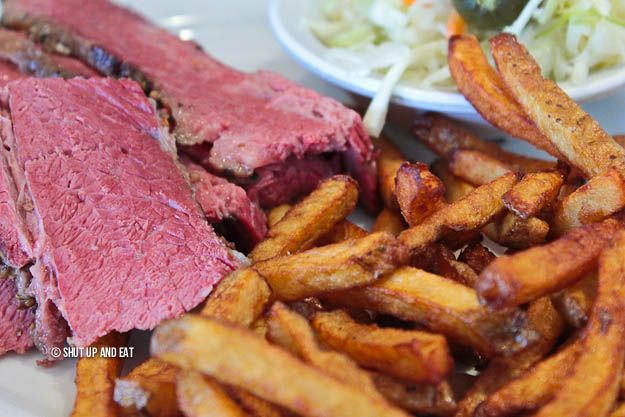 Abie's prides itself on doing smoked meat the traditional way; nitrate free and with lots of love. I'll have to admit, the discernible characteristic of smoked meat that is pumped full of pink curing salt that makes you want to grind your teeth together and have the squeak resonate in your skull like nails on a chalkboard was not present in Abie's smoked meat. Having your mouth feel like it was coated with paint stripper isn't always pleasant, and fortunately, this isn't the case there.
Look, the smoked meat is decent and can hold you over until you make the trip into town for something that will ultimately fill the void like your favourite spot can. I've read mixed reviews on this place – which sound like people who were comparing their favourite and not having this stand-in cut it… Does a taxi get you to work if your car is in the shop? Yes. Is it any 'less' of a car? No. Abie's does the trick if you're in the middle of St Jean, amidst a snowstorm and there's 45 mins worth of traffic on the 40. Are there better in the city, sure… it just depends who you ask.
Abie's Smoke Meat and Steak
3980 Boul. St-Jean.
Dollard des-Ormeaux
(514) 626-2243
Website