As you may or may not been made aware, but the past week was Montreal's first Poutine week. Seven glorious days filled with French fries, cheese curds, brown gravy, guilt and regrets. We witnessed 30 restaurants scattered around Montreal single-handedly take responsibility for depleting the Lipitor reserve of the East Coast of North America all in the name of crowning Montreal's best poutine, voted by the public.
Whether you were able to head out and sample some of Montreal's most creative, here are the few that I managed to try.

Fabergé – "Breakfast Poutine"
Home-fries (roasted potato wedges), topped with caramelized onions and bell peppers, sprinkled with fresh cheese curds, sliced bacon bits, dressed with hollandaise sauce and topped with an over-easy egg; this poutine was scrutinized in the media for pushing the boundaries of being a "poutine". However, they exemplified the mandate of this weeklong event, being creative and remixing the poutine.

Burger Bar Crescent – The "real" hangover poutine.
Hand-cut fries, fresh cheese curds, sautéed wild B.C. mushrooms, truffle oil and topped with a fried egg. I'm usually weary of things that contain truffle oil; it's often abused and over used and completely takes over a dish. Used sparingly, the truffle oil brought out the earthy flavours of the mushrrom – I don't drink, but if I did, this poutine is definitely the way I'd like to wake up and regret it.

Miss Prêt à Manger – "Pulled lamb poutine"
Yukon gold and sweet potato fries, organic cheese curds, braised locally sources organic lamb shank, au jus gravy topped with a floral garnish. The peppery salad was just enough to cut through the meatiness of the lamb. The bouquet of herbs and spices used to braise the lamb was evident. By far the prettiest poutine of the week, this was also the only poutine I ate all week that didn't leave me hating myself.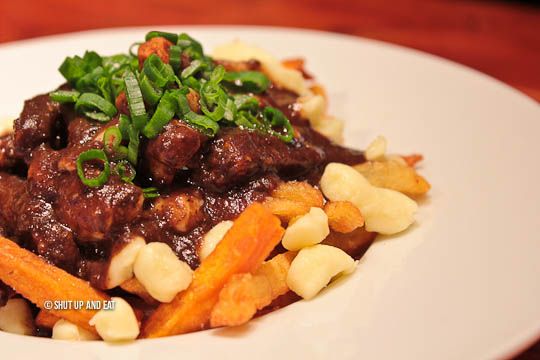 Lola Rosa Park – "Lola Poutine"
Noted vegetarian and vegan restaurant saw the inclusion of a 100% vegetarian poutine made with a mix of regular and sweet potato fries, brown sauce of beans and mushrooms, cheese curds and topped with scallions. Look, I'm not a vegetarian… not that there's anything wrong with that, but if I'm ever going to eat a poutine that doesn't contain any of our furry friends, it would be this one.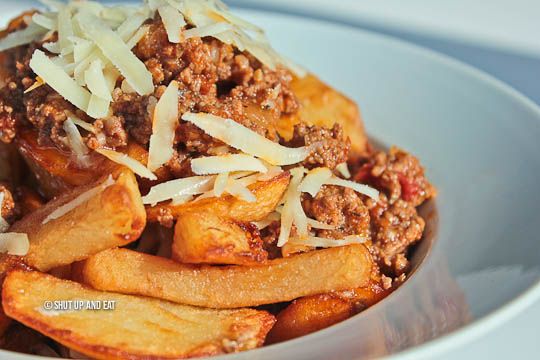 Namos – "Poutine on the beach"
This Greek spot in the Mile-end was putting a family recipe twist on their poutine week poutine. A hearty kima meat sauce topped the kettle cooked fries with kefalotiri and shaved cheese. The only bad thing about this poutine is that it isn't on their permanent menu.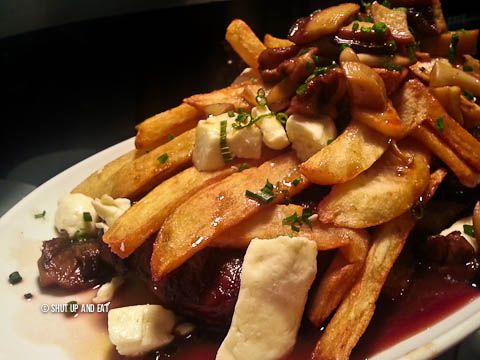 Biarritz "Steakhouse Poutine"
Biarritz featured a specialty poutine for the week. Served atop a 25oz dry-aged rib-eye, the "Poutine Forestier" was mixed with hand-cut double fried fries, sautéed king oyster mushrooms and jumbo cheese curds. It was listed as a poutine for two, but one – if you're a lumberjack.
Poutineville
You can't really have a poutine competition or dedicate an entire week to poutine without mentioning a restaurant whose name is devoted to this tasty dish, Poutineville. Their three locations were entered all with different poutiness – to keep a level playing field.

"The Montrealer"
The Beaubien location featured homage to Montreal; and what's more Montreal than smoked meat? The straight up traditional poutine was fancied up with sautéed mushrooms, shredded Swiss cheese then baked and garnished with a wedge of fried dill pickle.

"The Poutineville"
Poutineville's signature 8-hour braised beef. This poutine sees hand-"smashed" potatoes, a mix shredded mozzarella and fresh cheese curds topped with red wine gravy. I've had the poutine a couple of times and every time the thing tastes the same. Consistency is the key to success, not many people realize this, and those who do, know it.

"The General Tao"
The build up and anticipation to this poutine was intense. The announcement was made via their Facebook and Twitter that they were unveiling a new poutine for Poutine Week. Home-made General tao sauce slathered over big generous pieces of battered and fried chicken, garnished with scallions and onions; this sat atop a mound of their signature smashed potatoes, cheese curds and brown sauce.
Montreal's first Poutine Week was a great success, congratulations to all restaurants and competitors for grinding through thousands of pounds of potatoes and spiking the production and sales of the cheese curd industry. I will now be lobbying for an inaugural Salad week or Quinoa week.
Did you manage to poutine it up last week? Where did you go?
Burger Bar Crescent – 1465 Crescent St. (514) 903-5575
Miss Prêt à Manger – 1104 Rue de Bleury (514) 861-6565
Lola Rosa – 4581, Park ave. (514) 843-5652
Fabergé – 25 Avenue Fairmount Ouest (514) 903-6649
Namos – 228 Rue Bernard Ouest (514) 490-4222
Biarritz – 4801 St Laurent Blvd (514) 281-2000
Poutineville 1348 Beaubien Est (514) 544-8800
Poutineville 1365 Ontario Est (514) 419-5444
Poutineville 99 Charles Lemoyne Longueuil (450)332-9977