Montreal in 1967 was a peculiar place to be. The city was sitting on the cusp of modernization that would usher Montreal into a technological birth that saw the city being carved out to make way for our famous metro system, the Expos, Lego like condo structures and a concrete snake called the Ville Marie. I had to opportunity to check out Projet 67, this spot on St Laurent and the corner of St. Jospeh, whose concept is a throwback to Montreal of yesterday, "C'est un hommage à nos racines culinaires typiquement montréalaises." My first thought was, "Awesome, smoked meat and bagels and poutine while listening to Nickel's commercials featuring Celine Dion!" Until I read further to discover, "C'est un hommage au riche héritage d'Expo 67."

We started with the hamachi that was served sashimi style; shaved horseradish and nori, with an edaname puree served with a dashi "tea" on the side. The fish was fresh as can be and I am usually quite discriminating with my sashimi, especially hamachi (it's my favourite). The bright chartreuse edaname paste was smooth and nutty which gave the fish an even more buttery texture than normal. The tingle of horseradish an obvious play on wasabi, it helped the light sip of sharp salinic dashi chaser – cut through the rich mouthful.

We then had the cod on spicy potato puree, topped with a red pepper and vadalia onion compote and sliced cured Italian sausage. We were instructed to eat this dish with a little bit of everything in each bite. After being told this, I naturally did what anyone else would do – I ate eat component separately; but I soon found out why we were given instructions in the first place. The cod itself wasn't extraordinary, it was warm and supple but lacked seasoning, the compote was overly sweet and the cured sausage was salty when put against the base of spicy mashed potatoes. HOWEVER, when roughly proportioned on the fork, everything comes together and locks in. Each element has their individual place only when standing side by side on your fork; salty sausage balancing out the nectarous compote of the sweet onions, on a slightly sweet neutral palette of salted cod with a hint of cheyenne from the buttery potato puree – a perfect balance as represented by the teeter totter-oblong plating and dish.

I had the braised smoked meat, with a Brussels sprout salad, diced homemade pickles on caraway polenta – a nod to a classic Montrealais dish. I asked myself how does one braise smoked meat; I was envisioning a soggy red brisket. The meat was fork tender and tasted like it was infused in the essence of Montreal smoked meat – the inherent flavour was undeniably familiar with peppercorns and coriander seeds. The caraway polenta was a nice touch as well; whimsical and slick, this dish is an sly wink in the direction of everything you think you know about a Montreal smoked meat sandwich.

We also tried the "peking duck". Normally I would avoid "ethnic" dishes appropriated by chefs not of that ethnic background, but this time I was brave. Duck breast with a sweet citrus glaze, Chinese choy sum, potato and cheese rosti, garnished with shitake mushrooms, water-chestnuts and dressed with a homemade hoisin barbecue sauce. The duck in question was nicely pink and plump; the skin taking to the glaze nicely and was reminiscent of plum sauce that normally accompanies duck in a Chinese setting. The cheesy hashbrown base is where I got lost, perhaps it was the chef's vision to incorporate something on the other end of the Asian flavour spectrum to use as contrast – I don't know. Cheese is never used in Asian cuisine, but in this context, the crunch of the potatoes and sharpness of the cheese added both texture to each bite as well as a spear to cut through the richness of the duck and hoisin – success.
(I realized that the term peking duck on this menu was used as a suggestion of "Chinese inspired duck preparation", rather then the other Peking duck where Chinese pancakes, scallions, cucumbers are wrapped up with crispy duck skin and eaten in a savoury bundle.)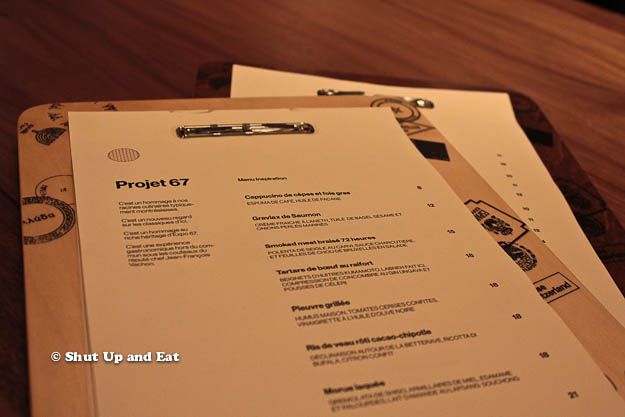 Lead by Chef Jean-François Vachon, formerly of M sur Masson, he takes you on a contemporary gastronomic monorail tour of the flourishing culinary scene in Montreal influenced by classic local dishes and ones introduced to the city during the World's Fair. The two page menu was simple in explanation and fierce in execution. The concept and decor is as inspired as the dishes coming out of the kitchen. The subtle mix of warm wood and cold concrete is an overt ode to a young "metropolizing" Montreal thrown onto the world's stage. Clever use of refurbished mod fixtures and chairs also added to the feeling of a modest acknowledgement to a retro 1960s experience. A big shout out to Eric and Patrick for being so accommodating!
Projet 67
4902 Boulevard Saint-Laurent
(514) 508-6767
Facebook
Website

Comments
comments