*CLOSED*
I dislike brunch. I hate the WORD and the connotation that it brings more than the actual ritual of eating in the grey-zone between breakfast and lunch with stipulated menu options dependant on the time of day and day of the week. When I'm asked to go for "BRUNCH", I'll usually tell people that I already ate breakfast, then sit back and watch them squirm in confusion like I've just thrown a wrench in the gears that carry them through an ordinary weekend. Why doesn't "lupper" exist? Or is that called "tea"? Why don't we celebrate or equally fetishize a food between the PM meals?! WHY?!
I hip up this spot in St-Henri called Le Caffè Mariani – a local joint doing "full blown brunch" everyday with an equally as awesome nighttime menu. Walking in without a reservation we found out quickly why we were asked if we had one even before the door closed behind us. We were seated immediately, but the place soon filled up rather fast.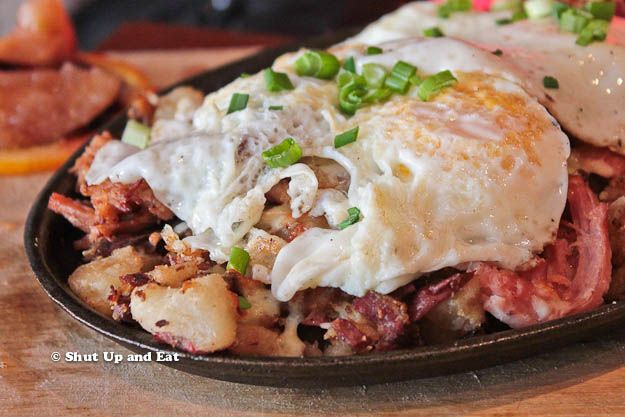 My lady ordered the Mariani cassoulet with eggs over-easy. A mix of Mariani's roast potatoes, signature beer braised ham, bacon, and sharp cheddar, served as a hash in a cast iron skillet. This dish is for the people who don't suffer from the paralyzing phobia of foodis-contactis-each-otheris. Everything is served in a big food orgy, where things are sizzling and encrusting with each other; you can find comfort in knowing that the stretchy white stuff is actually cheese. The pulled pork was sweet and was complimented nicely by the salty bacon and creamy runoff of yolk – there is no other way to order your eggs for this dish – must be runny; scramblers, you can go to hell.

I wasn't too hungry that morning and decided on ordering just a side of potatoes. There's nothing like potatoes cooked on the flat top – whispers of onions, charred bits of crustified starch mush and crunchy russet skin is what soothes the soul and settles the stomach on a Sunday morning. Topped with chopped parsley, orders of potatoes are always in dire need of a glug of ketchup… ALWAYS.

I ordered a side of bacon to go with my side of potatoes… I was siding my sides and making a meal out of it – I was having breakfast-tapas… breakapas. It was bacon – not much to say about it that hasn't been said before, however, points deducted for the slices being stuck together in a giant bacon chip, but points awarded for inventing "THE GIANT BACON CHIP".
…Just kidding.

Actually, I ordered the waffles, served with fresh fruit and real maple syrup with a compote garnish. I like pancakes. When there are no pancakes to be had, I have waffles. I enjoy my waffles usually a little underdone so that they're not too dry and hard – example here. However, the good thing about waffles being a bit dry is that they will soak up syrup like a sponge and reconstitute the innards, thus, crisis averted. Although you'll need an extra helping of sizzurp to do the job (they were a bit chincy with it), but alas, waffle-cakes.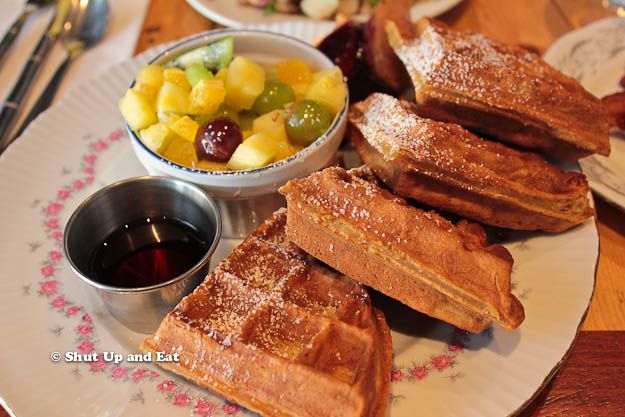 A endearing collection of refurbished industrial furniture mixing wood and metal, we were seated at a set of mismatched chairs and handed wood-bound menus – these, historical are nesting characteristics of hipsters. I was ready to hate the place and was anticipating and expecting a flannel wearing waiter offering me some sort of awful tea of locally foraged bitters while hating me in the process. I was wrong, for the most part; a very eclectic crowd, young and old alike, this spot is a definite local favourite. If the success of their brunch is any testament to the food coming out of the kitchen, I'm looking forward to my next visit.
Le Caffe Mariani
(514) 504-7458
4450 Rue Notre-Dame O
Facebook