Get ready; I'm about to unleash some hokey cliché sayings about how the past year has been quite a roller-coaster ride, a leaning experience filled with ups and downs, pumpkin spice and dry rub. 2012 has been an awesome year for Shut Up and Eat – We launched the Eat With Me initiative that takes local Montreal foodies and readers to a mystery Montreal hot spot for an surprise dinner, to being featured in local and national press. The Montreal food scene has taken leaps and bounds in the past year in establishing ourselves as an actual food-centric city, having hosting our first Restaurant Week to being featured on various American television shows such the Layover and Mind of a Chef – albeit showcasing the same cast of characters, they've become the unofficial-official culinary ambassadors of Montreal.
Along with a lot of restaurants reviewed and dishes I was enthusiastic about sharing on my blog, I've eaten my fair share of the mediocre and abysmal meals – none of which would ever find the light of day on Shut Up and Eat (but I do often bitch about bad meals on Twitter; follow me at @shutupandeatMTL). 2012 has been full of great and tasty discoveries in this wonderful city of ours that I was excited to share with all of you. Here are the top five most memorable of 2012.
In no particular order:

Restaurant Prohibition
5674 Monkland Ave
(514) 481-8466
A basement "resto du quartier" joint on Monkland that's remixing your typical breakfast and brunch dishes.

Currant and pecorino scone served with honey butter and homemade raspberry jam. The thing was as buttery as Kate Upton's ass. Impossibly crumbley and unable to hold up against the cold compound butter, there was already so much butter used in the scone that it was practically a biscuit worthy of Paula Deen's last indulgence meal before bypass surgery.

Lemon ricotta pancakes, blueberry compote and sugar bacon. A fat stack of pancakes is always one of the best ways to start the day and end the weekend, especially if it's sided with two thick slices of fried bacon.
Full review here…

C Thai
514-508-3792
7112 Boulevard St-Laurent
I've said it before and I'll say it again. C Thai makes the BEST Pad Thai in all of Montreal. You know that place where you think makes the best, I'm sorry to be the one to tell you, but you're wrong… and before you try to argue me about it and say something like it's the most authentic and blabbity blah blab, you're still wrong.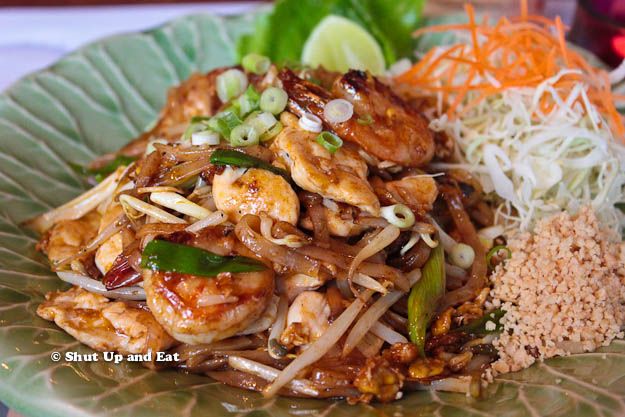 I know I make big claims saying how a certain dish or restaurant can transcend time and space or something or another tasted so good that you might need to slap your mom and then tell her to thank you, but this time I'm not exaggerating.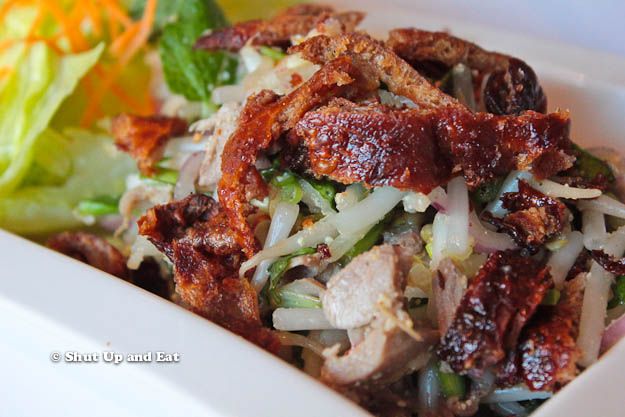 Larb Ped – duck salad. Roasted duck mixed with onions, chili, bean sprouts and mint leaves, the meat was lean and the skin crispy. The aromatic mint lightened up the dish as did the same dressing that was used with the mango salad and contrasted well against the deeper flavours from the duck. If you're going to infest a vegetarian's lunch with bits of stuff that used to have a face and be fancy about it at the same time, this would be the only way to do it… seriously, screw your chicken caesar salad.
Full review here…

Le Gros Jambon
286 Notre Dame O
(514) 508-3872
This throwback diner in the midst of international commerce buildings, gentrifying condo developments and horse-drawn carriages transports you back 20 years to a typical Quebecois greasy-spoon… However, in 2012, taking those age old diner classics and putting modern twists on them.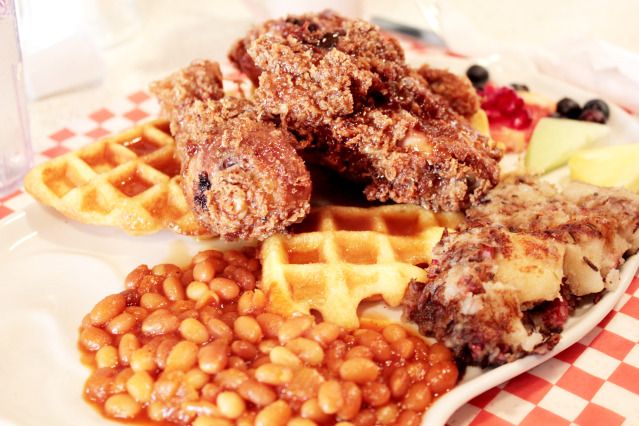 A three-piece, sitting atop of a full waffle, sided with potatoes, beans and fruit. Never have two more opposite things tasted so wonderful when paired together. The crispy chicken in the same bite as a big fluffy and chewy waffle, it's one of life's mysteries of how two things that make sense when eaten alone, boarders on precognition when their powers are combined.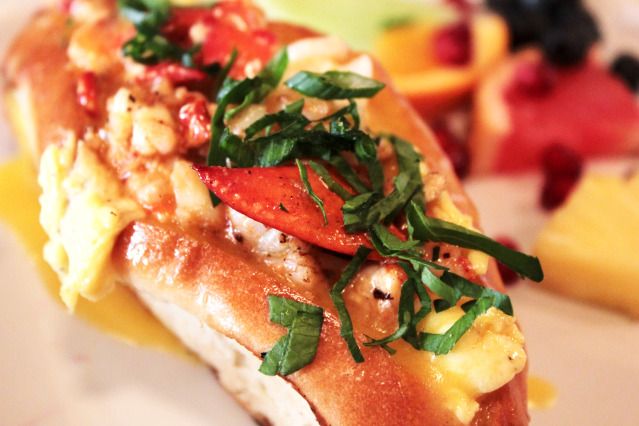 I had the breakfast lobster roll – like with all the other breakfast… I mean BRUCH items, was served with a side of potatoes, fart-fuel and fruits. Placed on a homemade roll mixed with eggs and topped with a hollandaise sauce, the lobster was abundant. It would have been easy to use a hot dog roll out of the bag, but Le Gros Jambon doesn't, and that really makes the difference.
Full review here: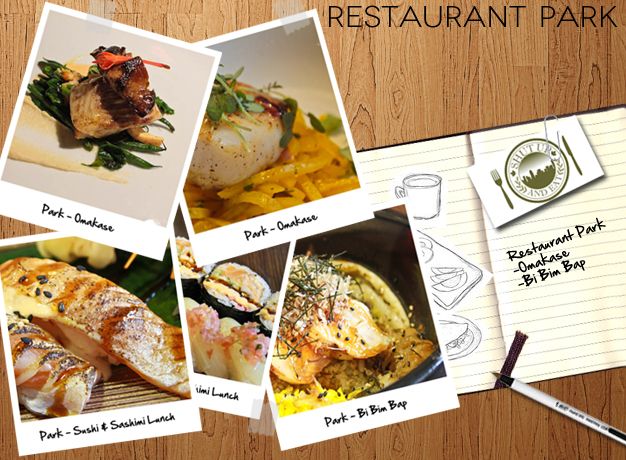 Restaurant Park
514.750-7534
378 Ave Victoria
One of the shining stars in the Montreal foods cape, Restaurant Park offers a great Omakase menu and lunchtime menu. Shut Up and Eat was also honoured of having Restaurant Park as the kickoff launch restaurant of the Shut Up and Eat With Me initiative!

Torched salmon belly – Irish organic salmon toro, maple syrup top torched, with kabayaki sauce. If you've never had salmon belly before, then I highly encourage you shave the soul patch off your chin unfriend Pauly Shore on Facebook and join us in 2012.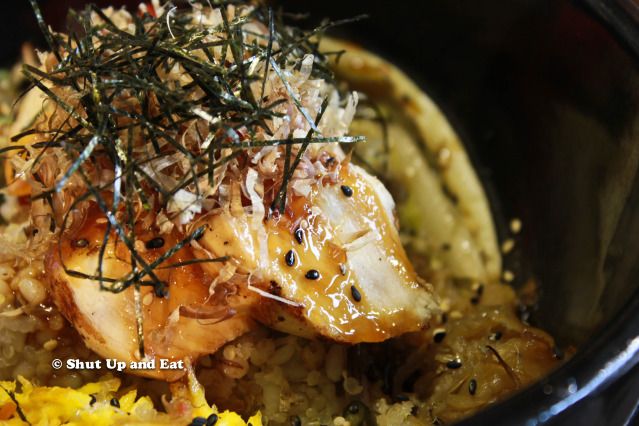 Bi Bim Bap – Traditional Korean mixed rice bowl served in a finger scorching stone bowl. Served with mushroom, pickled cucumber, daikon, carrots, bean sprouts, onions and shredded eggs on top of a seasoned multigrain rice.
Night time omakase isn't for everyone – lunch menu is more wallet friendly.
Full review here…

Blackstrap BBQ
4436 Rue Wellington
(514) 507-6772
Montreal's first ambassador of Memphis style BBQ, this spot has been making noise for a while after coming in first place at the Quebec Mondial de Grill BBQ championship and placing 13th out of 87 teams at the Jack Daniels invitational BBQ competition in Lynchburg Tennessee.

This sandwich has forged its application to be included into any written documentation and/or spoken conversation that includes mention of The great barrier reef, the pyramids of giza and Stonehenge. Served with a side of coleslaw and lust, this humble sandwich is hearty and fills the brisket sandwich void in your soul.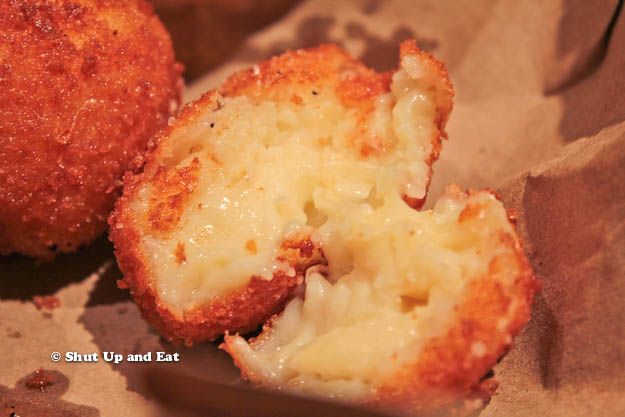 Blackstrap's mac and cheese balls. The genius behind this deep-friend childhood after-school memories is that it's deep-fried… into balls. I mean, any other way would, God forbid, require utensils – which would mean having to at least relinquish contact of one hand from the meat. The horror.
That being said, I'd like to take a minute just sit right there I'll tell you how I became the prince of a town called Bel-air… I mean, I'd like to thank everyone for their continued support in my quest for all things tasty. From the Shut Up and Eat family to yours, wishing you a very healthy and Happy New Year, may 2013 be fruitful and prosperous!
p.s. I don't know if I say it enough… But I believe the Shut Up and Eat audience has to be some of the best looking people around. 😉