What are some things that are synonymous with the holidays? Decorations, hokey radio music, mall sweats, or having your balls decked by Holy? Or if you're like me, then the cold weather and merriment signals the local grocery store being stocked with Panettone – fluffy cake-like bread packed in decorative boxes tempting your taste buds and your addiction for confectionary. With varying prices from the a modest $8, ranging all the way to over $40, picking one out is as tough as picking out a gift for the person who has everything.

This is why I enlisted the help of an Italian. Not just any Italian, Stefano Faita, local chef, and host of the CBC's cooking show, "In the Kitchen" with Stefano Faita. I sent out a distress bacon, I mean beacon, because the choices of panettone had my head spinning. Obviously we couldn't taste ALLLLLL the breads available in Montreal, but we picked five very random boxes of varying prices to find the tastier one.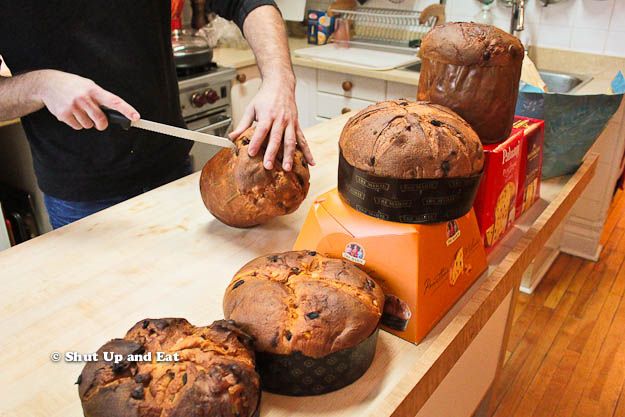 With so many varieties, to keep everything on a level playing field, we chose the classic panettone – candied fruit, citrus peel, and raisins.

Perugina
Panettone – Ricetta Classica.
$8

At an affordable $8, this panettone is by far the most accessible and affordable of the ones we sampled. Stefano commented that as he cut into it, he could tell right away that it was dry; a question of butter content? Quality? I didn't let the price affect my tasting of the panettone – through the stigma of something that costs less is equated to being "cheap". Really basic and great option for someone who might want to use panettone in another recipe rather than eating it on its own. The egg based bread was soft, and stuck when pinched, the dryness of it however gave it a texture less than desirable… perfect for eating it toasted and buttered.

Paluani
Il Panettone Classico
$13

One of the more popular options, this panettone is found almost in any big box grocery stores. Like the Perugina, the shape was tall, but was a bit bigger in girth and overall size as well. Were we able to taste the $5 difference? Not really, and I attribute the price difference as quantity over quality; This panettone weighs (as it's listed on the box) 1 kg, where as the previous 1.6Lbs. Almost double in size, at this price point, you're getting more pane for your ttone.

Tre Marie
Panettone Milanese
$18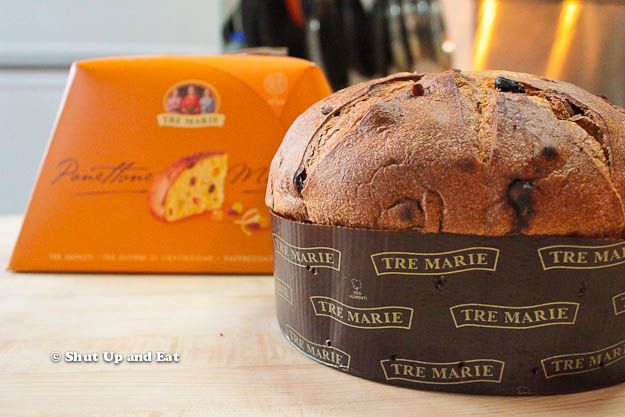 The wider and stockier bread looked more like a pain a la compagne, however the weight and denseness of it seemed more substantial – there was physically more panettone than the previous two. There were bigger air pockets in the bread which yielded the volume it amassed, and it was much sweeter than the Perugina and Paluani. What we noticed right away was how moist the bread was, the crust flakey in itself and ate like the actual "meat" of the bread – a testament to the butter content in the product.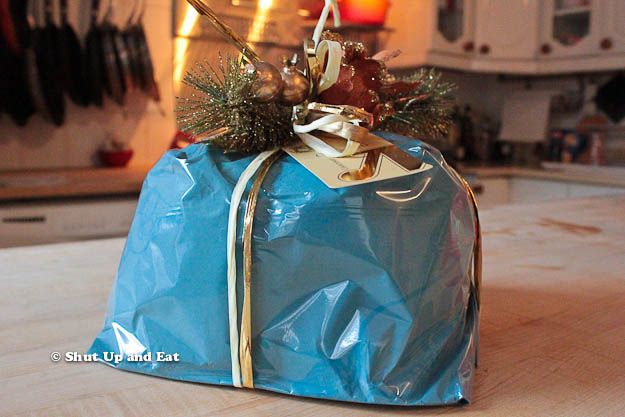 Muzzi
Panettone Classico
$26

This is where the laughing stopped and the panettone got serious. For the price of an entrée at a posh Old Montreal restaurant you can get a sweet loaf of bread. Once unwrapped, we could literally smell the bread from where we were standing. The panettone cut like cake, dense and moist, this Muzzi option was fragrant and its smell was bakery distinct. The weight of it could rival your holiday dinner turkey or cause damage if used as a weapon. Far less sweeter than the Tre Marie panettone, this Muzze bread made up with its buttery aroma laced with distinctly sharp citrus perfume.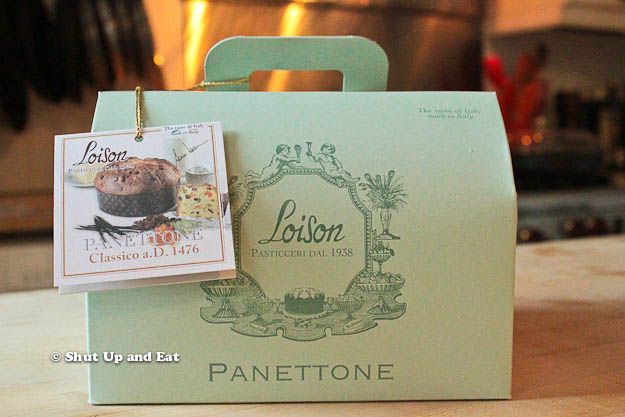 Loison
Panettone Classico
$34

One of the more expensive panettone that's available on the market – makes a point to mention that it's made with sultana raisins, candies "oranges from Sicily" and "Citron from Diamante-Calabria" peels. On par with the size of the previous bread, the Loison option had a very unique aesthetic; it had a perfectly imperfect look to it; very artisanal. A little bit burnt and misshapen at the top gave a homemade aura to it; rustic. The Loison panettone was noticeably far less sweeter than the less expensive options; perhaps helped by the bitterness from the over-candied fruit on top the burnt bits of the top-crust in that particular bite. Like the four before this panettone, it had a very fragrant and relatively sweet finish that lingers on your palate.

I'd like to get this out of the way; I love cake and bread and cakey-bread and cake. So this throwdown was quite difficult for me, as they are all my children and love them all equally.
Verdict:
Although all panettones tested were reflective of their respective prices, we found that the Muzzi Panettone (in blue cellophane wrap) was the tastiest. It was not overly sweet, but was fragrant from the dried fruits and raisins. The texture was pleasant as it had the consistency that boarded on cake. It is definitely a great final touch on the dessert table at any family and friend gathering over the next couple of weeks. For $26, it's comparable to a fine wine as a hostess gift or treat for yourself.
Like anything else, this is all to personal tastes and preference, budget and how much you like someone to get them a $34 cake.
I'd like to thank the amazing Stefano Faita for spending a blistery morning plowing through five different panettone before breakfast and educating me on some of the intricacies and details of what makes a good panettone, dinner table worthy in anyone's home let alone at an Italian Christmas meal. I'd also like to thank the gang at Marché Milano and Quincaillerie Dante for supplying the panettone for our gluttonous excursion and Mezze Luna Cooking school for letting us dirty their chopping board.
I'd like to take this opportunity to wish everyone a very pleasant holiday and a healthy and happy new year!