If you've ever been to the Mexican grill chain "chipotle" in the states, you'd know the concept is simple; pick your meat, pick your toppings then try and stay awake after eating an entire burrito. I recently found a Montreal equivalent I'll be honest with you – I think I fell in love. If you don't know what love is, it's pretty much the feeling you get when you see your waiter at a restaurant arriving with your food, or these burritos.
I hit up M4 Burritos on St. Denis the other day after having passed by it numerous times – and every time with a fair length in queue – to see what the fuss was all about. Explained on their website, the name is inspired by the Mission district of San Francisco, home of the "modern californian burrito" (however, encompassing certain unique Quebec "twists"), and "4", the four simple steps to making your order.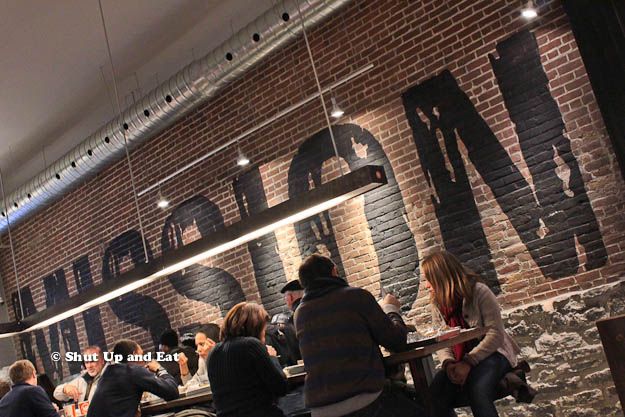 You pick you vessel of choice, burrito, taco, bowl or salad, a choice of your main ingredient; grilled chicken (all breast meat), grilled steak, carnitas (traditional braised pork), barbacoa (traditional braised beef), and a vegetarian option which consists of guacamole and sautéed vegetables, toppings and sides.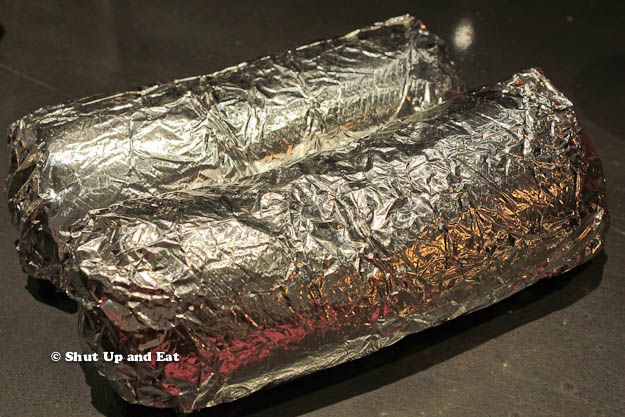 Right off the bat, the burritos are gargantuan. I clutched it with both hands in fear of low-flying eagles from poaching it right off the ground. Filled with rice and all the classic burrito accoutrements, I was ready to tackle this son of a bitch and let the beany fart-fest begin.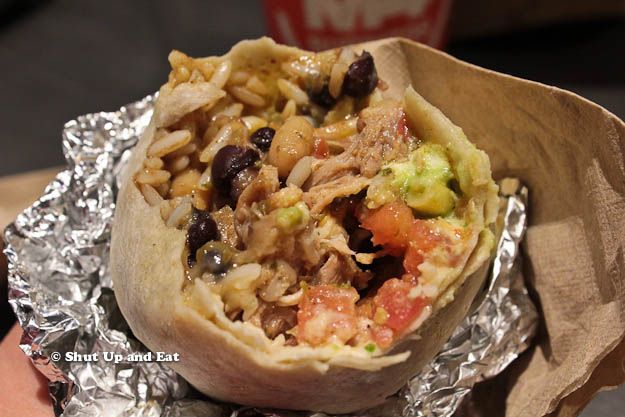 My lady had the steak burrito. Grilled to order, this burrito took a little bit to get to us, but the fact that it was grilled on the spot was appreciated. Each burrito includes, rice, black or white beans, a choice of pineapple-mango salsa, spicy corn, pico de gallo, or salsa verde and grated cheese; any extras came at prices varying under two dollars. The beef was rich in flavour, fragrant and tender. Paired with the guacamole (for $1.25 extra), each bite was buttery and mixed with the sour cream, the heat from the medium-spicy pineapple and mango salsa was reduced – however muted some of the flavour of the meat. The tart pico de gallo cut through and lightened everything up.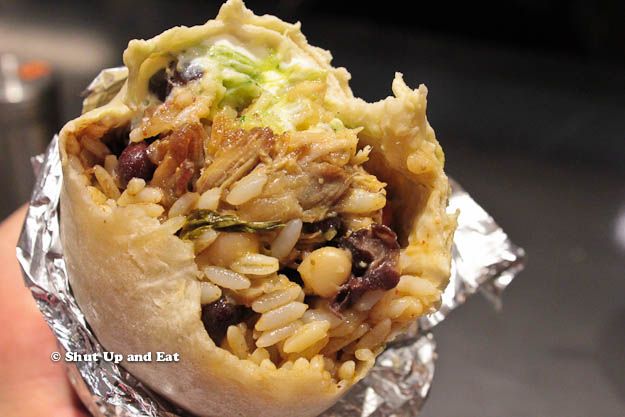 I had the braised pork option with extra guacamole and pico de gallo. The pork was rich, but not fatty – I felt that it could have used a little tender wads of pork fat in each bite but that's just me. Watching the counterperson gingerly place the meat inside the burrito, I noticed the ease in which the tongs were able to rip the meat apart. Small slivers of cilantro from the braising liquid made it into my football-sized burrito which added to the aromatics of each bite.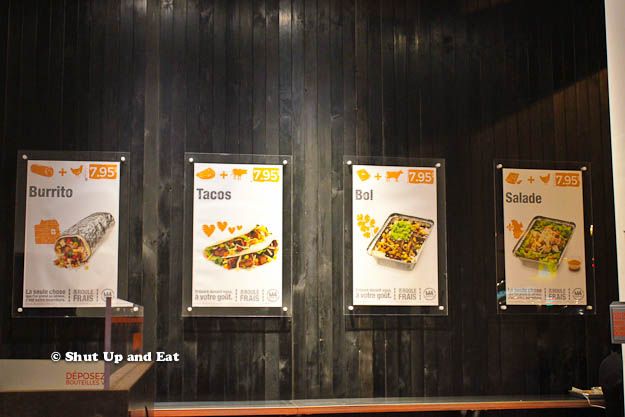 They boast that everything is fresh as they say there are no freezers, no deep fryers and no microwaves in the store. They also have two signature iced tea blends that are available next to the self serve soda fountain – which means… you guessed it, bottomless drinks!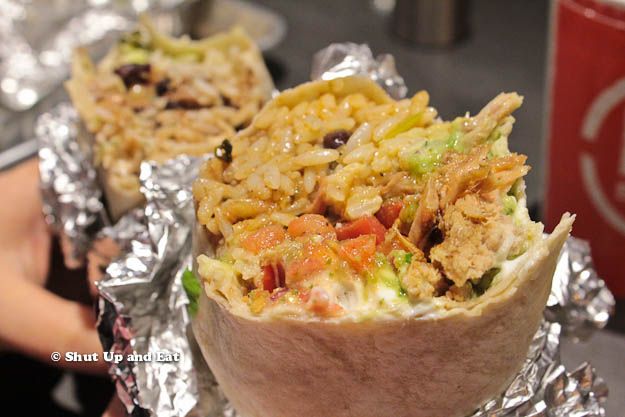 I admire M4's strive to be socially conscious and environmentally responsible by using recycled material in the construction of their stores as well as in their packaging and not at all reflected in the prices on their menu – affordable and delicious food for the school crowd just around the corner. Despite some hiccups at the ordering counter (Trainee who got a bit flustered with their ordering system maybe…?), nice quick bite on the go.
p.s. When eating a burrito… Never, EVER remove the burrito from the foil; peel it away as you eat it!
M4 Burritos
1773 Rue Saint-Denis
(438) 380-8090
Facebook