So what's the best part about the holidays? Seeing family? The food? The crying? The yelling? The screaming? The throwing things and spitting? There's nothing better than walking through a crowded mall, sweating your way through a full down jacket all in the name of merriment and holiday cheer in search of the perfect gifts. To save you the mall sweats and parking lot rage, I've put together a list of great gift options for the foodie in your life. I've made it a point to list items that are found locally near you, or at least ship to Canada – there's nothing worse than doing online shopping and find out they won't ship to Canada but will ship to Puerto Rico.

1) The OCD chopping board
Does chopping make you crazy? Or are you crazy about chopping? Here's a chopping board to facilitate your need for a laser precision brunoise. 9″ x 12″ cutting board made of strong, long-wearing beechwood.
Buy it here: Mortimer Snodgrass

2) DIY Molecular Gastronomy Kit.
Lemon foam? Chocolate Spaghetti? Mint caviar beads? Here's your chance to experiment with molecular gastronomy and be the neighborhood ghetto Ferran Adria.
Buy it here: www.molecule-r.com

3) Vulcan oven mitt
The only logical accessory for the ultimate Star Wars fan boy/girl. 😉
Buy it here: Think Geek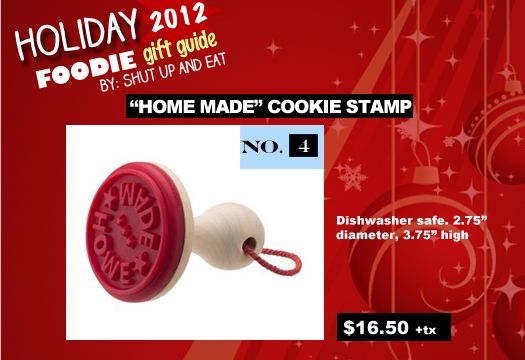 4)"Homemade" stamp
For your favourite baker who's tired of being scared people can't tell the difference between store-bought and their homemade Oreos? With this "Homemade" stamp, no one will ever get the two confused!
Buy it here: Chapters/Indigo

5) Finishing sauces
These finishing sauces from Williams Sonoma are perfect for the amateur chef or last-minute cook to add a little flare and "je ne sais quoi" to cooked meat or vegetables.
Buy it here: Williams Sonoma

6)David's Tea – Winter tea collection
Tea is the new coffee. With some great flavour combinations, this tea set is an awesome way to drink the cold weather away by heating up with a cup of dessert inspired teas such as cookie dough, or banana cream pie.
Buy it here: David's Tea

7) A bigass mug
If you know someone who likes tea, or coffee, or even has an unhealthy love for hot chocolate, this huge-ass mug is going to enable them with their addiction to things served in a mug. Holding 160 ounces, that's almost FIVE LITERS or liquid… I would use it for cereal.
Buy it here: www.fredflare.com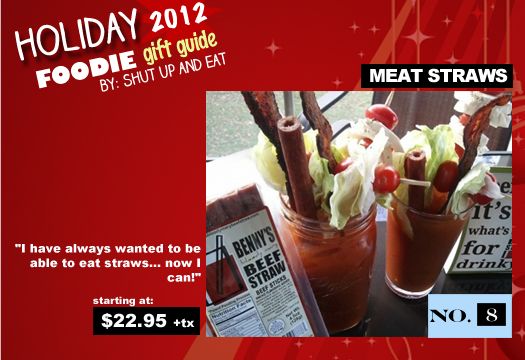 8) Beef straws
"If it ain't broke, don't fix it"…right? But you can make it better! If you ever wanted to give someone a gift that keeps on giving, it would be a straw made of beef.
Buy it here: http://bennysbloodymarybeefstraw.com

9)Cookbooks or cooking classes
If your favourite foodie reads or not, they will most likely have a collection of cookbooks. No? Then help them start one. Montreal's Appetite for books is a one stop shop of your cookbook needs. Inquire about their cooking classes as well – an equally delicious gift to give for the holidays.
Buy it here: http://www.appetitebooks.ca

10)Bottle cap tripod – bottlepod
This holiday season, give your favourite foodie the gift of clear, and unblurry pictures. Any restaurant picture-taking foodie will know that low-lighting is our arch nemesis – and to remedy this, the great people at Photojojo came up with this ingenious invention – an impromptu tripod-monopod-bottlepod!
But it here: photojojo.com
What are you getting your favourite food pervert?
So which ever it is you're celebrating this holiday season, I hope it's a great one!