Remember the last time you were in Mexico and grubbing on some really great Mexican food, and you were like, "man, I wish I could get some of this stuff back in Montreal!" But then you were like, "Then I'd have no reason to go anywhere else to eat!", but then thought, "but if I became friends with the owner here, maybe they'll give me the recipe and I'll be able to make it back home!" But reconsidered and was all, "no way yo, that's too much work and I probably wouldn't make it as good anyways", and then realized, "maybe some ridiculously good looking local food blogger might write something about authentic Mexican food in Montreal".
Taa-daa!

Met my lady after work and we hit up Chipotle & Jalapeño, this really unique Mexican joint on Amherst at the edge of the gay village. Half boutique, and half restaurant, the establishment was an edifical mullet; business up top – fine Mexican foods, party in the back – restaurant.
The menu comprised mainly of "cazuelas para tacos" – small earthenware dishes with different fillings to be made into tacos. What caught our eye was the menu for two which had a choice of three of their 10 different cazuelas.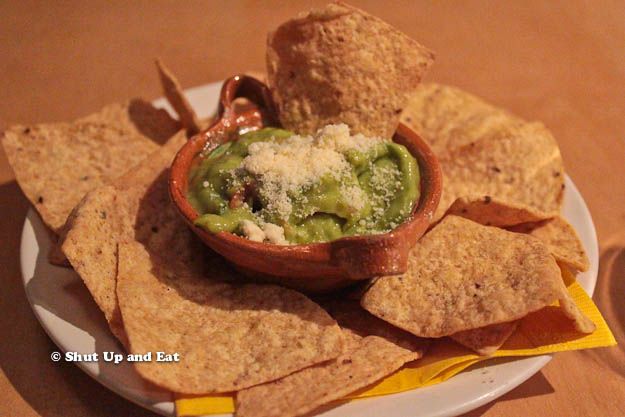 The menu for two started off with guacamole and tortilla chips… from a bag – don't get me wrong, it's not like I expected the place to make their own. I was just glad they weren't the little bitch-flake tortilla chips that break mid dip, leaving you dipping your next chip into a new concoction of dip and sharp abandoned chip slivers.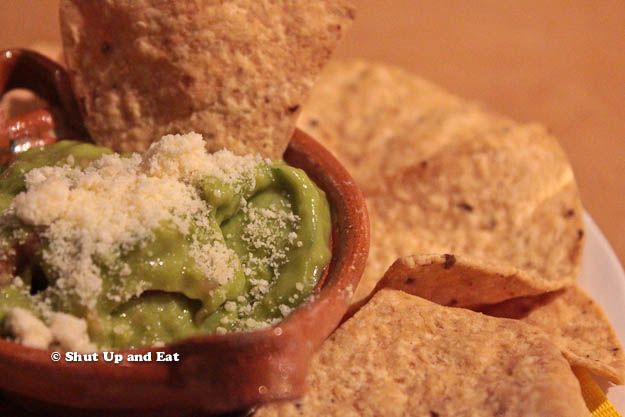 The guacamole was really creamy and smooth. Citrus hits and fragrant cilantro was tame and somewhat muddled in the dip. I personally like my guacamole chunky, opposed to this version that was practically a spread.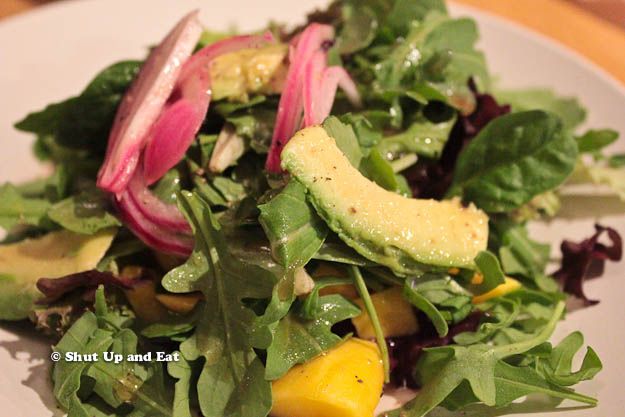 The menu for two included a choice of soup or salad per person, naturally, we got one of each. The mango and avocado on mesclun topped with pickled red onions, dressed with a simple vinaigrette. The mango lent a really great sweet and sour bite to the salad and the avocado, a nice butteriness. The bitter greens complimented the toppings nicely and was able to cut through the the acidic mouthful. Mesclun… pfft, if you're going to have a girly salad, you might as well have it made with dainty greens like that. Like quiche, I was afraid I would have to change into a pretty dress to eat this salad.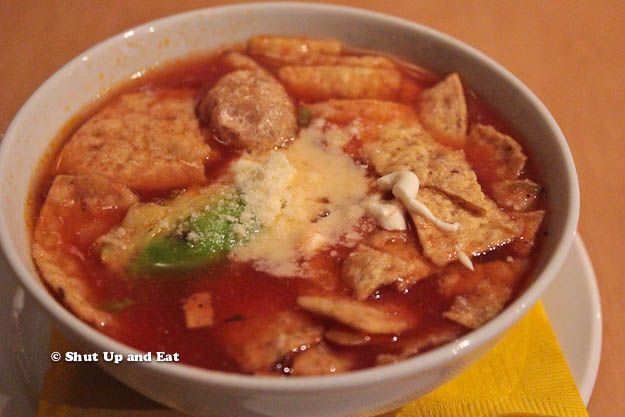 The soup was amazing. A tomato-chicken broth, mixed with crispy corn tortillas, thick slices of avocado, sour cream and cheese, garnished with a piece of chicharron. The tortillas in the soup was thick and substantial; they held up to the absorption of soup and soggification and remained somewhat crunchy until the end.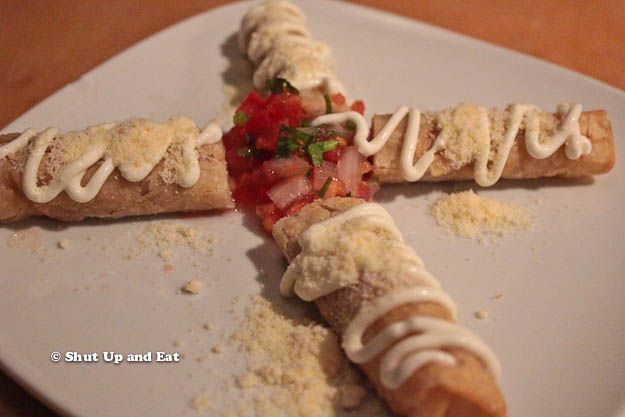 We had the chicken taquitos as the appetizer – barely two bites a piece I wouldn't have expected regulation sized taquitos on a tasting menu anyways. Topped with crema and cheese, the fried corn tortilla rolls were served with pico de gallo.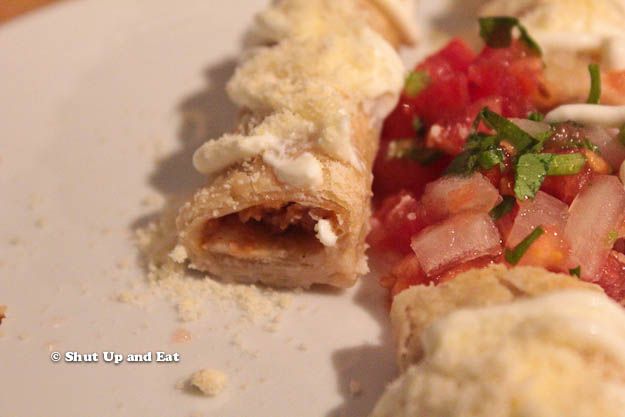 The chicken was sparse, but it was marinated, so points deducted, reinstated.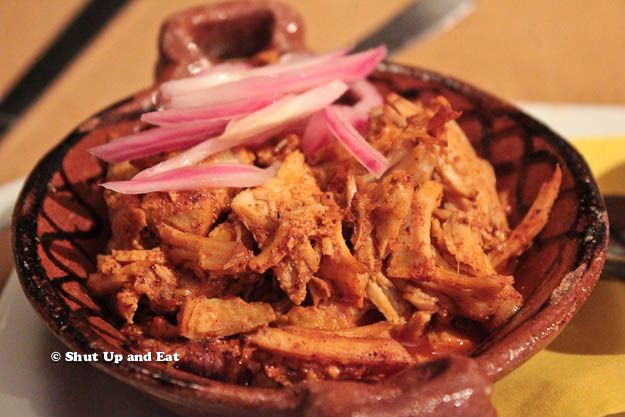 We ordered the cochinita pibil – pork marinated in orange and lemon juice and achiote, topped with pickled red onion. Braised pork shoulder, the meat was tangy and tender thanks to the braising liquid and acid from the citrus. The meat definitely popped and was bright in flavour. I hesitate to say "Americanized", but I'm used to having toppings or fillings in my taco or some sort of garnish, however, this way is a great opportunity to taste the meat and its preparation without distractions.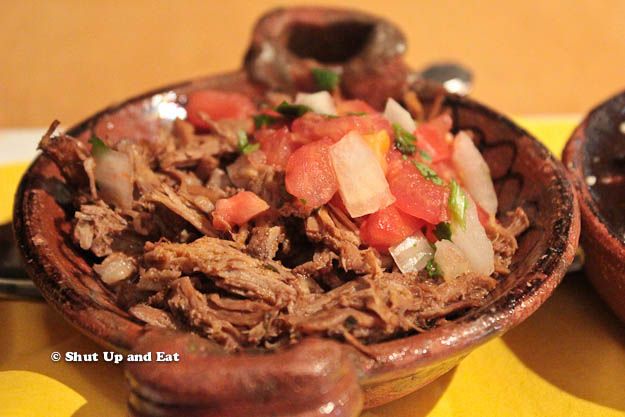 We also had the "barbacoa" – lamb marinated in guajillo sauce and avocado leaves, topped with pico de gallo. The chilli sauce used to marinate the meat helped in reducing the gamey flavour of the lamb. Although the pepper used in the sauce didn't yield any actual heat, it provided a flavour that I could only describe as woody and medicinal. When used with the avocado leaves, I can only assume that their combined unique flavours were the ones responsible for the distinct tastes of this dish.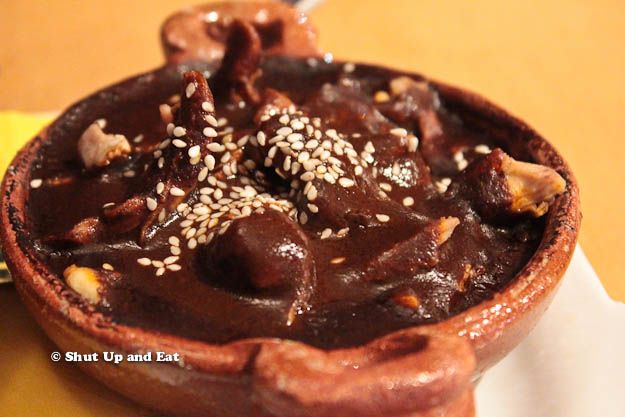 Chicken mole – a deep rich chocolate based sauce with nuts, almonds, dried peppers, mexican oregano, herbs and spices; asking what are the ingredients to a signature mole sauce would be like asking Microsoft for their source code… there's "stuff" in it. It's delicious, don't ask questions, go with it and just eat it. I was never a big fan of mole; I've had it a few times before and I couldn't get past the deep petrol-like sheen to the sauce and confounding flavours of the myriad of ingredients used to make it. This savoury chocolate sauce is dark and murky and contradicted everything in my head that I know about where and what chocolate sauce goes on; tender slices of marinaded chicken is not one that list. This poblano sauce changed my mind about mole sauce and Chipotle & Jalepeno helped me discover a new found liking of it.
Not going to lie, every time I think or hear "mole", this is the only way I'm able to say it (in my head).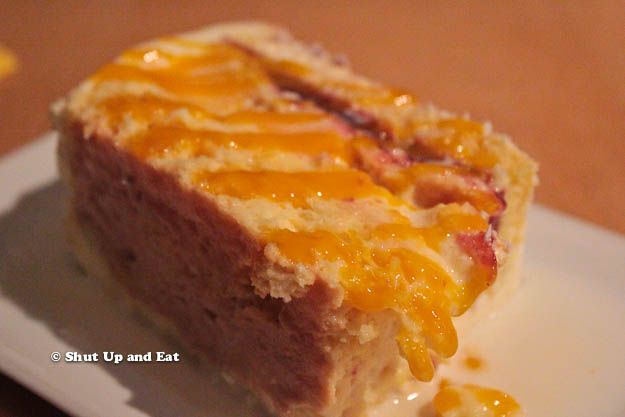 Dessert wasn't included in the menu for two, however, we were eyeing this bad boy from the moment we sat down. The tres leches cake, and to our surprise, it was a raspberry compote and mango tres leches cake. Creamy and lush, the cake was saturated with the combination of the three milks used to make this cake. It wasn't overly sweet – how I like most of my desserts – and it was just sweet enough.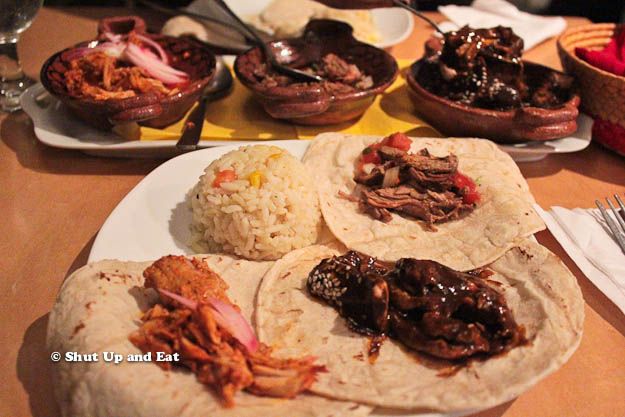 The menu for two comes with rice as well as corn tortillas for making tacos. With a choice of three of the ten listed, the dishes we picked were winners. The rice was uneventful. Between the two of us, a basket of six hot tortillas was shared and in relation to the cazuelas of fillings, three generously filled tacos on top of soup, salad, taquitos, made for food-coma inducing meal.
A lot of the more exotic ingredients are sold upstairs in their boutique, including various dried peppers and imported South-American candies and treats. More of a lunch spot, Chipotle & Jalepeno is opened for dinner service Thursdays through the weekend when they also serve brunch. I was somewhat impressed by the food and did not expect this coming out of what looked like a souvenir shop. Overall the food was solid, as stated before, MOLEY MOLEY MOLEY MOLEY MOLEY, I wasn't a fan, but am now.