For November's Shut Up and Eat With Me dinner, I decided to change things up a little bit. And by "change things up a bit", I mean go to dinner wearing my dirty painting tshirt because we were going for barbecue. No, not really, but I did make a mental note to not wear my tuxedo for that night – I mean, they made me burn my man-kini after the last dinner event. As always, a gorgeous group of Shut up and Eat followers made their way via explicit confirmation email where they will be dining. Making their way down the lower stretch of St Denis, this brave group of culinary hedonists found themselves walking up the stairs to their inevitable smokey destination, Diablos smokehouse.
This groups of awesome Shut Up And Eat readers lent me their confidence and let me plan their dinner plans for this Monday night. We hit up Diablos for this edition of Shut Up and Eat with me. We were greeted by BBQ enthusiast and part owner Raphael, who was ready to give us the rundown on that night's dinner. We were seated in the church pews as we were told that what was about to transpire will be partial to sin.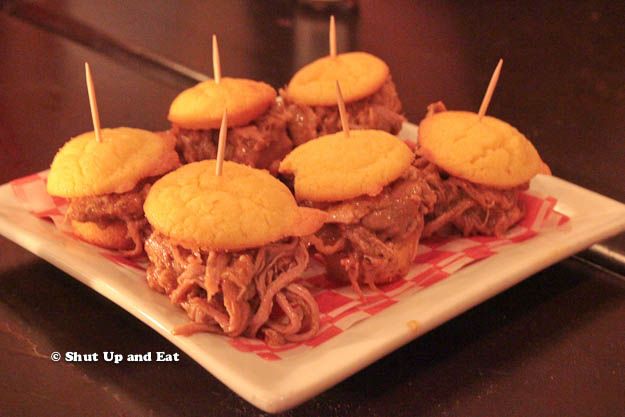 We started with the pulled pork sliders, on homemade buns. Smelling these bad boys as they hit the table, I started to rage, I killed them in one bite. Meat was not overly sauced which I appreciated – the bun held up.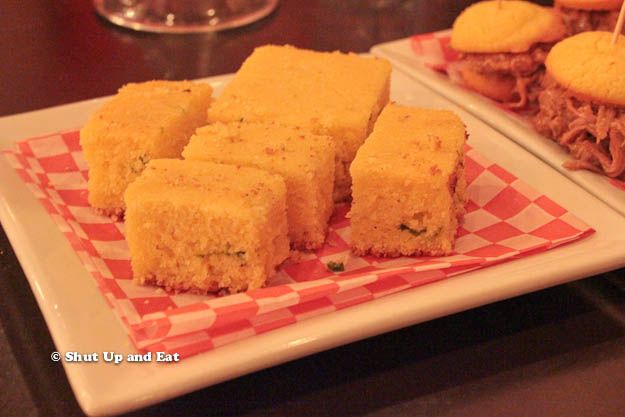 Their famous jalapeño corn bread. Cooked in a cast-iron skillet, the crust on the bottom was incredible.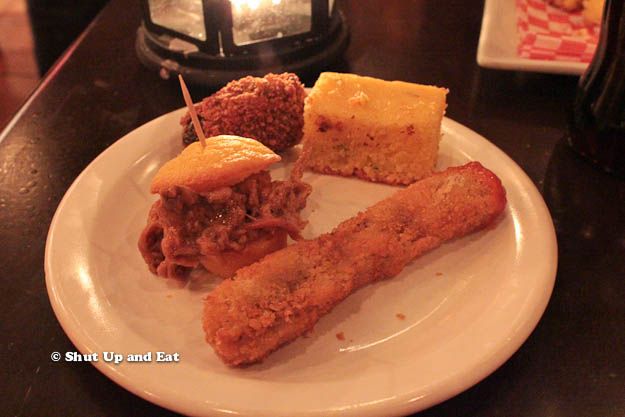 Also included in our appetizers were Diablos' deep fried jalapeño poppers. Stumpy hot peppers, seeded and filled with herbed cream cheese, battered then fried just enough that the cheese was melty and the pepper still snapped to the bite. In the front, house-smoked fried Emmental cheese sticks. I joked that they needed to forego the "stick" concept and fry me up a whole emmental cheese brick… we laughed, but I was serious.

The money shot. We got to sample Diablos' signature dishes… and by sample I mean, "murder with our faces". Pork ribs, beef brisket, the famous beef rib, fried chicken (which I should add is quite the process to make! – brined, smoked THEN fried) and a side of collard greens. The chicken was literally falling off the bone, as were the pork ribs. Each of the meats were mopped with their own exclusive BBQ sauce, except the chicken.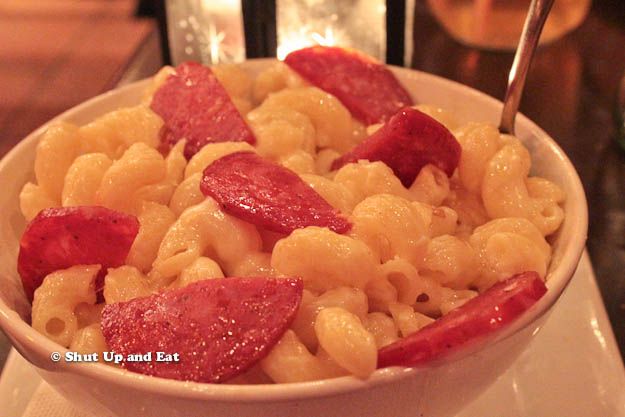 Chorizo mac and cheese. Ooey, gooey, and delicious. Seared sliced of chorizo tucked into this rich mac and cheese. We also had a great corn slaw, which escaped the lens of the camera.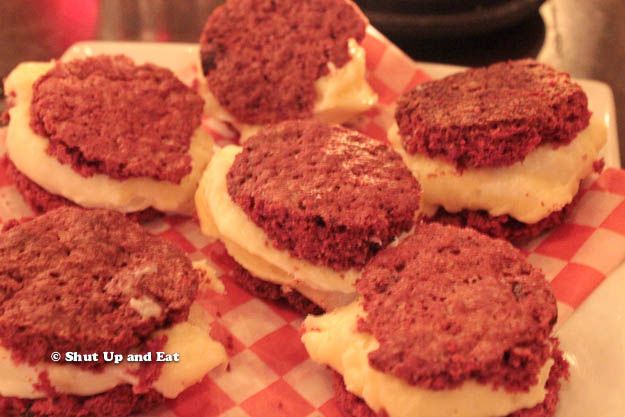 For dessert, Chef Jason treated us to his awesome red veldt whoopie pies with a tangy cream cheese icing.
A big thank you, fist-bump, and high-five to the gang at Diablos Smokehouse for making November's edition of Shut Up And Eat With Me another great success. Don't get it mixed up, these guys don't subscribe to one particular school of BBQ, but take the best from all corners, slaps it in the face, knees it in the groin then brings it up 10 notches. Home of one of the best beef ribs in Montreal, make sure to check out their *8*-page cocktail menu, they've also got Rolling Rock on tap which will surely keep you going.
Diablos
1693 a ST- Denis
(514) 283-4666
On facebook
__________________________
Make sure you check out the Eat With Me page to keep posted on when the next Shut Up And Eat With Me dinner will be. Join me next month as I take you to another Montreal hot spot!