What are we Montrealers known for, particularly on the weekends? I mean besides hitting up tamtams on the mountain in the summer and spark up a big fat… intellectual discussion on foreign policies and international trade. We love food; and what kind of food? The kind that we break the fast with. Unless you wake up at the butt-crack of noon and have your breakfast for lunch, you're missing out on notable restaurants opening up their doors and break out the juicers and offer up special weekend brunch menus around Montreal.
Aside from your regular players of cafes and cookie cutter breakfast and brunch spots, the West side of the city lacks in proper brunch spots. I hit up Prohibition. A basement joint on Monkland that's serving up an out of the ordinary brunch menu that's a welcomed alternative to your traditional eggs and bacon for breakfast, I would consider it a small diner of sorts and definite "resto du quartier" – neighbourhood restaurant.

M and I split a currant and pecorino scone served with honey butter and homemade raspberry jam. The thing was as buttery as Kate Upton's ass. Impossibly crumbley and unable to hold up against the cold compound butter, there was already so much butter used in the scone that it was practically a biscuit worthy of Paula Deen's last indulgence meal before bypass surgery. Sweetness from the tart raspberry jam balanced the rich buttery scone with savoury hints from the pecorino. Tasting the butter alone, its sweetness was very overt – from the honey, duh – and found it wasn't really necessary. Probably would have added another layer of sweetness had the structural integrity held against cold butter.

The lady had Prohibition's lemon ricotta pancakes, blueberry compote and sugar bacon. A fat stack of pancakes is always one of the best ways to start the day and end the weekend, especially if it's sided with two thick slices of fried bacon. Far from dense, these pancakes were light and airy. Paired with the sweet compote, the bright citrus from the lemon shines through the silky smooth texture of the pancakes.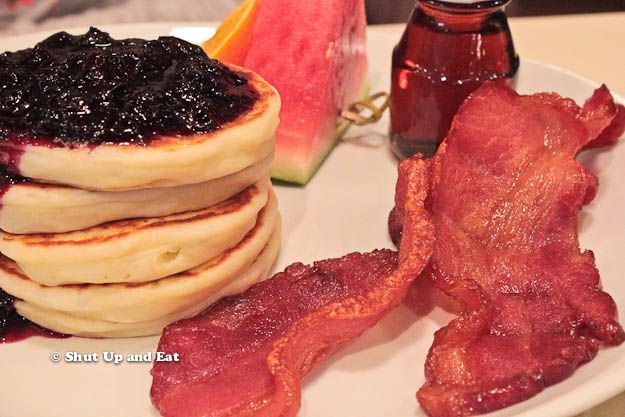 The fried thick cut sugar bacon was a savoury salty mess. The texture was borderline jerky like and the fat was near candied. Enhanced by the fry, you could literally taste the cure on the meat. Not as crispy as I like my bacon, however, major points for the sheer size of them bad boys.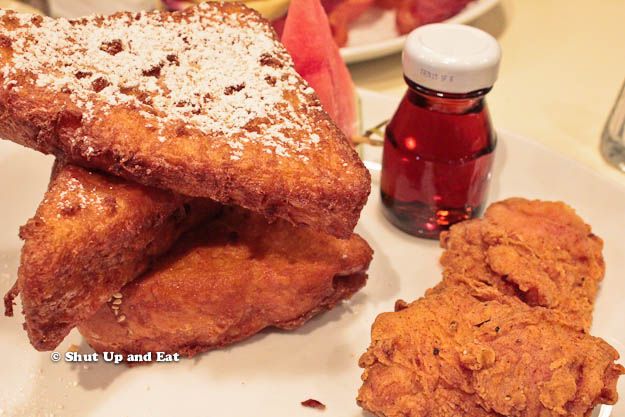 I had the maple fried challah French toast, fried chicken, cinnamon sugar and maple syrup. The thick cut egg bread was sliced at least an inch thick. Battered, deep fried then sprinkled with cinnamon sugar and dusted with frosting sugar, the thing tasted like a doughnut. Pillowy and soft, the slice deflated when I bit into it, reminiscent of any proper beignet.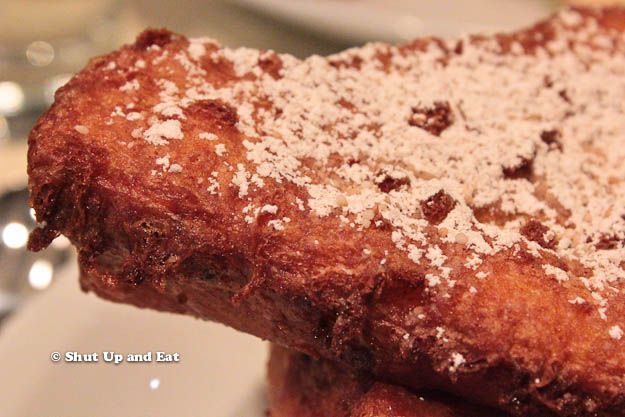 The crust was impenetrable and was able to properly mediate the maple syrup distribution and absorption, rendering each bite a perfect balance of ambrosial moist cake-like egg bread with a tickle of maple nectar… in technical terms, the French toast was fucking awesome.

The chicken. Sweet sweet creature that gave its life up so I can fill my weekend up with guilt. Guilt of why I didn't chose the path of becoming a chicken farmer. The batter is seasoned; salt and pepper right in the dredge is key to a flavourful fry – HOWEVER, Prohibition uses dark meat… Oh sweet baby Jesus, dark meat. Dark meat haters, step to the side because this chicken is on point; so on point that if that point had a point, it would be balancing on one toe on it. Let's face it, eating deep fried white meat is probably comparable to eating a shower luffa. The chicken here is sweet, juicy and flavourful; albeit a bit small in portion.
What struck me first was how well thought out and inspired the menu was. Way interesting brunch choices like poached eggs on a savoury yogurt, or homemade vietnamese sausage, Prohibition is coincidently uninhibited in bold, statement making daytime menu options. The breakfast and lunch choices scream refinement and the dishes we had were certainly tight in execution and conceptualization. A strictly daytime restaurant, I'm not sure if this spot will venture into the nightime game, but if they do, I have no doubts that this is a player to be reckoned with.
Prohibition
5674 Monkland Ave
(514) 481-8466
Website