Ok, tell me if you've heard this one… A Jewish guy and a Chinese guy walk into a Kosher-Chinese restaurant and ask the Sri Lankan waiter for chopsticks… wait, you probably never heard of this one, because this is exactly what happened to me. In a culinary world that's laced with fatty porky goodness and ocean bottom crawling critters – I don't know about you, but the one thing that crosses my mind is, "how would I be able to maintain my affinity for Chinese food if I were to go Kosher?!" I went to check out Ernie & Ellie to see what happens when you live out what sounds like a situation comedy and visit Montreal's premiere Kosher restaurant… for Chinese food.
My experience with Kosher food is minimal and goes as far as the Bar and Bat Mitzvahs I've attended in my younger years. So when I found out that this long standing Kosher restaurant renown in the Jewish community has a fairly diverse Chinese menu, I took it upon myself, treated it as a civic duty and a favour to my Chinese people to see what's doing at Decarie Square and put this wok-hei seasoned palate to the test of Kosher's finest. Fellow Montreal food blogger Dustin AKA Food Guy Montreal joined me for this adventure.
The course of attack was a "east meets west" of sorts – we ordered from both menus to see how each side would fare.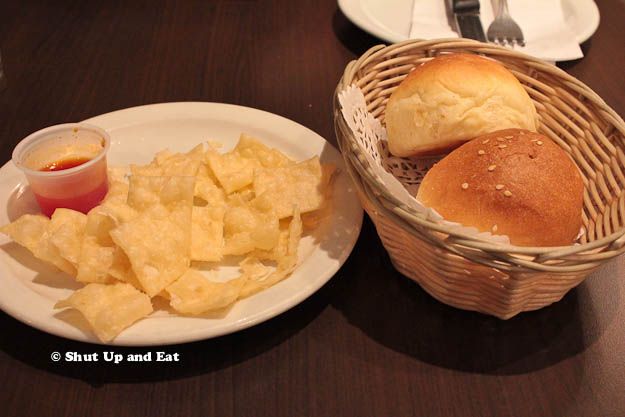 We sat down and were presented with a plate of fried wonton skins with cherry sauce and dinner rolls. A picture says a thousand words, right? Whatever this picture is saying, I'm sure it's trying to sell you something at a discounted price. We agreed that the dinner rolls in this equation seemed a bit naked, as we were both used to seeing something like that stuffed with barbecue pork.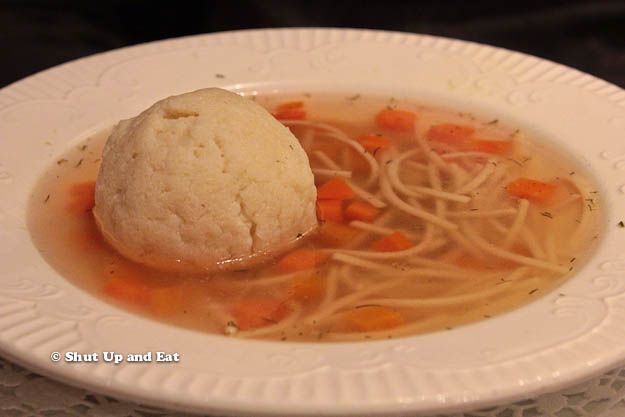 Like any good Kosher Chinese restaurant, we ordered a matzo ball soup. Based on a classic chicken broth, the soup was clear and light. Heavy on the dill, it was warm and comforting, and reminded Dustin of copious bowls fed to him by his Bubbi. My take was somewhat similar, although I don't have a particular emotional or cultural attachment to this soup, I have had it before and to me, it was good. The matzo ball itself was rather large, however muted in flavour. Whether or not a giant ball of ground up matzomeal is supposed to be bursting with overt flavour, I took the fact that Dustin was in a fuzzy Matzoball haze as a good thing. Points for the noodles.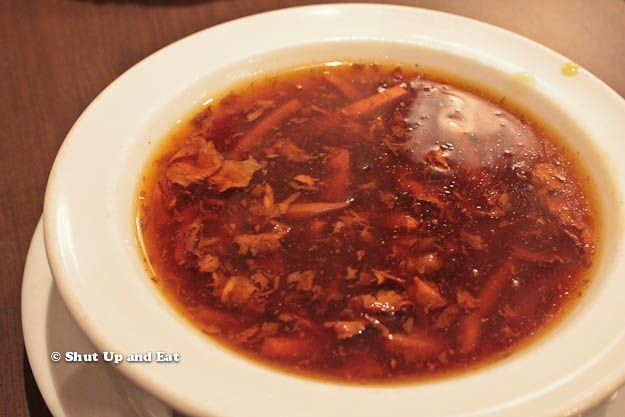 I ordered the Hot and Sour soup. The thick soup was filled with long strips of tofu and beaten egg whites whipped into the thickening slurry. What was notably missing was the presence of bamboo shoots, chinese mushrooms and "cloud ear" fungus – a type of Chinese mushroom as well. The bamboo normally gives the soup texture as well as a briney taste which is set off by the sharp vinegar used in the soup. Not that the those elements took anything away from the soup per se, but the notable crunch that comes with this soup was audibly missing. The flavour of the soup on its own was decent; the soy sauce was predominant but was balanced by the black vinegar – table side white pepper was missing.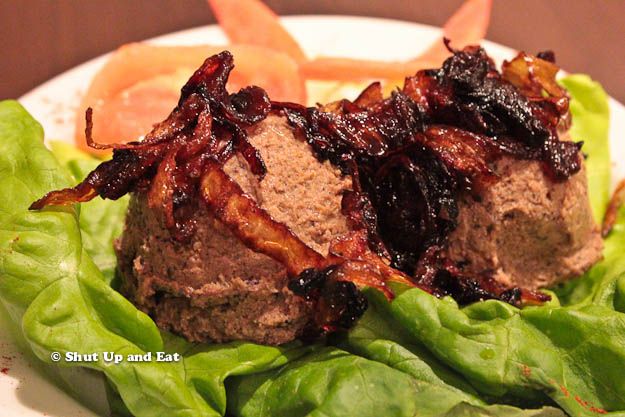 We split an order of the chopped liver and fried onions. This is where things started getting weird. In simplest of terms, the dish was delicious. Two very generous scoops of oniony and fatty macerated liver adorned the plate sitting atop of flourished bib lettuce garnished with sprinkling of paprika – if you think the old adage of being chopped liver holds any animosity, you should take it as a good thing.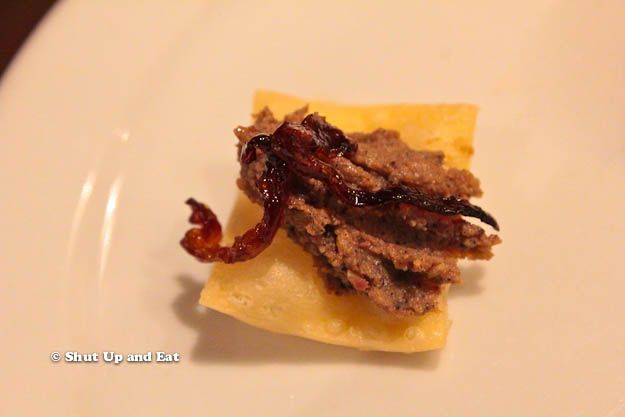 We couldn't not, right? Having set the foundation in our stomachs with a mix of matzo ball-hot and sour soup, we figured why not introduce the chopped liver and fried won ton skins as friends and have them join the party, yinning and yanging. It was fucking strange, but it worked. The oily chip mixed with the peppery liver complimented each other in taste and texture. The smokiness of the onion gave the bite a sweet char flavour as well.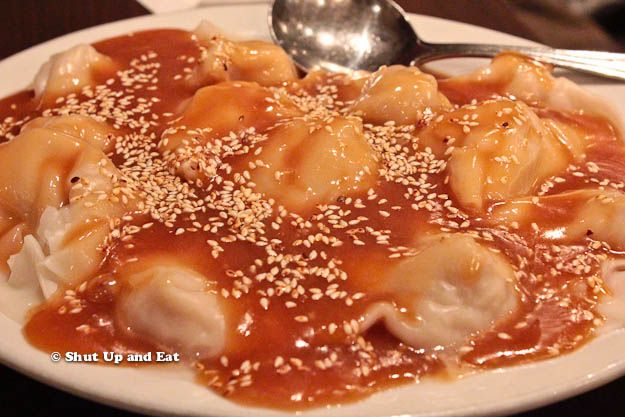 Peanut butter dumplings. I've always regarded this dish as an excuse to eat the sauce; velvety and smooth, I would have drank the sauce by the glass. There's not much more you can ask for with this kind of dish; I mean the dumplings are steamed and then slathered in runny sweet peanut butter. The chicken in the dumplings was sparse, but like I said, it's all about the sauce.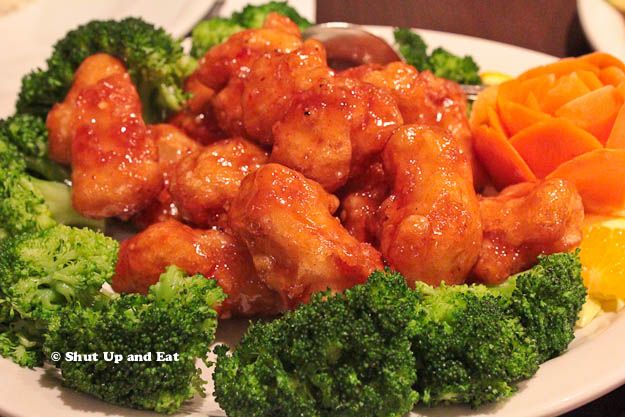 We got an order of the general tao chicken. Marked on the menu with a spicy level of two chilli peppers, I got my glass of milk ready… just kidding. The giant nuggets of battered and deep fried chicken was candied in a sweet honey glaze that was peppered with chili flakes and garnished with guilt easing broccoli. The chicken itself wasn't spicy by any means, let alone by a heat tolerance index of my Asian palate. However, the dish was overtly sweet, not in a toothache kind of way, but it tasted like something you would expect from any classic general tao chicken.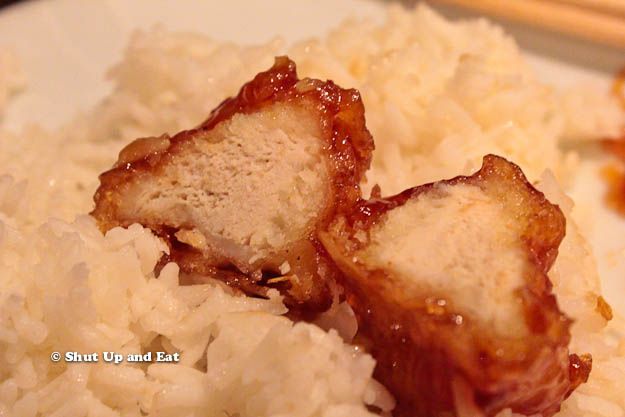 There were two things that set Ernie and Ellie's general tao chicken different from the rest: 1, it's Kosher, 2, the chicken inside the batter is distinguishable. Seeing actual legit chunks of chicken in your general tao is rare. Biting down into a fluffy tao, your mouth recognizes the chicken through texture and dull flavour of white meat. Taking on the flavour of the sauce, dark meat that would be ideal to be able to stand up to the sweetness of the sauce adding a more apparent savouriness to the bite, but the large pieces of chicken is a big plus. One of the better general tao chickens I've had in a very long time.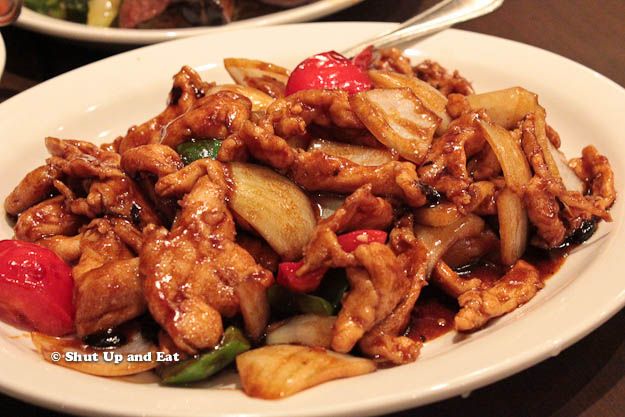 We split an order of chicken in black bean sauce. Strips of white meat, bell peppers and onions sautéd with Chinese fermented black bean sauce. Having studied the menu, I concluded that this dish was probably the most "Chinesey" of the entire menu. Fermented anything is an acquired taste, i.e.: Natto, Kimchi, Blue cheese. Luckily, Chinese black bean sauce isn't as intrusive as other fermented foods. The brackish flavour of the beans that's jarred with garlic lends well to the chicken; subdued by the sweetness of the peppers and onions, the flavours are balanced nicely. On par with other black bean dishes I've had before, this chicken version is what it is.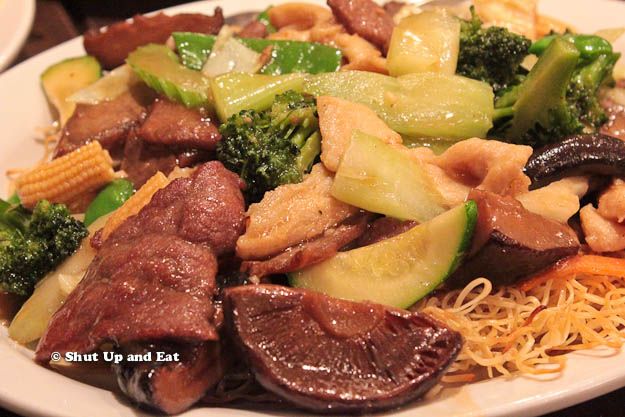 We also ordered the Cantonese chow mein. This flour noodle dish was topped with broccoli, Chinese mushrooms, baby corn, zucchini, peppers, carrots, onions, chicken and barbecue veal. What stood out the most was what was missing from a classic Cantonese chow mein (bamboo shoots, water chestnuts, shrimps, squid and barbecue pork) and the substitutions. Obviously being a Kosher restaurant, pork is as off limits as Politicians in city hall are Kosher. A classic Cantonese chow mein is a melange and sauté of these ingredients on top of crunchy fried egg noodles. I'm not being a hardass, but when something is listed as a certain dish, I order expecting a certain dish. However, I ordered it knowing my chow mein would not include pork or seafood and my order was based on curiosity. Perhaps calling it a "Cantonese chow mein" – with quotation marks or even the "Ernie & Elie special" would have a certain appeal. Don't get me wrong, it was a tasty fried noodle dish on its own, but it wasn't a Cantonese chow mein".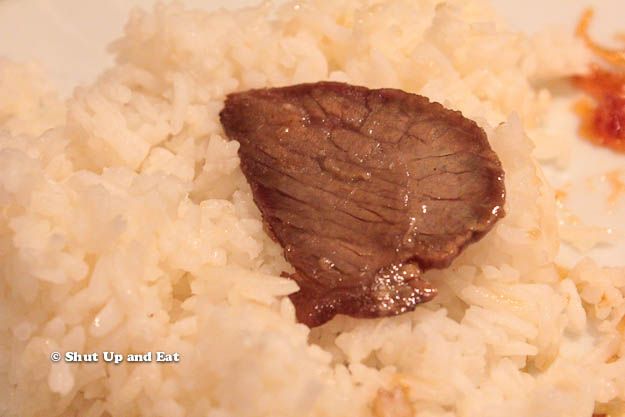 What I did notice however in the chow mein was the barbecued veal. Prepared the same way as barbecue pork, at first glance you would think it was barbecue pork just a hue darker than the traditional red.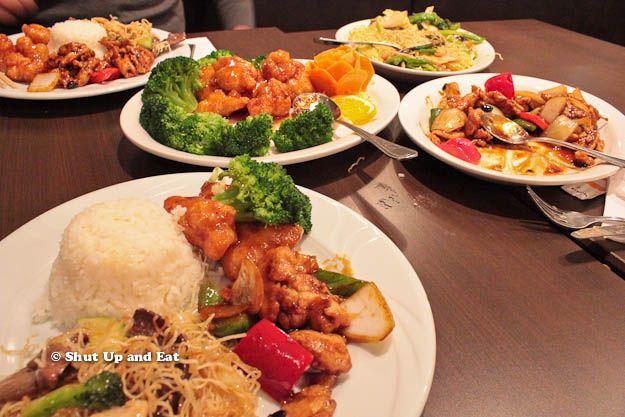 I'll be honest with you, we were laughing at the idea of this dinner way before we stepped into the restaurant. What sounds to be the premise of a bad bar joke was turned into reality and that reality was a fairly tasty one. The Chinese side of the menu consisted everything that I was never allowed to order when I was younger, general tao chicken, sesame beef, chicken balls with cherry sauce, sweet and sour this and thats – all the American dishes that our cavities would feed upon. These dishes were considered the westernized introductions to Chinese food, and quite honestly, this is exactly what Ernie and Ellie's is doing – introducing Chinese food and giving the opportunity to the Jewish population of Montreal with a specific diet observation a unique and tailored option. This place isn't a destination if you're looking for the most authentic Chinese cuisine, and we know that; but to be able to provide an adapted and viable glimpse into a cuisine that is so pork and seafood centric is commendable unto itself.
Ernie & Ellie
6900 Boulevard Decarie (inside Decarie Square)
Website

Don't get me wrong, Ernie and Ellie isn't a Kosher-Chinese restaurant exclusively; They have a very vast menu featuring classic deli and Kosher meals… just so happens they have a Chinese and subsequently Japanese section as well.