So on a rainy friday night, a group of Shut up and Eat followers made their way via explicit confirmation email where they will be dining, making new friends and smashing their face with some awesome grub all while experiencing a hip but laid back vibe. This month's Shut Up and Eat With Me dinner was none other than the spot that's doing market cuisine and Quebec terroir to the maxo… BAXO.
We were welcomed by manager/international playboy extraordinare, Eliot who explained to us the concept and philosophy behind BAXO. The menu remained a secret and no clues or hints were given as to what we were going to have that evening, but if my past experience was any indication of what was to come, I loosened by belt and waited for the gluttonfest to begin.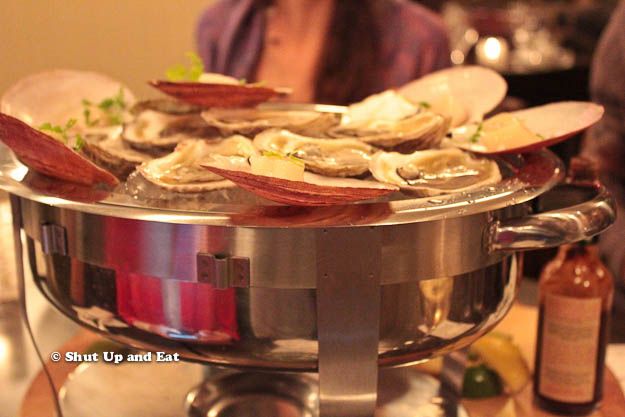 We started off with oysters and scallops and the half shell. You can never go wrong with oysters, especially when it's the way to start a meal. Very fresh, very delicious.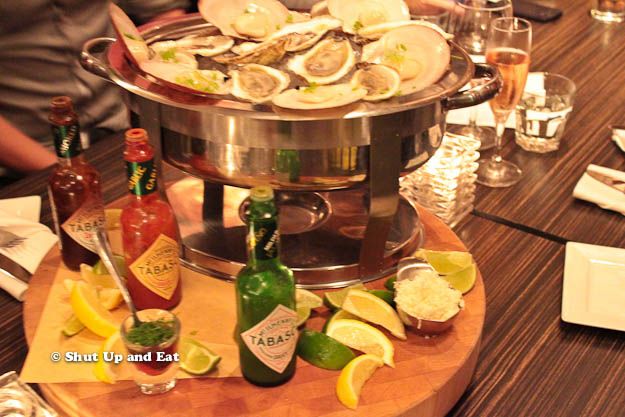 The Shut Up and Eat With Me events are not only great ways to try new restaurants and meet new people, but coincidently, a great excuse to have your oyster virginity taken as well. The September edition was responsible for having two people trying oysters for the first time (happened once before at a previous dinner event).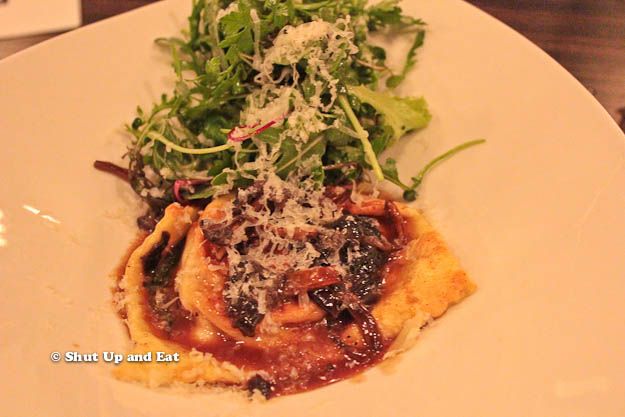 Second course was a homemade ravioli of braised capon, topped with sautéed mushrooms and caramelized onions, garnished with a cilantro and arugula salad tossed in a tart vinaigrette and topped with freshly shaved five year old cheddar.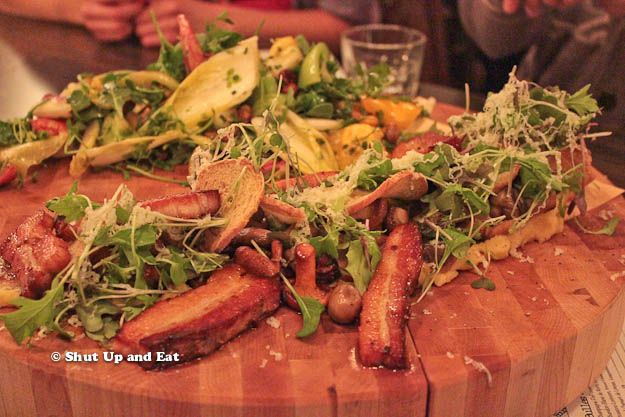 Second course was BAXO's confit pork belly with five kinds of mushrooms, on a celery root puree, bitter greens, garnished with grated cheddar. Next to that was an heirloom tomato salad with endive and cilantro in a green apple vinaigrette. Ok, listen to me very carefully… This pork belly is ridiculous; unctuous and sweet, it was bathed in maple syrup and will leave you not needing your lip balm for a week. You NEED to go try it, not because I say it's good, but because your mom told me to tell you to.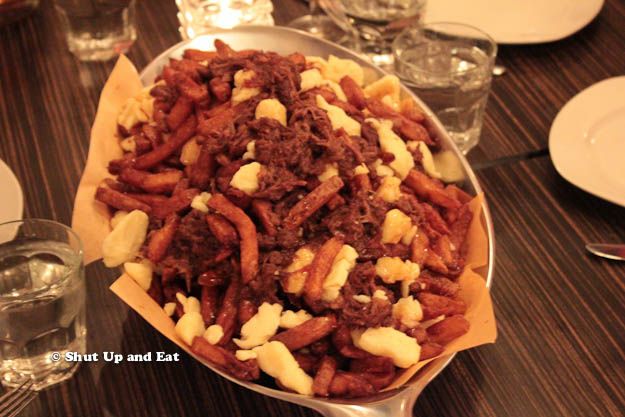 The main course – our server walked out with their famous poutine in a spoon, or what I like to call the, "Spootine". Duck confit pulled over freshly cut fries, a generous HEAPING of cheese curds and the most delectable veal glaze gravy.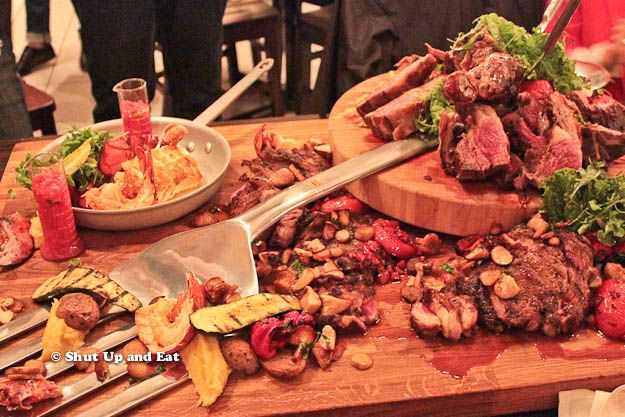 Then this thing came out right behind the poutine – BAXO's signature butcher block with everything on it… and when I say "everything", I mean EVERYTHING… even a giant fork.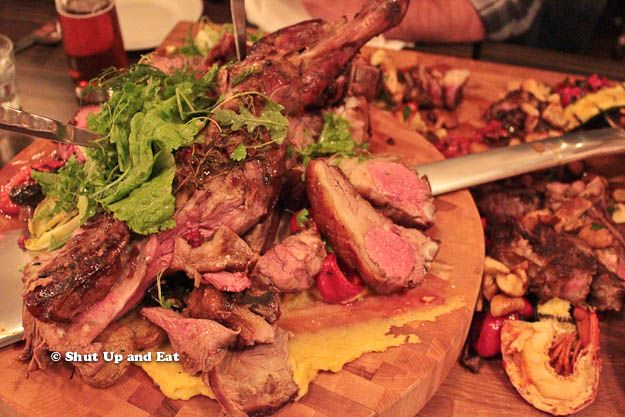 BAXO's butcher block – their rendition of "surf and turf" which looks like a delicious crime scene – is basically a middle finger to the plumbers, pepto bismol and vegans. A full leg of lamb roasted to perfection, two… TWO, grilled bone-in entrecôtes of the most buttery beef, a pan of seafood, spattering of grilled fresh vegetables (which included eggplant, zucchini, peppers, tomatoes, potatoes, mushrooms, greens), atop of sweet piles of potato purees,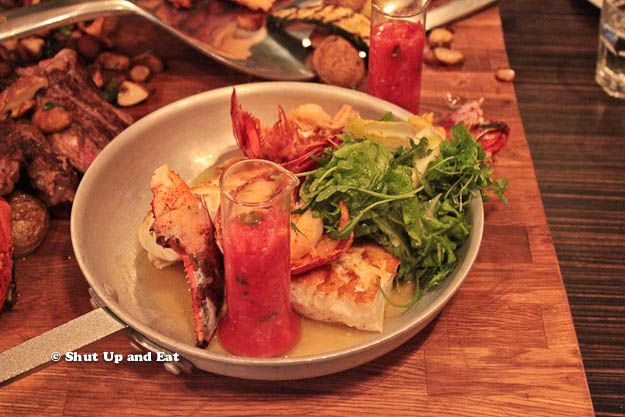 The pan included three huge seared fillets of haddock topped with a butter sauce, buttressed by lobster tails, beakers of marinara and salad. It should be noted that there were lobster tails throughout the platter. Awesome grilled vegetables and greens stuffed in every nook and cranny of this main.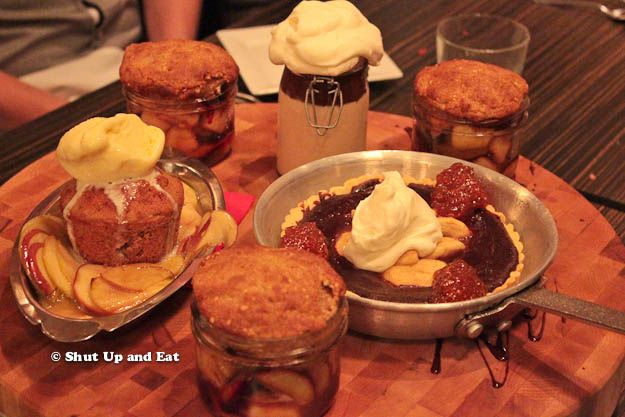 The dessert course.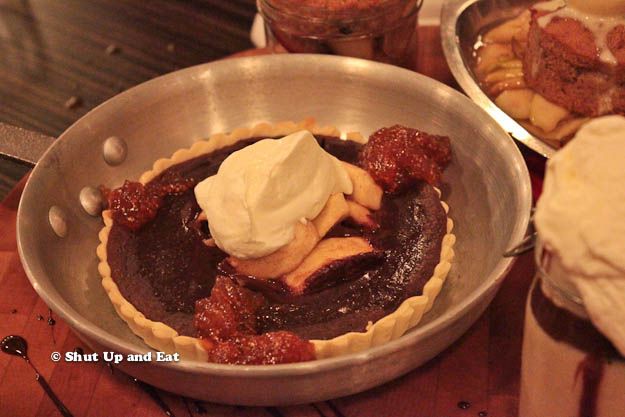 A chocolate ganache tart, topped with roasted seasonal apples and compote.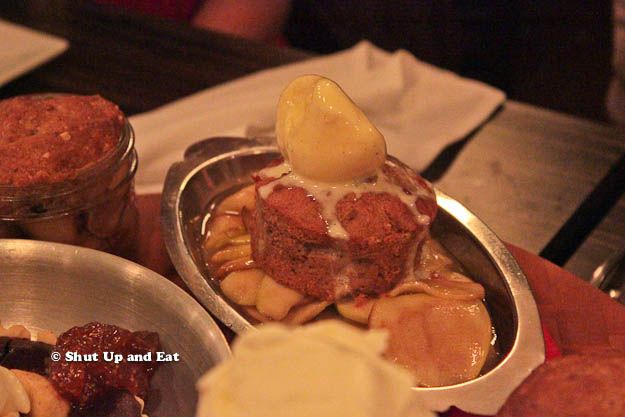 Homemade apple cake with caramelized apples with homemade vanilla ice cream.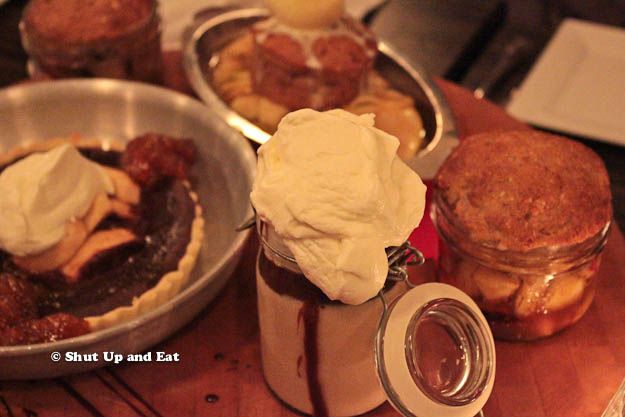 A silky smooth flan topped with chocolate and the creamiest whipped cream. Apple and plum crumb baked in mason jars as well.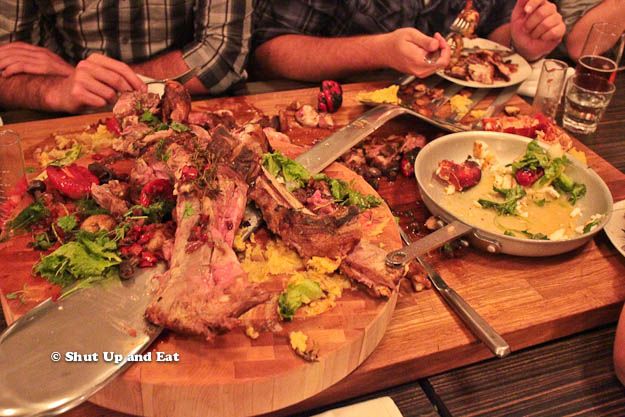 By the end of the meal, we were struggling and fighting off the food coma and my jeans were slowly becoming yoga pants. This local and seasonally inspired menu and dinner was the work of the brilliant Chef Jonatan Fournier who hoisted the gargantuan butcher block (with the help of two other people of course) and introduced the dish himself. With the help of some of the wait staff, we were rolled out of there after an incredible meal, awesome experience and two oyster-virginities taken.
A big thanks to the gang of BAXO Cuisine & Bar for enlightening some of my guests on the real BAXO experience!
Baxo Cuisine & Bar
(514) 903-9343
343 Saint-Paul East
baxocuisine.com
Original review from 07/16/12 here.
__________________________
Make sure you check out the Eat With Me page to keep posted on when the next Shut Up And Eat With Me dinner will be. Join me next month as I take you to another Montreal hot spot!