September 1st through 7th marks the inaugural Montreal's Burger week – where over twenty restaurants peppered around the city are bound by competition to grill it out to claim Montreal's "Best Burger". Fuck your diet because there are vegetarian options on the official roster. There are only two types of people in this world who don't eat burgers… The dead and assholes. If you're reading this, then you're not dead, so go have a burger.
I made my way around the city to hit up some of Montreal's finest burger serving establishments. Agree or disagree with the list of competitors, these are the players who are throwing down and putting their burgers on the line. There may or may not be better choices in the city, but these guys are the ones who are putting their meat where the buns are (every single kind of pun intended) vying for the title.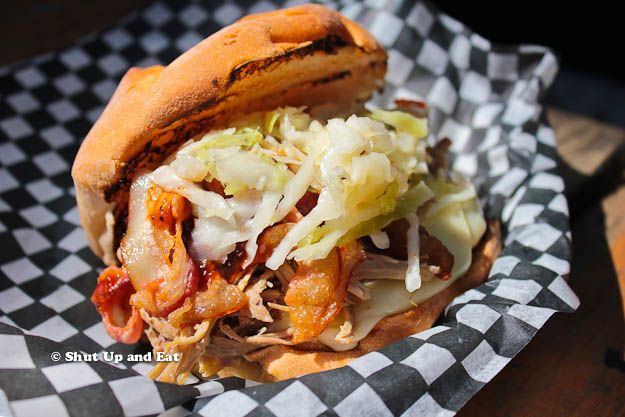 Bofinger BBQ Smokehouse
Bofinger's entry for burger supremacy comes as a pulled pork burger clusterfuck. 100% all beef patty smoked and grilled, topped with their famous pulled pork, slathered in their spicy bbq sauce, topped with slaw and their own house smoked bacon. Messy and dirty, you're not eating this right unless there are battle wounds on your clothes.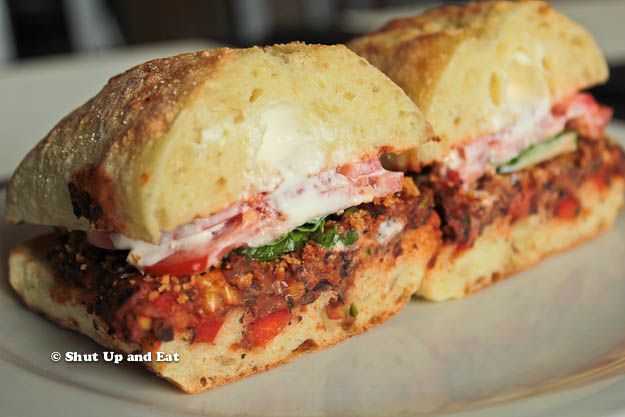 Café Pave
More of a sandwich than burger, Café Pave's entry is a veggie stock braised black turtle beans, mixed with corn and south-western spices pressed into a patty, topped with certified organic Roma tomatoes, English Cucumbers, spinach with roasted garlic, drizzled with a homemade yogurt sauce… it's as obvious as day that when you think of me, you think veggie burger, and when I think veggie burger, I think of this one.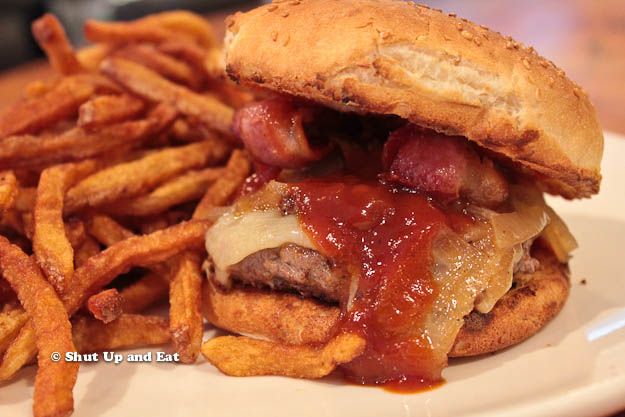 Bistro le république
A place I've never been to before I went to have their burger. All beef patty, topped with a slice of cheddar, crispy bacon, beer braised onions and homemade sweet and spicy barbecue sauce. The sharp cheddar was nice to cut through the sweetness of the sauce and murkiness of the onions.

Café Souvenir
When you wake up in the morning, some people think of getting some coffee going, or rushing for school, or walking the dog… then there are people who think of a fried egg on top of pulled pork with guacamole. Tomato, tomahto.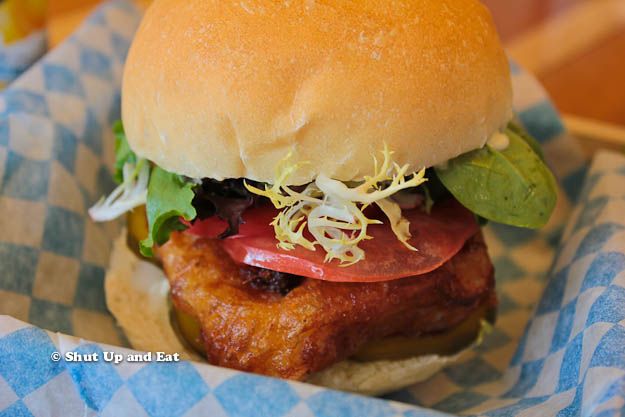 Comptoir 21
A "fillet o'fish" if it was actually made fresh… with love and didn't originate in a factory somewhere with reconstituted "fish". Topped with mesclun, tomato, pickles and a dollop of their homemade special sauce, this burger is one of Burger week's best beef alternative choices.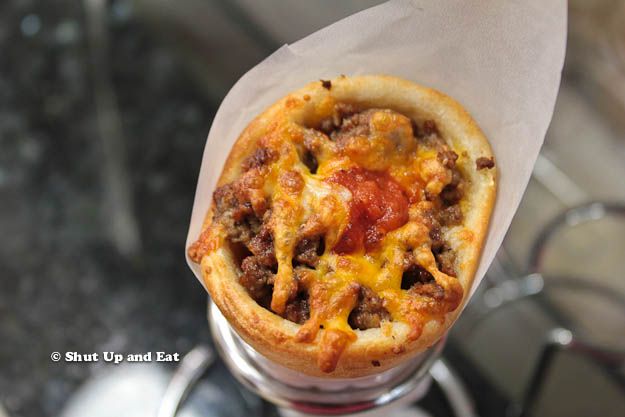 KONO Pizza
A really unique entry into the Montreal burger race; a pizza that tastes like a burger, but looks like an ice cream cone. Freshly grilled ground beef, four-cheese blend, homemade tomato sauce, wrapped in Kono's signature Italian recipe pizza cone crust. I know what you're thinking, it's not a "burger"… agreed, but it tastes like one!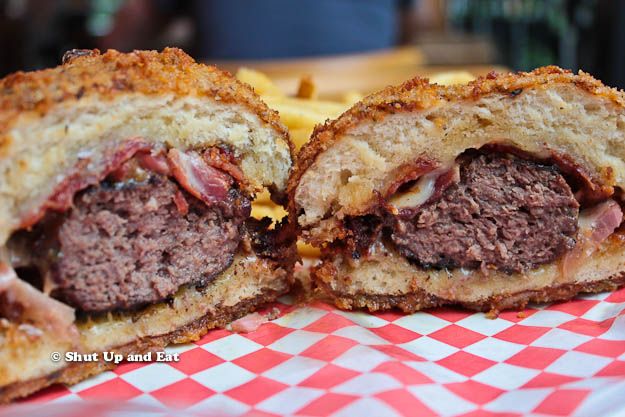 Diablos Smoke House BBQ
When one reaches the upper echelons or burger conceptualization, it can get a bit difficult to raise the bar any higher… until the guys at Diablos Smoke House BBQ out burgered their own burger, by burgering it to the next level. "Sixth deadly sin" is a AAA-all beef patty, topped with provolone, house smoked bacon, dressed with their own smoked tomato ketchup, wrapped in a pretzel bun, these SOBs deep-fried the thing. Overkill? Nope… juuuuuust right.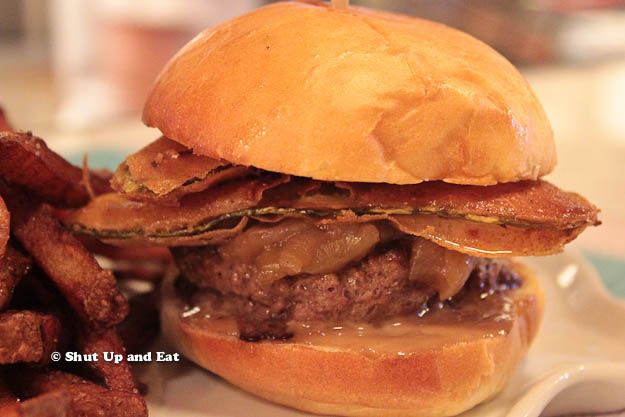 Le Gros Jambon
There are a few things in the world that are so perfect that can't really be changed or improved, the wheel, Kate Upton, and mayonnaise… No so, said the gang at Le Gros Jambon – these guys birthed one of the world's next wonders… Coke-cola mayo. All beef burger patty and caramelized onions slathered in their signature mayo concoction, topped with fried pickles.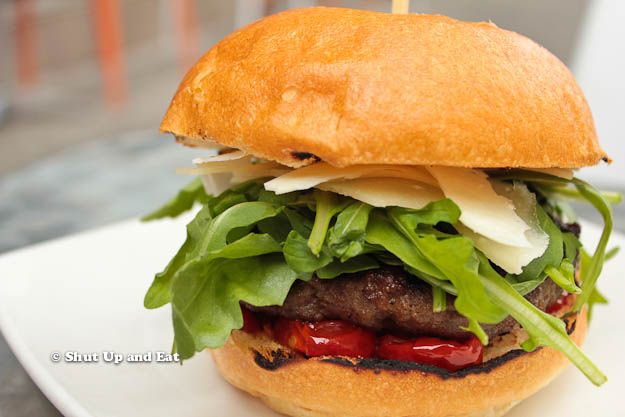 M:Brgr
The M:Brgr is so opulent and luxurious that it should be served draped in velvet. A Kobe beef patty topped with a slice of grilled all-beef salami, dressed with shavings of Pecorino, arugula and grilled sweet cherry tomatoes. A definite must try burger week burger. Ask yourself when was the last time you had a Kobe beef burger; then ask yourself, when was the last time you had a Kobe beef burger for $10.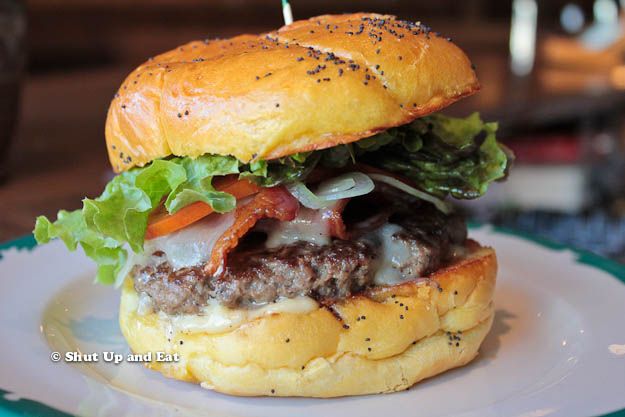 Nouveau Palais
Nouveau Palais' burger should be called the "O.G." burger. Classic burger – secret meat blend that provides out of this world flavor, topped with the standard, lettuce, tomato, and onion, the burger holds it down and represents with bacon and cheddar all on a locally baked poppy-seed bun.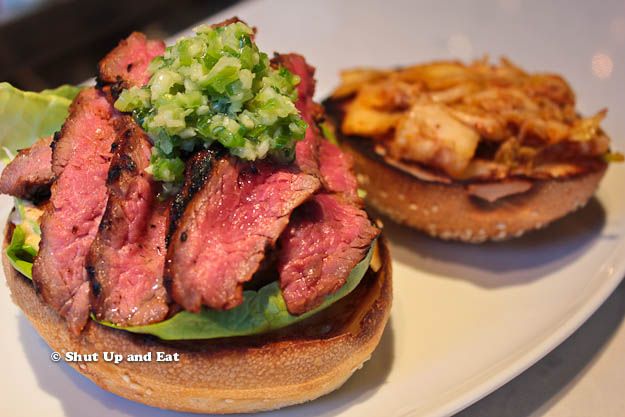 Restaurant Biarritz
My Far probably one of my top burgers of the week, mostly because it's delicious beyond compare, but part it of has to do with the fact that it's topped with homemade kim chi made by a white guy. Biarritz's burger is a bulgogi flank steak grilled to a blushing medium-rare, it's topped with a fresh scallion and ginger oil on a toasted sesame seed bun. My non-existing Korean grandmother says, "축하합니다" to you kind sir.
So go have a burger and vote! For more info visit the official website at http://burgerweekmtl.com/ Also, be sure to check out my Tourism Montreal article here for background info on the event.