"Chic" and "trendy" should not be words that are associated and have nothing to do with burgers – in the end, there's nothing en vogue about a ground meat rounded and shaped into a disk, cooked with fire and then placed on top of bread. If there is anyone who's going to make burger hip and happening, it would be be folks at M:Brgr. The concept is simple, a create your own burger joint – fresh ingredients, pick your own toppings and sides, smash burger in face, enjoy.
I had a hot date with my M the other day and we were fiending for burgers and decided to hit up Montreal's one and only upscale burger joint – M:Brgr. Like mentioned above, the concept is basically "making" your own burger – not like Kramer's "you smash it, you pound it, and you fling it into the air" make your own pizza joint; so don't get too excited about grilling your own patties, get excited for Kobe beef, horseradish mayo, and house smoked bacon. You start off with a choice of six base burgers – some of which are already dressed where you can eat as is, or continue along the path of burger customization.

The lady ordered the "Slider threesome" because she's a G. A "AAA" beef burger, topped with, lettuce, tomato, pickles, with a side of french fried onions and served on white bun. With the base of the slider burger, she decided to continue the righteous path of burger serenity by adding additional toppings. With the sliders, you can indeed customize each burger of the trio independently, so make sure you chose your toppings wisely. *I stand corrected, our server made a mistake and I have been informed that we can dress the burgers any way we like*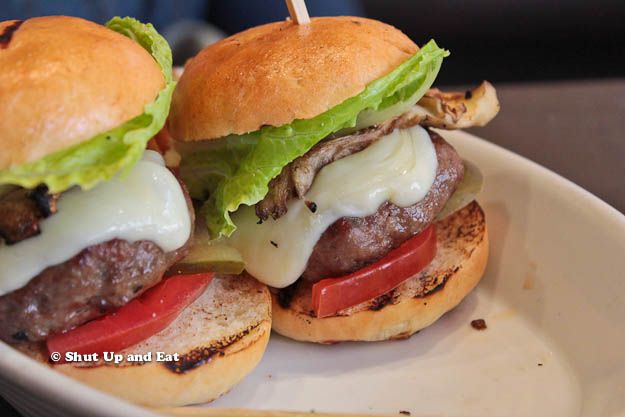 She decided to top the burgers with a slice of cheddar and grilled oyster mushrooms – cos she fancy like that. The mushrooms added a nice chewy bite to the burger with an added earthy aroma. I've always considered "sliders" and the idea of sliders as a burger "quickie". It's everything you want it to be, quick, dirty and when you're finished, people don't even notice anything's gone. But M:Brgr's perverse minds so fittingly named this a "threesome" – in what context though? One big burger orgy with three burgers, or three quickies with the same burger? This analysis has gone completely off, I'll stop. BURGER SEX.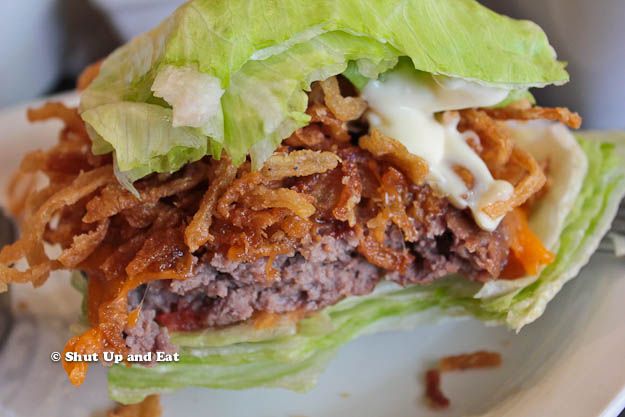 Burger? BURGER! I as well had the "AAA" base, with cheddar, mayo and topped with French fried onions on a fluffy wholewheat bun. Actually I had the lettuce wrap option… but you knew that… I hope. Definitely an option for those who are watching their carbs. As with the sliders, the "AAA" meat was honest solid ground beef, juicy and flavourful. The fried onions added a definite crunch to each bite as did the cold, crisp lettuce wrap. The choice of "bun" didn't take away from the burger experience at all, I found it gave a unique twist on what we have come to classify as a "burger" – although I wouldn't call it a "wrap" as the burger wasn't wrapped wrapped; they made a "bun" with the lettuce.

Lasagna! And by lasagna I mean fries.

Sweet potato fries. The fries were pretty much… well, fries. Nothing super spectacular, they were crispy, golden and tasted good with ketchup. Yup, fries.

M and I also split an order of coleslaw. M:brgr serves up Moishe's famous coleslaw. A great tart and refreshing bite of slaw washes down any great burger – it does the job almost as good as something fizzy to drink.

Albeit, M:Brgr might be one of the more pricier places to cop a burger in Montreal, it does have its upsides – great weekly lunch specials which include a drink and fries, and some fun burger alternatives like sandwiches and salads. It's the only place where (if you wanted to or if your wallet was about to puke) to add shaved black or white truffles into your burger. Yes, this can be seen as being a bit gimmicky or even absurd, but M:brgr is about being over the top, even to the point of having an option of having foie gras as a topping… and they have the price tag that goes with it – but that's their thing, you don't HAVE to like it, but it works and their burgers are pretty decent… at a price.
That being said, it should also be noted that M:Brgr donates a portion of all sales to various Montreal children's charities, including the Montreal's Children Hospital Foundation as well as the Foundation for Research into Children's Diseases.
Read about a recent article I wrote about Montreal's top 5 must try burgers here, which features M:Brgr's "$100 brgr"
M:Brgr
2025 Rue Drummond
514-906-0408
mbrgr.com