August's Shut Up And Eat With Me dinner event was hosted by the trailblazing Imadake Izakaya making moves in the Montreal Japanese food scene (original review from here). Welcomed by the amazingly exuberant and enthusiastic team with a welcoming chorus of "irasshaimase!", we were all ready to get our grub on, make some new friends and have an authentic Japanese izakaya experience.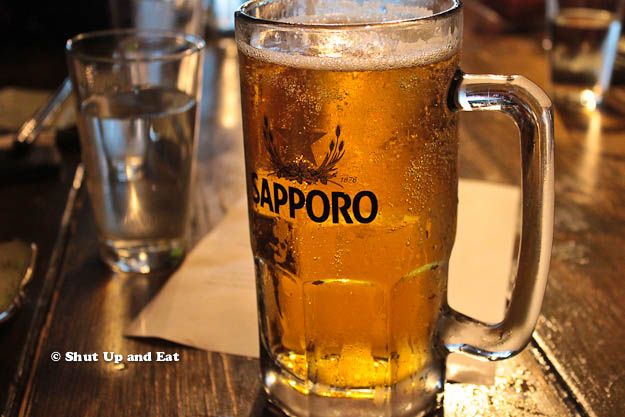 Jokingly, our frist course was a round of the "king kong" beer. A full manly litre of Sapporo (which Imadake has on tap). We were all sitting and enjoying conversation when heads turned and jaws dropped when these monstrosities were placed on the table.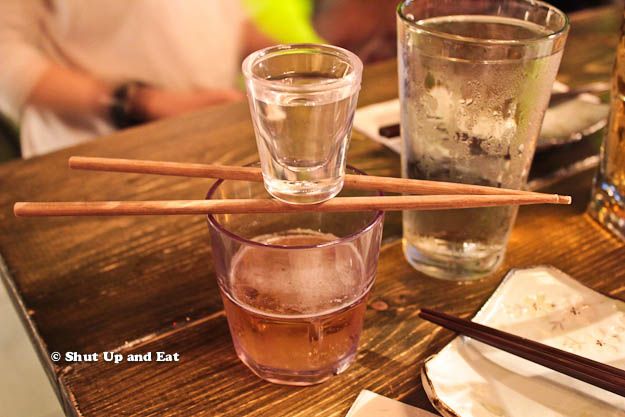 Imadake prides itself as home to Montreal's sake bomb – half glass of Sapporo with a shot of sake carefully suspended on top by a pair of chopsticks. A chant with a resulting slam on the table knocks the shot glass into the bottom glass of beer and the drink is downed in one shot. The sake-bomb is a seductress… a siren… a whore. Nothing good comes out of it, but you can't fight her grasp.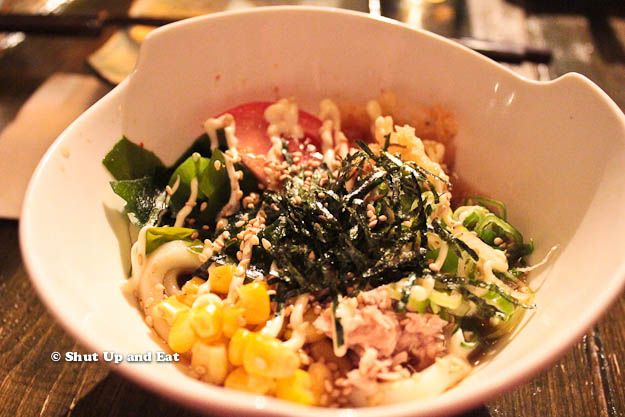 First real course was off of Imadake's summer menu – cold udon salad. Pieces of tuna, kombu, corn, tomato, scallions, tenkasu, topped with nori and sesame seeds, the udon was chewy and delicious. The highlight was the dressing… soup, or whatever you want to call it. I found myself shamefully holding the bowl to my mouth drinking the rest that was at the bottom. I joked that next time, I'd love to order a glass of it and slowly sip on it during my meal… they laughed, but I wasn't really joking.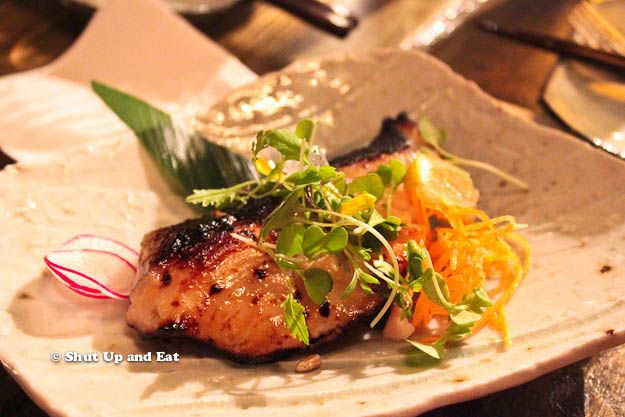 Second course was the miso black cod. Big slices of black cod marinated in a secret blend of miso and soy for 72 hours then grilled to a chary perfection. The fish literally melted and disappeared as you bit it – it was buttery.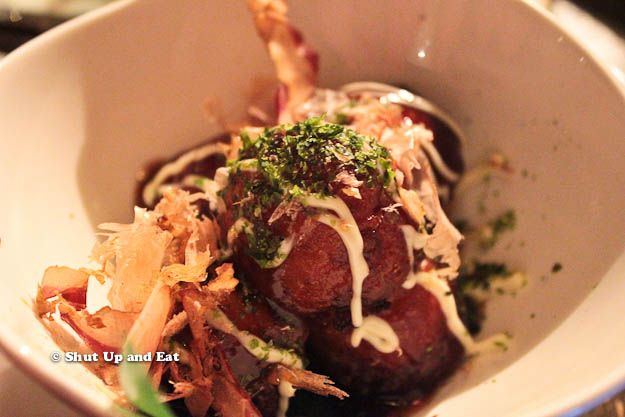 Third course, takoyaki. Delicious doughy balls with octopus, topped with tacoyaki sauce, drizzled with Japanese mayo and stacked with smoked bonito flakes. Quite the sensory experience; whiffs of fishy goodness as the bonito flakes wave to you and dance in the radiating heat.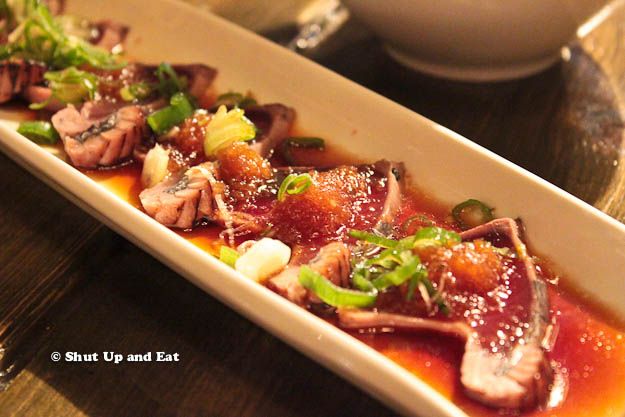 Tuna tataki – lightly seared slices of rare tuna (not rare like this species tuna is a hard to find talking fish). It was dressed with a sweet and tangy ponzu sauce, scallions and grated marinated ginger. Smokey from the sear, the fish was brightened up by the refreshing sauce.

We then had the Ebi mayo – Basically shrimp tempura that's served with a citrusy-sweet mayo.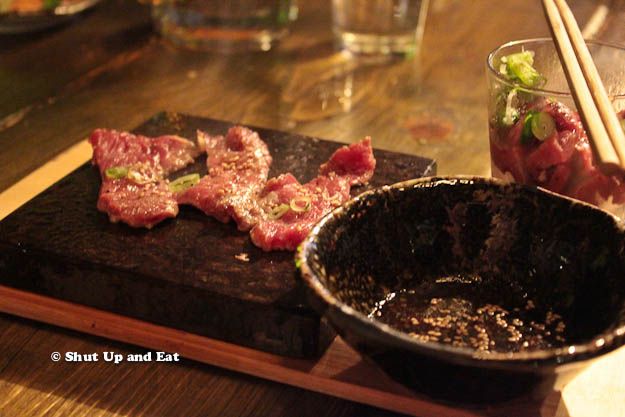 Next up was the hot stone beef. A word of advice… when the waitress sets something down in front of you and tells you NOT to touch it because it's hot, listen to her, she usually knows what she's saying. Third degree burn later, you're presented with hyper-heated stone and marinated beef that you cook yourself. Deliciously tender beef marinaded in a savoury soy and magic sauce, when you cook it, make sure not to over cook it.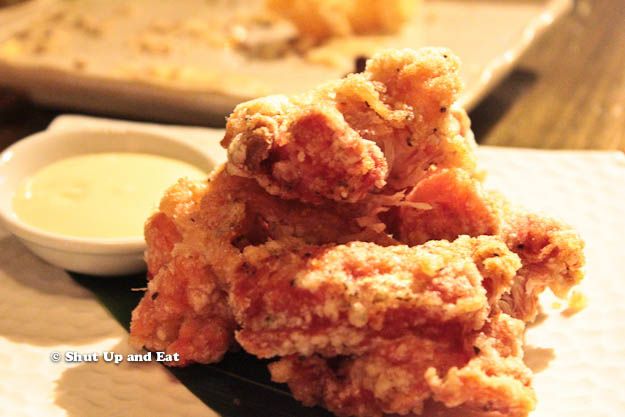 Chicken karage – fried chicken served with wasabi mayo. Dusted in potato starch, the chicken is nice and crunchy as the slight sting of the wasabi mayo goes well with the seasoned crust of the chicken.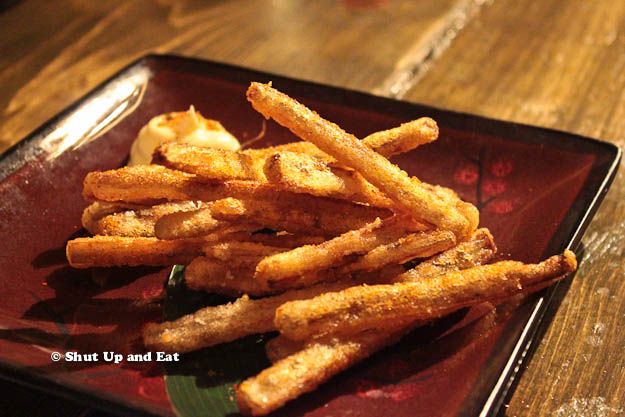 Fried burdock – in a slightly spicy batter, this root vegetable is rare on any menu anywhere. Served with a dollop of soothing mayo, each fry snapped when bit.
To note: There are no pictures of course nine and ten due to technical difficulties. We had Imadake's signature grilled miso beef tongue as well as grilled cuttlefish.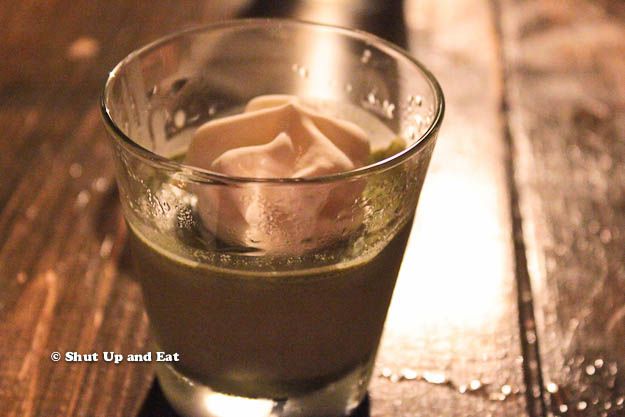 For dessert we were presented with a glass of green tea pudding with sweet azuki beans on the bottom. Not overly sweet, the pudding was more of a mousse – light and airy, the sweet bean paste added the sweetness the glass needed.
A big arigatou gozaimasu Imadake for hosting August's edition of the Shut Up and Eat With Me dinner. The team at Imadake are doing some creative things that are definitely making waves. With flowing Sapporo on tap and delicious traditional Japanese pub food, it's pretty evident why this place is packed 7 days of the week. Again, I'd like to thank the entire team at Imadake for providing some of my readers an authentic izakaya experience that was definitely the BOMB!
Imadake Izakaya
4006 St. Catherine W
514.931.8833
http://www.imadake.ca
__________________________
Make sure you check out the Eat With Me page to keep posted on when the next Shut Up And Eat With Me dinner will be. Join me next month as I take you to another Montreal hot spot!