One of the things that most of us "downtown" people – you know, people located PAST the Ikea to you West island people – have been saying is that one of the things that your area of town is missing is solid Chinese food. I'm sorry to be the bearer of bad news, but whatever you've got going on in terms of good Chinese food, is wrong. So before you flood my inbox with emails about some place that makes bomb general tao chicken and sesame beef, let me save you some time… you're still wrong. That being said; Dear West island people, I'm happy to announce that your street cred, your Chinese restaurant cred and overall general cred cred has just shot up… I congratulate you.
If there's something I love, it's dim sum… Sorry, I lied, I LOVE biting my nephew and antagonizing him until he cries, but what I really enjoy is dim sum – child abuse comes in a close second (CHILL, I'm kidding.) One of my favourite spots in Chinatown recently celebrated the opening of their third location and if you haven't already guessed, it's in the west island. I've already been on two different occasions and I'm proud to be reporting on both accounts.
First visit was for dim sum, I'll be honest with you, I was already going in with high expectations. I know more often than none, when you go somewhere with high expectations, you're just inevitably setting yourself up for failure… NOT HERE. I hit up Kam Fung on Boul. des Sources with my girl to check it out.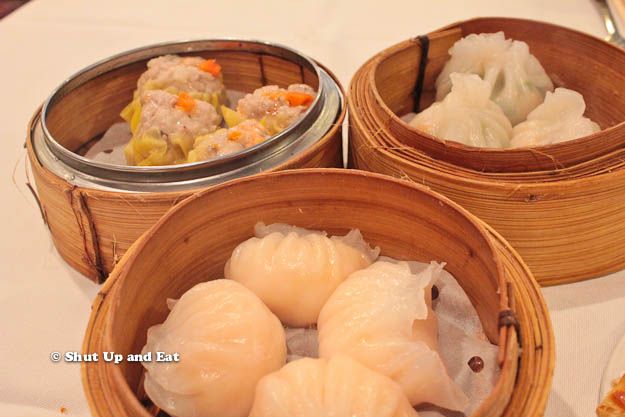 Dumplings; dim sum staples. One does not simply order one kind of dumplings when one dims the sum. Little bundles of masterfully weaved doughy wrappers, hugging various meats, spices and ingredients, the variety is practically endless and as each cart that passes by, you'll be enticed by the auntie singing her cart's contents. Clockwise from top left: Sui mai – Ground pork dumpling with chinese mushrooms topped with salted egg yolk. Peanut dumpling – ground pork, with chinese sausage, shrimp, chives and peanuts. Har gow – shrimp dumpling. These things are addictive and a subsequent Sunday brunch dependancy might develop. It's like trying to download your favourite Celine Dion track off iTunes, before you know it, you're broke, and in the fetal position on the floor clutching the hand of somebody that you used to know. Everything was piping hot and FRESH, major points.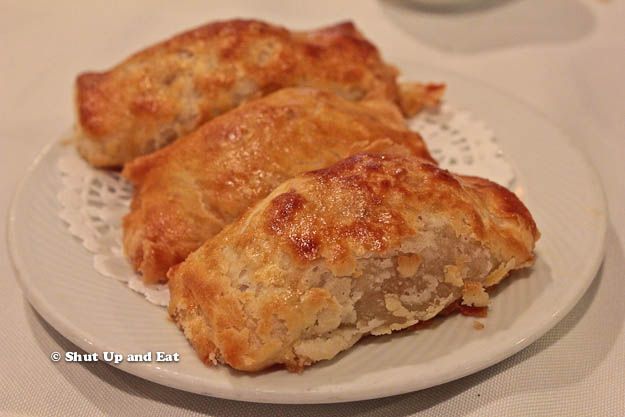 Barbecue pork pastry. Wrapped in a buttery pastry dough, this flakey pastry is a mysteriously harmonized blend of sweet and savoury.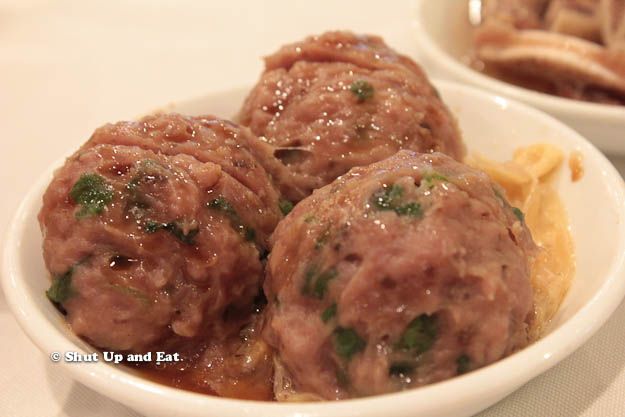 Beef meatball. Coincidentally, my paediatrician's nickname for me when I was younger, the meatball is made with beef, whipped with water chestnut and green onions. Steamed on a soy bean curd, the meatball is dressed with Worcestershire sauce table side. The tang of the sauce works well with the beef… how? Not quite sure, Ancient Chinese secret I guess.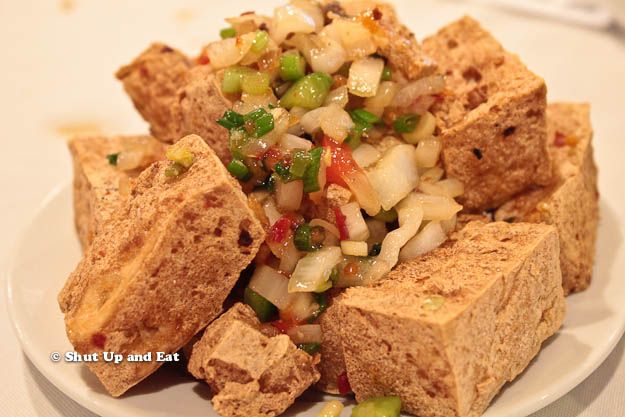 Salt and pepper fried tofu. Seasoned with salt, the tofu prisms are fried until they're little golden bricks of crusty deliciousness, then topped with a sautee of bell peppers, onions and chili peppers – or what I like to call a Chinese salsa or "Chalsa"… if you nasty. There's a definite kick to each bite.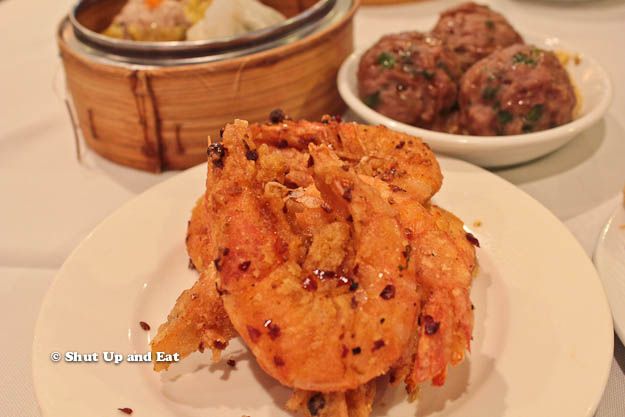 Salt and pepper fried shrimp. Prepared like the tofu, these head-on shramps pack a punch of flavour. Ask for extra napkins and get right in there and suck the brainy mess out of the heads, it's the only way to eat them! (I mean you can also NOT such the brains out, but then there's no point, so go home.)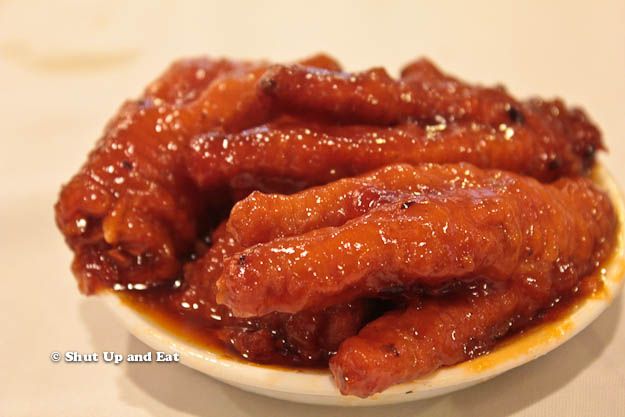 "Phoenix talons"… AKA: Chicken feet. YES, they exist and it's not just some ongoing gag and joke. Braised then steamed, these bitches are soft, gelatinous, tender and fucking DELICIOUS. Live a little and try. Order them.
On my second visit to Kam Fung in the West island, I returned with my family. We ordered the seafood dinner. Along with the a la carte menu, they also have preset dinner options to make short of your indecisiveness and guesswork.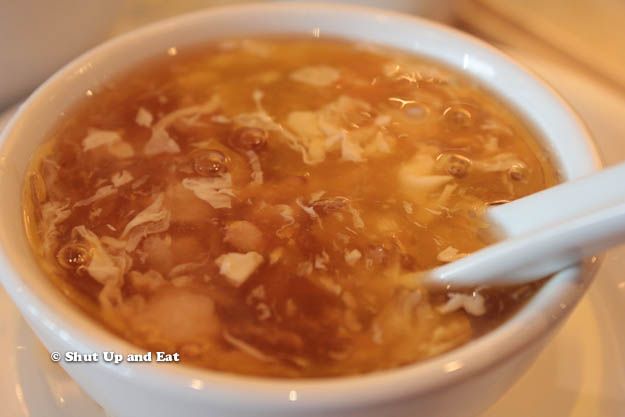 The dinner menu started off with shark's fin soup. Yeah yeah yeah, I know what you're going to say… "Don't you know shark's fin is so awful…ly delicious and tasty?" Yes, I'm aware, thanks! 🙂 The little tender fibres float in the thickened savoury soup of clarified chinese mushroom and chicken stock – rich and deep in flavour, the shark's fin adds a unique texture to each bowl.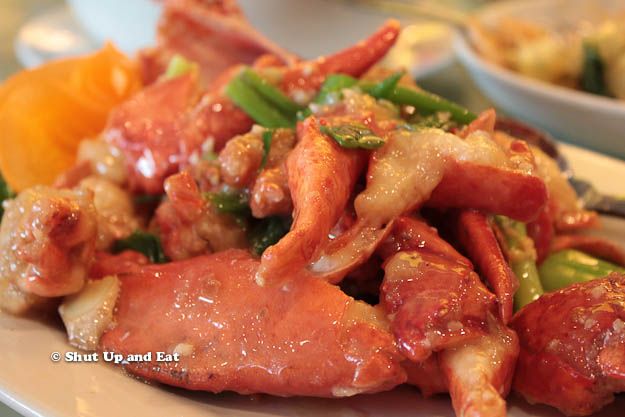 Second course was the ginger and scallion lobster. By far, one of my favourite reparations of lobster. Disassembled with precision like a stolen car on its way to eastern Europe, the lobster is dusted with a light coating of corn starch and fried with aromatic ginger and scallions. The summer season yields monster lobsters and for one reason or another it seems to me that Kam Fung – regardless of the location – always gets the big daddies. The meat is tender and kissed with "wok hei" which leaves the dish smokey and fragrant.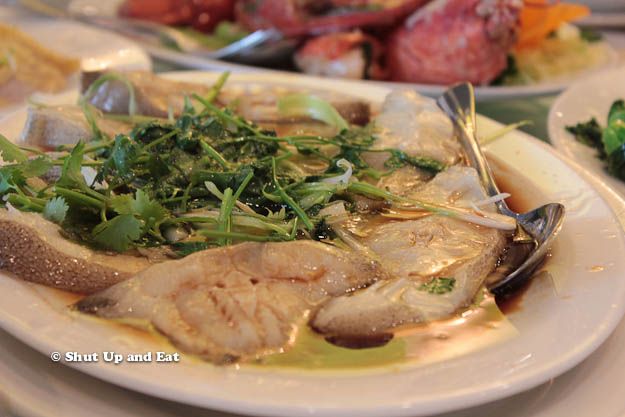 Steamed kingfish with soy sauce, ginger and shredded scallions and cilantro. The dish is so simply prepared and that's all it really needs. The sweetness of the fish comes through as it's accentuated by the saltiness of the soy sauce and perfume of the coriander.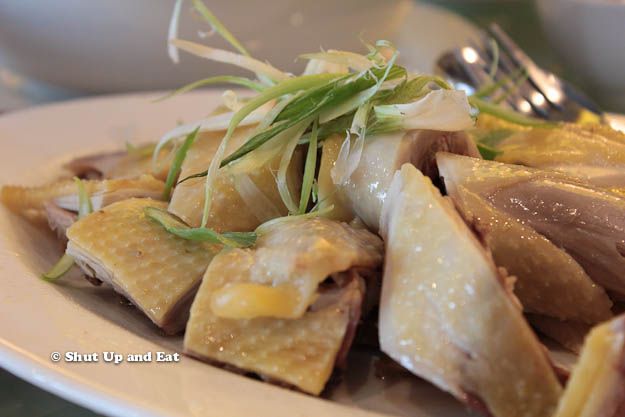 As a part of the "seafood" dinner, there was a chicken dish included… (yeah, I know, whatever, go with it.) An order of "white cut chicken", the chicken is summered in a stock, chilled and served with a peppery scallion and ginger oil dipping sauce. The chicken is cold, and it's supposed to be that way. The meat is soft and you can taste the bouquet of ginger and pepper the chicken was boiled in.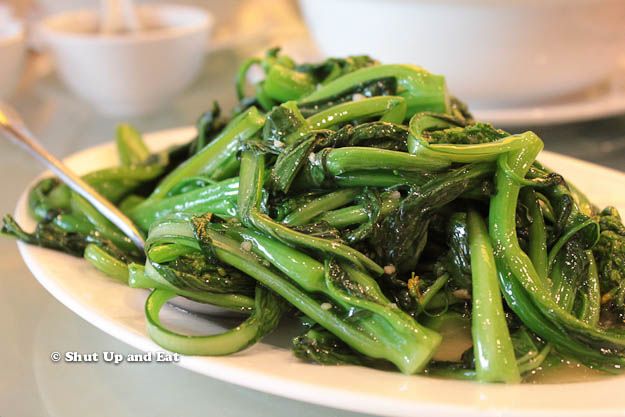 Plate of simple sautéed "choy sum" greens in garlic. A cross between Chinese broccoli and bok choy, the vegetable is crunchy and watery.
Are you still reading? Thanks!
My first concern was that this restaurant would be some watered down version of what we'd find in Chinatown – thankfully, the New Kam Fung in DDO is completely on par with the others. Kam Fung has always been a major player in the Montreal Chinese food game, setting the pace, standard and quality everyone should come to expect in Cantonese cuisine. If it's dim sum or traditional cantonese grub, you can count on this spot to exemplify what authenticity is.
La Maison Kam Fung
3339 boul des Sources
Dollard-Des-Ormeaux
514-683-8778

West island location closed. Chinatown and Broassard are still opened.