So when you think "little Italy", what do you think of? Old men chilling at the social club nursing cups of coffees all day? Tight white pants and loafers? Awesome farmer's market? Little old ladies carrying 15 bags of groceries WHILE using a walking cane? WRONG. That's right my friends, the first thing that should pop up into your mind when I mention ah-St. Laurent street, corner of ah-Mozart E, is Thai Food. I got word that there was this small Thai place right at the edge of little Italy. I know what you're thinking, I was thinking the same thing: this place better not be some fou fou Italian/Asian – Italasian fusion nonsense with some Pad Italai made with linguini and curry is replaced with a rosé marinara… WTF, THAT'S WHAT WE GOT!
Juuuuust kidding.
So we hit up C Thai, this small little spot on St. Laurent right before Jean Talon. The menu was categorized by protein, chicken, beef, poultry, awesomeness and spiciness – the little chili peppers next to the menu items indicate on the level of heat in that particular dish, from "I'm going to need a few more napkins" to "oh my god… I can see the future". We looked over the menu and and made our choices.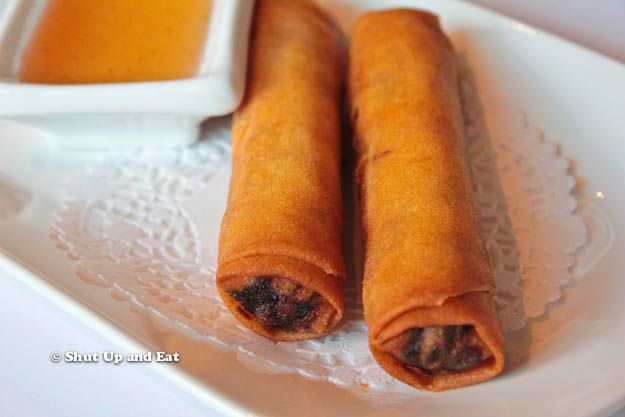 We started with the Por Pia – fried spring rolls. Served with a sweet fish sauce, the spring rolls were crispy as you would expect any fried spring roll to be. Shredded pork with a hint of garlic, shallots, black pepper and cellophane noodle, the best part of this dish is doing the shot of the leftover fish sauce after you're last bite… you mean you don't do that? You know that's the tradition right?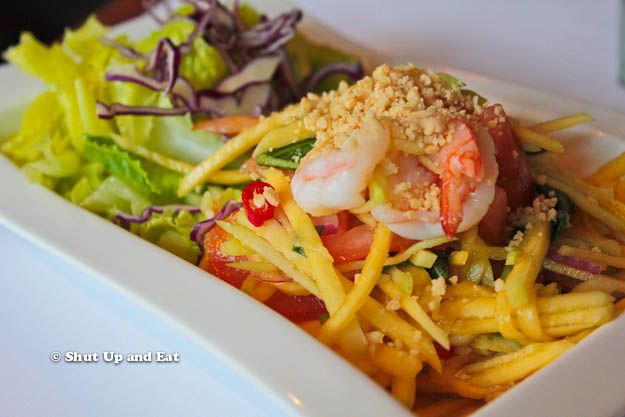 Yam Mamuang – Green mango salad, with red onion, chili, mixed with fish sauce and ground dried shrimp powder. Green mango, tart and a bit starchy compared to the other mangoes you're used to, takes on the dressing really well. The salad was light and refreshing, both literally and figuratively – the complexity of flavours in each bite will keep your palate on the tip of its mouth-toes waiting for the next mouthful.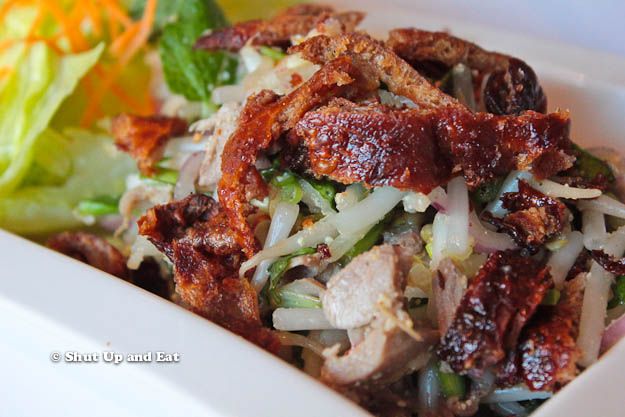 To finish off our appetizers, we split the Larb Ped – duck salad. Roasted duck mixed with onions, chili, bean sprouts and mint leaves, the meat was lean and the skin crispy. The aromatic mint lightened up the dish as did the same dressing that was used with the mango salad and contrasted well against the deeper flavours from the duck. If you're going to infest a vegetarian's lunch with bits of stuff that used to have a face and be fancy about it at the same time, this would be the only way to do it… seriously, screw your chicken caesar salad.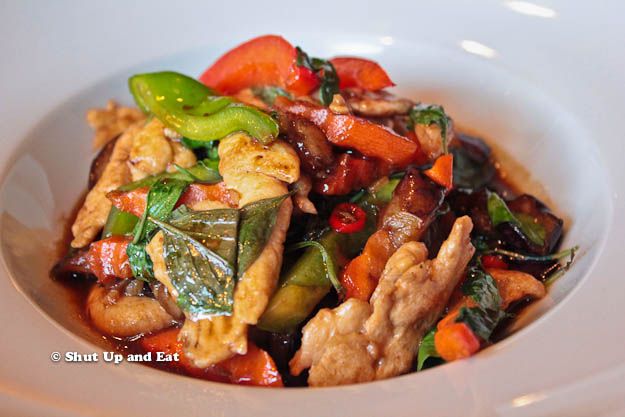 The first of the mains was the Gai pad makere (served family style so all the dishes except the appetizers came at the same time) – sautéd chicken with eggplants, sweet thai basil in a spicy sauce. The chicken was an awesome mix of white and dark meat (we all know dark meat is the better of the two), flavourful and pungent, the aroma basil wafting from the dish was distinctly Thai. The sauce was savoury that went really well with the perfectly cooked eggplant – was still of substance and not cooked down to mush – the sweetness of the peppers was balanced by the sting from the chili that tickled the sauce.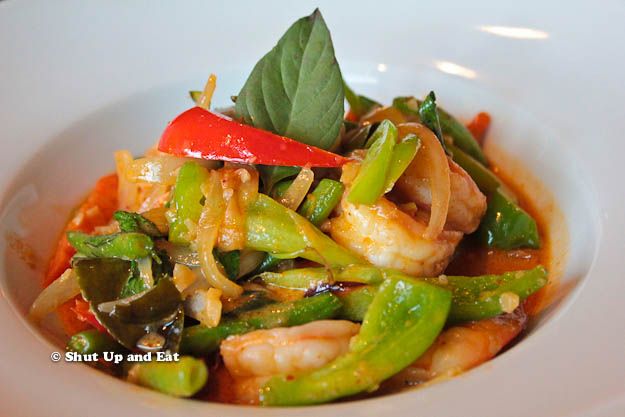 We also had the Kang Ped Koung – Shrimps with red curry, coconut milk, peppers, onions, long beans and basil. The red curry was not overly spicy as it was balanced by the sweetness of the coconut milk. Incredibly fragrant, the shrimps were infused with a citrus hit from the kafir lime leaves used in this dish and the cook was to a snapping bite. Great texture from the vegetables to contrast the shramps.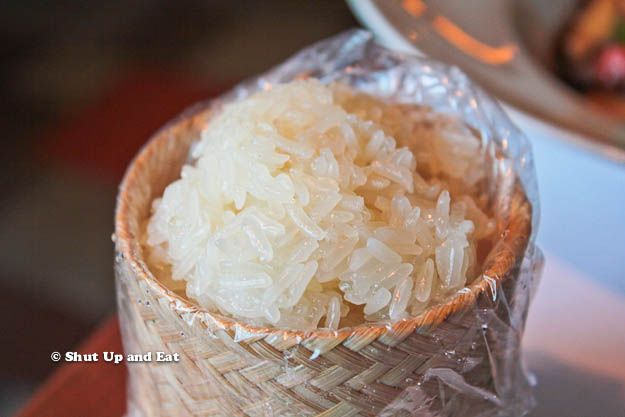 A side of sticky rice is almost always necessary to accompany these saucy dishes, I mean, taking a spoon to the leftover puddle of gravy at the bottom of the bowl is usually frowned upon and will foster strange looks for neighbouring tables and looks of disgust from your girlfriend who will then slap you upside the head and threaten to never eat publicly with you again until you sign a contract that stipulates not to eat like a three year old in public………..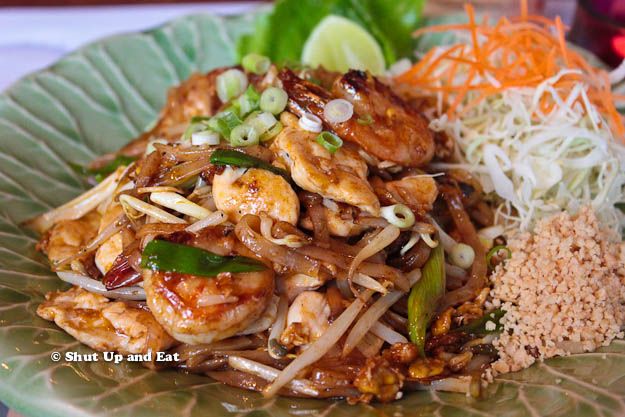 Ok listen to me very carefully… I think… I THINK, I might have found Montreal's BEST PAD THAI. Shut up, listen to me… I know I make big claims saying how a certain dish or restaurant can transcend time and space or something or another tasted so good that you might need to slap your mom and then tell her to thank you, but this time I'm not exaggerating. Thai cuisine is known for touching all your tastebuds; a dish encompassing the sweet, salty, sour is typical of Thai food. Not only will this dish entice your entire palate, but it will undress it slowly, turn up the Robin Thicke and will make sweet sweet love to it.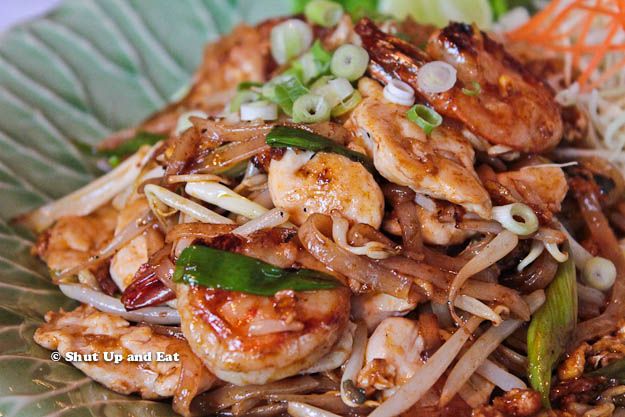 This mysterious noodle dish included, shrimp, chicken, tofu, egg, bean sprouts, topped with spring onions and crushed peanuts. I'm not going to say that I'm the foremost authority on Pad Thai, but I can tell you that from what I've had around the city, compared to the plastic platefuls from my time in southeast Asia, this dish threw me back at the first bite. The aroma was distinct and the flavours were strong – from the sweetness of the cane sugar, to the brininess from the fish and shrimp paste, I had yet to find a place in Montreal that was so spot on. There was something about this dish that I couldn't put my finger on… it was perfect. Each mouthful hugged the elastic and chewy noodles that resisted each bite; with fragrant herbs, it was balanced and came and fit together to form a cohesive harmonious entity, like a winning Trivial pursuit game piece.
I was really hesitant… REALLY REALLY hesitant to share this place with anyone else. The level of execution of Thai food is parallel to that of any high end gourmet restaurant and I will fight anyone who says otherwise. The precision of melding contrasting and complimenting flavours in the same dish as well as manipulating in orchestra of a multitude of ingredients and a fiery wokis a skill that only a delicate and deft hand can hone and master . Typical of traditional Thai cuisine, it is the women who are in charge of cooking, this was attested by a sweet lady who came out of the kitchen to walk to the tables and made sure her food was to the liking of her customers.
DO NOT sleep on this place… It's a down to earth, honest Thai joint that will cast a shadow over any other spot in town in terms of food and PRICE.
C Thai
514-508-3792
7112 Boulevard St-Laurent

BRING.YOUR.OWN.WINE!