Ever had a meal or experienced something food related that was practically a religious experience? Eaten something so delicious that it transcended all evil in your body, forgave you for all the bad things you've ever done – even that time in third grade when you beat up that blind kid? Whether it be the freshest piece of sashimi that tastes like the deep deep ocean or the most decadent of decadent chocolate cakes, often experiencing food that's borderline orgasmic that leaves you sweating, out of breath and reliving it all over again moments after you've swallowed the last bite… is a serious problem and you should probably get that looked into.
Walking the old port amongst zooming DSLRs, price-gouging parking lots, sensible shoes, and happy-houring suits, my girl and I hit up BAXO in search of dinner. The menu was concise and boasted of locally sourced and homemade ingredients. With such great choices, we didn't know what to pick that the we were given the option of having a Chef's tasting menu where we would be able to sample some of BAXO's best.

We started with the Mushroom "degustation". A nice mix of sautéed and marinated, portobello, porcini, oyster and king mushrooms, topped with baby shoots, truffle oil and aged Perron cheddar.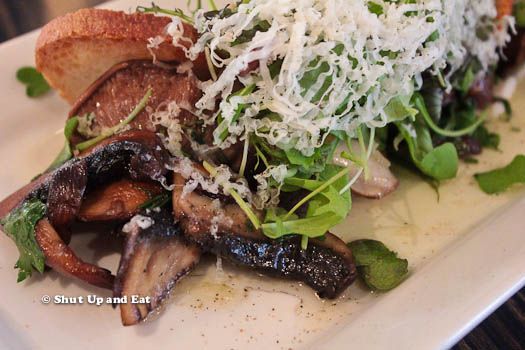 Balanced can't even begin to describe this dish. From the tender bites of the warm freshly sautéed mushrooms mixed with the brine of its marinaded counterparts, the sharpness of cheese and bitter greens complimented the earthy flavours nicely. This dish is a perfect option as a starter on a hot day – refreshing and not filling. What did the guy mushroom say to the lady mushroom when he asked her out on a date… "Hey, c'mon… I'm a fungi". HAHAHA.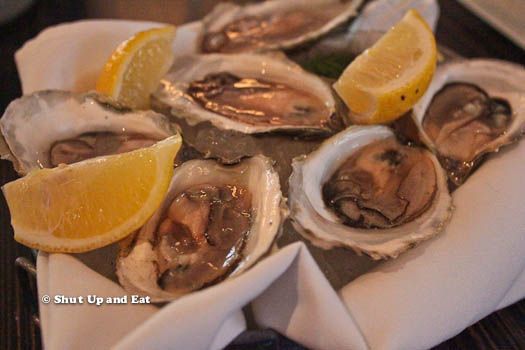 Second course… Lasagna! Joking… but you knew that. Six fresh, masterfully shucked oysters on ice, lemon and dill in red wine vinegar. Really simple, these things shouldn't be complicated anyways. These Cape Cod oysters were meaty and briny and was bliss with a tart spritz of lemon or a splash of dill vinegar.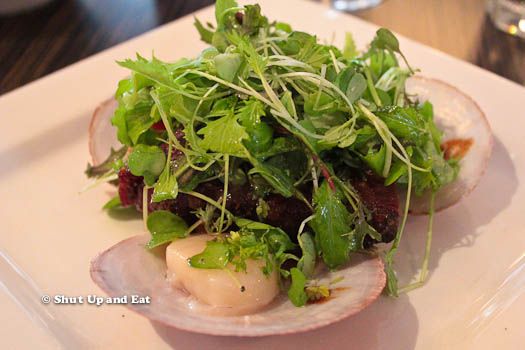 Third course was the crispy pork belly on fresh scallops. The pork was something to behold. Impossibly crispy and sinfully succulent, the thing practically fell apart after you broke it's shattering sear once you bit into it. Sitting atop of three fresh scallops that were dressed with a spicy tomato chutney, the rendered pork was contrasted by the bounce of the scallop.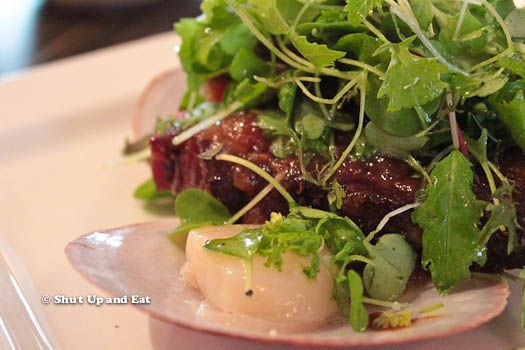 The unctuousness of this dish was definitely cut with the bitter greens and the heat from the chutney. BAXO took the idea of "surd and turf" and – I wouldn't say "reinvented" it – but updated the idea of a drab steak sitting next to a man-handled, overcooked and emaciated lobster tail – then grabbed your mom's ass and made out with your sister like a rockstar.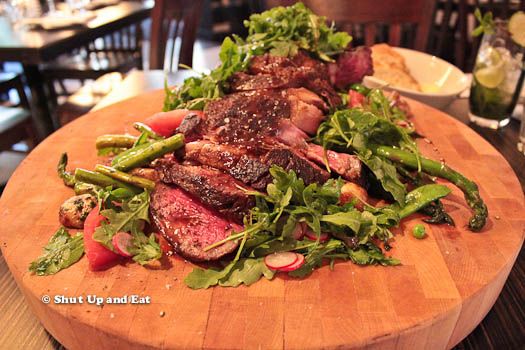 …I KNOW RIGHT? Listen, this monstrosity was listed as the entrecôte for two, so I had an idea of what to look forward to, but they failed to mention that the entrecôte was from a fucking dinosaur. Beautiful sear and cooked to a perfect medium-rare, the steak sat atop roasted market vegetables – which included asparagus, arugula, snow peas, fresh green peas, Roma tomatoes, and radishes – and was accompanied by a parsnip purée and roasted rosemary potatoes (crusty on the outside and fluffy in), drizzled with a simple pan sauce.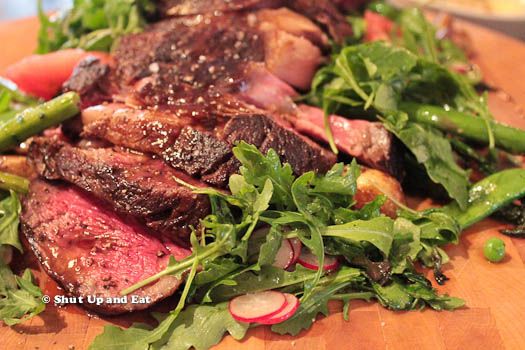 The cook on this steak was executed with precision. A generous thick cut, bone-in rib steak that would leave even the healthiest athlete a hot gouty mess. The arugula was tossed in a simple vinaigrette which helped lighten this plank of meat. The juiciness of the meat is credited to the obvious marbling of the aged beef and a testament to the Chef's overt meat handling skill. A complete rounded dish with substantial plant-like green things to ease your conscience, I'm certain this dish was conceptualized as a blatant slap in the face to animal's rights activists and served as a big fuck you to vegans and vegetarians alike. Goes without saying, we didn't finish it all, however, I did take a doggybag home and murdered it with my face the next day.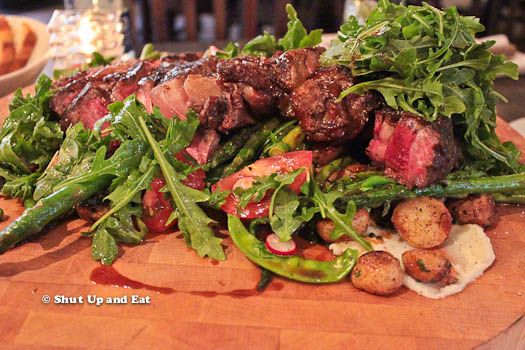 Like I said, the menu lists this dish as "Rib steak for two"… Which is WRONG. I'm in full favour of having them rename this dish and call it "The answer" – As in… "This is THE ANSWER". The answer to what you might ask? It doesn't matter what the fuck the question was, because THIS.IS.THE.ANSWER.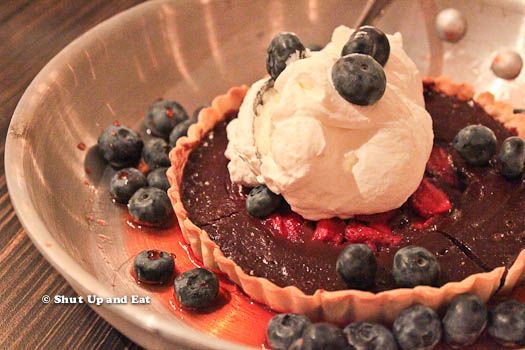 The waiter nudged me awake to present me with the chef's homemade dessert creation. A dark chocolate ganache tart topped with vodka infused strawberries, fresh Quebec blueberries and whipped cream. What can I say about it that the photograph doesn't already explain? It was kind of ridiculous. The chocolate was thick and luxurious and the fresh fruit lent a nice tart sting to each indulgent bite.
We were explained that the menu is seasonal and some of the major components change four times a year; there was also a blackboard that featured daily specials inspired by what the chef found at the markets that morning. BAXO has a happening bar scene as well a completely underrated dinner service that should NOT go overlooked. The super friendly and attentive staff might be some of the best in the city. They fully understand the service game – and what seemed to me as being equally passionate about the food as well as their profession. People who work in the "service industry" (to me) is comparable to the chef's food that represents the restaurant and is the basis of reputation and recognition. I commend BAXO on employing a competent team that with out a doubt exemplifies quality food AND service.
Baxo Cuisine & Bar
(514) 903-9343
343 Saint-Paul East
baxocuisine.com