The Shut Up and Eat With Me initiative started off with a bang. Seven loyal readers gave me the privilege of joining them for dinner. As the mission statement says, I wanted to bring some of my awesome readers to one of Montreal's delicious tables. They had no idea where they were going, so they entrusted me to fill their empty post-workday stomachs on a rainy Tuesday evening.
They received word that I'll be taking them to Restaurant Park (original review here), and the sparks ignited (no one from that group has been before except for one). Headed by the awesomely talented Chef Antonio Park, this spot has be garnering major media attention recently, both for the mass of beautiful food that he and his staff are putting out, and for Chef Park's philosophy on food and his social awareness and responsibility on the products he uses especially the specialty imported fish from Japan.
I explained to everyone what this dinner was all about – I asked Chef Park earlier in the day what to expect, to which he replied with a "Pahahahahaha" and I was given a written warning via Twitter to "BE READY". A special Shut Up and Eat with Me tasting menu was conceptualized for us based on either evil or genius, we had to find out.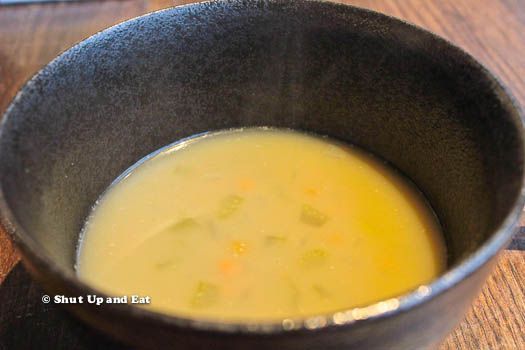 First course – We started with the garden vegetable, miso, lentil soup.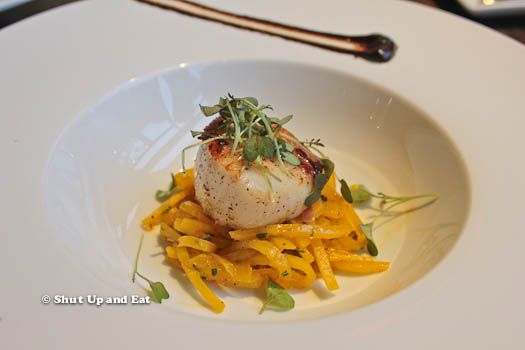 Second course was a warm appetizer – Seared scallop with yellow beet salad with a black garlic purée. Scallop was cooked perfectly, I know I've used that term "perfectly" before, but I really mean it… like a Kate Upton doing the Cat Daddy kind of perfect. Really light and fresh, this dish set the tone of the gorge fest that was about to come.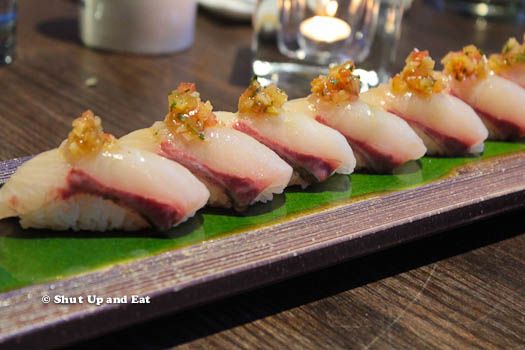 Third course – Amberjack with a wasabi glaze topped with chimichuri. Off the bat, the fish's quality was completely noticeable. Served with less than a chill, the fish tasted "fresh"; I know that's so cliché to say, but you can taste the difference… like Lilydale.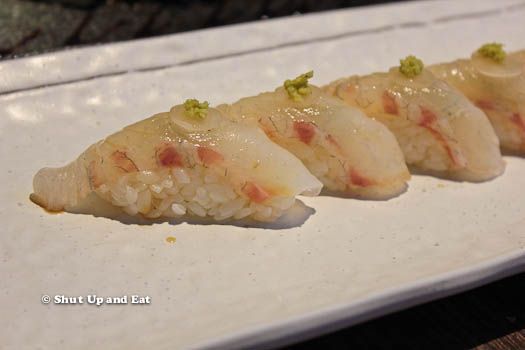 Fourth course – Acupunctured red snapper, glazed with Chef Park's homemade seasoned soy sauce with fresh grated wasabi root. Acupunctured? Yes, the little fishie was treated to a spa date before being shipped halfway around the world. No, this, a technique in which the fishes are put into a catatonic "coma" and kept "alive" as it's placed on a seawater soaked pad then packed on ice for export – prolonging the life of the fish – maintaining freshness. Get over it, it's not mean, the fish is in a coma and doesn't feel a thing.

Fifth course – Braised short rib, avocado and cucumber maki topped with torched salmon belly. The beef was moist and extremely flavourful, as short ribs are, and went well with the smokey and omega-3 oozing salmon belly. The snap of the toasted nori added a nice texture to each bite as well.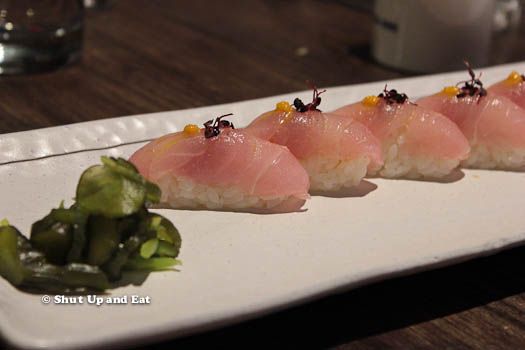 Sixth course – Black Japanese sea bream with a carrot and orange sauce served with pickled Lebanese cucumbers.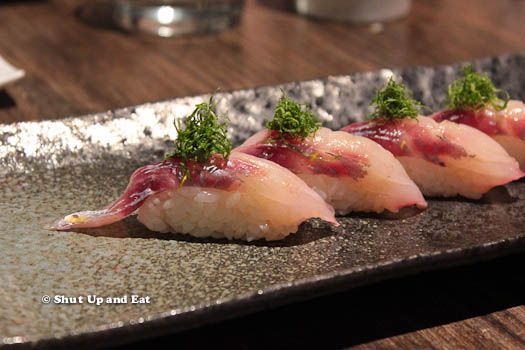 Seven course – Japanese butterfly sea bream with shiso. The perfume of this Japanese mint really added a peculiar accent to the fish.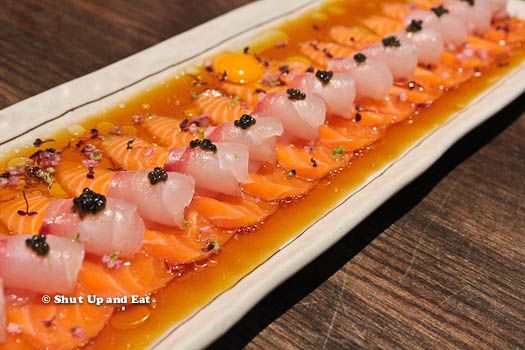 Eighth course – Ok hold on. Remember when you were in grade 8 and your parents accidentally caught you smoking with the bad kids on the corner?… yeah, me neither. But have you ever been in a predicament when shit gets real? This course was the crescendo of the dinner, this is where the shit got real – Organic Irish salmon belly with acupunctured Japanese snapper topped with sturgeon caviar with a egg-yolk citrus sauce. Wipe yourself… you're drooling.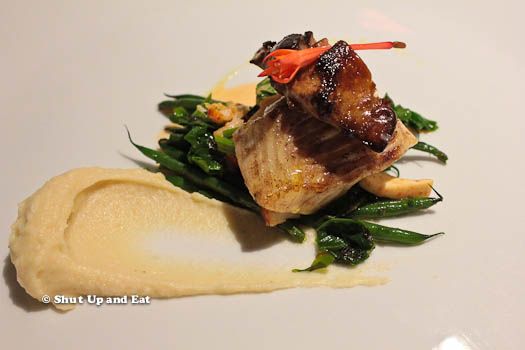 Ninth course – Seared foie gras on grilled snapper, on a lobster, snow-pea green and haricot vert salad with celery root purée. Reaching the summit of our Shut up and eat with me private dinner, this course was setting us up for the grande finale. A light, yet substantial dish, the richness of the seared foie gras was balanced nicely with the fish. The freshness of the greens covered in a slightly tart dressing brightened everything up and even that was harmonized with the poached lobster… this dish was like watching a porno while you're being filmed having sex – the dimensions of this would make you go into infinity.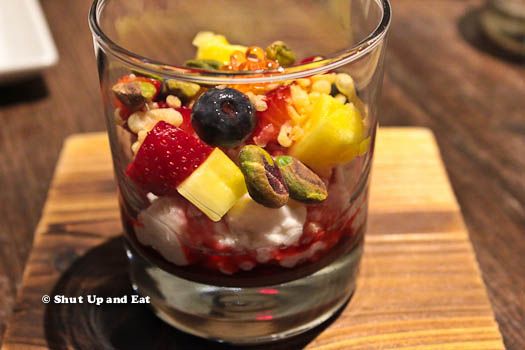 TENTH and FINAL course, dessert! Coconut rice pudding on top of a decadent chocolate mousse, fresh seasonal fruits, pistachio, tenkasu and grapefruit caviar.

The dessert was not overly sweet, the slight tartness of the berries lightened up the thick coconut rice pudding. The tenkasu – fried tempura bits added a really nice contrasting savoury flavour paired with the texture of the pistachios in each bite.
With so much fish, you'd think the palate would be numb by the end of the meal, but the freshness of each of the different fish was so delicate and distinguishable that the oils don't inundate your mouth, thus ruining everything for the next bite. Cleansing the palate with the provided ginger/pickles is a necessity – not experiencing each meticulous picked fish would be a crime.
This edition of Shut up and eat with me was a raving success. I'd like to thank Chef Antonio Park and his staff for providing some of my readers with such an awesome and eye-opening experience. A big shout out to the more than cordial and enthusiastic manager Rachel who was responsible for liaising the descriptions of dishes with precision… and whose balls I busted.
Make sure you keep your eye on the "Eat with me" tab at the top of the page to find out how YOU can participate in the next Shut Up and Eat With Me dinner!