So As you may or may not know (I've announced on the official Facebook page and Twitter) your favourite Montreal restaurant blogger (me, duh) is now writing in parallel and contributing to Tourism Montreal. Check out the "Where to eat/Gastronomy" page and my first article featuring Icehouse and my original review of Icehouse from the Shut Up and Eat blog here. If that's not enough links to bombard you with, here are a few more of a Fat cat in a tiny box, Corey and Topenga, Enrique Iglesias' glorious mole and a pretty badass looking spatula.
Met a friend of mine for lunch the other day. We were in the Jean Talon Market area and I decided to hit up a place I've driven past a bunch of times but never went in. I did some research and found that the spot Vinizza was serving up some solid Italian grub while raising social awareness at the same time.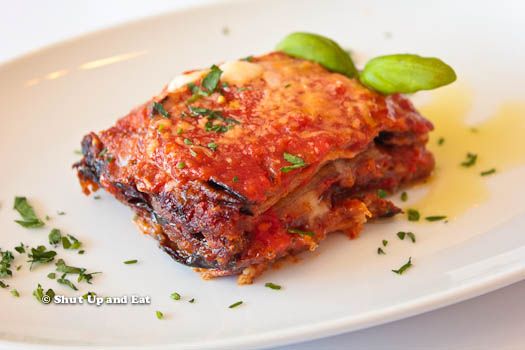 We started with the Tinballo Di Melanzane; described as "Eggplant and potato parmigiana" on the menu, I was envisioning breaded and fried planks of eggplant and golden slices of potatoes. But never having had this dish before, I was surprised when it was placed in front of us. What looked like a lasagna and moussaka mashup, left me to believe that the fallout of the Greco-Italian war of 1940 was not only political ties, but the naming rights of this common, mutually delicious off-shoot of each other.

Baked to a supple consistency, the inter-weaved slices of eggplant provided a creaminess to the tender slices of potato which was covered in parmesan and red sauce. If it were up to me, the method of transferring this dish to my stomach would be straight smashing it against my face. However, the tinballo di melanzane required a delicate hand; as you slice though the layers, slivers of potato and eggplant will squeeze out. You'll have to either slice it slowly to maintain a stacked-layer on your plate, or it'll leave you scraping the plate, piling everything on to you fork – either way, eating this dish is something you can't rush, thus forcing you to take the time to enjoy it.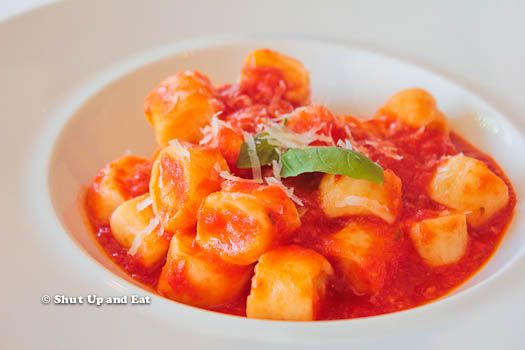 My lunch companion had the Gnocchi di Ricotta e Basilico – in English this translate to the "meat and spinach lasagna"! No, I'm just kidding. She had the ricotta gnocchi in pomodoro sauce with basil. I'm not big on gnocchi so I don't claim expertise of the fine intricacies and characteristics of these little pillows of goodness, but I know what tastes good, and these little bastards do. Each dumpling was so light that they literally cushioned your teeth as you bit into them. Finished off in Vinizza's signature red sauce, the gnocchi was saturated in a sweet tomato sauce highlighted by hints of basil. Topped with freshly grated parmesan, the portion of gnocchi is not impressive, nor does it need to be… because it will EXPAND – be mindful of this as if your eyes are bigger than your stomach, you might need someone to roll you home.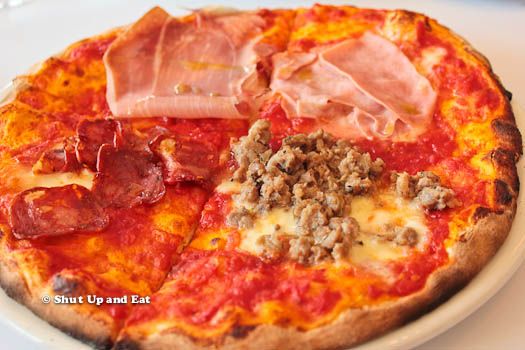 I decided that this day would be a cheat day on my low carb diet… Pffftthahahaha… I was slowly becoming agitated and belligerent due to the lack of daily carbs. I swear to you, it was like the birds started singing earlier and louder, drivers became more and more idiotic on the roads and that Gotye was being played every second song on every station. So a pizza was in order; I ordered the Maialino pizza – Pomodoro, mozzarina, ham, prosciutto, sausage, sopressata. I thought, "Great! Meat, meat and more meat." I was expecting an "all-dressed" type pizza, but instead, I got the sampling platter of cured meats on a pizza – the salumi party-pack.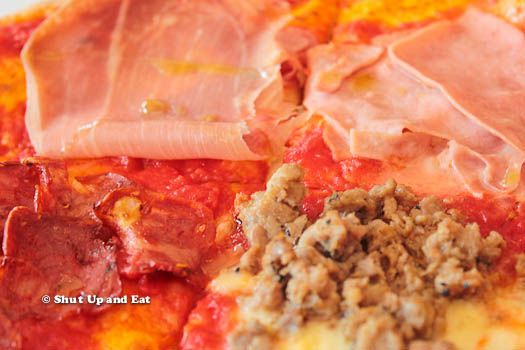 Each quadrant being represented well on this roman style pizza. Thin crust with the right amount of chew, the dough snapped at each bite as it did crunch – cooked in a wood-fire oven, the pizza had the the definitive trait that makes all pizzas "pizza", the black charred and burnt bits along the edge of the crust. Like a finger print, these small details is what makes this pizza unique and different from the others. Finished off with a drizzle of olive oil, the pie comes together very nicely with the mix of the pomodoro sauce, the saltiness of the cured meats, sweetness from the sausage and spicy heat from the sopressata. I ate the thing in quarters, but now that I think of it, should have gone in a outward concentric circle – which would make each following bite different from the previous.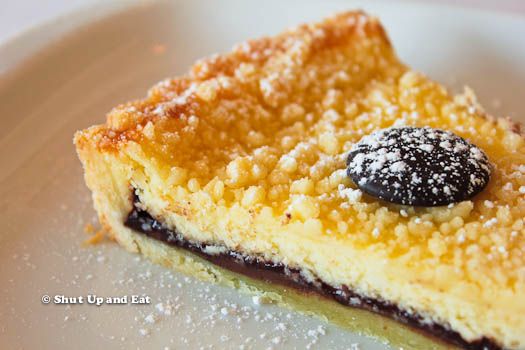 For dessert we split a slice of the ricotta and nutella tart. Hold on… I said, ricotta AND nutella tart, and when I say "we split", I really meant "I had a bite, turned to get my camera ready and then it was gone." The tart was warm and the nutella was soft. The ricotta was creamy and added a nice saltiness to the dessert. We spent the remainder of our meal in whisper – trying to reverse engineer the tart. We concluded that the secret recipe included a shortbread crust, nutella from the bottle, and the kicker, fresh ricotta from the teat of a pregnant unicorn raised by a blind and mute monk on the side of a mountain.
Just steps from the Jean Talon market, Vinizza's menu reflects the amazing quality of ingredients and freshness at their disposal. Whether is't for a quick lunch or even a great evening out, this spot is chic but not pretentious. Vinizza is serving solid simple Italian food, highlighting their handmade pastas and wood-fired pizzas. As stated on their menu and website, with each main course served, Vinizza makes a donation to Accueil Bonneau – which helps feed a person in need. With such a reasonable price point of their menu, I would like to commend Vinizza for their social responsibility and community consciousness.
Vinizza
150 Jean Talon St E.
(514) 904-2250
vinizza.com