Hope everyone is recovering from a nice long weekend. What are you thoughts on mobile food? I don't mean pork chops and chicken wings on that ghetto-rigged contraption you've hung above your bed to help you get to sleep at night. I'm talking about food on the go, traveling food, eats that are unstationary. My fondest recollection of mobile food was when I was younger and one of those ice cream bikes randomly rode down my street. I heard the ringing bells from my living room. I sat in silent contemplation thinking it couldn't be what I thought it was because we never get those on my street and it was too good to be true. But every dream I had of ice cream arriving at my door came true all at once, because the person on the bike was a girl – the ringing bells sounded like a symphony and the bike seemed to have been rolling in slow motion. I ran down the street waving my two-dollar bill I hacked out of my piggy-bank, tripped over my shoe lace, scraped my knees and ate some pavement. The girl stopped as I got up in a bloody mess, and sold me a tri-coloured rocket popsicle. That being said, and popsicles aside, Montreal's favourite – one and only Grumman 78 – taco truck is now offering their grub via their very own food stall in the Faubourg.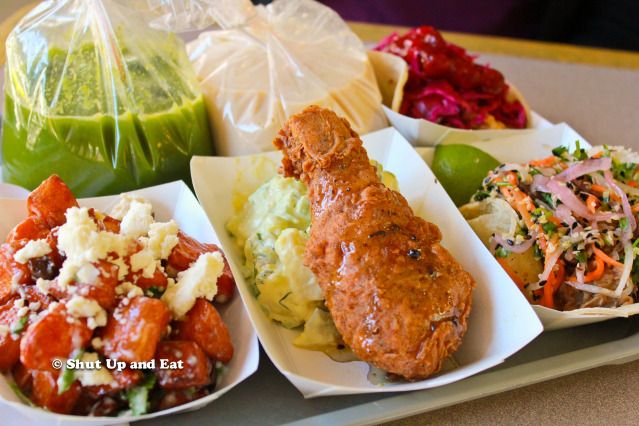 I headed downtown with a friend to tacofy ourselves in time for lunch. We took a look at their menu board and picked up some of Grumman 78's classics and our favourites. Please, for your own dignity, refrain from licking the screen if you're reading this at work or school, or on the bus on your mobile device.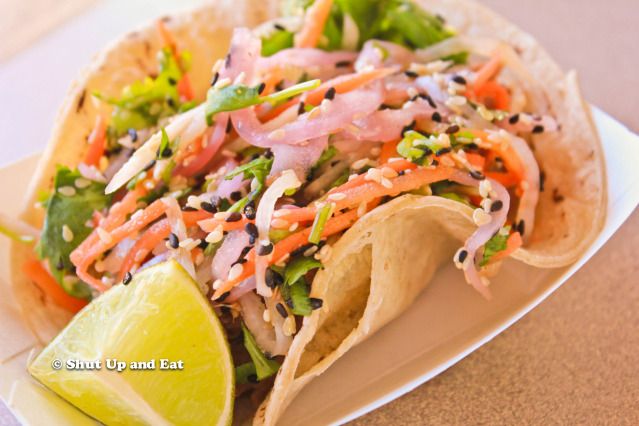 We had the pork banh mi. Slow roasted pork topped with cilantro, pickled daikon and carrots and quick pickled red onions. The gang at Grumman is very generous, the pork was spilling out the other end – which is not necessarily a bad thing. Pinching the top of the taco as you take a bite, and have some of your taco filling squirt out the back end of the tortilla is a given, but Grumman is giving you the gift of an inadvertent taco side dish made up of the actual taco that you're eating. Being said, make sure you pick up a fork to scoop whatever you're eating back into the tortilla. Sticklers will say that this isn't really a "banh mi" – no head cheese, seasoned butter-mayo, liver pâté… but it is their interpretation. The ginger, garlic and sesame is reminiscent of the flavours you'd find in Asiatic cuisine – this is what made the taco fragrant and the slow cooked pork kept each bite juicy.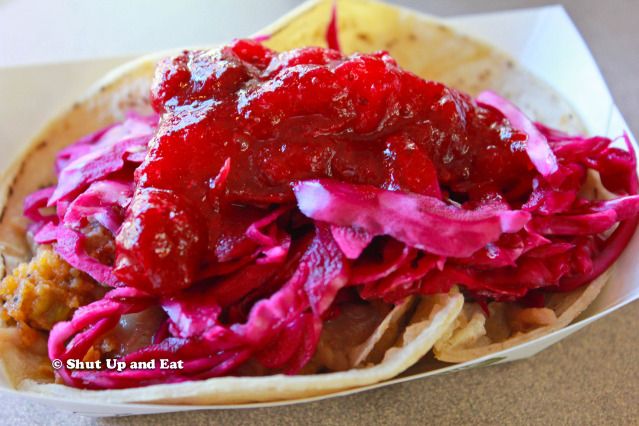 Ok, let's get serious for a moment. You know that feeling you get when an imminent turkey dinner is on its way? When you loosen your pants, your jowls flood, your face gets a little bit warm, everything gets a bit hazy and you start thinking about your ex lovers? The people at Grumman have found a way to encompass all those lusty feelings into a taco. The "Turkey dinner" taco is one that I am a big fan of; roasted turkey, topped with gravy, the owner's Texan grandmother's stuffing recipe, stewed cranberries and a red cabbage slaw – I'm sitting down while writing this and my legs are quivering. The big chunks of roasted turkey, tender and juicy, the cranberry sauce, bright and sweet, with the crunch and tartness of the coleslaw, the taco is definitely a sensory gang-bang worth experiencing.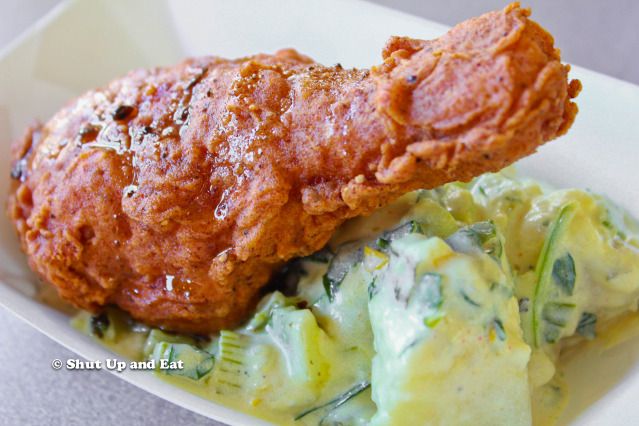 I have one of my Grumman 78 staples whenever available, their fried chicken and potato salad. I'm not going to tell you that their fried chicken is probably right up there with some of the best out, because I'm going to let YOU tell ME that. Prepared in a two-step process, the chicken is treated to a nice warm vacuumed packed jacuzzi bath for a couple of hours then battered and deep fried. Coming out of the sous-vide like a fat lady from a sauna, the chicken is cooked while retaining all its natural moisture which assures a juicy and tender, fall-off-the-bone bite after it's been deep fried in a seasoned batter. The potato salad is not to be overlooked. Perfectly cooked potatoes with a snap to each bite, smothered in a tangy dressing, celery, and onion, is a great accompaniment to the fried chicken, adding texture and a bright note to the dish.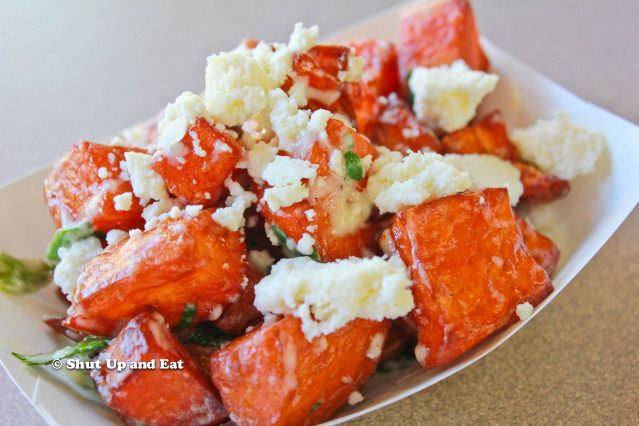 We split a side of the Grumman's papas. Fried up sweet potatoes slathered in a light garlic mayo dressing topped with cilantro and queso fresco, this side dish was sweet and fragrant. Starchy and substantial, it's a great side dish if you're going for the one taco route.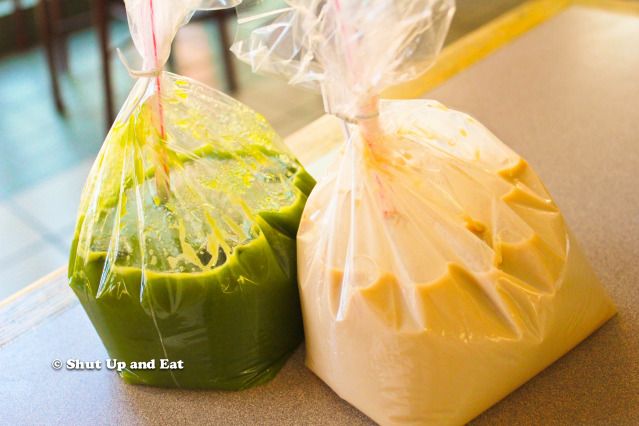 If you're looking for something to wash down your grub, they offer a few drinks on tap… that come to you in a bag. If you're looking for a soda or something that comes from a can, there's a dollar store next door, because you're not getting any of those here. Home made and delicious, we had an order of horchata – a Mexican drink, made with rice, cane sugar, water and cinnamon, and their very own jugo verde ("green juice") which is made with orange juice, pineapple juice, celery and parsley. Both very refreshing drinks, they also offered a hibiscus drink that day – whether or not the drinks will change often, I'm still not sure, but with these three awesome drinks, I wouldn't mind to see what else they will come up with.

We had the opportunity to try out one of the desserts that were on the menu that day which happened to be a panna cotta with rhubarb jelly. The panna cotta was rich and sinful. Powerful enough to test anyone's tolerance to lactose and enjoy the consequences. The jelly was tart and made my eye twitch, when eaten in the same bite as the custard, it yinned the yang.
Now that the people behind Grumman '78 have an actual retail location to call their own, it's a great opportunity for people who have been reading or who have heard about Grumman to get a taste of their tacos. Run by a gang a great people who are passionate about what they do and good food, this translates well in what you eat. In addition to the few notable food stalls in the Faubourg such as the ramen spot and the reigning royalty of Bangkok, Grumman '78 will definitely help make this dim mall a shining beacon as a foodie destination.
Grumman '78
1616 Sainte-Catherine – Next to the Dollarramma.