Have you ever prepared yourself for one thing and then got something else? Ever have a time when you're driving, you see a pothole at the last second and don't have enough time to navigate around it, so you ready yourself by clenching your butt-cheeks together… but miraculously you manage to avoid it and sit there for at least three seconds like you're trying to avoid turtling? Or that ONE questionable night when you got lost in Chinatown of Kuala Lumpur and got hit on some chick who had surprisingly big hands, then woke up in your hotel room with a chicken tied to your ankle?? Umm yeah, me neither.

Anyways, I was out doing some research and happened across this place on Notre Dame in Griffintown, Code Ambiance. A barcode was vinyled on and vanity lights outlined the front window. With a stark interior and stripped barcode mural in the back of the restaurant, I was expecting some pseudo-science fiction themed restaurant where waiters in futuristic facial recognizing sun glasses would take our orders with homing pigeons that would display its flight path back to the kitchen via streaming webcam surgically implanted in their heads… And wouldn't you know, I was wrong.

We looked over the quick and concise menu and started off with the "Red and Blue" duck salad. Red, because of a drizzled roasted beet coulis and the blue from the blue cheese that peppered the simple vinegarette dressed micro green salad. I'm not a big fan of blue cheese normally, but the use of it in the dish made sense. The sharpness cut through the fatty deliciousness of the duck, highlighted by the sweetness of the red beet reduction and tartness of the salad dressing with the (adjective) (adjective) for the (adjective). Whichever way it can be said, the dish was tasty.

The obvious highlight of the dish, the thin strips of duck breast were not too thin to be stingy, but thick enough to be substantial. The meat was tender and not stringy.

I had the seafood couscous. A very generous portion of salmon, turbot, scallops, and shrimp in a tomato sauce topped over couscous. Yes, couscous is like a sponge and will absorb anything – like my four year old nephew who I once called "booger-face", who then wouldn't shut up and called everyone and everything "booger-face" for an entire week. So if the couscous is going to absorb everything, I'm glad the chef at Code Ambiance made sure what they were ladling on was delicious.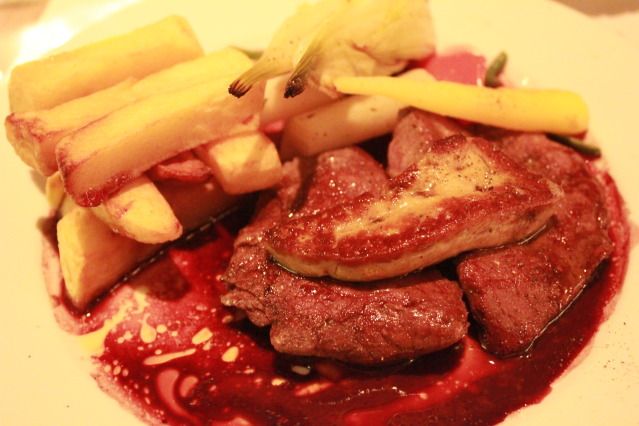 M had the tenderloin with a pepper and red wine reduction, topped with the optional seared foie gras – I know right? How is foie gras ever an option and not a staple – and potatoes. A seared piece of foie gras on top of a tenderloin is the French version of a fried egg on top of a porterhouse, the cherry on top of a sundae, a muzzle on Celine Dion's mouth… just something so perfect that it doesn't make sense otherwise. The beef was nicely cooked to a medium and the duck liver to an amazing crispy sear on the outside and melted in your mouth. The root vegetables were sweet and the potatoes were starchy and filling.

M had the tarte tatin, which was served with homemade vanilla ice cream and garnished with cocao nibs. Sweet and buttery, the upside-down tart was rich in caramel which was cut by the tartness of the apples… get it? Tart? Ho Ho… Pun is delicious. The waiter – which turned out to be the owner – told us that he makes the desserts himself and that the dessert menu is always changing depending on what he feels inspired for making.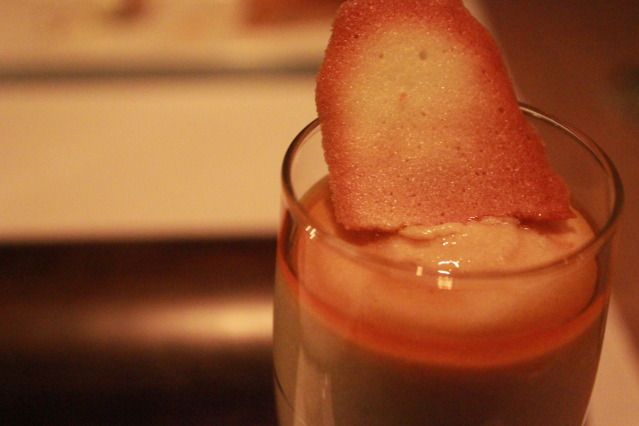 It turns out that we picked the right night to show up because I was lucky enough that Chiboust was on the menu. Something I've never had before, but fell in love with after I was explained what it was. A hybrid mix of a mousse and pana cotta, this version of this delicacy of southern France was made with a Quebecois flare and included maple syrup. It was thick and incredibly smooth. We were told that the maple syrup they used is of course locally sourced, simmered, reduced and tended to. Made pretty in a champagne flute, it didn't overshadow the fact that you were able to taste the time it took to make this dessert.
We had the impression that Code Ambiance was some hip and happening trendy place. I was expecting loud obnoxious music by a band no one has ever heard of before and be served by a waitress whose name only has one vowel and an apostrophe. However, upon sitting down and noticing the details, I realized that Code Ambiance just set me up for a romantic date with M. Weathered and warm silverware topped the tabled that featured a linen runner along the dark wood, fleur de sel bowl with spoon, and a friggin candle. They set the mood and dictated the rest of the night… if y'knows what I'm sayin'… 😉 *fist bump to the homies*
Code Ambiance
514-939-2609
1874 Rue Notre-Dame W
Opened for lunch.