Ever since I started writing this blog, not only have I come to the realization that with great power comes great responsibility, but what exactly these "responsibilities" are. After deep soul searching and internal deliberation, you'd think that my revelation was that I'm providing a venue and medium for overlooked restaurants to finally have a voice or that from my perverted culinary deviancies, I've uncovered the clichéd "hidden gems" of our fine city. Well, yes, yes and yes, but more importantly, I'm helping you waste your time. Not really waste time, but give you something to fill in that self-loathing void when you're supposed to be doing something constructive, like work… or work. But hey, if you read me to find great restaurants that I'm enthusiastic and personally give a shit about, I appreciate it, and thanks.
That being said, I hit up Café Ellefsen this weekend on St. Zotique, and little did I know, one of my shits that I was giving would be given here.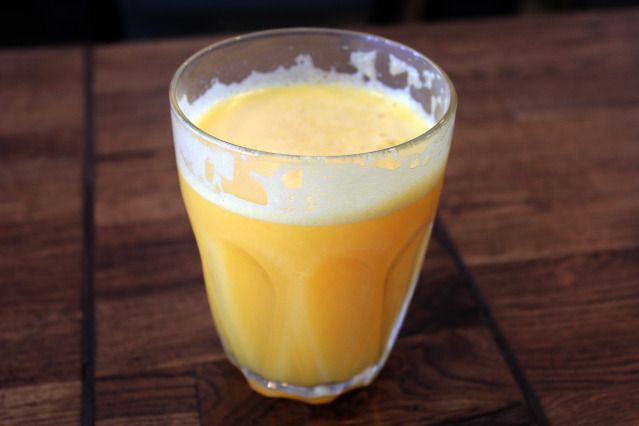 M and I hit up Ellefsen for a late lunch. The blackboard menus are pretty self explanatory, listing some pretty interesting items that are classics in all Scandinavian restaurants and cafes… this is based only on assumption, because the only experience I have with Scandinavian anything comes in the form of awesome $1 frozen yogurt cones and germy ball pits in shotty furniture stores and this kid named Tomas in grade 4 from Norway. We ordered some freshly squeezed orange juice that would precede the lunch orders of our taste of Scandinavia.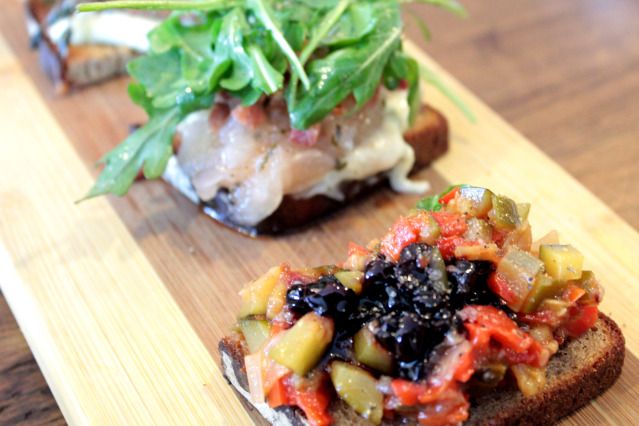 M had the trio of half smorrebrods – which are open-faced sandwiches, rye bread topped with various toppings. We had a choice of three of the seven that were on the menu that day. First was the ratatouille with goat cheese and raisins. I'm not one for goat cheese, mainly because I can't get over the fact that they get milk from an animal that has a beard. Regardless, the sharpness of the cheese is cut by the sweetness of the raisins and it added a nice creaminess to the vegetables. Next to that was the lardon with apples and thyme mayo. The pork fat was unctuous and delicious. Each bite of it was highlighted with the crunch of apple and bitterness of the arugula salad on top, balanced by the right amount of guilt for eating straight pork fat. Both were perfectly sweet and savoury.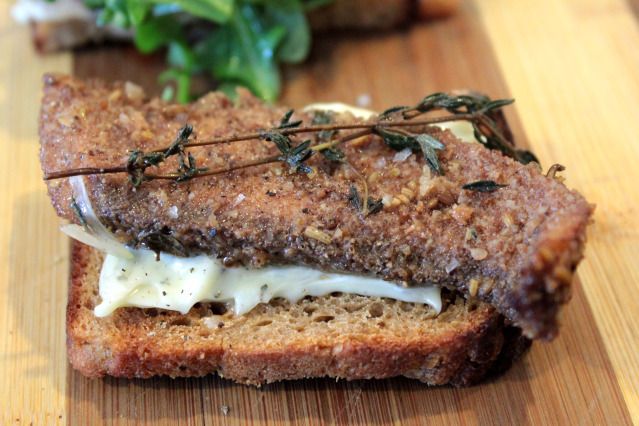 Third of the smorrebrod was the fried mackerel with thyme mayonnaise. Encrusted with a seasoned flour, the fish was moist and the breaded crust remained crispy, which was impressive to me since mackerel is an oily fish. The herby mayo lightened up each bite and added a nice creaminess to the fish.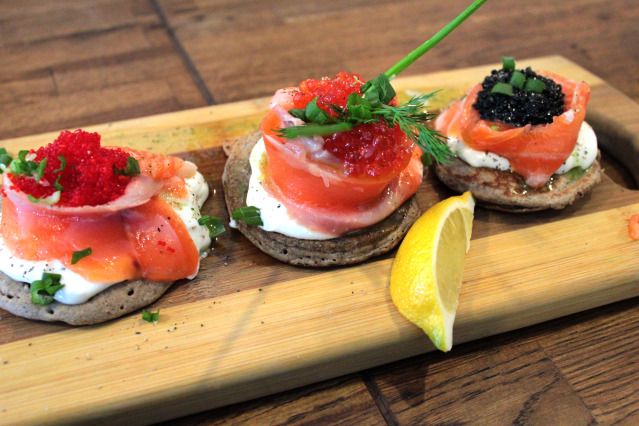 I had the carivar and gravlax platter. I usually like my tobiko on a nugget of seasoned rice served to me by a guy with a white headband named Satoshi. I must admit, yes, I've have caviar and gravlax both independently of each other, but never in the same equation, but I saw it on the menu and knew I had to try it. A trio of different kinds of caviar sat atop of a blini, gravlax rose with creme fraiche.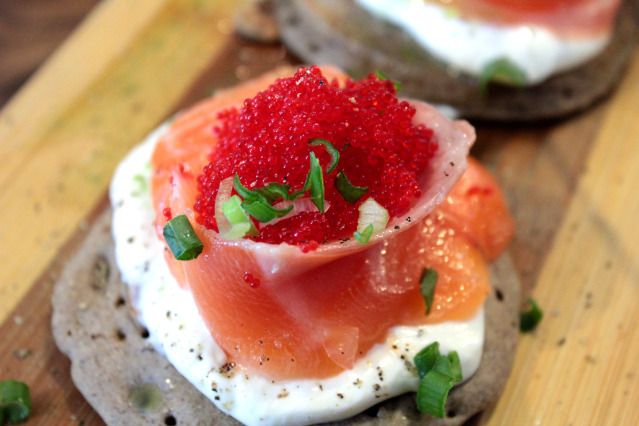 I appreciated the fact that there were three different kinds of caviar offered. This smelt roe is crunchy and salty and smokey and definitely adds a great texture to the buttery gravlax and spongy blini. Sharing the spot light, the cured salmon was fatty and sliced thick… man, I can eat this stuff all day. I once was given packs upon packs of frozen lox. I ate that stuff with EVERYTHING, and if I didn't eat it with everything, I found a way to eat it with everything… Smoked salmon toast… smoked salmon-smoked meat sandwiches, smoked salmon cereal, smoked salmon with pepsi, smoked salmon with congee… Needless to say that I stayed away from any form of salmon for quite a while.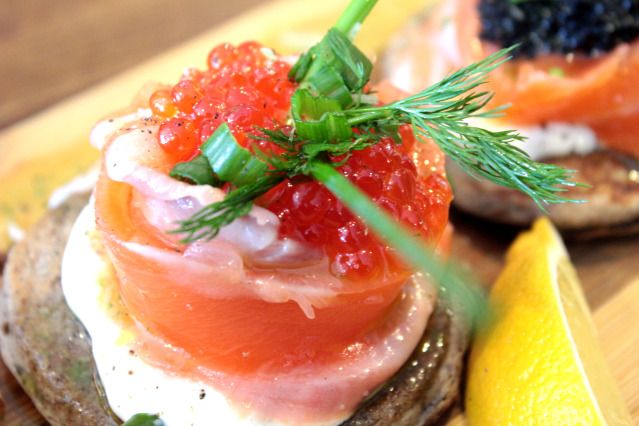 The second blini was with salmon caviar. Bigger in size, the roe will literally burst open in your mouth releasing the oily taste of salmon amniotic fluid. The sweet taste of baby fishy murder was more prevalent on this blini as you are able to taste the "fresh water" in the exploding eggs, however, being bigger in size, the fishy fetal massacre wasn't as impressive as the smelt roe. The salmon roe really made this blini exceptionally rich especially when it was bitten into and mixed with the creme fraiche.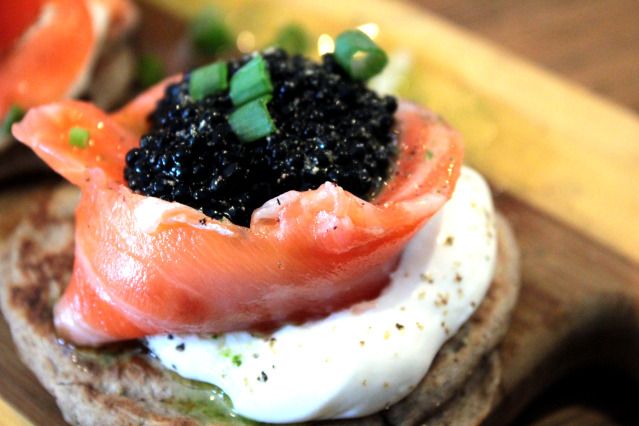 The third of the trio was black caviar – which I assume is Capelin roe; was a bit more sweeter than the other two, and a lot more softer to the bite. In no way am I a fish roe connoisseur, but when put in front of you all prepared the same way, anyone would be able to taste the similarities and differences. The only problem, was that wasn't enough gravlax to be ground up into a paste and injected right into my veins… and the blinis were a bit tough and doughy.
Cafe Ellefsen also serves up Scandinavian meatballs as well as a "Norwegian poutine" and mackerel poutine, all of which I have plans to try in the near future. Although the place calls itself a cafe, it sits on that grey line between cafe and restaurant… or even diner for that matter. I've never stood inline at a cafe before, except for certain Barstucks where I would stand like an idiot waiting for a seat because a bunch of jerks decided a cafe would be a great place to sit with a laptop all day. Just so happened that these geniuses found there way to Cafe Ellefsen this particular Sunday. I don't see this being a problem now, but once the word gets out about their food, I would see it causing a conflict between turning tables and people nursing a herbal tea. In any case, with a refined and concise menu, this spot is a great choice for a light meal that's a little bit out of the ordinary.