What makes something "brunch"? The fact that it's the meal we call that's a late breakfast and early lunch? The things we eat; i.e. the eggs benedicts, and stack of waffles? The time? Or is it the first meal we eat on a sunday justify as "brunch"? When I roll out of bed on a tuesday morning at 9:32 and eat half a bag of all dressed chips and chug a glass of apple juice, does that classify as "brunch"? Ever since someone once asked me what were my "favourite brunch foods" have I hated this term and overall concept of "brunch". Even the sound of it irks me; "You want to brunch?", "where should we brunch?", "don't you just love brunch?", "I went to this really good brunch place for brunch", "remember that time when the brunch brunch had brunch in the brunch because of the brunch and the brunch brunch brunch?" WTF is a "brunch food" anyways, guh.
So whatever you want to call it, M and I hit up Le Gros Jambon. The tiny 20 or so seat diner looks like it was plucked out from somewhere in the mile-end, sometime in the 80s, then placed amidst the fine dining scene, typical tourist traps, trendy condos and piles of horse shit on the streets of the old port. I hesitate to say that this place is doing something different, but opening up a straight up classic diner is kind of unheard of in recent years.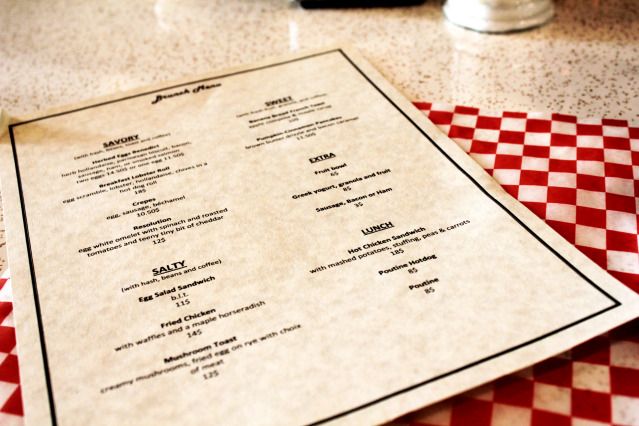 The weekend brunch menu was pretty straight forward; only a handful of items. We looked it over and made up our minds pretty quickly as the waiter took our order; which I found kind of funny since we chose to sit at the counter facing the grill and in earshot of the chefs. The chefs were able to eavesdrop on our breakfast meal decision making process which was laced with conversations of the disappearance of my testicles due to the morning -25C degree temperature, to prepare our order even before the waiter wrote it down.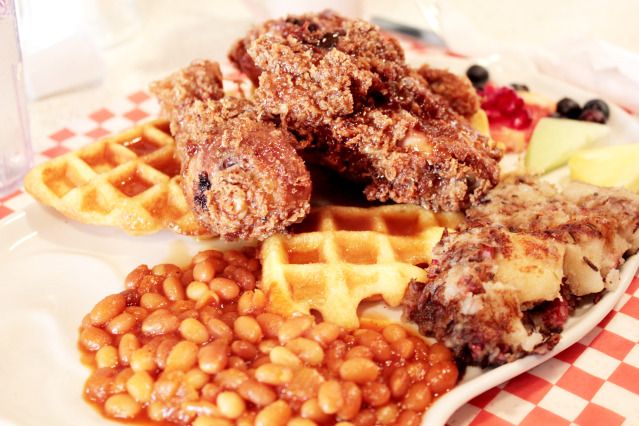 M had the fried chicken and waffles. A three-piece, sitting atop of a full waffle, sided with potatoes, beans and fruit. Never have two more opposite things tasted so wonderful when paired together. The crispy chicken in the same bite as a big fluffy and chewy waffle, it's one of life's mysteries of how two things that make sense when eaten alone, boarders on precognition when their powers are combined.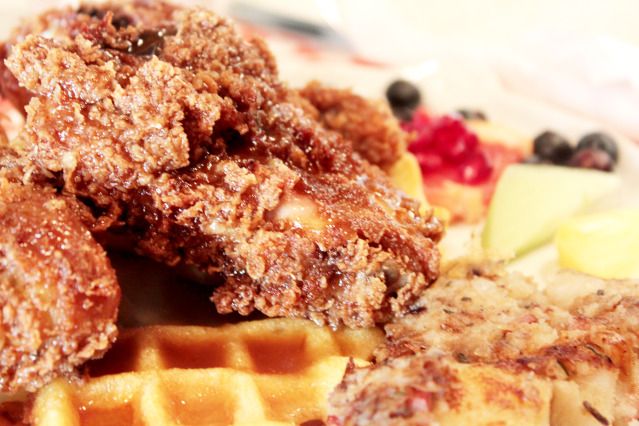 The chicken was crispy on the outside and deliciously moist on the inside – that sounds about right when you batter it in buttermilk then fry it in sin. We watched the chef make it and I came to a revelation that the beefy and buff chef had to have been a fat kid in his younger years. I felt his yearning as he drizzled syrup on the waffle, then place the chicken on top, and then drizzled that with syrup too… as he wept on the inside. Purely speculation though, it's not nice to call anyone a fat kid, even though he probably was. 😉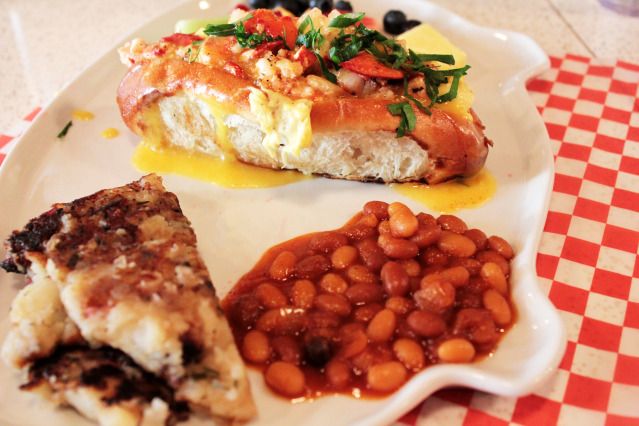 I had the breakfast lobster roll – like with all the other breakfast… I mean BRUCH items, was served with a side of potatoes, fart-fuel and fruits. Placed on a homemade roll mixed with eggs and topped with a hollandaise sauce, the lobster was abundant. It would have been easy to use a hot dog roll out of the bag, but Le Gros Jambon doesn't, and that really makes the difference.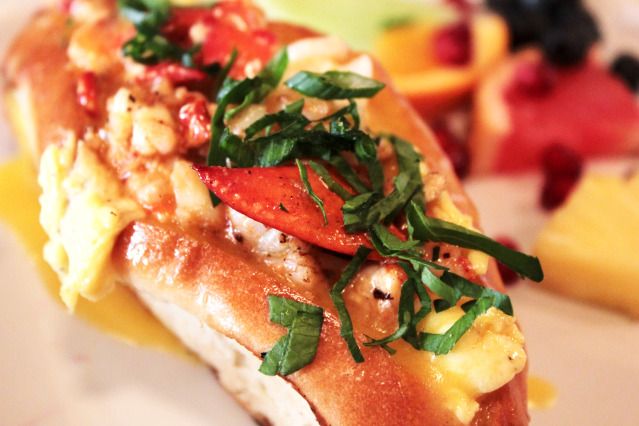 Each bite consisted of big pieces of bouncy lobster that gave way to chewy and doughy roll highlighted with the tangy and creamy sauce. Normally I would stay away from anything with eggs and hollandaise because they do things to me… not sexually, but like gastronomically… and gassily, let alone adding beans into the mix, but I knew the lobster would be worth it… whatever, don't judge me. On both plates, the only problem I had was with the beans – not for the reason I just stated, but they were served on the plate. When I'm high on lobster, the last thing I want to do is try to stab mushy beans, please invest in pig snout shaped bowls.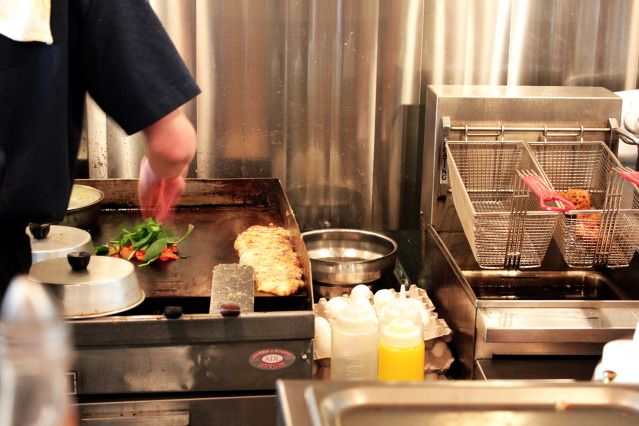 If you've been reading me long enough, you'll know I have a certain affinity and skill to invent new words by splicing two together; such classics include – "fartasic", "bacongasm" and the ever popular, "a;skldf;ksaljf". If we're going to be inventing words to label meals in-between meals, I'm pushing for "lun-the-time-in-the-afternoon-when-I-take-a-nap-ch" or "lupper". But if brunch is going to stick and stay, then Le Gros Jambon is a place where I'm going to waive my hatred for a word that sounds like noise my boots make on the snow to remind me how much I hate that word itself.