Ahhh, winter… The season of wet pant-ankles, mall-sweats, dry skin, and wrapping-paper tube sword fights. The holiday cheer hasn't set in for me yet, probably because I woke up this morning to rain and green grass on the lawn. Global warming isn't all THAT bad, although it does quell the winter rage that some of us snow-weather haters have, but I digress, I know that white stuff and an extra bottle of wiper fluid in the trunk is inevitable. I mean… it could be worse, at least my birthday isn't on the 25th and I don't get ripped off a gift by people playing the, "this is your birthday AND Christmas gift :)" loophole. So let me help you by providing you the thoughts and directions of warm and spicy food that will help the winter go by a little bit faster.
We hit up this newly reopened mexican joint called Itacate on Beaubien. I've written about it a while back here, they have since moved two doors over, revamped and sexified – is that even a word? – the menu and refined their dining direction.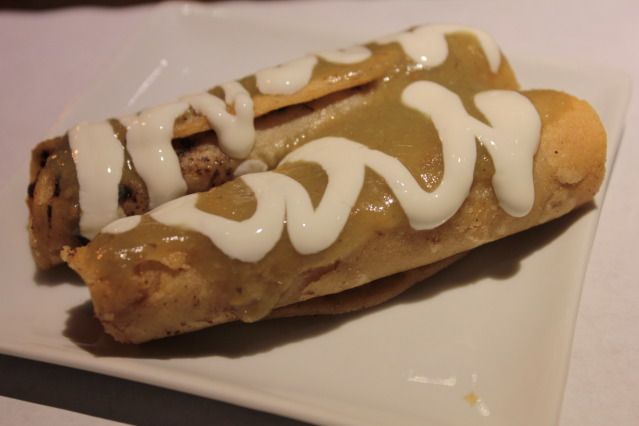 No sooner than when we opened up the menus, were were presented with two fried taquitos. Some queso fresco (fresh cheese)and potato, wrapped up in two flour tortillas drizzled with salsa verde and cream sauce. This rollo de heuvo, the long lost Mexican cousin to the Chinese egg roll, was a great amuse-gueule and set the tone of the meal. At first we tried to, you know, class it up and use a knife and fork to eat these, but you know what? Just keep it real, pick it up with your hands and try to keep it off your shirt.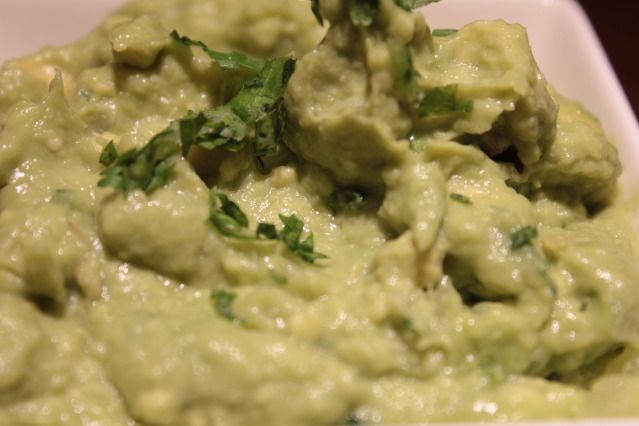 M and I split an order of guacamole. I know what you're thinking, guacamole… avocado, lime juice, onions, no big whoop, right? WRONG. No exaggeration, the guac was perfect. It wasn't runny, it had the right amount of citrus and onions. The perfectly tender and rip avocados where salted in a way little red riding hood would approve of. One can argue that guacamole is guacamole, but it's not; I believe that it takes more skill not fuck up something that simple; a testament to the family run restaurant and seasoned kitchen.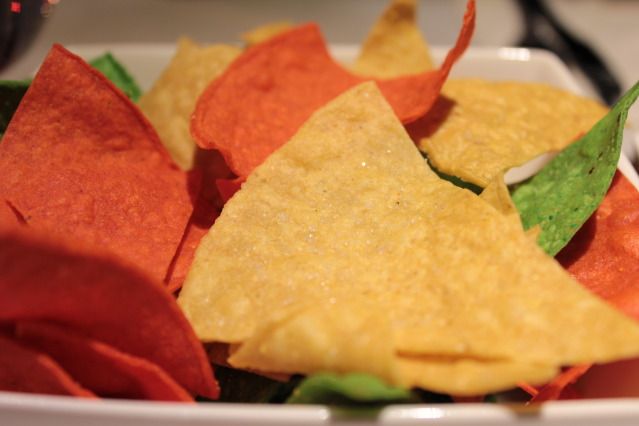 Dense and luscious, the dip was obviously accompanied by a vessel to facilitate the guacamole consumption, and the medium of choice was this seasonal appropriate and festive trio of corn tortilla chips – Although the fact that the chips reflect the national colours of Mexico paralleling the their flag, in the Christmas spirit, I liked to believe Itacate was spreading holiday cheer. In other news, the chips were warm and corny.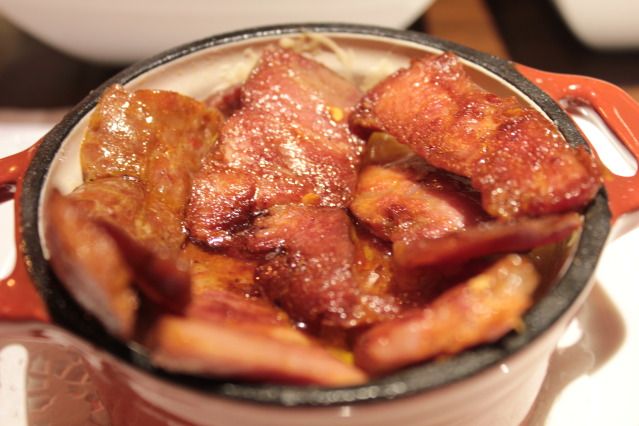 M started with Queso fundido con chorizo – melted cheese with mexican sausage. The sausage was sliced thin, pan-seared and placed over a pot of melted cheese, served with a side of two warm flour tortillas. The sausage was cured – frying it up in a pan brought out the flavour – paired with the creaminess of the melty cheese, each bite was squeaky and delightful.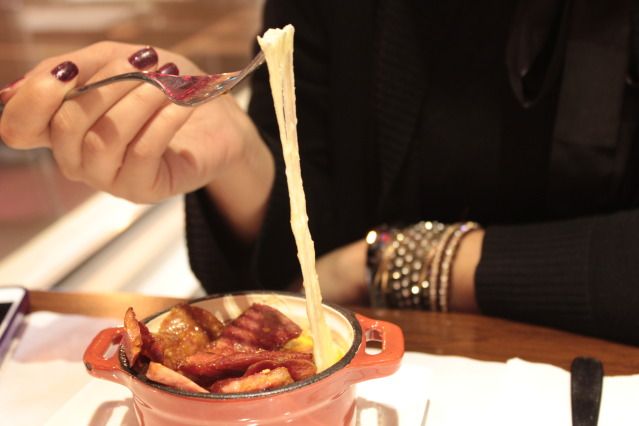 The consciousness of the pan-seared and subsequent saltiness sausage contrasting the creaminess and chewiness of the cheese was a textural orgy in your mouth.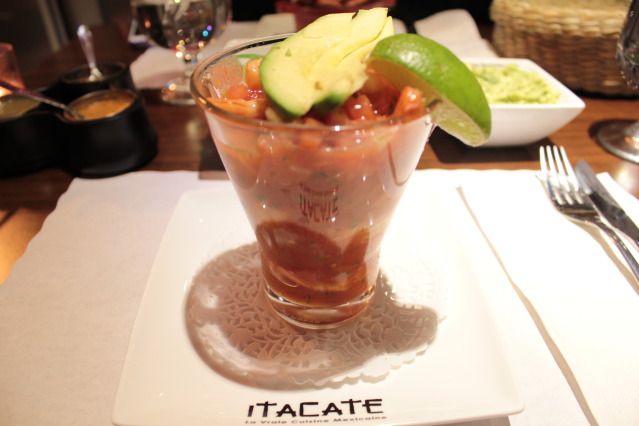 I had the shrimp cocktail – a new addition to Itacate's revamped menu. Like the guacamole, as simple as a shrimp cocktail might sound, the success of this dish lies in its preparation and equally, the freshness and quality of the products. This starter was incredibly generous in portion and in shrimp. The tomato sauce these shrimps swam in was a sweet reduction of tomatoes with onions, cilantro, avocado and jalapeños… for flavour.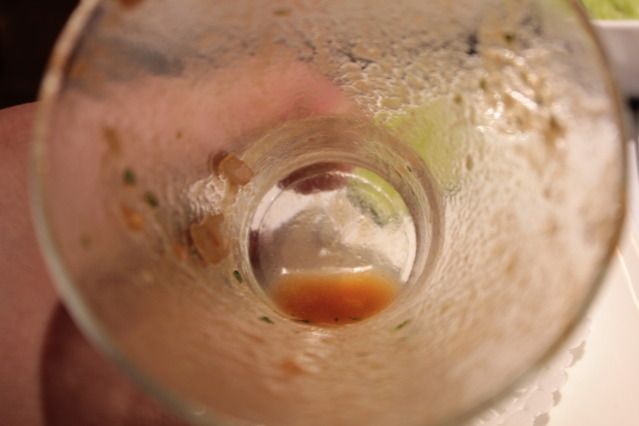 The heat from the peppers was surprisingly subdued which lent a nice flavour of the pepper itself, rather than the back-of-your-head-sweating and singeing heat. Please take note that this dish is served in glass; and I ate it with a fork. Thus by process of deduction, common sense dictates there was only one way that I was able to empty the glass to the bottom like this… YES, I picked it up and drank what was left. I would have stuck my tongue down the glass if I the people next to us didn't scoff at me for dipping my fingers into the sauce and rubbing my nipples with it.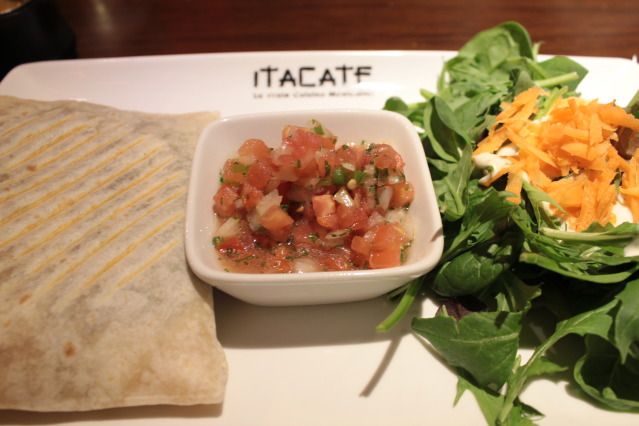 She had the shrimp burrito, served with pico de gallo and salad with a cream dressing. The burrito was filled with rice, beans, cheese, sautéed shrimp and covered in a creamy chipotle sauce.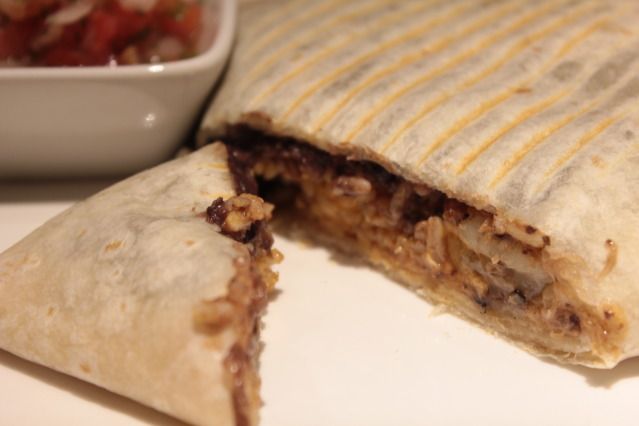 The obvious highlight of this dish was the burrito. The shrimps were perfectly cooked, tender to the bite and smokey in flavour. Packed into a warm and grilled flour tortilla, the rice and beans made the burrito very substantial as a meal in itself. I suggest piling a little bit of the pico de gallo on top of each bite to bring brighten everything up. The tartness of the lime juice and fresh tomatoes really perks up the smokey flavour – don't dip, it doesn't work… I've tried. Don't dip unless you want to eat the contents of your burrito floating around in pico de gallo juice.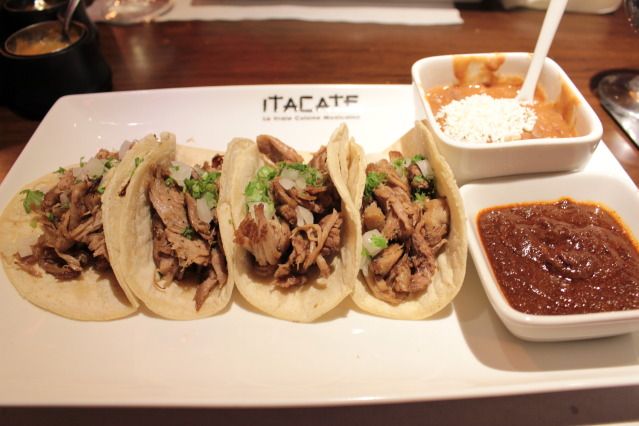 I had another new addition to their menu, the Taquitos de Pato – the duck friggin' tacos – the word "friggin" is traditionally silent in the spanish name of this dish. Served up in four corn tortillas, sided with beans and an optional duck sauce – much to the disappointment of everyone else in the restaurant, I didn't yell out "Barbara Streisand" after each bite.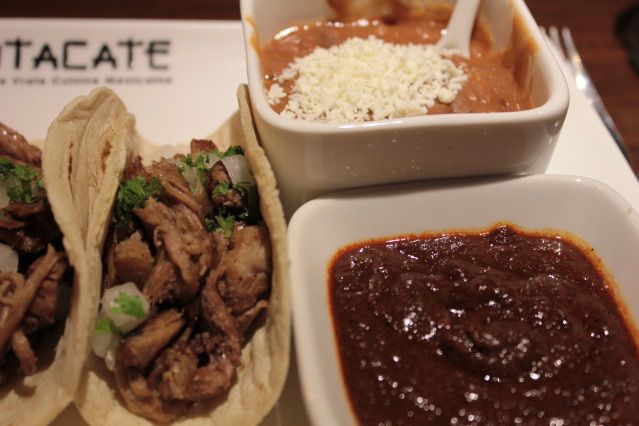 Beans and a "Salsa Endiablada" – which means "Devil's Sauce" to accompany the tacos. The beans were straight up beans, boiled down to a basic Mexican frijoles but the sauce is what stood out. All mole sauces are "secret recipes", using a mixture of herbs and spices that can go upwards of over 30 different kinds, the recipe reads like Lindsay Lohan's toxicology report only Itacate's mole sauce doesn't include gasoline, old boots and pigeons.

The duck meat was fragrant, herby and had the unmistakeable and aroma of duck. Classic Mexican flavours, the taco when topped with beans and table habenero salsa, complimented the dark and murky sauce and really brought the dish together. I'm hesitant to say that the salsa endiablada is an acquired taste, but it does need some getting used to.
Unfortunately our visit this night did not include dessert as our appetizers nearly ruined it for us, however, I noticed the new additions to their menu include, "Pastel de Queso con Guayaba"… Guava cheese cake… I KNOW RIGHT?! It's something I'm definitely saving room for the next time I'm around. Itacate's generous portions and revamped menu speaks volumes of their food philosophy. A family run restaurant, this is represented in the hospitality they provide by treating each and every customer as a guest in their own home. Moving two doors down from their previous location, their new corner location will be hard to miss, with their giant windows. Having the street lights flow into their new space, the holiday lighting really sets the mood for a romantic spot if you're looking for it. In hindsight, maybe it's needless to say that I had dessert… just not at the restaurant…? Heyoooo.
Have you done your holiday shopping yet? More importantly, do you know what you're getting me?
Itacate
514-276-5880
57 Rue Beaubien Est

Comments
comments