We all know that breakfast is the most important meal of the day so unless you're a morning person it's tough to get excited to wake up an hour before the alarm clock clicks and fix yourself up a nutritious meal to break your fast. I like to consider myself a morning person and by morning person I mean waking up at the butt-crack of noon on the weekends, groan and bitch about something aching and then finding something to eat that somewhat resembles "breakfast". There are a few things that I love to sink my teeth into first thing when I wake up; when I'm not biting my nephew until the brink of hysterical crying, fluffy pancakes, delicious natural maple syrup and crispy hickory smoked bacon is what I'm after. And let it be known, there are no limits to my quest of awesome ways to start my day. Attention people of the North Shore! Did you have breakfast yet? No? I've found THE place!
I hit up this spot in Laval for breakfast called Coco Loco with a fellow food blogger. We made plans to go for breakfast and I suggested Coco Loco since I've been there before and hasn't let me down. When I told her about it, she was excited as she said she's heard about it but hasn't had a chance to go check it out. I was appalled since she lives close by that I told her it was her civic duty as a resident of Laval to check this place out.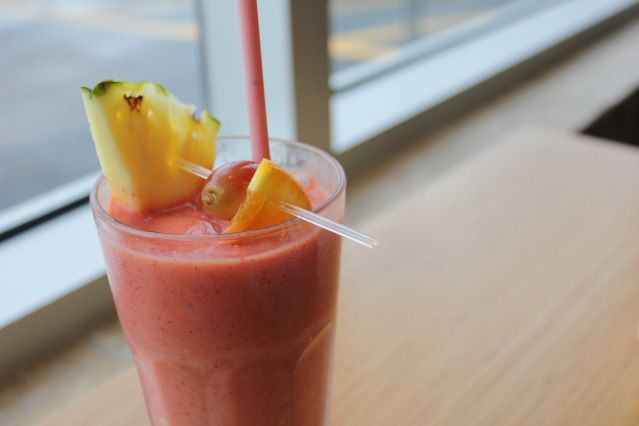 She told me she had went on the website the day before to research and study the menu. She came in knowing that this smoothie was one she was going to order. Called the Hawaiian, fresh strawberries, mangoes, pineapple juice yogurt and honey, this smoothie was cold and smooth. This combination of fruits is an amazing source of vitamin C first thing in the morning as well as the B2 shot for energy. Hangovers beware, this smoothie is coming for you.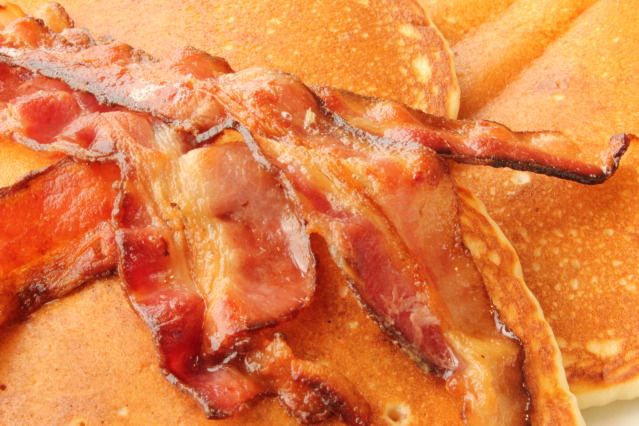 I had the sinful pleasure to explain a good portion of the menu to her as I had the opportunity to try a great deal of their menu and this was a dish that I highly recommended. Yes, pancakes is known to be one of my weaknesses, and so is bacon, but these evil geniuses behind Coco Loco found away to dig through the mess of lusty food thoughts and images in my mind to discover one of my dirty food fantasies and to realize it and put it on their menu… I give unto you… BACON.FU*CKING.PANCAKES. Actual bits of bacon, chopped up and put into the pancake batter.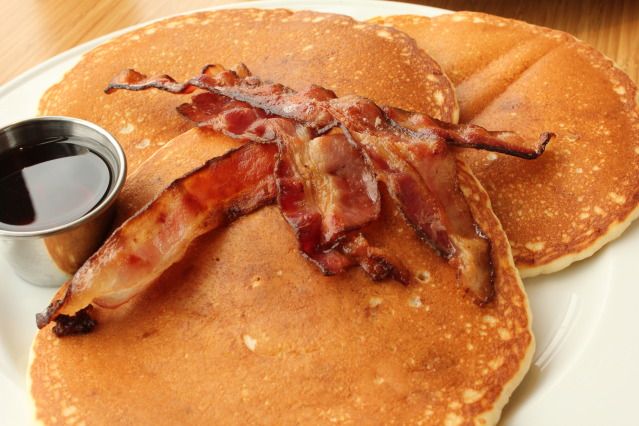 I like my pancakes, thick and fluffy; doughy and cakey. They need to be the perfect vessels for optimum syrup absorption, and these pancakes were. Coco Loco is crazy generous with their portions. Some might argue that it's too much to eat for breakfast, but how are you going to turn away pancakes the size of small pizzas? If the bacon in the pancakes aren't enough for you, they serve this dish up with a few strips, as well as natural maple syrup, as opposed to the table top syrup.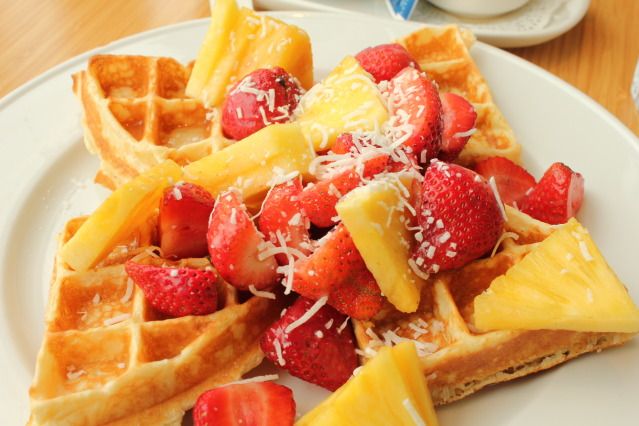 I had the Coco Loco Special Waffle. Homemade waffle, topped with freshly cut pineapples, strawberries, drizzled with coconut syrup and coconut flakes. Perfectly cooked waffle, chewy on the inside and harder on the edges that provided and nice texture and crunch to each bite. I've had waffles before, I've have the combination of pineapples and strawberries before, and I've had coconut syrup before, but never in the same context. I'm not sure what it was about this dish, but there is definitely a certain "je ne sais quoi" about it. Whether or not it was just the mix of these complimentary and contrasting flavours that I have never had before… or the secret ingredient was sex.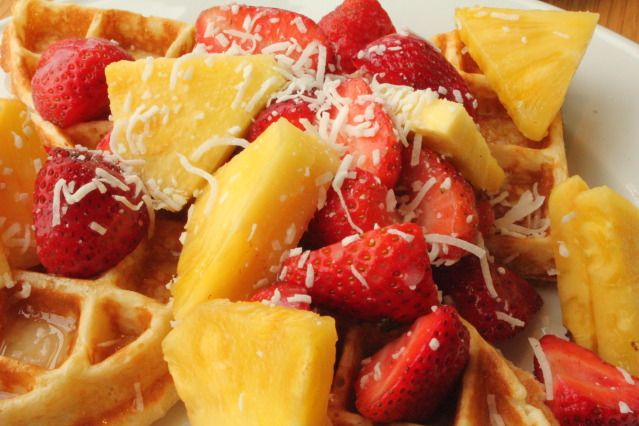 The fruits were very fresh, especially the pineapple and the underripe strawberries added a nice tartness to the dish. The coconut flakes highlighted the coconut syrup which in itself was something very very different that I have yet to see on any other breakfast menu. I commend Coco Loco for taking that initiative for trying something new and having the presence of mind to instinctively finding that 'je ne sais quoi' that works.

The waffle comes pre-drizzled with the coconut syrup, but I suggest asking for an extra one on the side. I found that the syrup is so delicious that the waffle itself sucks it up like it was racing you for mass coconut syrup consumption. Plus, having some on the side, you'll be able to control the coconut syrup distribution to consumption ratio to assure the right amount of syrup ends up in each bite.
If you're a fan of breakfast, you'll know that breakfast the most important meal of the day and visiting Coco Loco is equally as important. The staff is amazingly friendly as are the owners. Who ever you are, they'll make sure you're taken care of and if something isn't going according to planned, they will right it and make sure that the most important meal of the day is one that will carry you into the afternoon.
Restaurant Coco Loco
346 Curé-Labelle blvd
Sainte-Rose, Quebec H7L 4T7


Please take note if you're going to plug the address into Google Maps. I've noticed there's a glitch recently and it will give you the wrong directions. Please refer to this link when looking for directions!