On November first we had a fun opportunity to explore and Dishcrawl our way through our own Montreal's Chinatown. I wanted to bring people along to show the the elusive "secret menu" that has been a fixture in the psyche of many Chinese cuisine diners; I set out to demystify this. What's on this magical menu you ask? 15 pound lobsters marinaded in Chinese unicorn tears? Vegetables the deepest colour of jade, stir-fried by Buddhist monks, picked by orphaned albino monkeys? Not exactly. What I was determined to do was to show this lucky group of Dishcrawlers that not all Chinese food comes slathered in a sweet, brightly coloured sauce, nor is the name of the dishes interchangeable for pseudo porn film titles.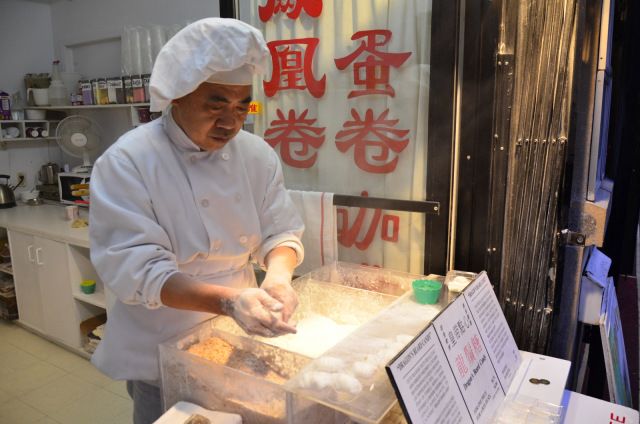 We started the night on a sweet note at the Dragon Beard Candy stall. Unfortunately due to unforeseen circumstances, Mr. Johnny Chin was unable to show us a live performance of this candy pulling. However the Dishcrawl crew was able to snag a few moments with Johnny prior to the event and he gave us a glimpse of the magical moments when a corn syrup disk becomes this fragile morsel of dragon beard candy.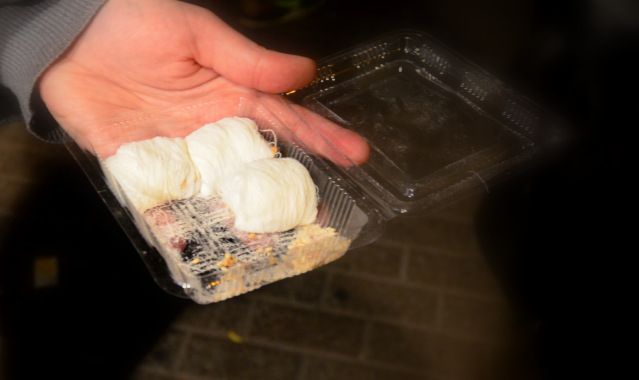 The candied disk is pulled over and over, threads getting thinner and thinner to become over 50,000 strands folded together over a crunchy mix of peanuts, almonds and roasted coconut. Traditionally and historically made for emperors, Johnny introduced this art to Montreal almost 20 years ago leaving his corporate job to practice one more spiritually fulfilling and… fun. He had also mentioned to stop by and say hi, and hopefully you might catch him in the middle of pulling the candy.

Second stop of the night was at Restaurant Mon Nan for some authentic Peking duck. We were greeted by Mr. Joe Lee, one of the owners. He introduced the Peking duck experience to those who have never had let alone heard about it before. Our Dishcrawlers were in for quite the experience, as the Peking duck "dish" is actually three courses!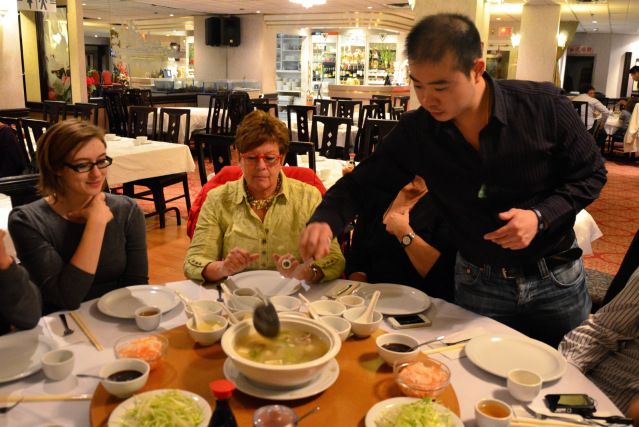 Joe serves up the first course, a light soup made with duck bones mixed with tofu, Nappa cabbage and vermicelli noodles. Although light in taste, the flavour was deep in ducky goodness, robust and murky contrasted by the bitterness of the cabbage. A great way to start the Pekin journey.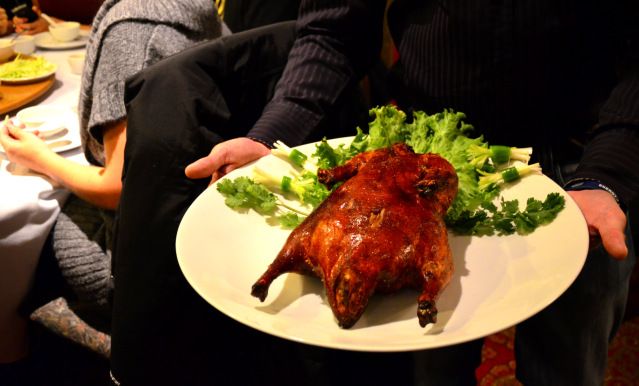 We were next present with the actual roasted duck. Joe went on to explain their roasting techniques and how they differ from other restaurants.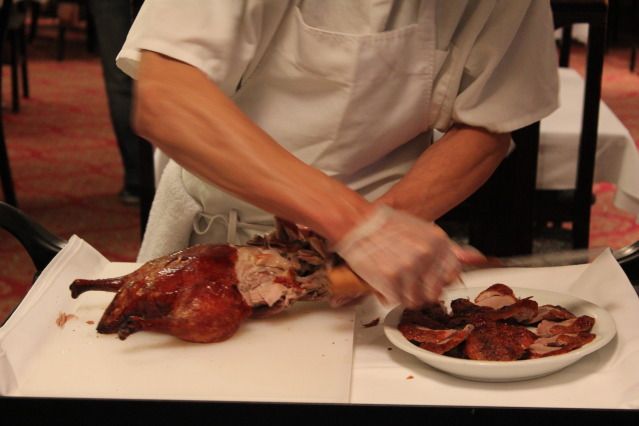 One of the chefs came out to the dining room to give us a special demonstration of the carving techniques of how to skillfully remove the skin and meat.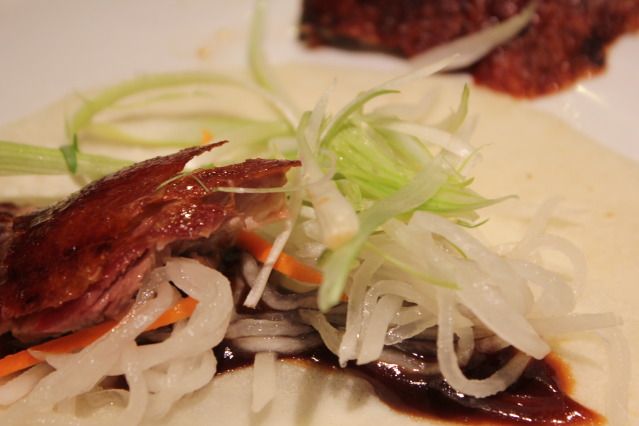 Wrapped in a rice flour pancake slathered with hoisin sauce, the duck skin is topped with pickled radish and carrots and green onions. We were told that everything is made fresh; pancakes are made to order and hoisin sauce is homemade as well.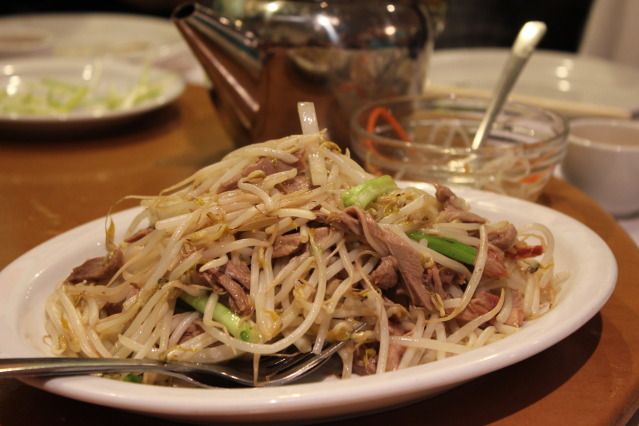 The final course of the Peking duck experience was the duck meat stir fry. Mixed with fresh bean sprouts and spring onions, the duck meat took on a totally different taste. Have already cooked – roasted – duck, stir fried in a wok, the meat had sear and delicious burn marks = extra more awesome spectacular flavour.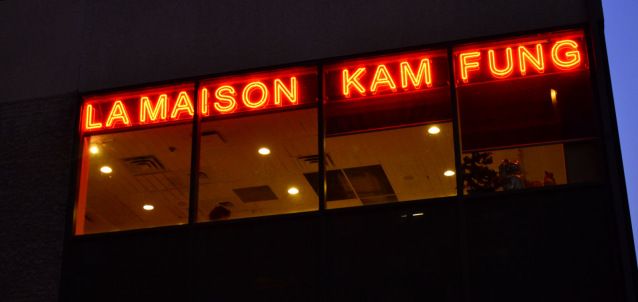 We then headed down the street and around the corner to a spot known for Dim Sum, but also kick some serious ass in the dinner department; Kam Fung.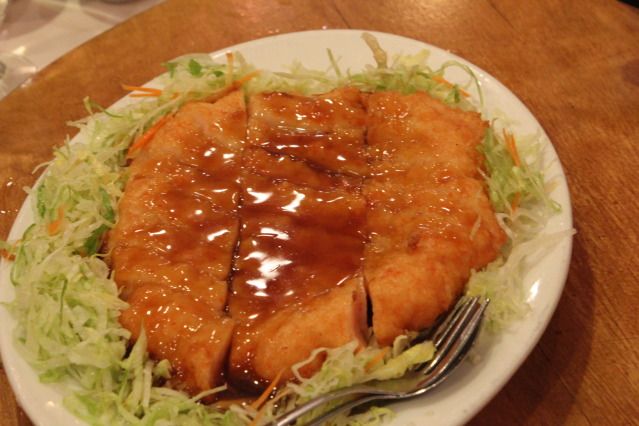 I knew I wanted to feature this dish from early on in the planning stages of this Chinatown event. This dish goes way back in Montreal's Chinatown history. Called "wor siu gai", it's a mix of chopped up shrimp, crab, Chinese sausage, wrapped in egg roll skin and deep fried. Originally made with a pâté of chicken, shrimp, fish, swallows nest, Chinese sausage, wrapped in chicken skin and fried – yes, I said bird's nest. Montreal's Chinese community claims this dish as their own, there are renditions of it and impostors in other cities, but the original is said to have come from Montreal.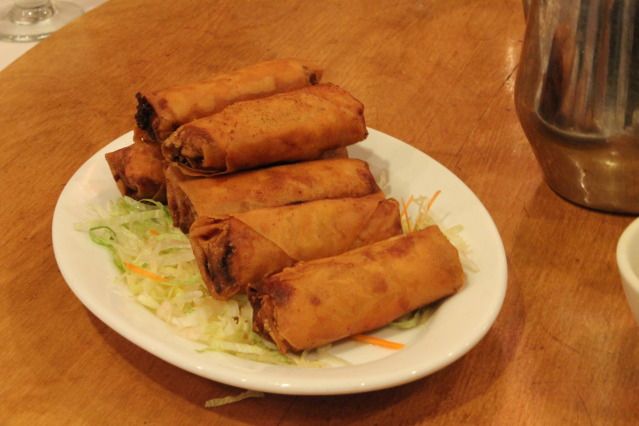 We were also presented with Kam Fung's signature egg rolls. Packed to the brim with a great mix of pork, cabbage, Chinese five-spice and white pepper. By far one of the best egg rolls there are in the city.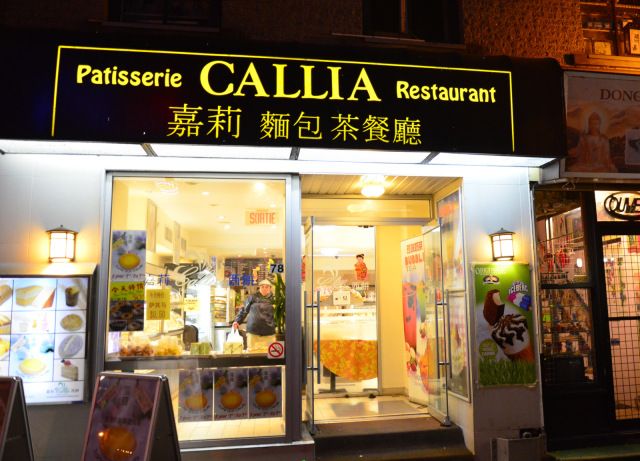 Our final stop of the evening was at Callia Bakery where a big surprise was in store for everyone.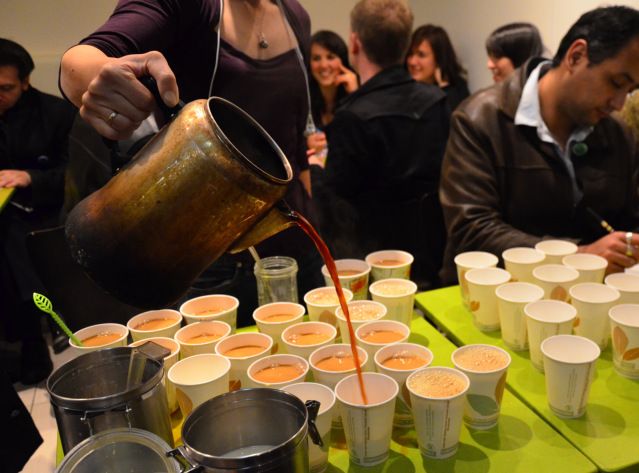 We were welcomed by Carmen, owner of the Callia bakery. She poured out some traditional Hong Kong style milk-tea. To everyone's surprise, it was not a tea anyone was accustomed too. Carmen explained that the tea was a "secret recipe"; different proportions of different kinds of teas, whitened with a mix of milk, cream and whitener that yields an incredibly fragrant tea, silky and creamy.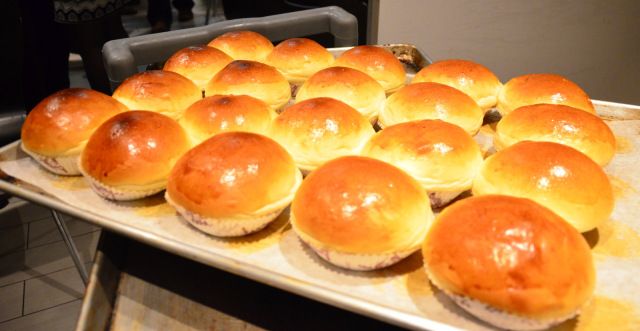 These bad boys were up to now good that night. I explained that the bun they were about to have is something that they never had before. A bun was handed out to every dishcrawler and they were instructed to wait and bite into it all together. Since it was a surprise, I told everyone that once they get to the filling, to just call out and say what they think it is.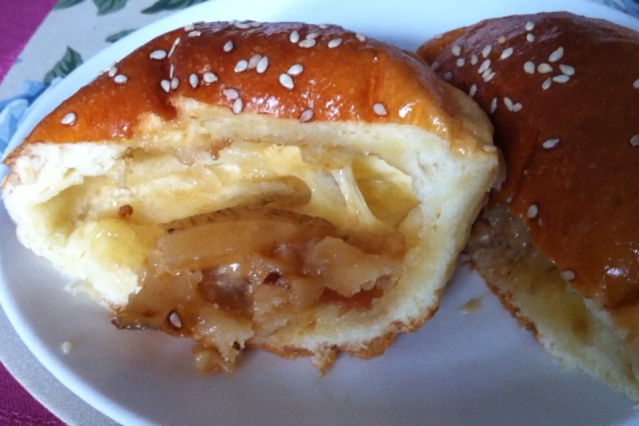 People were talking amongst themselves, confused and wondering if what they're eating was in fact, what they were eating. "POUTINE!" Someone yelled, and they were right. Patisserie Callia treated us to one of their creations, a poutine filled Chinese bun. It was everything you can imagine it to be; warm chewy egg-bread with a evil concoction of fries, chewy and stringy cheese mixed with gravy.
The first Chinatown Dishcrawl experience was a success. People walked away having tried different lesser-known dishes and flavours that they weren't aware of or even knew existed. I don't want to sound preachy, but I highly encourage everyone to take a step out of their comfort zone, even if it is a tiny little baby step, and try something different. Chinese cuisine is so vast and it encompasses so many exciting flavours and ingredients, you have to at least try in order to know if you like it or not. I was glad that I was able to showcase some of Montreal's Chinatown's signature dishes, more importantly that weren't covered in a brightly covered sauce, or did you need an insulin injection to get through your meal!
Dragon Beard Candy
52 b de la Gaucheriere West
514-529-4601

Mon Nan
43 Rue De La Gauchetiere E
514-866-7123

Kam Fung
514-878-2888
1111 Rue St-Urbain