I made the mistake of taking the liberty of making one too many jokes in my last post about Laurier Gordon Ramsay. A few of you are new readers and obviously haven't been reading me long enough to get my sarcastic and sometimes crude sense of humour. So you better start catching up quick, and get the jokes, cos I'm not apologizing for anything. 🙂
Recently I hit up this new tapas joint on St. Laurent that's been starting to buzz. Opened by an accomplished chef, he took on the challenge of unifying different concepts of tapas – whether it be, Spanish, Italian or Japanese – took elements from each kitchen, put them all together and made a party-pack of flavours and small bites for us people of Montreal. Named for a region near the Mediterranean, As we discovered, Biarritz's reach goes much further than that.
The menu read like the cup stand at Dairy Queen; offering three sizes of plates, small, medium and large. The philosophy of the chef is the idea of communal dining and encouraging sharing amongst friends and family… So maybe referencing ice cream wasn't the best thing for me to do, I don't share ice cream with anyone. So from the three sections of the menu – obviously describing the size of the dish – we ordered up a bunch of different things to sample.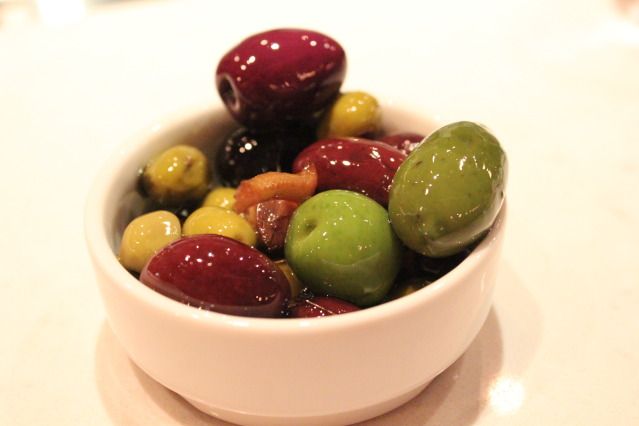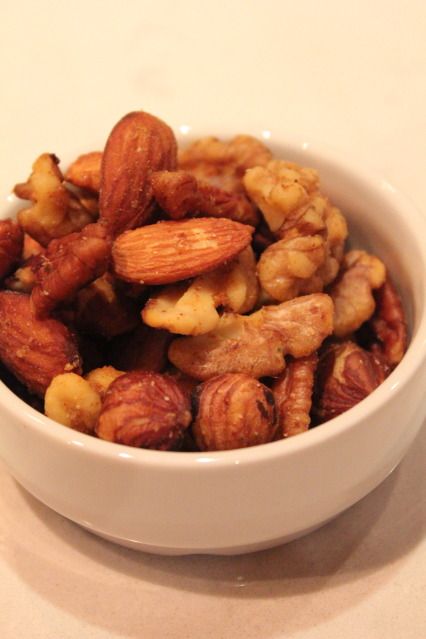 We started off with a small bowl of roasted garlic marinated olives and roasted mixed nuts to tantalize the pallet and get our appetites going. The saltiness of it all definitely got the jowls going and provided foreplay to our stomachs and readied them for the orgy of flavours we were about to be assaulted with.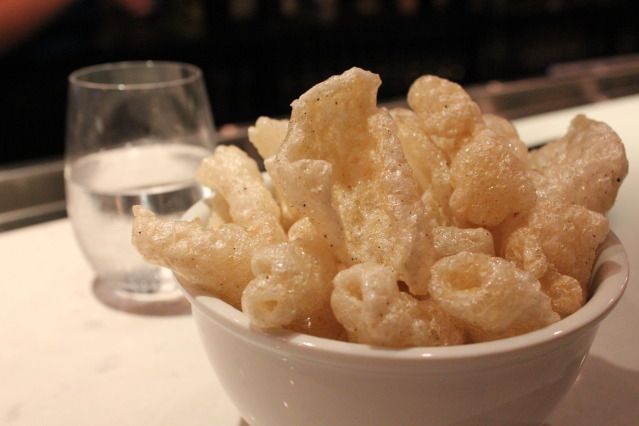 Also from the "small" section of the menu, an order of chicharon – fried pork rinds. Fluffy and crunchy pieces of pork skin, lightly seasoned with salt and pepper, there's no other way around it other than saying it is what it is, fried pork skin. It's not for everyone, but it's like a non-cheesified Cheeto, buttery, salty and porky.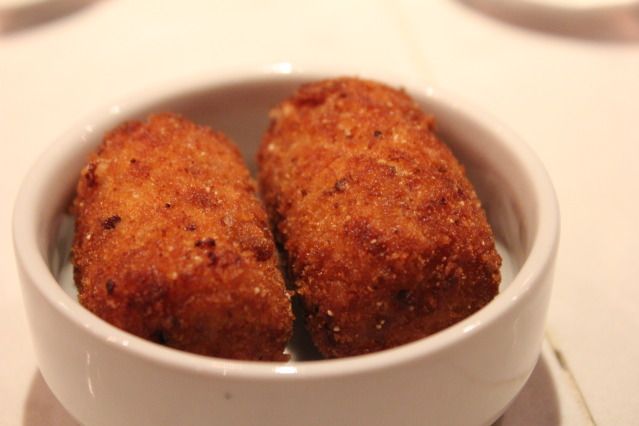 On the menu that night was chicken and speck croquettes. I was looking at these thinking they were nuggets of some sort, I was wrong… wrong like a white guy with dreadlocks. Let's face it, anyone – or MOST people – would be happy with anything that's battered and deep fried and in the shape of a nugget. The comfort that a golden little tater-tot look-alike brings is second to that of only the warmth of a mother's loving bosom.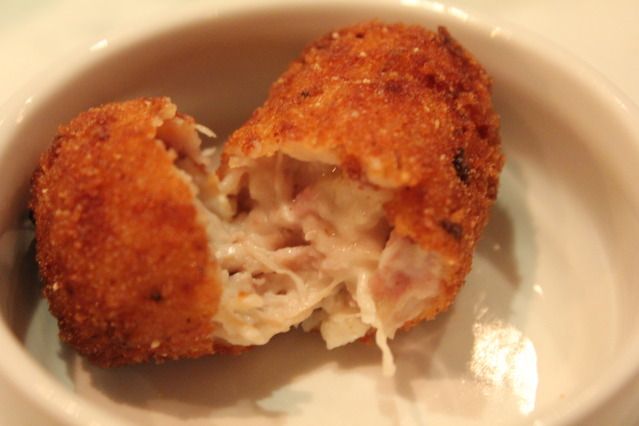 The chicken was tender and mixed with the cubes of speck in a béchamel sauce. The saltiness and the aromatics of the cured ham really stood out and cut through the creaminess of the sauce and added a nice chewy texture to the crunchiness of the fried batter.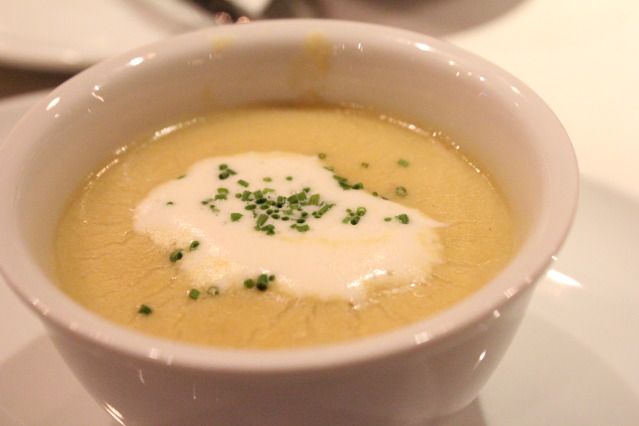 My friend ordered the corn soup that was featured on the menu. Sweet summer cream corn veloute topped with creme fraiche. Remember having cream of corn soup in high school? Imagine that same soup but 10 years later, a university graduate, that drinks green apple martinis, wears heels and a power suit and still doesn't talk to you. This soup is a more mature, grown up version of the one you are familiar with, smooth, creamy and sweet, the soup exemplified this summer's harvest.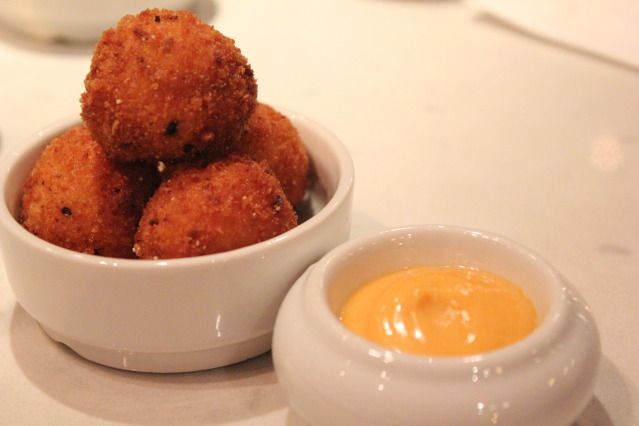 Next was the fried cod balls served with a spicy roasted red pepper aoli. The first thing that went though my head was the image of these poor cod fish swimming around the ocean with no balls and second, what kind of monster cod fish do we have swimming in our waters that yield balls the size of ping pong balls. But no, once bitten into, the fritters gave way to moist flakes of cod; contrasted with the nice crispy crust and hot dipping sauce, they could have really been fish balls and I wouldn't have cared.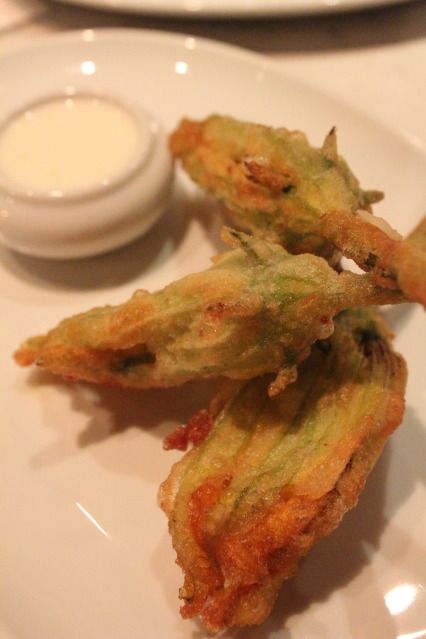 From the medium menu, I ordered the fried zucchini blossoms served with a home made yogurt sauce topped with lemon zest. If you've never had zucchini blossoms before, they are perfumey more than they foster a taste per se. The delicate flower is simply coated lightly in batter and deep fried. Set off by the lemon yogurt sauce, each bite is a perfect mix of aromatics, texture and the quiet interior monologue of the argument with myself, question my own masculinity by asking "how manly can I make eating a pretty flower look?"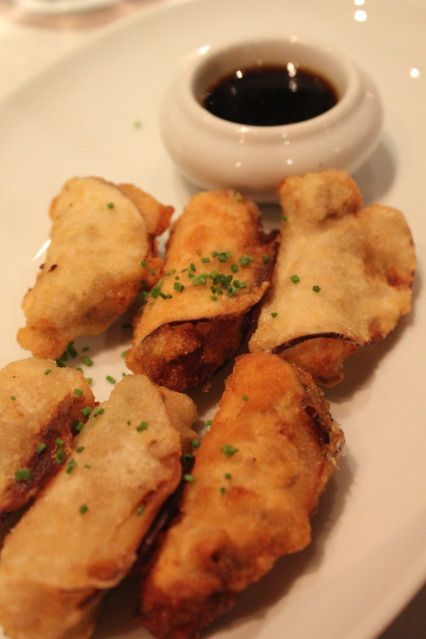 I ordered the pork and shrimp, eggplant won tons. I was hesitant at first and at worst I was afraid to be second hand insulted, but our server was adamant that this was one of her favourite dishes. Served with a tangy soy dipping sauce, the dumpling was made of confit pork mixed with shrimp, wrapped in thinly sliced eggplant and fried. Upon my first bite, I realized a fear of mine: liking a preposterous won ton made with aubergine… I lost. Biarritz won, or should I say won ton-ed, who would have thought this description would have included cheese as well. HA HA HA. The unctuousness of the fatty pork, paired with the bounciness of the shrimp was with the hint of earthiness of the eggplant, it was delectable with every bite.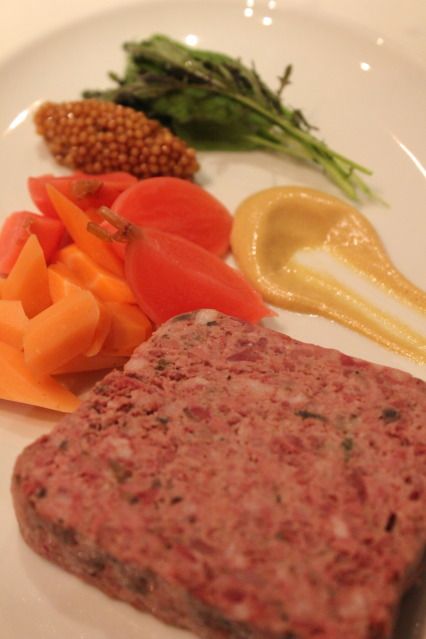 One friend ordered the country duck pâté – opposed to the city dwelling ducks, this homemade pâté was served with pickled carrots and radishes as well as pickled mustard seeds with a swipe of dijon. The pâté was rich and full of small pieces of duck that you were able to actually bite into. Herbaceous and highlighted with the taste of duck liver, the pickled vegetables cut through the thickness of the pâté. My buddy ate this with a STACK of bread and ended up having a meal of canapés he made in front of himself, gingerly one at at time.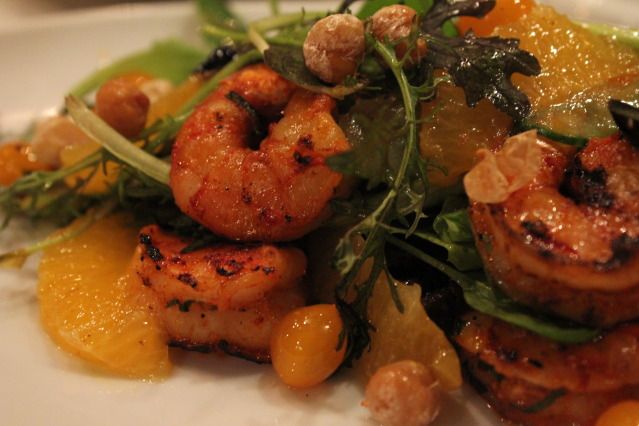 One friend ordered the Moroccan salad with grilled shrimps. The salad was tossed with orange, golden currants, chick peas and Moroccan olives and topped with spicy shrimps coated with chill and cumin. The smokiness of the shrimps added depth to the salad by bringing out the sweetness of the fruit and bitterness of the greens.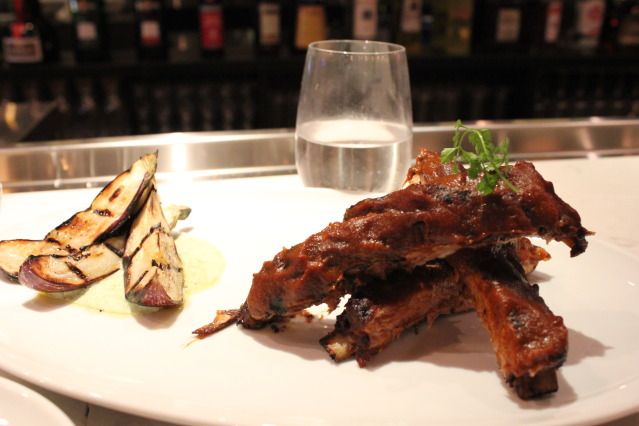 My other friend had the lamb vindaloo. This Indian style curry was served on lamb ribs sided with grilled eggplant on a lime and mint cream sauce. The heat from the curry was intense yet fragrant. As strange as it would sound, I would describe a searing hot spice as delicate yet present; you can taste the different spices used to make that sauce. To douse that flame, the cool lime and mint sauce as well as the absorbing eggplant did the job to quell any impending gastronomical damage. He was spitting fire by the end of this dish, and by that I don't mean he started freestyle rapping.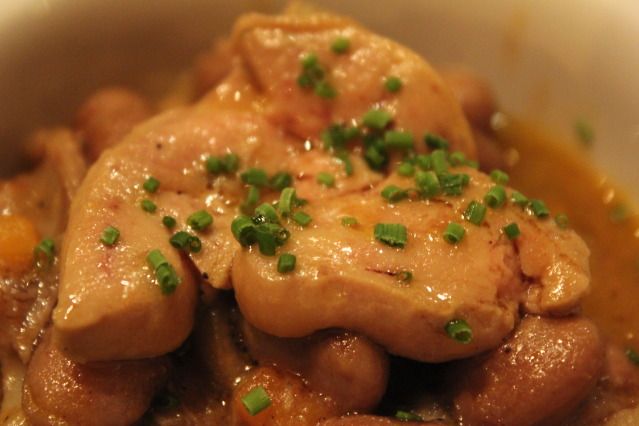 I had the cranberry beans with pork trotter and foie gras. This dish ate like a stew, the kind that sticks to your ribs and keeps you warm all day. The beans were tender and the pork was fall-apart soft and the robust foie gras was sex on top of the bowl. The pork was gelatinous and sticky and wonderful, it's the kind where it coats the outside of your lips with a protective layer of grease that can protect from UV-rays or have your significant other slip and split your lips with their chin when coming in for a kiss. Perfect seasonal dish, the richness of it would be great on a nose nipping autumn night.
We managed to readouts our belts and did a few laps around the block for the homemade desserts.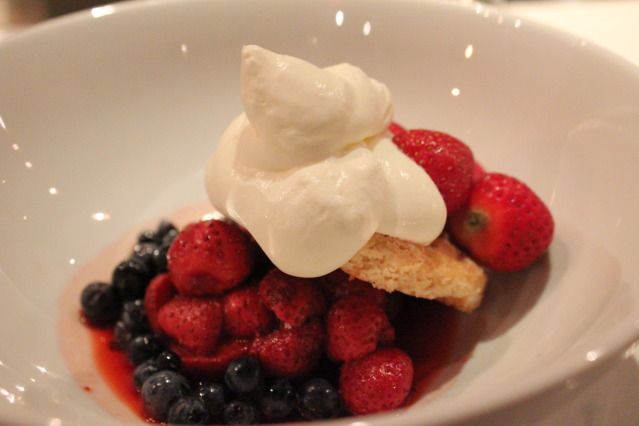 One had the strawberry short cake. A really interesting take on the strawberry shortcake. Locally grown and sourced berries, topped with a homemade "cake" – which was more like a rich buttery and flakey cookie and fresh whipped cream; this dessert was served almost deconstructed in the way I like to eat my maki rolls.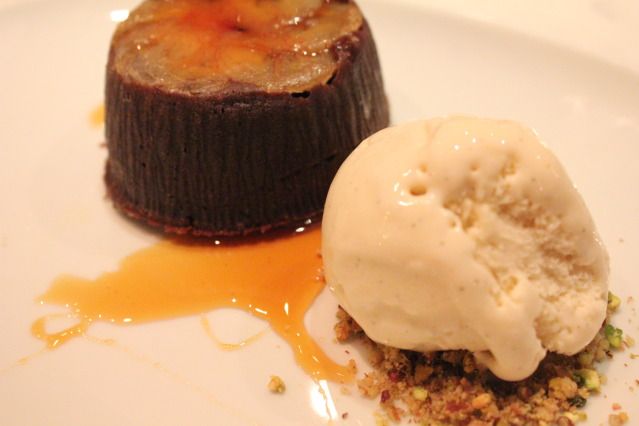 I had the fondant du chocolat with banana, served with vanilla ice cream sitting on a bed of crushed roasted nuts and a rum caramel sauce. The perfectly molten centre of the chocolate cake oozed decadent chocolatey SIN over the plate, then scooped up with a dollop of ice cream, mixed with the nuts and rum caramel sauce, I was close to grinding everything together into a powder and snorting a few lines of it.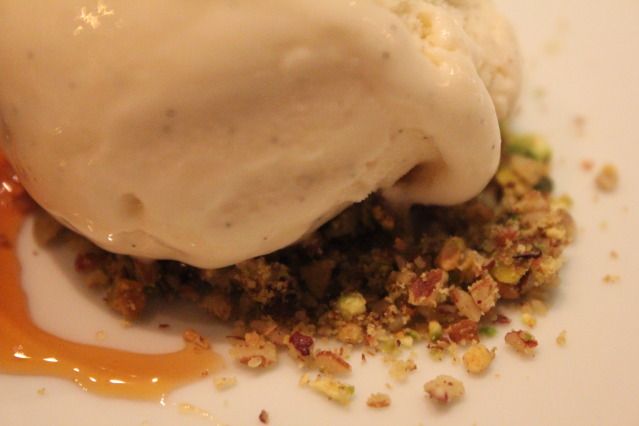 Biarritz sources their ice cream from Les Givrés on St. Denis as well.
The only difficulty I find about writing about a market cuisine restaurant is that the menu is always changing, and that there's a chance that not all the dishes I write about will still be on the menu when you visit. However, the great thing about a market restaurant is the ever changing menu itself; the ability of the chef to appropriate available ingredients and to showcase his creativity and execution is paramount and to maintain a level of consistency and discretion is obvious if the kitchen is able produce such an eclectic menu with such high standards of quality.
I was able to meet the chef Stephane Bouzaglou. He's a very quiet and soft spoken gentleman, his reserved demeanour is ultimately paralleled and mirrored by his refined menu expressing his vision and letting his masterfully prepared dishes do the talking for him, this speaks volumes of Chef Bouzaglov's culinary ethos and discipline.
Restaurant Biarritz
4801 St Laurent
514.281.2000


http://www.restobiarritz.com
Facebook page – Check for their daily menus and awesome lunch specials!