Have you ever had high expectations of something that was never met? Have you ever bought into the hype? Been a sucker for something that just never delivered? I try not to be influenced by press, and like to make up my own mind and have my own opinions decided by personal experience and interactions. I got taken in one time and I remember buying a defective Furby that never learned to say anything past "sherba derba bee boop", and the Britney album when she was slowly going crazy… man that album sucked, but her lunacy was awesome so it evened out, although, still to this day, I have not figured out a believable excuse for have purchased a Britney Spears album.
DON'T JUDGE ME.
Recently on the Twittersphere there has been buzz about a new spot opened by a popular local chef. So as a super belated birthday dinner – my birthday was in March – a couple of friends and I hit up Osteria Venti in the old port. Having read the reviews and already tasted some of the handy work of Chef Michele Forgione in the past, I was anxious to eat and have the staff and crew Carl "The Mailman" Malone up and deliver.

We placed our orders – after having done some recon on their website earlier in the day – were presented with bread. Sure, bread is bread you say… but it's not just bread when it's homemade focaccia, sfilatino and ciabatta. The focacia did something to me, thick and chewy, it was borderline cake. Sided with a fruity olive oil, it's tough to not down three plates of this before you remember you have food on the way.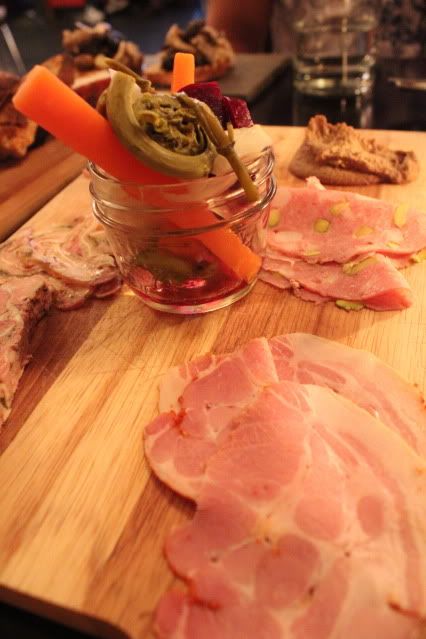 I started off with the charcuterie platter. A great selection of homemade cuts including proscuitto, capicole, pistachio mortadella, head cheese, pork terrine, and a goose liver mousse, sided with some seasonal pickled vegetables. The goose liver mousse was crazy good, I told the waiter that I could have a glass of it alone straight up with a straw… well not really cos that would be gross, but he got the joke.

My friends chose to sample the crostinis to start with. Grilled bread topped with a choice of five different toppings and drizzled in olive oil… the couple I consider as "friends" ordered the same thing, a medley of mushrooms – did I mention there are five different choices? But I forgive them, their comfort zone is cozy and to get them to try a new restaurant in itself warranted a dose of anxiety medication for them. They said it was really good, if it wasn't, they would have told me. They are brutally honest with me, bathroom routines and bodily functions are often topics of conversation amongst the three of us.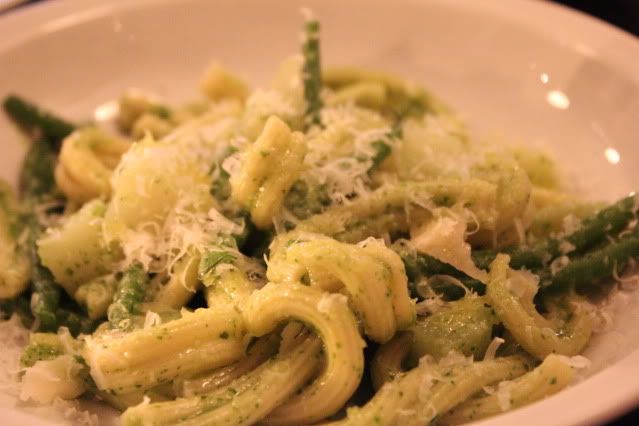 They split two different pasta dishes. This, the strozzapreti liguriese – strozzapreti with string beans, pesto and potato; the pasta was fresh and toothsome, bouncy and chewy to the bite, but tender. The sharpness of the shaved pecorino was nice and melty against the potatoes. Don't be afraid to point at the menu if you can't pronounce everything, I'm sure it happens more often than you think.

Agnolotti di piselli. This meat filled ravioli was topped with green peas, marscapone, homemade sausage and pecorino. The savoriness of the sausage tasted like bacon with only leads me to believe Venti uses cured meats in their homemade sausage – I could be wrong. However the strong taste of the sausage is perfect in the same bite as the soft pillowy agnolotti and creaminess of the melted cheeses.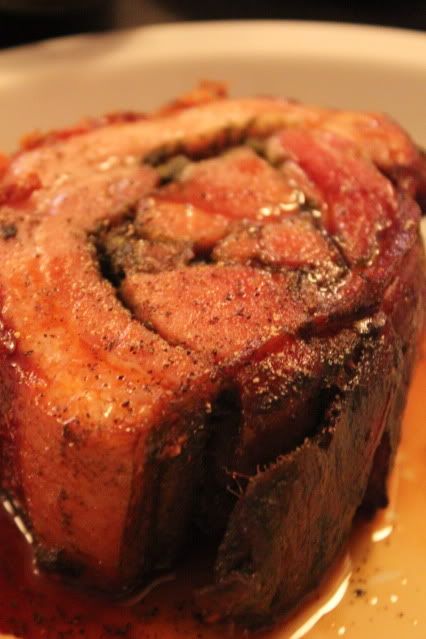 I had the porchetta. Just take a moment and sit and bask in all its proud and noble glory. Sourcing local ingredients, the porchetta is made with St-Canut piglets; the side of pork is stuffed with herbs, rolled and roasted. The crust on the prochetta is something to be eaten slowly and savored… Delicious. Crispy on the outside and herbaceous and tender on the inside. I couldn't finish my dish. Not because it wasn't good, or it was too much… more so, I was afraid I was going to get it pregnant.

We split a trio of sides. Grilled polenta, sauteed mushrooms and butter sauteed spinach. The polenta was nice and smokey covered in tomato sauce and topped with grated pecorino. The spinach was buttery and kind of plain. It was the sauteed mushrooms that rocked my world.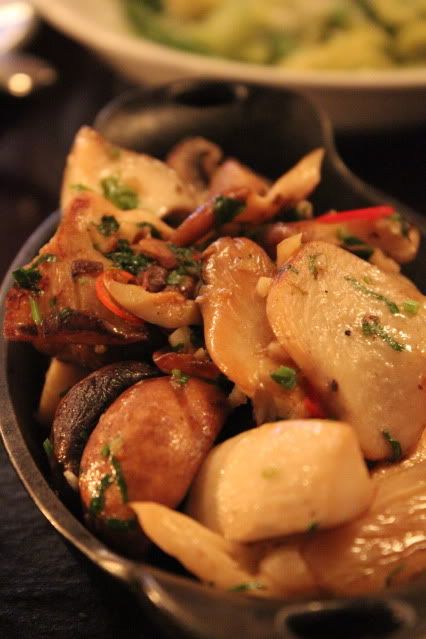 A great mix of mushrooms, chanterelles, oyster, kings, button… you name it, it was probably there, minus the 1-ups. Meaty and fleshy and all around amazing,

My friends mushroom crostinied it up and both ordered the panna cotta topped with fresh berries in a coulis. Silky smooth custardy cream, it was light and not overly sweet.

I had nonna's tiramisu, which I can only assume is Chef Forgione's grandmother's tiramisu recipe. The marscapone mixture was extremely light and the cake saturated in coffee. I'm not a coffee drinker but I'm a tiramisu eater. Needless to say, I ended up pushing my car home and I STILL haven't slept yet.
My affinity for cured meats almost overcame me before my common sense and humility got the better of me to stop me from throwing it to the ground and rolling around naked in it on several occasions during one meal. Amongst cupcakes, sandwiches and Olivia Munn, there aren't that many things that have that kind of effect on me. Venti subscribes to traditional Italian cuisine philosophy, sourcing local and seasonal ingredients and "make it yourself" mentality, everything from the stove, to plate, to mouth is as fresh as can be. Chef Forgione successfully tells a story with every plate that leaves his open kitchen, and you don't need to speak Italian to understand what he's trying to say.
Osteria Venti
372 St-Paul Ouest
(514) 284-0445
www.osteriaventi.com
Reservations recommended