The ultimate homage to anyone is to name something after them right? We have several examples of this around the city; Samuel de Champlain: Champlain bridge, Jean de La Fontaine: Parc La Fontaine, but most notably, Monsieur Julep de L'Orange: Orange Julep. Unfortunately when I decided to name the squawking bird that lives in the tree right outside my window after my sister, you can imagine the surprise and concern when my mom hears me yelling my sister's name, telling her to shut the hell up at 6 in the morning. That being said, and after insistent visits to various specialists later, I can safely advise you not to do the same, and if you decide to name something after a family member, only do so the next time you're naming a park, a structure… or even restaurant.
I met up with a friend on her lunch break to get our grub on. We had been wanting to hit up this spot called "Jane" for a while, so we decide to check it out. Jane, we found out was the name of the chef/owner's mom, which is cool, he even has the name tattooed on his arm. A small cozy spot on Notre Dame in Griffintown – if you're a hipster, St. Henri, if you're not; serving up signature pizzas, home cooking and a menu I'm pretty sure contains one or two, if not more recipes inspired by or from Jane herself.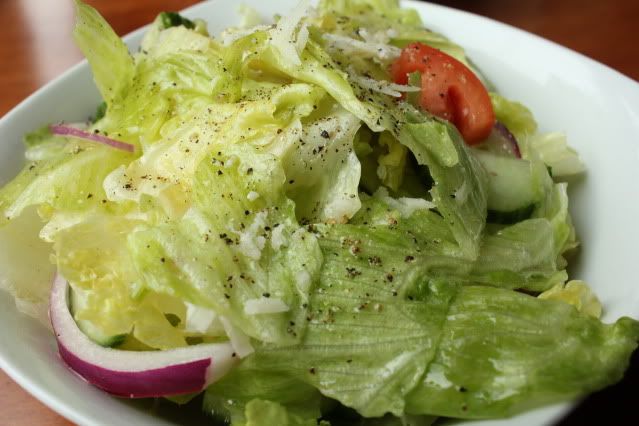 We looked over the concise lunch menu and made our choices. I started with the "Jane" salad, which consisted of iceberg lettuce, sliced rmano tomatoes, onions and cucumbers in a red wine vinegarette topped with grated pecorino romano. It was salad, plain and simple. I ordered it more for guilty psychological reasons because I knew what I would be order as my main… heh heh.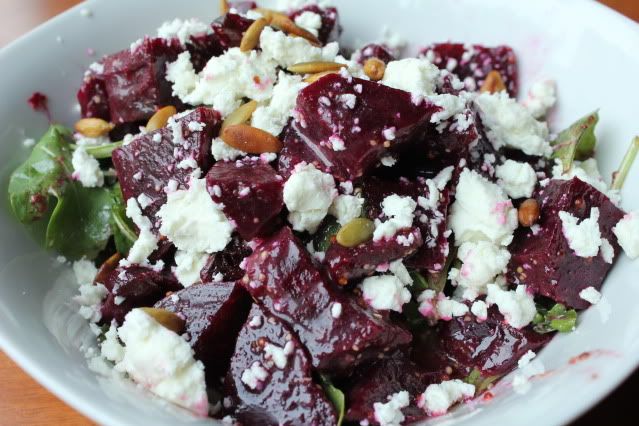 My friend ordered the beet salad. Roasted beets, topped with goat cheese and toasted pumpkin seeds on top of arugula and mesclun. The beets were very sweet and warm and goat cheese added a nice tang to the bite with the added smokiness from the roasted pumpkin seeds.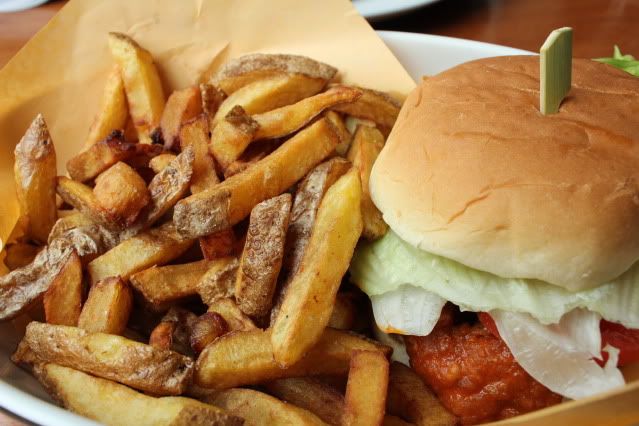 I ordered the "fried chicken" sandwich which came with a side of fries. What was placed in front of me was the total opposite of that I had envisioned in my mind. When I think fried chicken, I think battered and pressure cooked pieces of things that resemble parts of chickens that come in a cardboard bucket that eventually turns transparent by the time you get home.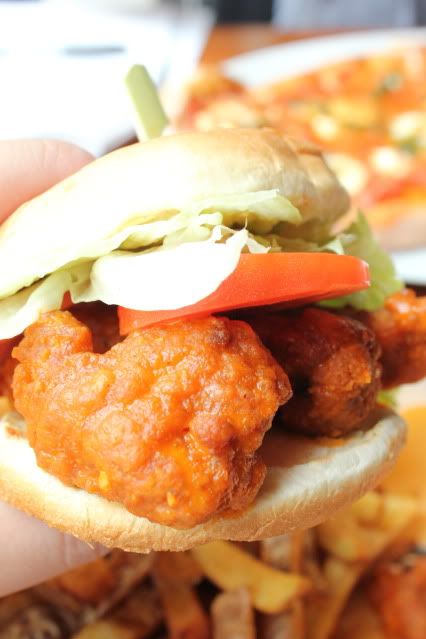 What I got was juicy tenders of chicken breast, battered and deep fried, then covered in a spicy Tabasco based hot sauce; a Buffalo chicken if you will. All the taste and flavor of a spicy Buffalo chicken wing with a fraction of the effort. Major points for NOT using mesclun in the burger. A "burger" requires the crunch from a couple of cold leaves of ice berg lettuce. You might say lettuce is lettuce, but honestly, is fat-free mayo the same as glorious regular mayo?

Jane's fries are my favorite kind of fries – made with Yukon gold potatoes, they're dense and pillowy to the bite… kind of like my three year old nephew, but the fries don't cry when you bite them.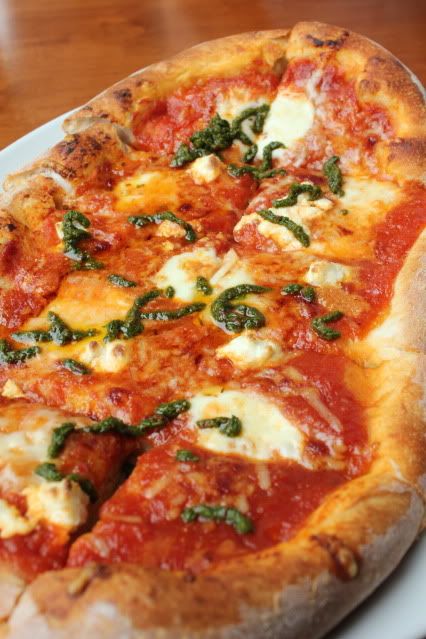 My friend had the pizza. This oval shaped pie was rich and thick in crust, not because that's the way we ordered it, or that they even have a crust option, but because that's just the way pizza is supposed to be, plain and simple. Crispy on the outside and chewy inside. This was the Rossa; tomato sauce, bufala mozzarella, Parmesan, pesto and a brushing of chili oil. It's always the crust for me that sells the pizza, Jane's pizza had the ability to mislead me into thinking it was out of a wood-fired oven… NEGATIVE. I asked and I was told that it was a regular gas oven. Jason doesn't like to be made a fool, but I guess in this case it was forgivable.

I was able to overlook the questionable and unfortunate treatment of the pesto, because I was too entranced by the sultry gaze the molten palate singing cheesy goodness tickled in chili oil was giving me.

I liked how the pizza isn't round and isn't cut into triangles, obviously they got the email saying that pizzas don't necessarily have to be rectangular to be served up as squares either. Like I said earlier, the lunch menu is the shortened version of the nighttime menu, who itself is thick with great dinner options. Being down the street for other well established heavy hitters in the restaurant world, Jane holds its own expanding the gastro eastward.
We here at Shut up and eat want to thank everyone for your continued support and for being hungry. Relying on us for restaurant insights and recommendations that you can trust means a lot to us… and by "we" and "us", I really mean "I". Be sure to follow us on Facebook and Twitter, I mean, me.