I've been fighting myself over the place that I'm about to share with you. I've been going to this place for years and has been my go-to place for some of the best sushi in town, some of you might have already heard about it… it's called Sushi Shop. HAHAHA, I keeed. Not that Sushi Shop is of sub-par sushi, but I've always regarded it as a quick fix for the maki deprived… Almost the thigh-high red patent-leather shoe, white wigged wearing call girl of the sushi world. A place that people will go to, but not many will admit to it.
Like Uncle Ben said to Peter Parker, "With great power, comes great responsibility." I was contemplating whether or not if exposing one of my most favorite sushi places in Montreal will be a good or bad thing. But, alas… I'm good people, and I write this blog to share. So it's my duty, my social obligation, the essence of my moral conscience to talk about the Japanese restaurant, Azuma on St. Laurent. Then again, my social obligation also tells me to ban together in comradery with fellow motorist to not let that A-hole cut in line at the highway exit… telling my brothers and sisters to hold the line and stay strong… so take it how you will.

As it was not my first time there, I knew to look at the specials board right away to see what was in that particular day. We looked over the menu and couldn't make a decision. So I asked our waitress if we can do an "Omakase" – which literally translated means "entrust" or "it's up to you" or "hook it uuuuuuup". Basically leaving your entire order up to the sushi chef and what he feels like making.

We were stared off with a small appetizer, or amuse gueule of blanched green beans with a miso and sesame dressing. The green beans were cool to the touch and crisp to the bite and the dressing was light, really refreshing.

This was the chef's choice and decision of what we were going to eat that night. It was a great mix of sushi, sashimi and maki. Umm… yeah, you can close your mouth now.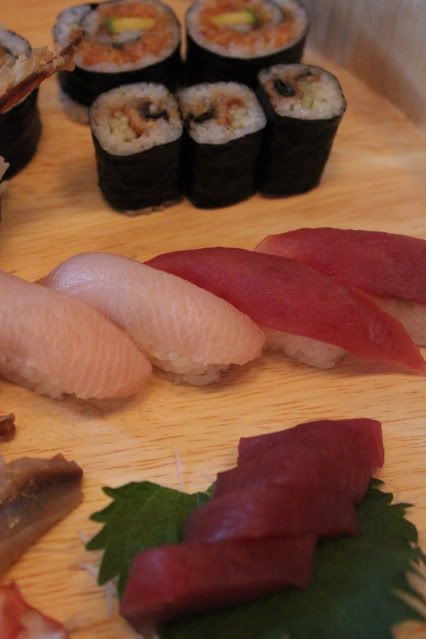 Two types of tuna, bluefin and and my favorite, yellowtail tuna. The yellowtail is soft and buttery and melts in your mouth. Unagi (grilled eel) and cucumber and salmon kamikaze rolls in the back, nice contrast of textures and flavors especially in the unagi roll. The smokey eel lightly dressed in a sweet soy sauce with the crisp crunch and snap of the cucumber was a party in every bite.

King salmon and spicy nigiri. Seared quickly with a flambée torch, the char added a hint of smokiness to the fish which was really interesting. I want to call attention to the foundation of sushi – the rice. It's said that many sushi chef apprentices are taught and learn how to make the rice properly, often over several years before they ever come close to touching fish. I don't know if the chef went through this but the rice is kind of a big deal. From the nigiri as well as the makis, the rice was firm, but once you bit down into it, the rice fell apart while each grain remained firm to the bite, yet soft; quite remarkable if you pay attention to the next time you're having sushi.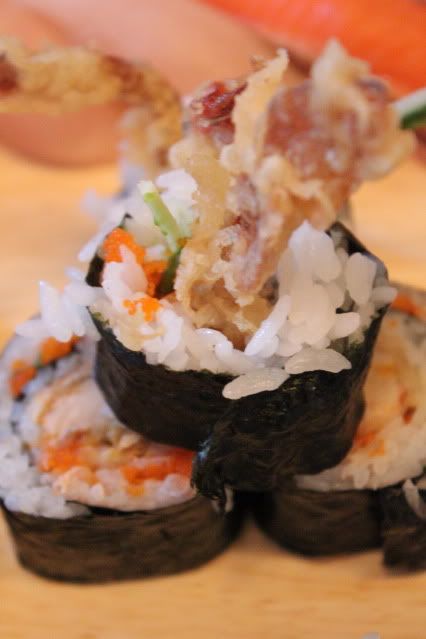 The shoftshell crab maki. Crispy and crunchy, I was really pleased with the maki options the chef picked out for us. Really simple and classic; as much as I like sushi and impressive concoctions and combinations of different ingredients, it's always nice to take a step back and be reminded of the Original Gangsters.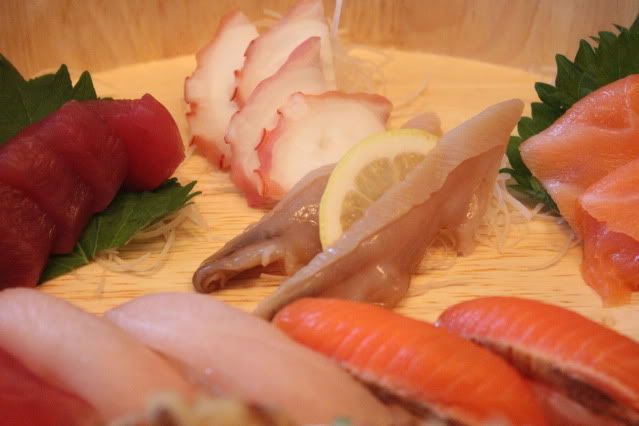 An awesome quartet of sashimi. Bluefin tuna, octopus, salmon and "king clam". All extremely fresh and tender.

I've had the chance of having king clam before when I was in Asia prepared in various ways, but this was the first time I've had it sashimi in Montreal. If you don't know what I'm talking about, it's also called "geoduck". Picture below: http://en.wikipedia.org/wiki/Geoduck

STOP! Before you say anything, I know what you're thinking… cos I thought the same thing and to that I say, you're disgusting, and grow up. HAHA. I was explained how they prepare it. Submerged in boiling water for mere seconds, it's then taken out to pull the membrane off the main… muscle. The chef then slices it thin and serves it sashimi style. The flavor is delicate but present enough to know that you're eating a seaborne creature. Not chewy as you would think it is, really tender and snappy.
I'll be the first to say, Azuma isn't the place to go if you're looking for any kind of advancement in avant-guard sushi with your foie gras and nitro sauces with rice paper wrapper served on a flip-flop cos it'd be ironic. The chef has been doing this for the past 30 years and this is the place you want to go to for good, traditional sushi. Azuma is a family run business with mom in the kitchen and the daughter up front. Like a five year old telling you that you're ugly, this sushi is about as honest as it gets. Please note that there was no fruit mentioned in any of the maki rolls the chef picked for us… take that as a GOOD thing.
Restaurant Azuma
5263, boul Saint-Laurent
(514) 271-5263
P.S. Opened for lunch and closed on mondays.