When sorbetting on Bernard street, if weather permits, it's customary to walk down the street and find a bench and discuss the dins of the day with whoever you're with. This was the routine for my friends and I; grabbing a double scoop of our favorite artesian frozen treats, we would find ourselves on this one particular bench two blocks away. There was always a charm about this spot. The bench faces a small open courtyard, which embraces a small cafe with tables facing the street, a boutique or two and the doorway to the apartments above. I've always adored this, my little spot of Paris in Montreal, very Francais.
Recently I've noticed that the name on the window of the now vacated cafe has changed to one that I'm familiar with; "Amelios". If the name rings a bell, it is indeed the same Amelios that you've come to know and love in the heart of the McGill ghetto, providing us with great tasting pizzas and pastas for years. So a friend and I decided to stop in and let the pizza happen.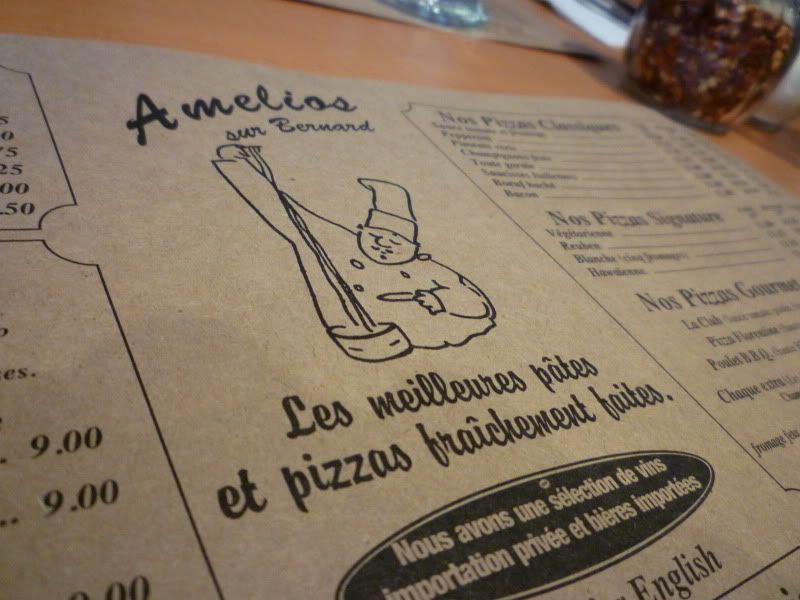 We skimmed across the table mat menu and decided on our lunch. We each decided to tackle a personal 10″ pizza each which came with a started salad.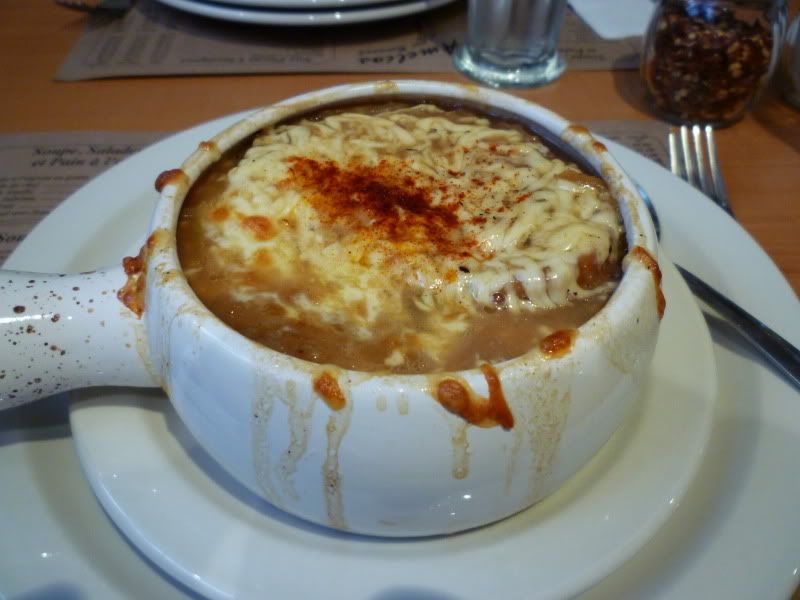 We both ordered an onion soup to start. Most people are a bit weary of onion soup as it has a reputation to usually be a bit too salty for most people who aren't planning on retaining water. Generous on the cheese, its squeak quotient was amazing and complimented its chew. Oniony and cheesy to say the least, the soup was a big portion that rivaled any electrolyte sports drink, in this equation, onions is your deficiency and soup is the thirst quencher of choice.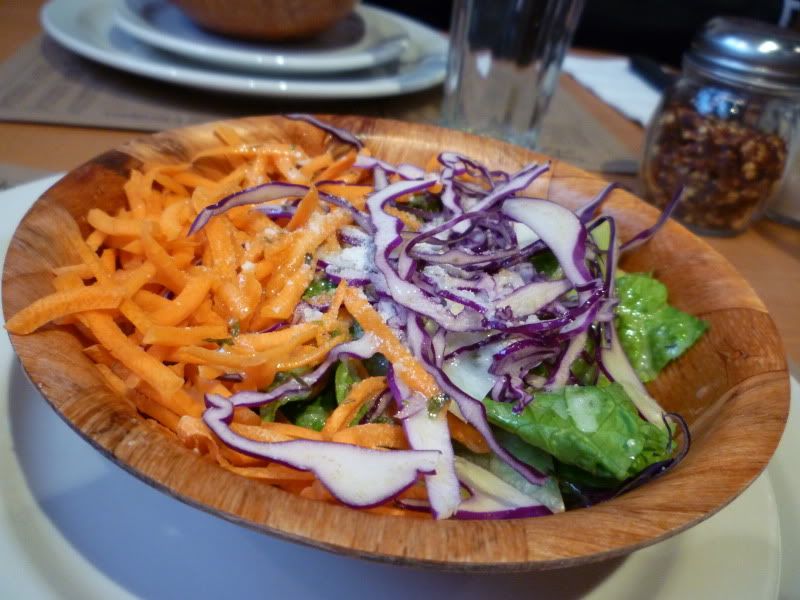 The salad that same with the pizza. Meh. It was chopped up veggies in a bowl topped with a simple vinaigrette. A bit uninspired, but still welcomed to wet your lips and get you hungry.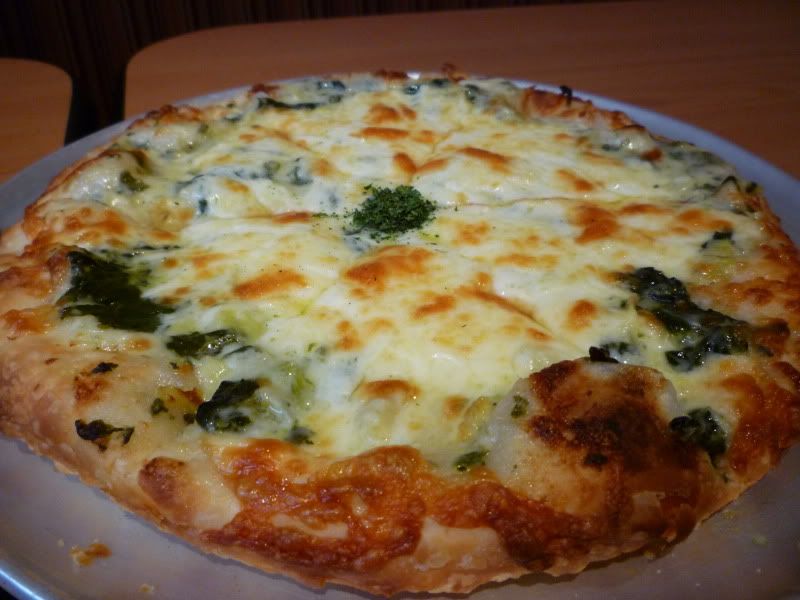 My friend had the "Florentine" pizza. One of Amelios 10″ gourmet pizzas topped with a spinach and artichoke sauce and cheese. Do you like spinach dip, but are frustrated that the typical vessel of choice is a tiny chip? Does the smelly smell of cheese and spinach tantalize you, but you let the image of shame and guilt of trying to drink the dip through a straw subdue all animalistic urges? Now you can save yourself on the embarrassment and have it in pizza form!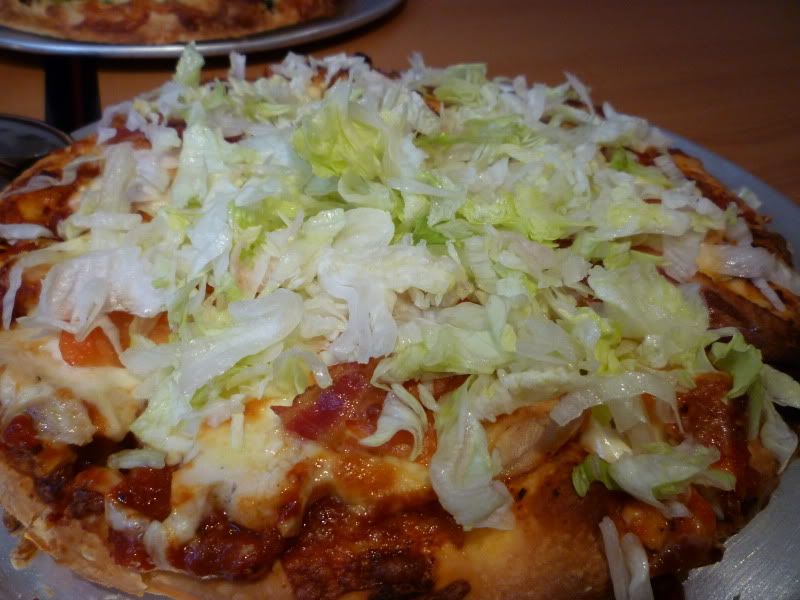 I had another option on the gourmet section of the menu; the Club. Topped with chicken, fresh tomatoes, lettuce and BACON, this pizza is a take on the classic triple-decker sandwich. I've never had fresh chopped lettuce adorn the top of a pizza before, it lent a very nice crunch and freshness to the pie.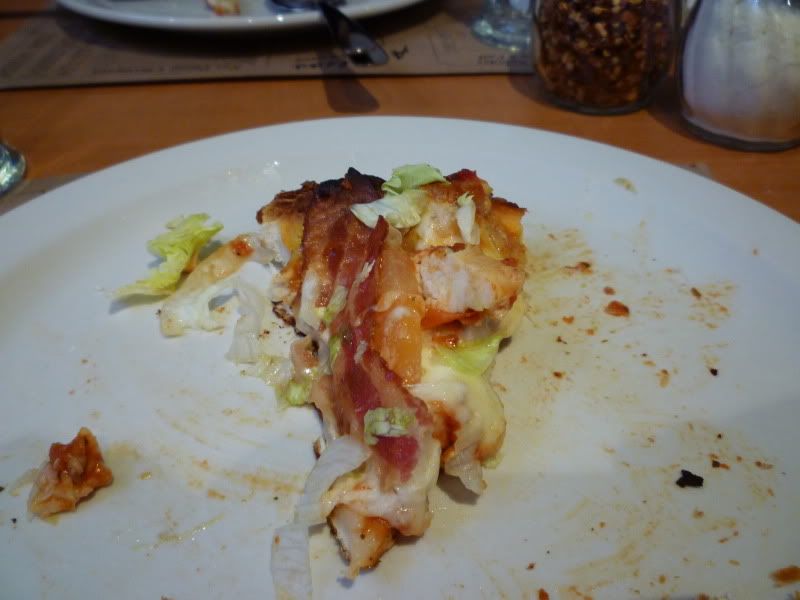 As I made my way through the second slice, as good as the pizza was, something didn't sit right as I realized something was wrong… nothing wrong per se, but there was a je ne sais quoi about the pizza that I just couldn't put my finger on… until I figured out what was missing from my club.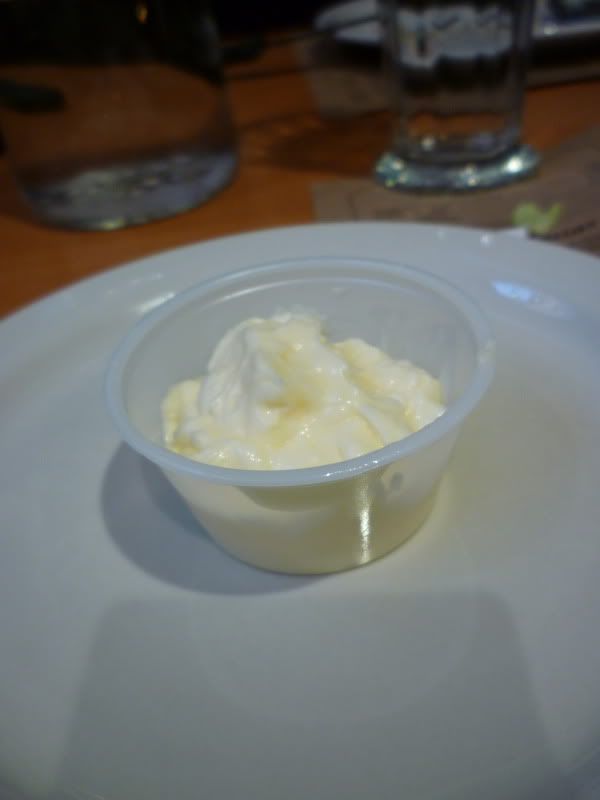 M.A.Y.O.N.N.A.I.S.E.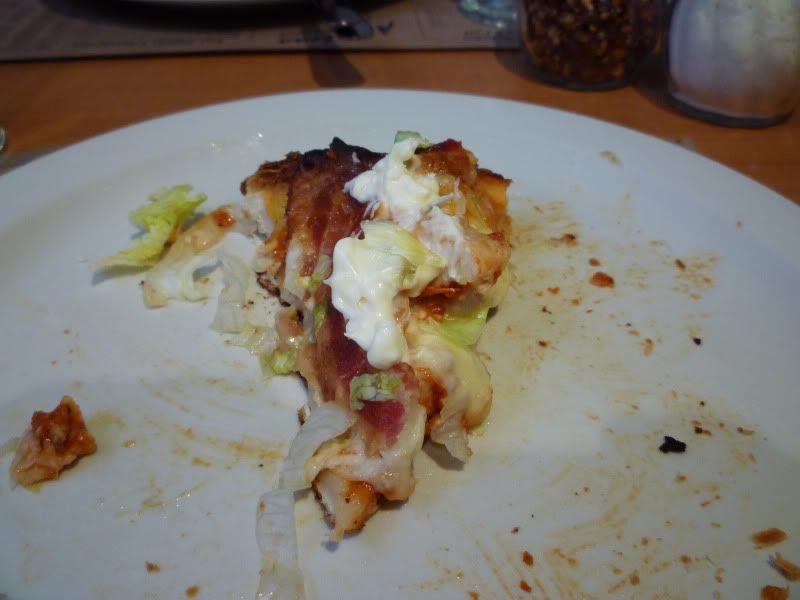 WAIT! Before you judge me on putting mayo on a slice of pizza, read me out. A club sandwich is not a club without the mayo. I know I sounds over the top but you'll thank me later. It was a shot in the dark when I asked for some mayonnaise but it was a chance I was going to take. As I bit in, all doubts were erased from my mind. I closed my eyes, looked to the sky, tilted my head and nodded in agreement. It felt so right… So rewarding, it was exactly how a six year old would feel after farting on his older sister.
That stretch of Bernard avenue in Outremont can have a reputation of being a bit pretentious and stuck up. I'm glad that there are few players in the classic cast of restaurants to keep that area in check by providing and producing wholesome and honest food. Amelios sur Bernard's staff is inviting, friendly and always has a second to chit chat no matter how busy they are. Food tastes better when its cooked with the intension of wanting you to eat it, rather than wanting you to squeeze your wallet for it.
Amelios sur Bernard
1205 Bernard ave. W
www.ameliospizza.com