A friend and I decided to go for lunch and we were both prepared with a list of a places to go and this place was on both of our lists. Hers because she's been there for dinner and never for lunch, mine because I've read reviews with mixed opinions and evidently I like to create my own. With izakaya type restaurants popping up everywhere and taking advantage of 'tapas' style Japanese food, Big in Japan doesn't call itself an izakaya nor does it categorize itself in the 'fusion' category – because we all know that category is for chumps. Here, regular Japanese food for the regular Japanese person (but you don't necessarily have to be Japanese… you know what I mean.)
We stopped in and looked ever their concise lunch menu which consisted of ramen, sandwiches and rice plates with deliciously fried goodness… and no raw fish in sight.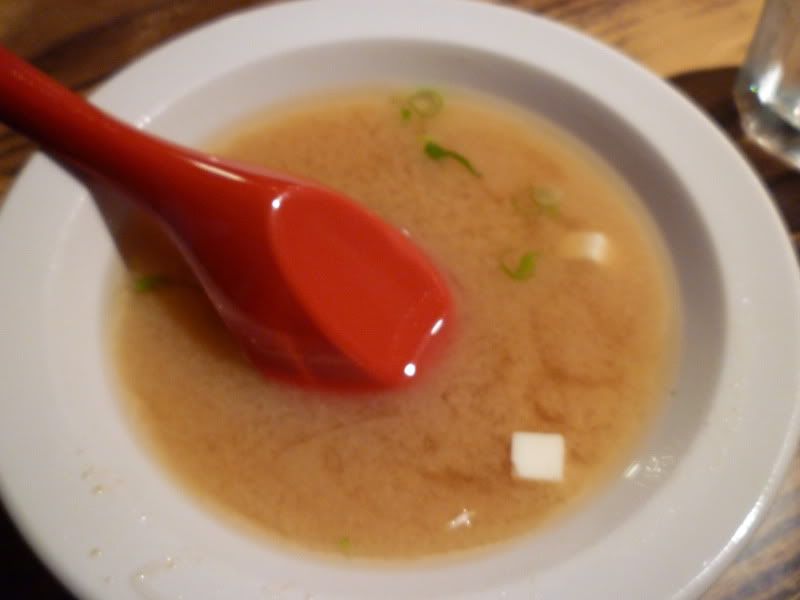 We both ordered the lunch special which came with a miso soup. Not much to get excited about. Unless the seaweed blossoms into shapes of little E. Honda or the tofu carves itself into tiny little magical spoons and feeds itself to me, I'm never really wowed by miso soup, even if it's awesome when spelled backwards.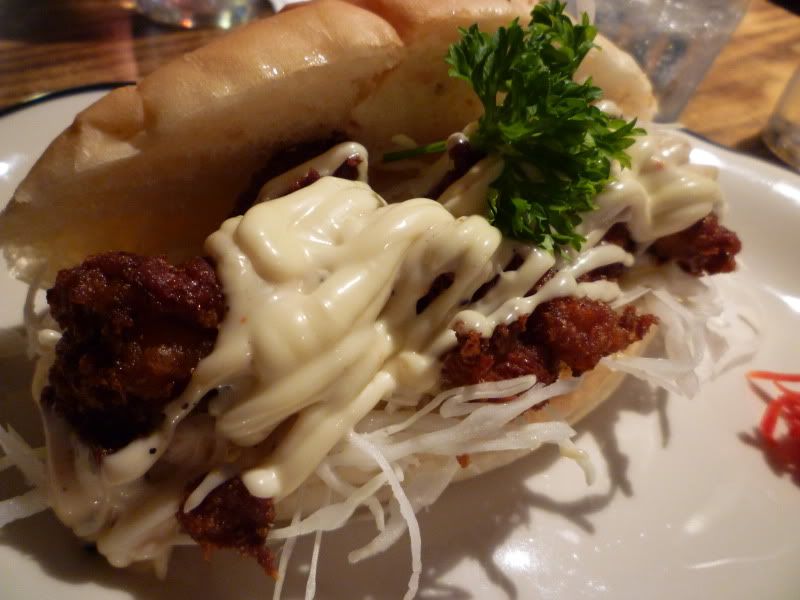 We split a fried chicken sandwich to start with. Tender pieces of crispy fried chicken sandwiched in a roll drizzled with a mayo-based sauce. I want to meet the person who one day decided, "You know what would taste really good with this batter fried thing that I'm eating? MAYONNAISE." Fried and mayo goes together so well… it just feels right… like ketchup and eggs, I will argue anyone who says otherwise.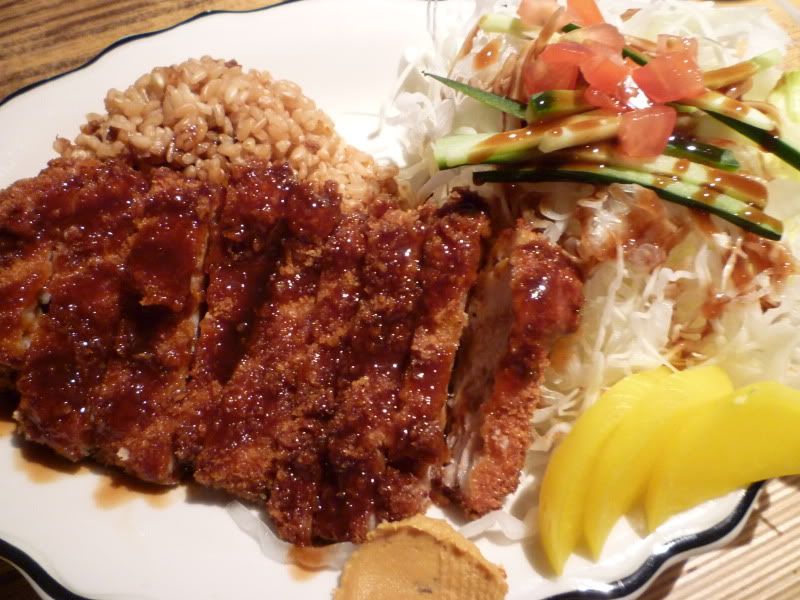 I had the fried pork. Served drenched in tonkatsu sauce with a slap of hot mustard, the side of brown rice and salad proves to be quite a filling midday meal. It was good, however, not like it's pushing the limit of me asking the chef if he has any daughters just to get into the family or anything, but it's solid.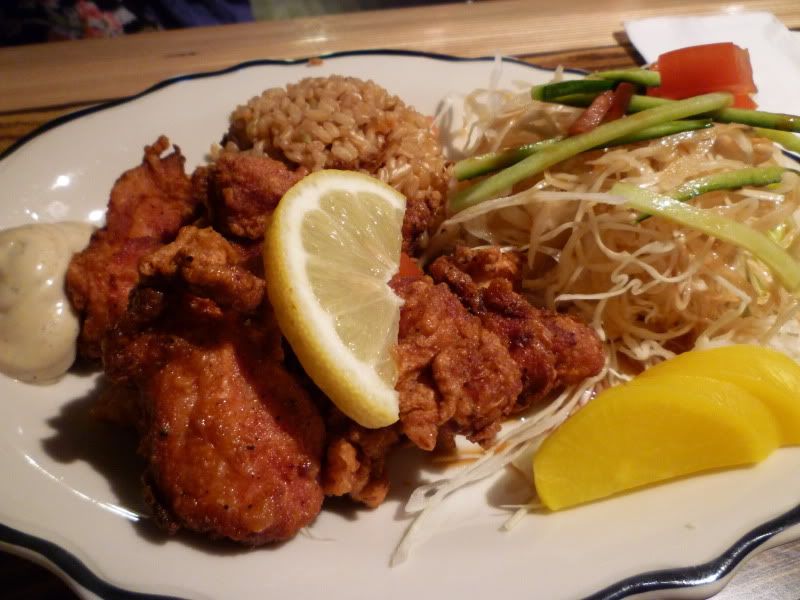 My friend had the friend chicken plate. Like the sandwich, the chicken was juicy and tender and crispy (I believe that the chicken in both dishes are all friends). Like my plate, this too was served with brown rice and a salad turned slaw and a dollop of spicy mayo dipping sauce… <3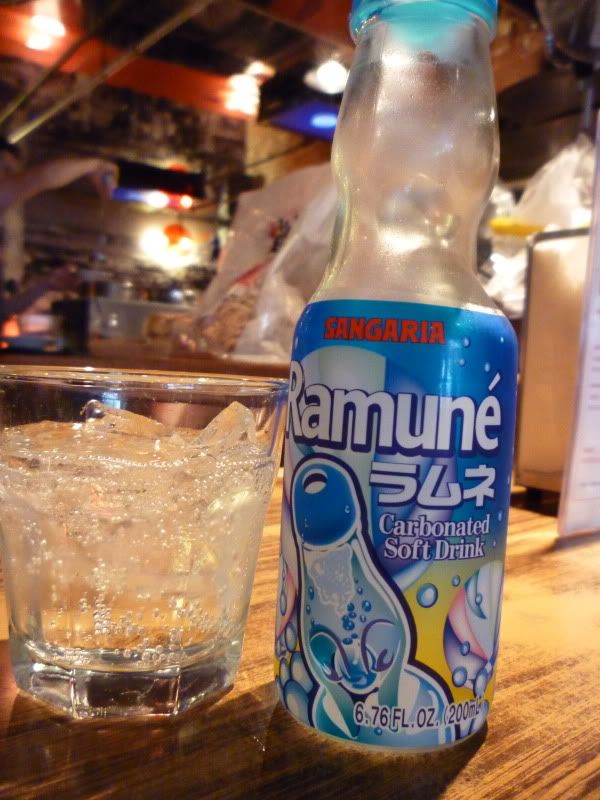 I also ordered a Ramune, a Japanese cream soda like drink that comes in a cool glass bottle. If you've never had one before, be sure to ask how to open it. You have to push and release a marble into the bottle with a plastic soda consumption facilitator and if not done properly, you and your tablemates will be wearing most of your drink… unless that's what you want.
The nighttime menu is broader and has a interesting options as well. With the kitchen literally in the middle of the dining room, you can see the magic at work behind the bar. Big in Japan serves solid, non-pretentious food – a nice welcome and contrast to the overpriced nonsense we're used to seeing on The Main, seeing autographed plates of ex-Habs does not justify an overly garnished plate of pasta worth a six-hour wage.
Big in Japan
3723 Boulevard St-Laurent
(514) 847-2222
They also have a tiny "boutique" that lines the insides of a buffet table displaying Japanese paraphernalia and trinkets.