Why is it that we are most attracted to cooking with fire when it's already 35 degrees outside? Like the person with the phlegmy cough who always find themselves on the treadmill next to mine; in the summer, I'm drawn to barbecue. Could it be the intoxicating smell of charcoal, or the delicate singe of char on meat; like how an iPhone is to fingerprints, grilling is to summer. So on the hottest night of the summer so far, my buddy and I sat outside Restaurant Mavi, eating barbecue, next to a door spewing ambient grill heat… why? Summer and heat make people do crazy things.
We walked in and eyed the small but concise menu chalkboard. Concise because you can either have grilled meat, or seafood. Appetizers consist of grilled meat, or grilled seafood. Dessert? How about a nice refreshing plate of grilled meat, or grilled fish? OR, how about grilled meat or grilled seafood sandwiched in a bun? We opted for meat.

We placed our order which comes with salad and a choice of fries or rice… which is – to me – a rhetorical question because the answer is ALWAYS fries. The salad was uneventful as usual, but necessary when going to eat the amount of meat we were going to consume… if you know what I mean *wink*.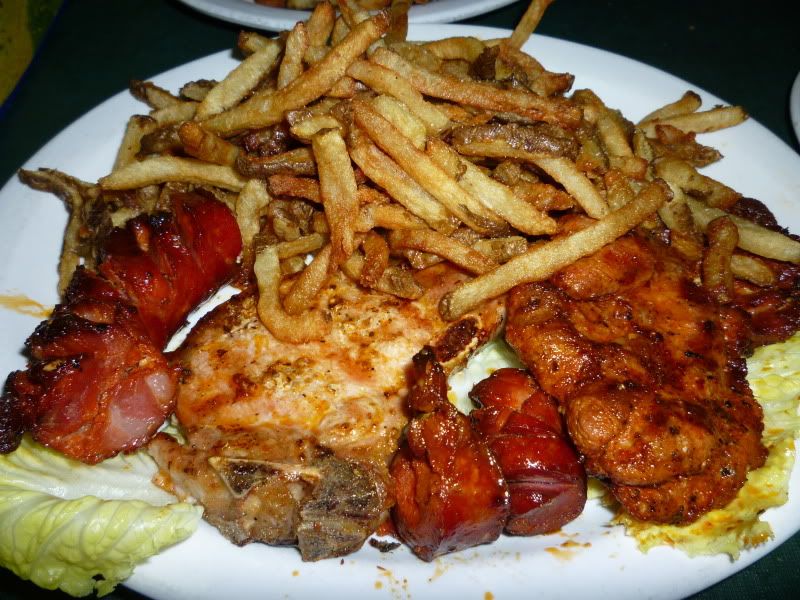 We ordered the Mavi pork plate, which consisted of a slice of loin, a chop and a split chorizo. We asked for medium spicy and everything had just the right amount of heat. The chop was thick and juicy with the FAT ON! FAT=FLAVOR=TASTE. Don't believe otherwise! If we as humans weren't meant to eat fat, then pigs would be chickens.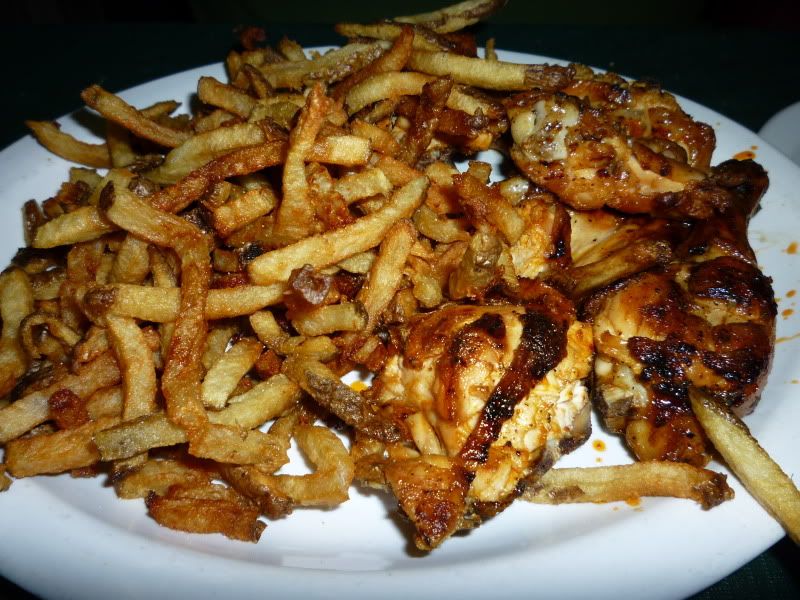 We also split a half chicken plate. I'm sure I've said it before, but to be able to grill chicken and not have it dry out takes skill, and the lady (owner) at the grill knew what she was doing. I was high on charcoal when I asked my buddy if there was a second drumstick, to which he replied, how many legs are there on half a chicken… it was that good.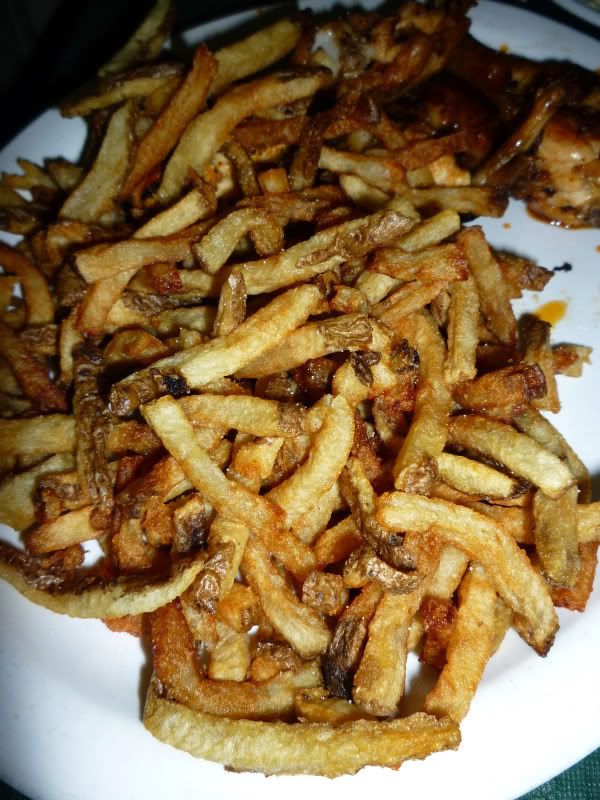 Something worth mentioning were the fries. I don't know what it was, but they were sweet and most importantly stayed crispy until the END of the meal. They are generous with the fries, and this is justified because you really can't stop eating them; it was like the fries were deep-fried in oil and sex.
I believe Restaurant Mavi is a family run business, a bit rought around the edges but that's what gives this place its charm. I drive past this place all the time, but never went in. Finally last night I succumbed to the intoxicating smell of barbecue from 2 blocks away. I'm a firm believer that when food is cooked with care, it comes through in the taste. Maybe the tastiness of Mavi's food comes through the tenderness only a lady can provide when she mans the grill. I will definitely be back to try the great variety of grilled seafood and sandwiches.
Restaurant Mavi
5327 Gatineau
514-340-9664
(closed on sundays)
(Moved, new address has been updated)
Added points for practicing a climate controlling technique not observed as much since the advent of central air… a fan in front of a window mounted air-conditioning unit… HELL YEAH.