Inspired by a nacho and fajita night at home and riding the Mexicano trip, I sought a fix for my craving. I did my research and came upon this little gem in Villeray called Itacate. I was looking for something more authentic than mozzarella cheese and canned salsa on a powdered spiced "taco" that we've all become used to.
I found myself at Itacate with a friend late one week day night ready to eat. I kind of went in with high expectations, as I feel that I've been ripped off on Mexican food before, and was looking forward to vindication. We sat down and we came to a consensus that we wanted this place to be good. The photos I took does not translate nor do justice how good the food was, also, I do not take any responsibility however, if your eyes start to bleed by just by reading about it.
With some guidance by Corine (sorry if the spelling is off!) we made decided on our meals.


I guess this is where the French influence comes in, in a Mexican restaurant in Montreal… an Amuse-bouche! A small warm tortilla topped with salsa verde, cheese and sour cream. It wasn't anything spectacular, but it set the pace for the food we were about to face.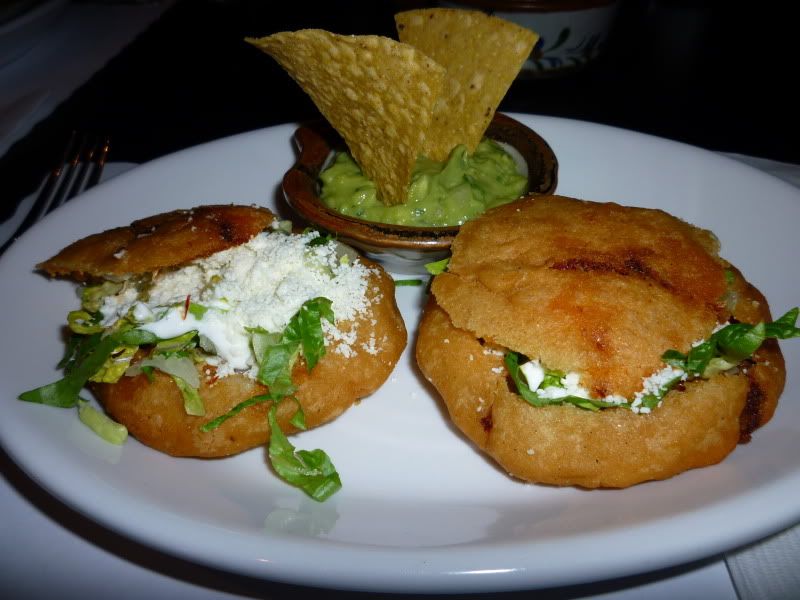 Gorditas de Chicharrón. A really playful name for a dish, where Gordita kind of means "chubby girl". Chicharrón is typically made with various cuts of marinaded pork. This dish is a deep fried bun of sorts, stuff with pork, lettuce, sour cream and queso fresco. The bun was warm and crispy, as I ate it, the cheese melted into a goopy gloop of goodness.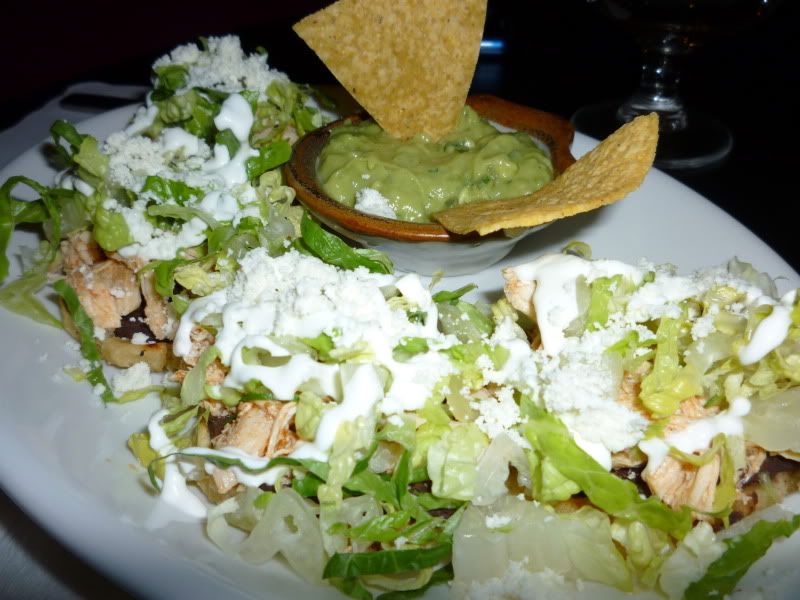 We also split this, Sopes con pollo. Little bowls made of corn flour topped with chicken, beans, lettuce, cheese and sour cream. The tortilla bowls were as well, warm and crispy, I appreciate the fact that they make all tortillas fresh. Not to be outdone, the guacamole was really light and flavorful. The simpler the dish, the harder it is to make, guacamole never tasted so good when I make it myself.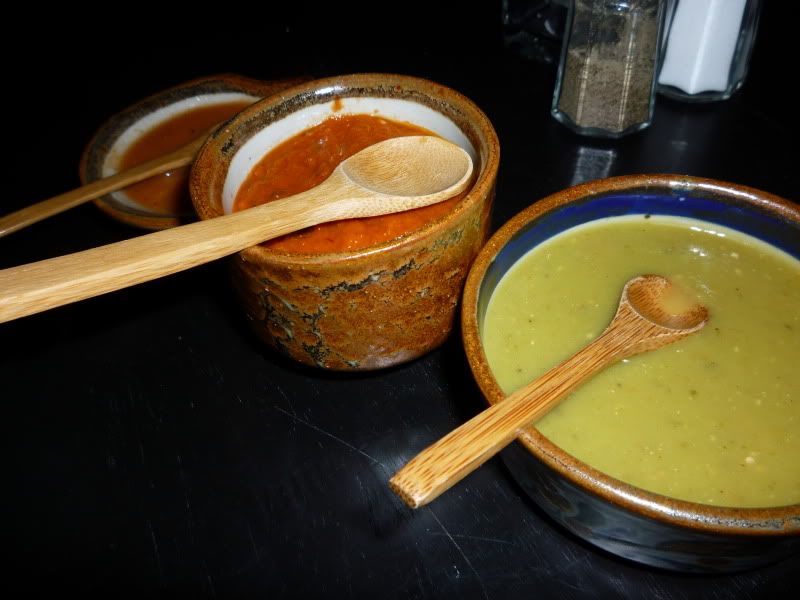 We were introduced to three types of salsa after some hesitation by Corine. She didn't think that we would be able to handle the latino heat. In order, the green salsa on the right being the Jack Black/Nacho Libre and the chipotle salsa on the left being the Paulina Flores of the hotness spectrum.
Here is where our meals gets mucho serioso.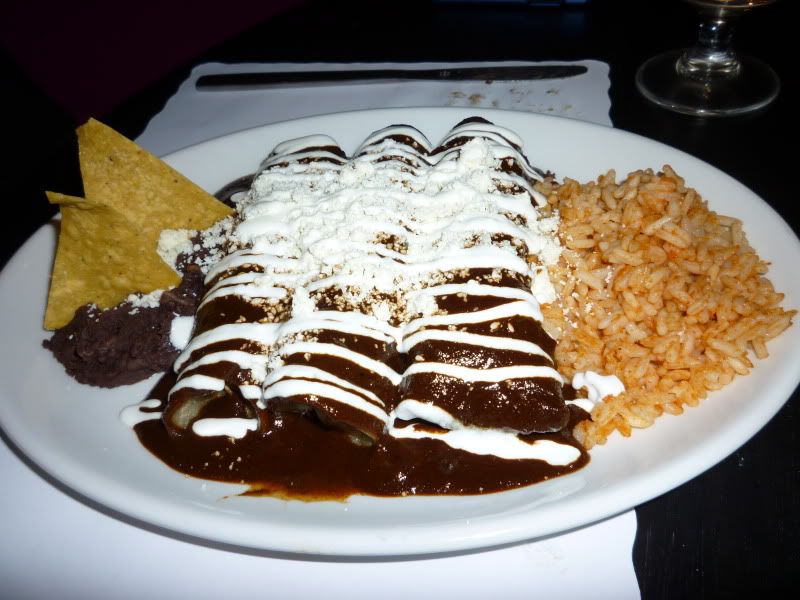 My friend had the Enchiladas de Mole. Not MOLE like the animal, accent on the "E". Chicken wrapped in corn tortillas topped with a chocolate, chili and spices sauce, served with rice and beans. If you've never had mole before, it's the savory side of what chocolate can be, earthy and beany, definitely something everyone should try at least once, aromatic and full of spices.
Ok, are you ready for this one? Hold on to your sombreros mis amigos.


Tacos Al Pastor. Four fresh corn tortillas topped with incredibly flavorful marinated pork, pineapples, onions, coriander served with fresh pico de gallo. Wrapping a little bit of everything in the tortilla and toping it off with the table top salsa verde was close to sin. This dish was so good, I don't think it could be worldly possible to taste any better… well, maybe if it was served from a cart on the streets of Guadalajara by some fat lady.
Corine asked if we wanted dessert, she recommended their "corn cake", to which she said, "I know it sounds weird, but it's good." We took her up on it and discussed while we waited. My friend was taken back in hesitation thinking it would taste weird; corn and cake. I said that it's a cake probably made with corn flour.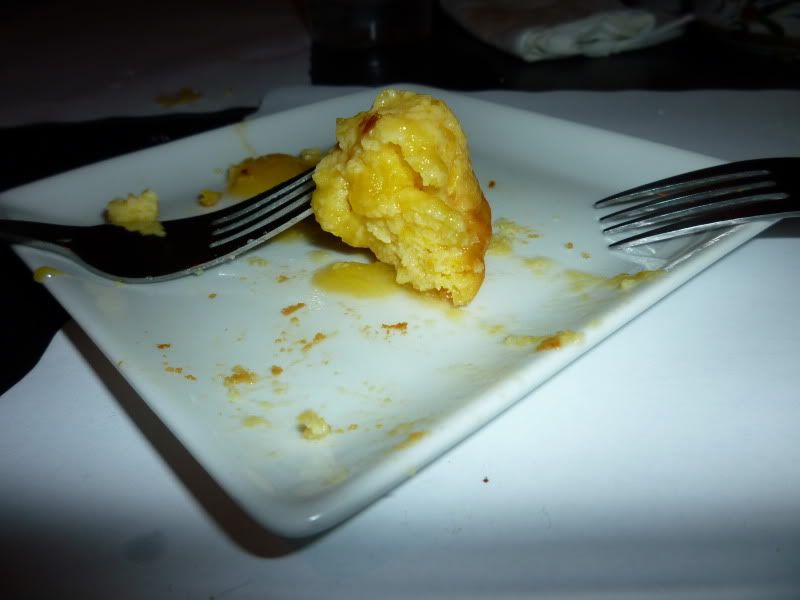 It was topped with a light custard and the dessert was interesting unto itself. We bit into it and then looked at each other like when the McAlisters' did when they realized they left Kevin home alone again for the second time. There was actual CORN inside the cake.

On a side note, we were so excited to try a corn cake that we had to order a second one after my friend realized I didn't take a picture. I know, twist my arm, right…? To order a second dessert? INSANITY! Also worth mentioning, we both had a "horchata" juice. A drink made with rice, milk, cane sugar and cinnamon. Really refreshing and tasty, something worth ordering by the litre.
I realized what separated this place from the other Mexican restaurants that I've been too. Itacate is run by a family, and this probably explains the little "je ne sais quoi" about their food. I couldn't quite put my finger on what made their food taste different, until I figured out that their secret ingredient is "love".
Restaurant Itacate
67 Beaubien
514.861.6635
www.itacate.ca
Closed Monday and Tuesday.