The idea of "Chinese food" is very broad. Sharing boarders with many countries, China's food takes many turns as it subsequently affects the cuisines of these neighboring countries. This is why the uninformed make quick judgments when giving Montreal's Chinese food scene a bad rap; due to not understanding the background of the restaurant. Judge your General Taos' from Szechuan restaurants, and not the places that have both sushi and Pad Thai on the menu, you're not going to go to truck stop for their lobster bisque.
Restaurant Phuoc Ky exemplifies the idea of 'multi-national' Chinese food, taking elements from Chinese, Vietnamese and Cambodian cuisine, their menu is a mosaic of the best of each culture and culinary background to present a skillfully compiled list of Chinese based dishes.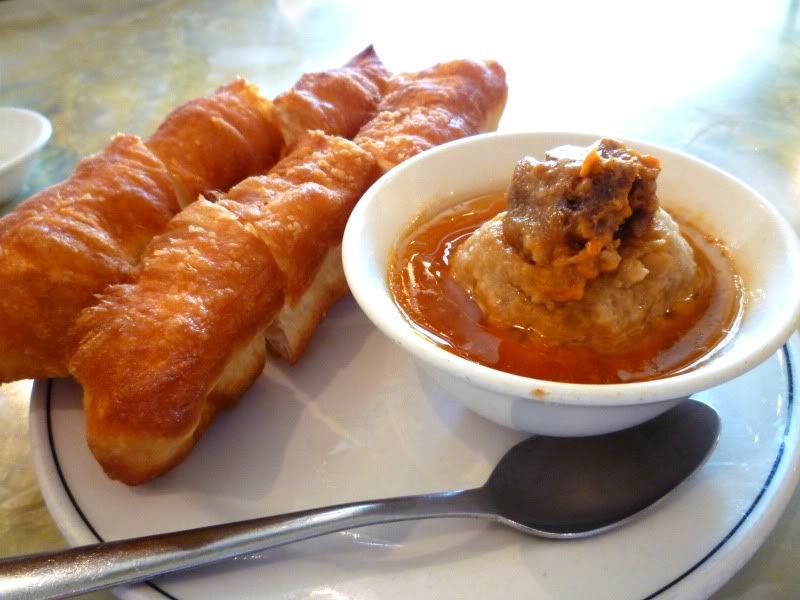 We started off with an order a Siu Mai with "Yau Tiew" (fried dough, something that you can compare to a savory doughnut). It was warm, most importantly, it was crispy on the outside and chewy on the inside. The Siu mai – pork dumpling – was based in a mildly spicy sauce which is meant for dipping with the fritter.
Phuoc Ky has a specialty noodle, aptly called, "Phuoc Ky noodle". They use two different kinds of noodles, rice vermicelli as well as Chinese thick noodles – which has come to be known as "Udon". In a steamy bowl of pork broth, this noodle is served with minced pork, pork belly, chives, lettuce and fried garlic.


I used to dislike soup noodles. I think the fact of eating an instant noodle everyday after school had something to do with me now being jaded about it. Recently, I've started to change my opinion on them and this noodle ultimately helped my reconsideration.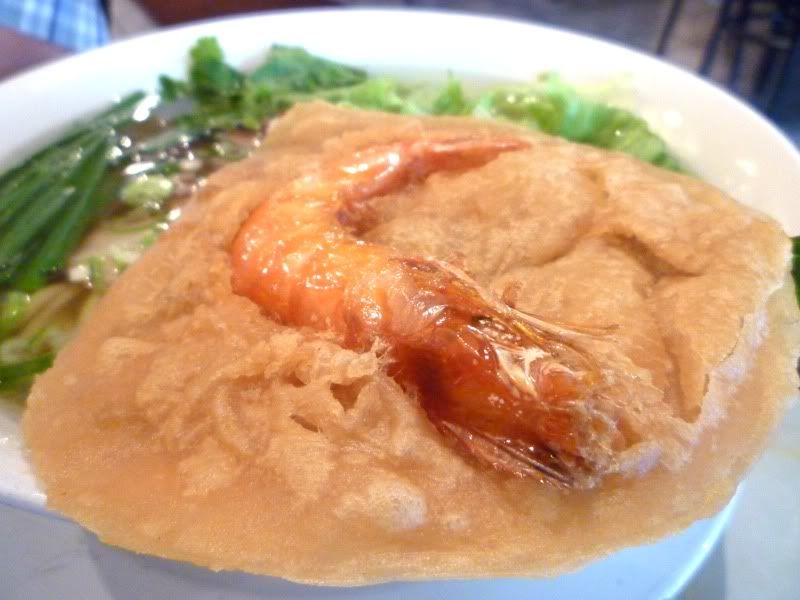 There is a unique accoutrement that comes with this soup noodle. It's a thin piece of flat dough with a shrimp that has been deep fried. Dunking it in the soup and slowly crunching away at is seems like the best way to eat it.

The moment the waiter places my big bowl of noodles on the table, I'm thrown back to the nights watching that Survivor episode with the reward challenge where after spending 35 days of smelling each others armpits, they are reunited with a family member. That raw emotion, the feeling of hope, like the dawn of day or the warmth of watching a kitten take its first steps, is what I feel when eating Phouc Ky's specialty noodle.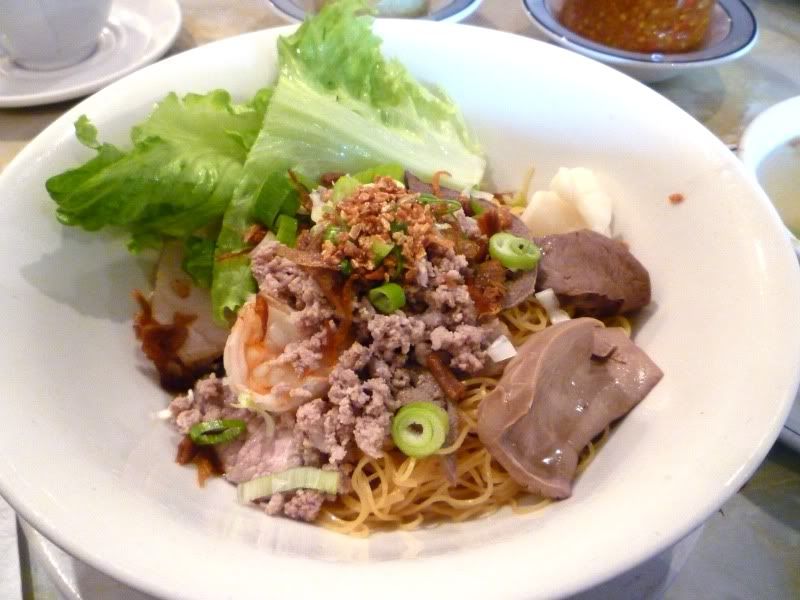 This is the Phnom Phen – yes, as in the city of Cambodia. I know I say this often, but every time I say it, I mean it… so let's get serious for a second. This noodle isn't for the faint of heart… or vegetarians… or people with an ethical aversion to pigs walking around without vital organs. This noodle is prepared with pork, tongue, kidney, liver, squid, shrimp and cha lua – Vietnamese sausage.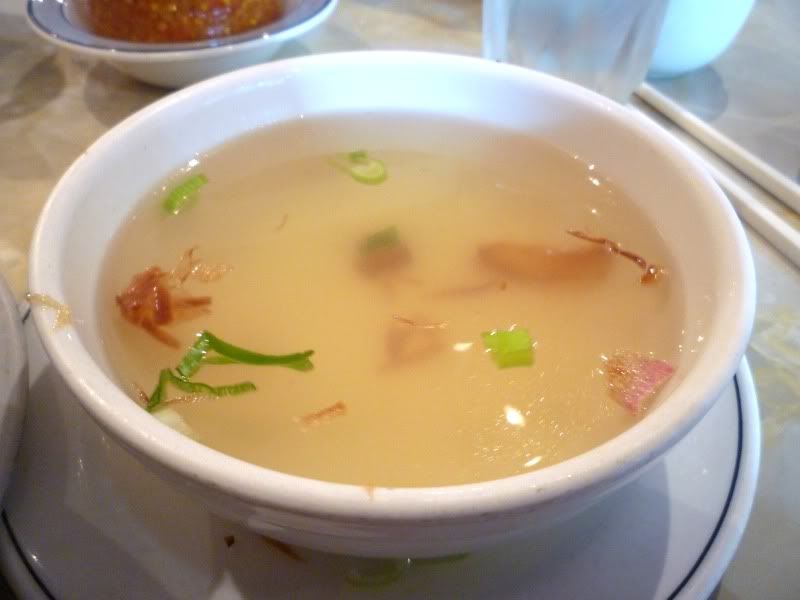 This noodle dish is served a bit different than your conventional soup noodles; the soup is served on the side. You spoon it into your bowl according to your taste or just drink it as is as a side dish. *EDIT* If you want the soup on the side, you have to ask for the noodle "dry"… or just ask for the soup on the side.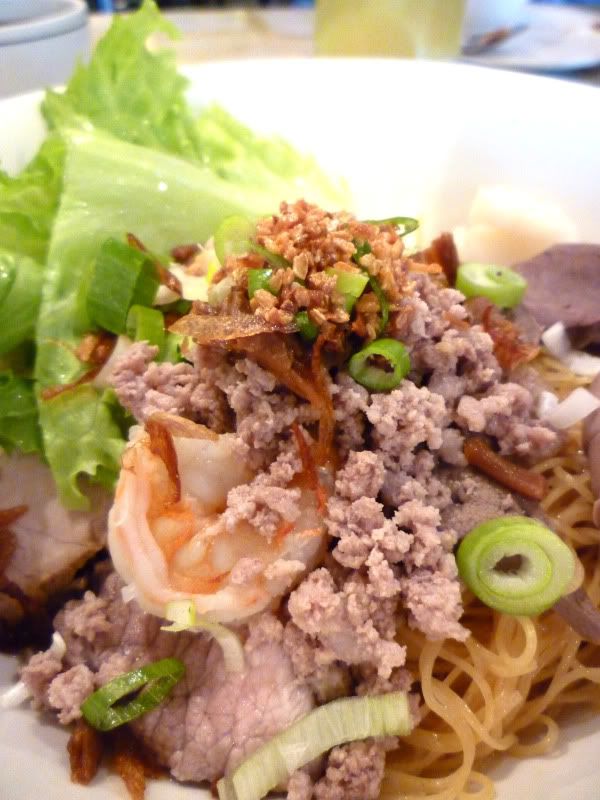 You would think that the ingredients would render the taste of this dish gamey and overpowering, but it wasn't. Like one of those slasher movies when someone is running away from the serial killer and the first thing they think of is running to the roof of the building, as with the gameyless taste of the noodle, it just didn't make sense. I fully believe that the delicate soup along with the bitterness of the fried garlic and onion was responsible for toning down those intrusive flavors.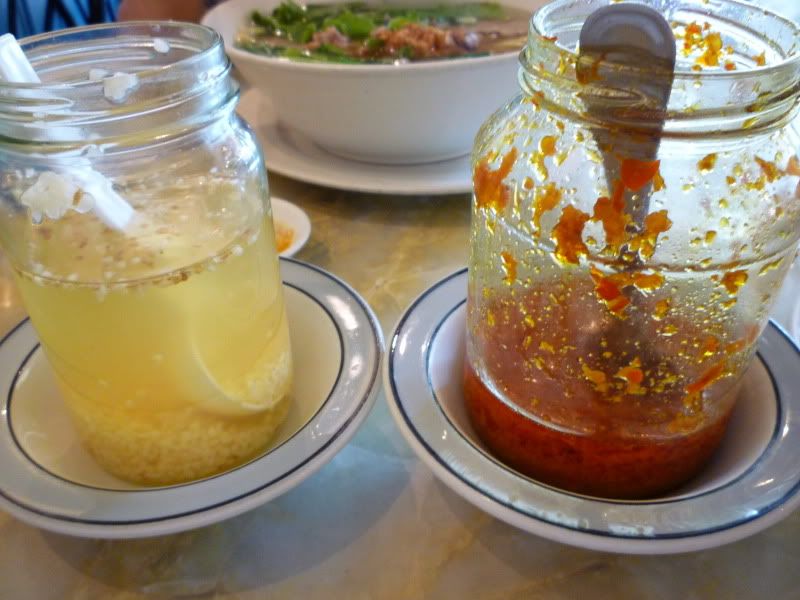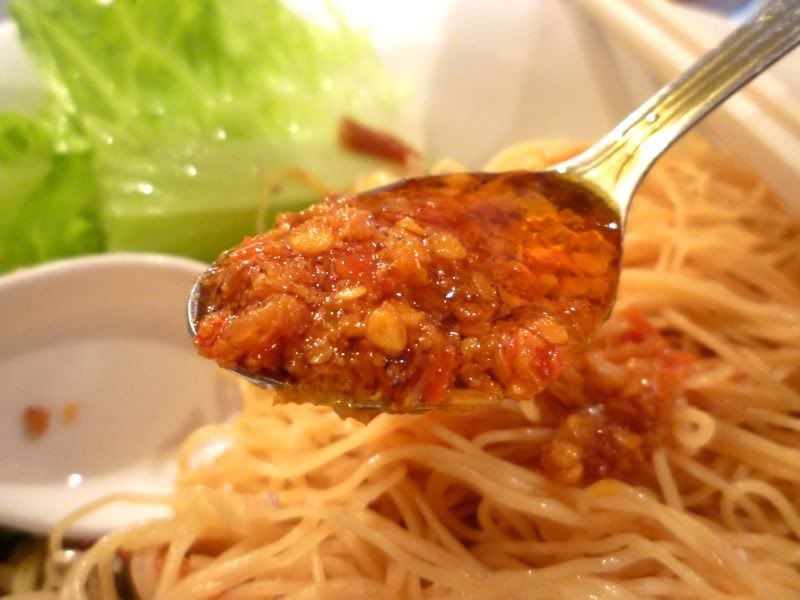 Along with your regular hot sauce, Restaurant Phouc Ky makes their own. A really great mix of many different flavorful and fragrant herbs, it was almost impossible to decode their hot sauce cypher.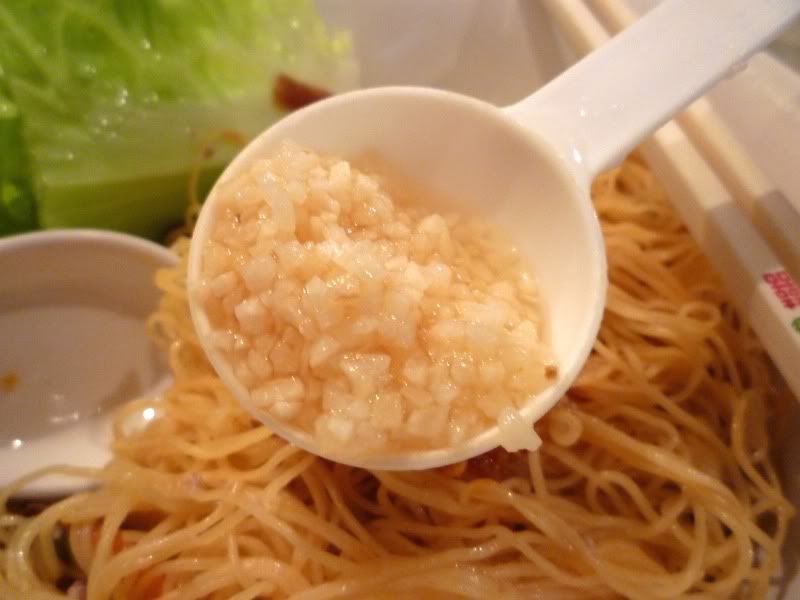 Another homemade condiment that finds its way into most dishes is this garlic concoction in lemon juice. Judging by the jars they come in, these homemade condiments go fast.
This was not my first time at Restaurant Phouc Ky. Their food quality is constant, and being run by a family, don't be startled to hear random people yelling at any point during your meal. When ever I'm introducing this place to anyone, more often than not, I'll initiate them to the Phouc Ky experience with the Phouc Ky specialty noodle, as it's so unique, that I remember my first time, it practically paralleled a religious experience.
Relais Express Restaurant Phouc Ky
7495 St-Denis
514.278-8288