I made a promise to find the hidden gems of Montreal, restaurants off the beaten path and whatever all those other metaphoric sayings are and whatnot. But when I said I would go to hole in the wall restaurants, I didn't really think I would be taken to a literal hole in the wall.
I met a friend for lunch at "Olivieri" on Cote des Neiges. I looked it up before hand and the only hit I got was a FRENCH bookstore to that name, this got me worried. We got there and the idea of eating at a bookstore did not sound appealing. I was already envisioning a stuck up little cafe that serves Fair Trade monkey crapped coffee and children of the corn teas made of rainbows and wheat. There's nothing less appealing than eating at a librairie or a museum for that matter, where their eating section is barely worth being called a "restaurant" or "cafe". The food is bland, sandwiches are pre-made and the fruit are for looks only; practically inedible, they should just call it the "nourishment corner", sustenance for survival and consumption is optional.
I was WRONG. As wrong as sniffing your finger after you've accidentally touched a sticky spot on the handle of your shopping cart at Mourelatos kind of wrong.
After eying over the inconspicuous menu of the day tapped up on the window next to upcoming local performance posters, we walked in the door and I followed my fixer. We walked passed a lonely cashier who gave us a silent nod of recognition. She read us like the paperback and knew right away we weren't there to buy books. My awkwardness and my speaking English probably gave us away as I nervously said "Hey!" acknowledging her and grabbed the first book I saw in a panic. Real Kowloon Walled-City Kumite kind of stuff, straight up back-room Majong Parlor down low. We took a left at the Eastern European section and entered the "Bistro Olivieri".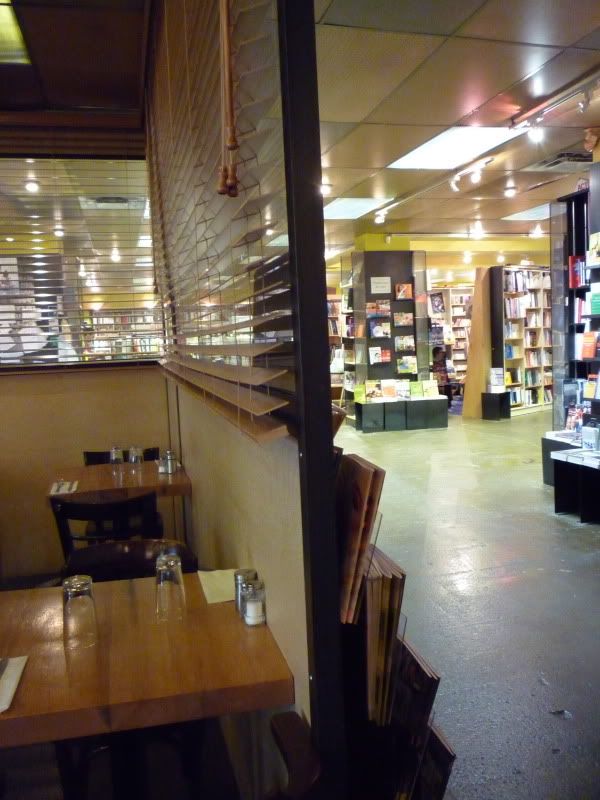 This picture was taken from inside the restaurant looking OUT into the bookstore. With the blinds there and the glare from the light, you wouldn't know there's anything inside at first glance and would write it off as a employee space or office.
We were greeted by a waiter who asked us if we wanted to sit inside or outside and I look at at him like he just asked me to divide 376 by 17. I stood there stupid and perplexed for I didn't know outside was an option. We said outside, crossed our fingers and hopped to not be sitting next to an exhaust pipe… but this is what awaited us…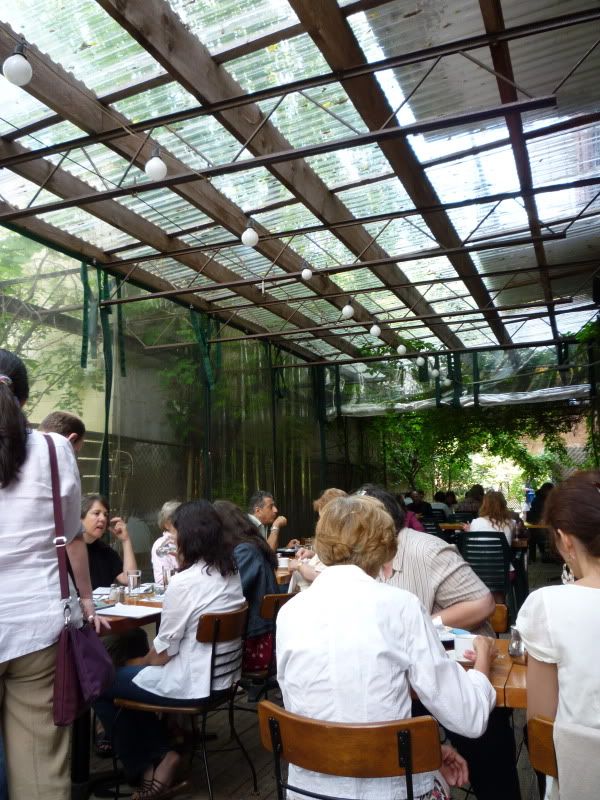 I know what you're thinking… "WHAT? In Cote des Neiges….. WHAT?"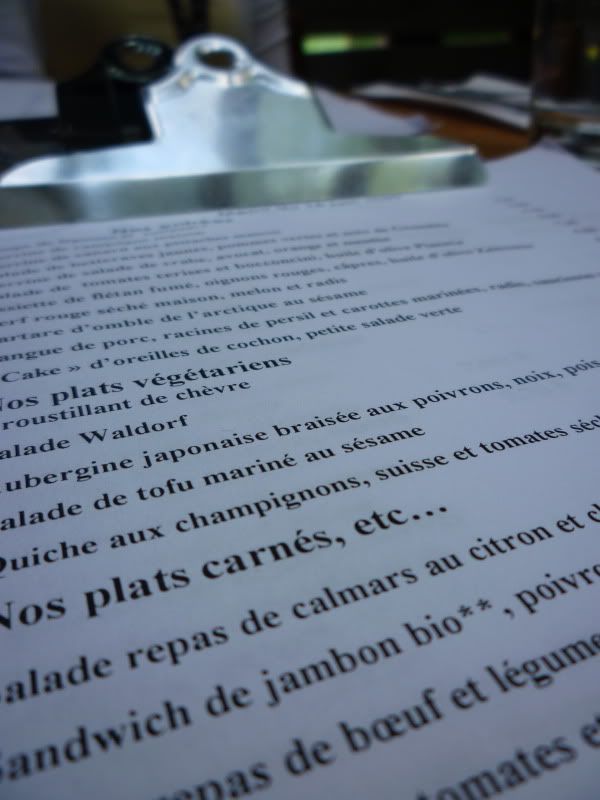 What was equally as surprising as this backyard terrasse was the menu. Traditional French cuisine and market dishes comprise this daily menu. I assume the menu changes daily because on top of the clipboard (menu), was the date (duh). Librarie-Bristo Olivieri is also vegetarian friendly, with interesting choices and a great alternative for people looking for a place to go after the now defunct Commensal bit the dirt.
The starters.


I ordered the pork tongue with marinated carrots and radishes and dried spicy sausage. It was footnoted to say that a lot of the produce comes from a local farm, which is nice to know, as not a lot of places will credit their suppliers.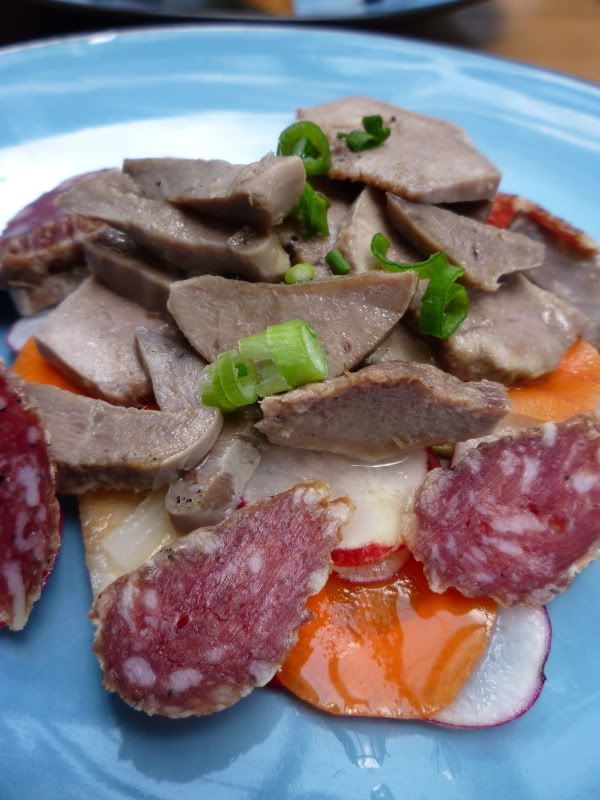 Don't hate on the tongue until you've tried it. It's a little bit strong in flavor and it was prepared perfectly and did not taste like chewing on a rubber band.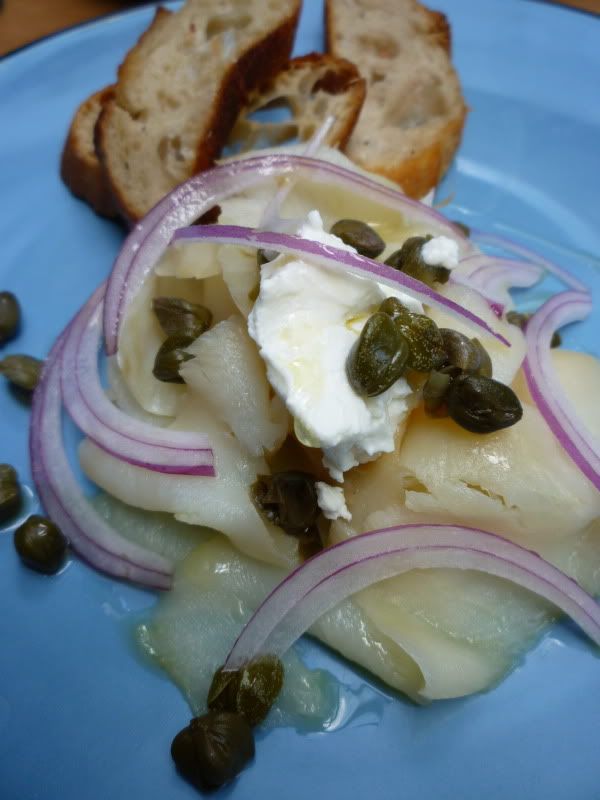 My dining companion order the smoked Halibut with capers cream cheese on Zeitouna olive oil. Delicate taste and not as strong as salmon.
The Mains: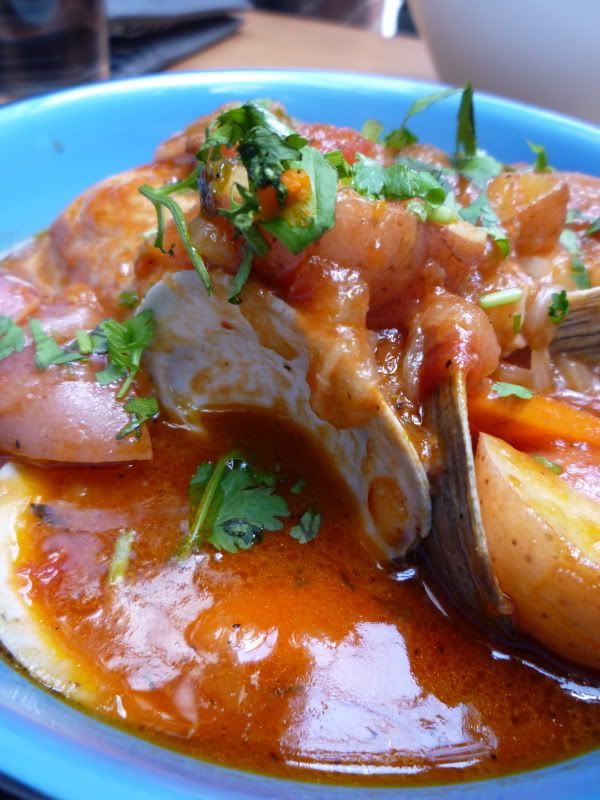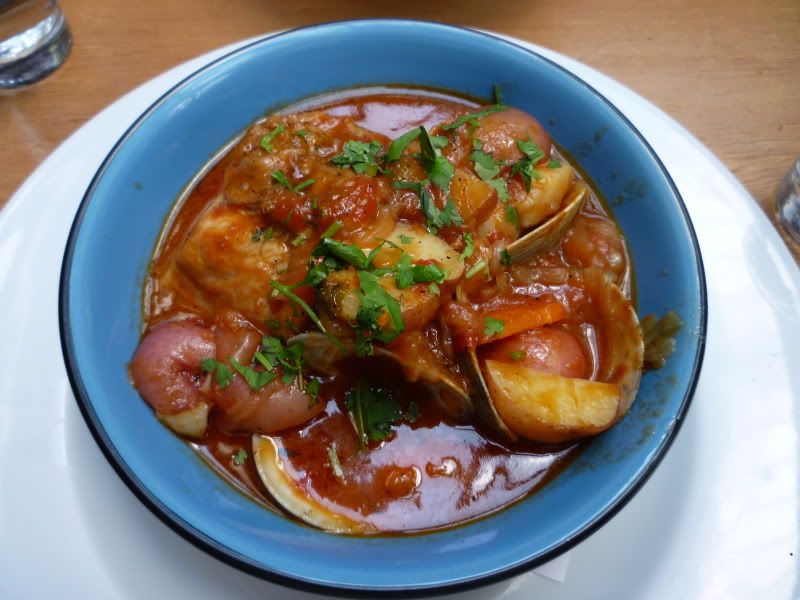 I had the braised pork cheek with potatoes, tomatoes, littleneck clams and bell sausage. This dish was really rich and thick and is probably still processing its way through my system two days later. I can totally picture myself eating this on a hillside cabin on the French Alps after shredding through perfect powder, that is… if I skied or travel to France often… so I won't. Instead, in a back alley terrasse next to a St. Hubert Rotisserie blasting Racine in Cote des Neiges surrounded by French people will just have to do.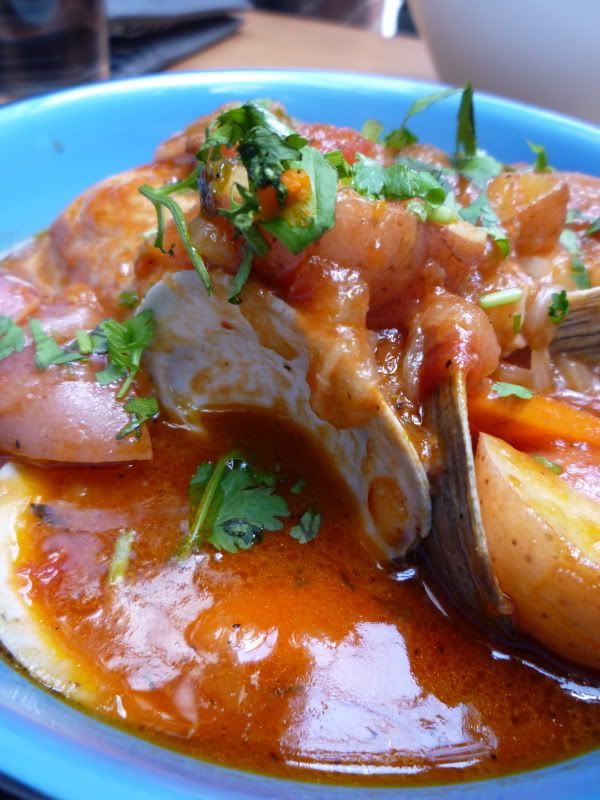 Hearty.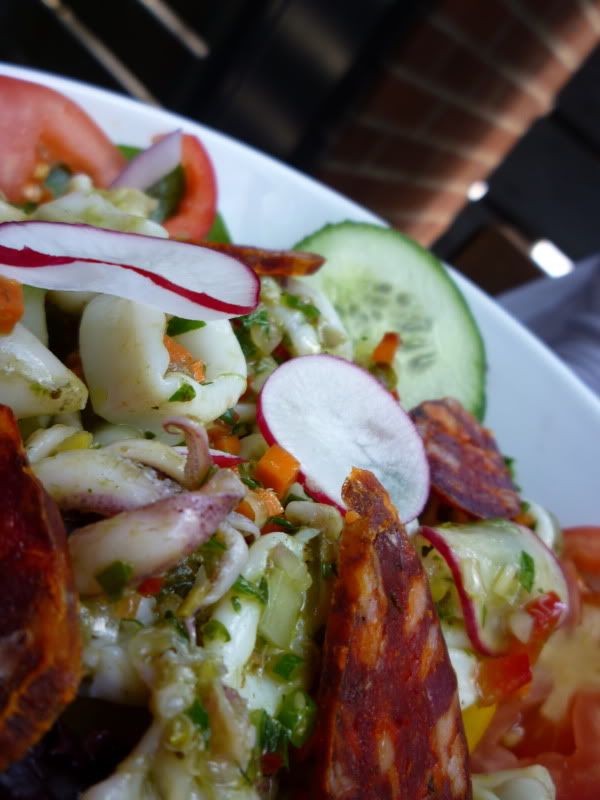 Lemon zest calamari with chorizo salad. I should mention that the chorizo is organic and from the same farm as some of the other produce listed on the menu.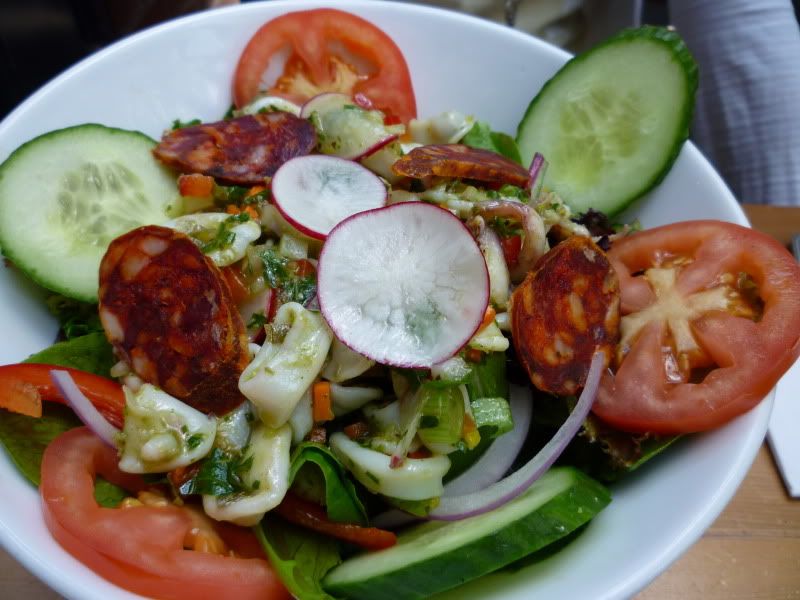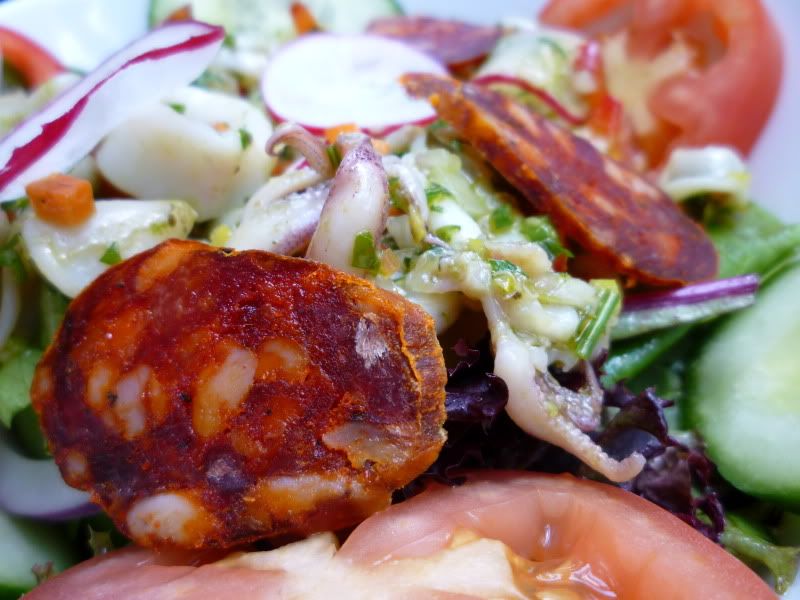 I've never heard of this kind of surf and turf salad before, but it worked, especially considering all the players are extremely fresh. Calamari was not fishy and the chorizo was not overpowering, both complimented each other nicely, balancing sweet, salty and spicy.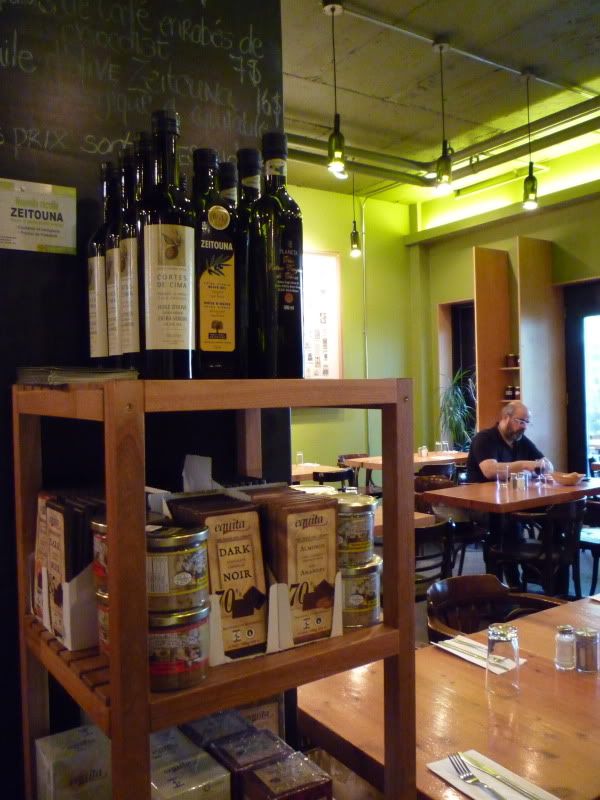 A small stand of locally made products used and promoted by the restaurant.
I was impressed with the Librairie-Bristo Olivieri to say the least. I was hesitant and skeptical when going in and was hoping it would surprise me and it did, I mean, who goes for lunch at a bookstore right? Who would have thought that a modest neighborhood bookstore's definition of French cuisine isn't only limited to books and hides this secret – terrasse included – like a kid and a chocolate bar at fat camp. Eating here is like accidentally wandering into the porno section of the video store when you were young, you stand there in amazement, wide-eyed wondering what everything means and walk out forever changed and never feeling the same again.
I know, the PETA people would not have been impressed with my lunch.
"Pork tongue and pork cheek, how does it feel to have single handedly desecrated a pig's face in one meal, Jason?"
"It was friggin delicious yo", is what I'd say.
Librairie-Bistro Olivieri
5219, Côte-des-Neiges
514.739.3639